Steve Green, a friend of my brother's, owns Elyse, a Beneteau 47 which he keeps in Marina Del Rey, near Los Angeles. He invited me to go sailing on the 29th of December, 2006. It was a sunny but very windy day for this area with small craft warnings posted at the Coast Guard building. We left the Marina in the early afternoon and sailing into Santa Monica bay. The day was beautiful and the winds stayed consistent from 25 to 30 knots. Usually the bay is filled with other sailboats, but today we were the only boat in sight. We sailed west for 9 miles until we turned around, to enter the harbor as the sun set. A truly wonderful and exciting day.
The following week we both went back up to Marina Del Rey to sail on Elyse. We had lovely sunshine and warm temperatures but not so much wind. Our plan was to sail up towards Greg's home in Malibu, then turn around but it was getting late so we turned around a bit short of the point. With only 1 knot of wind we had to fire up the motor to make it back to the marina before dark.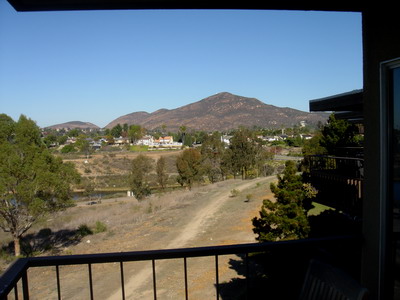 The view from our balcony of Jim's exercise walk. The goal is to make it to the top of Cowles Mountain and back to the condo in less than 2 hours and to do it 3 times a week when we are in town. (I am putting this on the website to make myself feel very guilty if I don't keep it up- Jim)
We had a few goals to reach during our time in the USA. One of them, obtaining an Amateur Radio Operators License to operate an SSB radio on Tenaya, is a little closer. I passed the first test (the easy one) and now I am studying for the next one.
But somehow we found another goal. We went into the local Sport Chalet store to purchase masks and fins to help us keep Tenaya clean below the waterline. Somehow, after talking with the Scuba department manager, we signed up for a series of classes and dives to obtain our SCUBA certifications.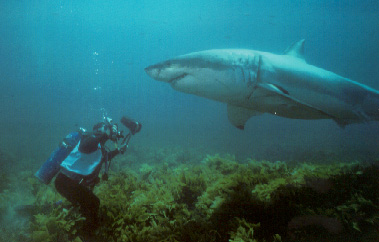 I (Jim) have a pretty simple view of what diving and swimming in the ocean is like. I never really learned to swim and I am afraid of big fish. Katie loves swimming in the ocean and used to do it regularly for exercise.
So, I joined the local YMCA and signed up for the swimming lessons I should have taken 50 years ago. Rather than joining a group class where everyone else would be under 10 years old, I took a private series of classes.
We did complete our SCUBA classes, passed all the written tests, made 4 dives in a 14 foot deep swimming pool to learn to use the equipment and handle emergencies. We also completed the 4 Open Water dives and all the required skills. It turned out that fish are not that scary, here anyway. Now Katie and I are Certified Scuba Divers.
28 January 2007
Whale watching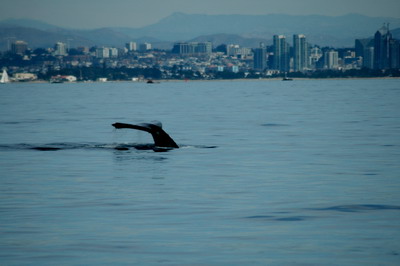 The Grey whales complete the longest migration of any mammal, 12,400 miles (20,000 km) from the Arctic to Mexico to give birth and mate. They grow to 45 feet (15 meters).
Along with other club members, we chartered a boat in San Diego and sailed off Point Loma with the hope of seeing a whale. It was even better than I hoped. We saw a number of whales, some within 100 feet of our boat, along with dolphins and seals.
One of our crew, Stephan, recorded our route on his GPS. We traveled 30 miles (50 km) looking for whales.

Chris, Greg, Katie and Jim on Elyse in Santa Monica Bay, California in January 2007
Thanks for the Napster hats, Chris!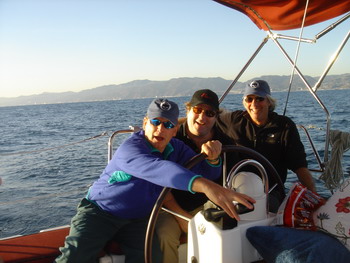 Chris, Steve (Owner and Captain of ELYSE) and Jim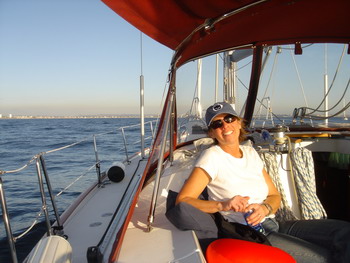 Katie, enjoying the January weather in California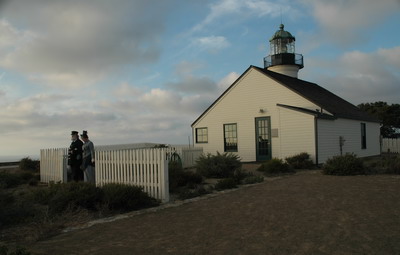 The Point Loma Lighthouse was the first lighthouse on the west coast of the USA. It was built in 1849 and operated until a newer light was built in the early 1900's
The view from Point Loma is spectacular. This is the entrance to San Diego harbor, with the downtown area in the background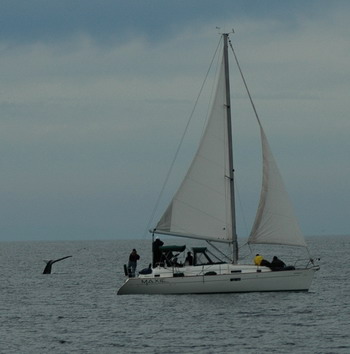 The whales travel about 100 miles per day. They surface for air every 3-5 minutes. First you see the blow, then their backs covered with scars and barnacles. After a few moments on the surface and just below, they dive again giving a good view of their fluke. It is an easy pattern to follow.
We sailed south to the border of Mexico - Another whale with Tijuana in the background.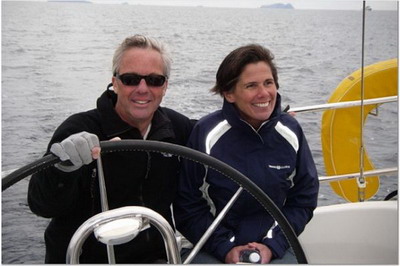 Jim and Katie at the helm of MANU KAI, the Beneteau 411