Latest News
21 January 2007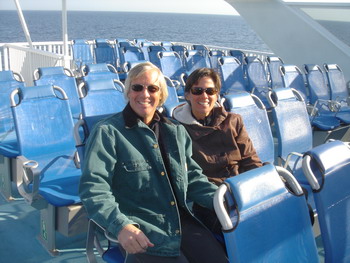 We took the Catalina Express ferry from Long Beach ( a 2 hour drive, leaving San Diego at 5:30 AM). The day was sunny and nice, but as you can see, this is not their busy season. The ride to Catalina Island takes about an hour.
Here we are, at Casino Point in Catalina, ready for our 2 ocean dives. It's the middle of January, but it's sunny and warm enough in the sun. The water is cold - about 55 degree Fahrenheit (13 degrees Celsius)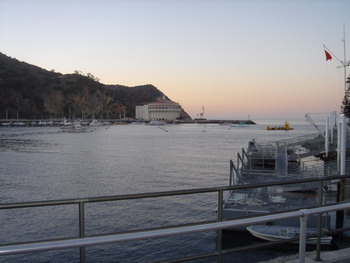 The park is named for the imposing round building known as the Casino, the most familiar landmark of the quaint resort town of Avalon. The structure, built in 1929, has never housed a gambling establishment. Once dedicated to ballroom dancing, it now serves as a movie theater and hall for special functions. Literally in its shadow, along the outer, northern wall of the Avalon Harbor breakwater, lies Casino Point underwater park. This Avalon city park, designated in 1964, is located only 22 miles (35 km) – a one hour boat trip - from greater Los Angeles on the 76-square-mile (197-km2) Catalina island.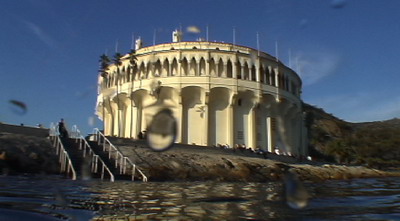 After making dives the previous day at La Jolla Shores that required us to swim out while being hit with 3 foot waves, the entry at Casino Point was nearly effortless. We just walked down the stairs, flopped into the water, and were greeted by many, many fish.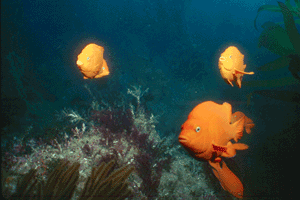 The fish life at Casino Point was fantastic. The bright orange garibaldi would swim right up to your mask. We also saw kelpfish, sea urchins, damselfish, senoritas, anemone, sea cucumbers and Oscar, a large, locally famous, sheephead.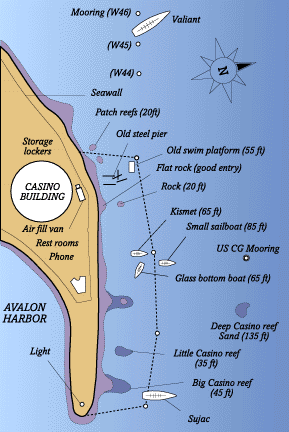 This designated diving area is off-limits to the masses of pleasure boaters who enjoy Catalina's sheltered waters. A string of marker buoys denotes its boundaries, which measure roughly 200 yards (183 m) along the shore and extend 100 yards (91 m) seaward. Entries and exits are made from shore just beyond the Casino.

Because fishing, game collecting, and boating are all prohibited, marine life in the park reflects a healthy, kelp-based ecosystem. Feather boa and elkhorn kelp grow in the shallower waters, but giant kelp dominates below 25 feet (8 m). In addition to the trademark orange garibaldis, divers are likely to spot senoritas, rock wrasse, yellowtail, and white and black bass. Seals and sea lions are not uncommon. Oscar, a huge sheephead, hangs around looking for food. Horn sharks hide among the boulders of the breakwater, and angel sharks cruise the sand. As for invertebrates, three species of sea urchins live here, plus numerous brittle stars, sea cucumbers, hydroids, gorgonians, anemones, and nudibranchs, as well as crabs and lobsters. Strewn around the bottom are several small, wrecks, including the Sue-Jac, a cement-hulled schooner.
Katie and Kevin (our SCUBA dive buddy, who signed up for the course after watching a movie with lots of warm water, pretty fish, sunshine and beautiful women in bikinis) on our return boat trip after completing the course and becoming Certified SCUBA Divers..