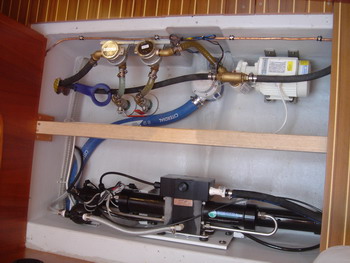 Clark Pump/Membrane Module for Spectra Newport 400 watermaker located under the floor below the companionway stairs. The thru-hall fitting in the upper left supplies water to the watermaker, flowing first through the filters and then back to the membrane.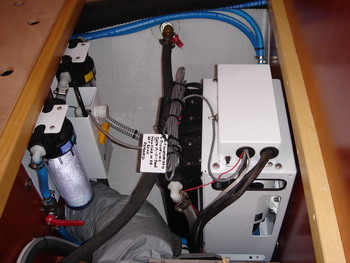 The filters and pumps located in the aft cabin port side under the bunk. On the left is the fresh water flush - the filter closest is the charcoal filter to insure that no chlorine is in the water which will destroy the membrane and the other is the 50 micron filter. On the left is the feed pump/main module and the 20 and 5 micron filters.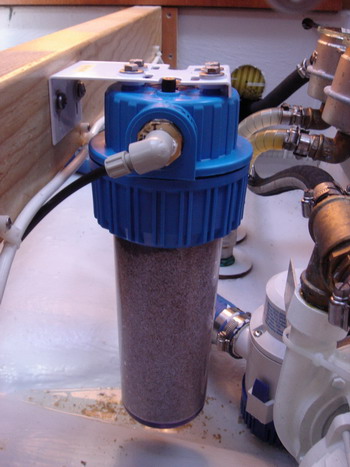 The watermaker expert in the Netherlands recommended we add a filter to pass the newly made fresh water through calcium carbonate to raise the pH, avoiding acidic water from damaging the stainless steel water tank.
(June 2007 update: The Spectra distributor in the Netherlands said this was not good and could cause pressure problems, so we disconnected it!)
The Spectra Newport 400 will produce 17 gallons per hour (64 liters per hour).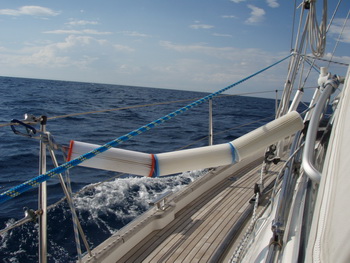 The watermaker requires 3 filters (50, 20 & 5 micron). In warm water they begin to smell so we have 2 sets. After making water we replace the filters with the new set and then wash and dry the used ones. These are then ready for the next change.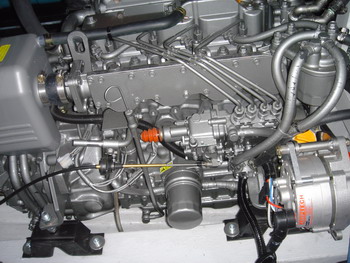 Yanmar 4JH4E
54 HP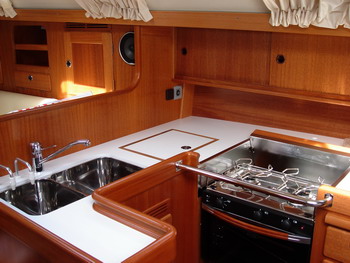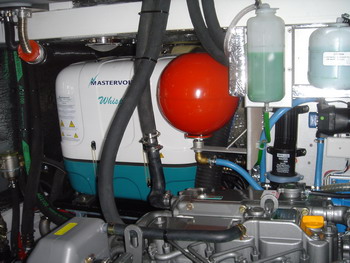 Whisper 8 Generator