Latest News
December 2006
It is hard to believe that we have been back in the USA and away from Tenaya for more than a month. It has been a very busy time for us. We moved more of our things to our new winter home in Boulder City, Nevada. Boulder City is a small town not far from Las Vegas, but it seems like a completely different world. There are no casinos. It was originally built by the US government for the workers building Boulder Dam in the 1930s. Politics changed the name of the dam to Hoover Dam, but the town remained Boulder City. The dam created one of the largest man made lakes, Lake Mead. There is a vast area of water and miles of shoreline to explore.
I had two main projects to complete this winter. The first is to complete my RYA Yachtmaster Ocean certification, which requires a knowledge and ability in celestial navigation. If I continue on schedule I should be 1/3 the way through by the end of the year.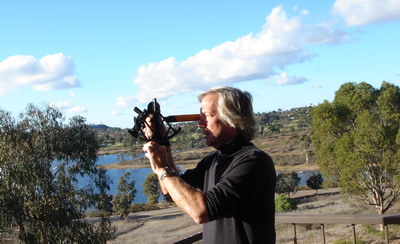 My other main project is to obtain an Amateur Radio (HAM) Operator License. We plan to add an SSB radio this winter and to use the high frequency (HAM) radio bands. To join in the many "Cruiser's Nets" requires this license. This means passing a couple of tests on technical questions and being able to send and receive Morse Code. I've learned about half the alphabet to date.
Our plans for 2007 are to follow the coast from the Netherlands, along the Belgium coast to France, then following Atlantic coastline of France, along northern Spain and south along Portugal to the Mediterranean. We found two great language books at our favorite sailing bookstore in San Diego, Seabreeze Books. Regular dictionaries and translation books are good for the usual things but sailing terms are not normally included. These books have the terms and translations used by sailors.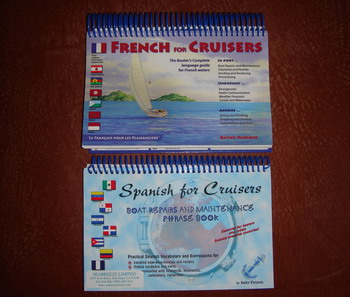 Katie here... While we're in San Diego, I'm on a mission to show Jim my hometown. First stop was the world famous San Diego Zoo. We had a lovely autumn day with temps in the mid 70s. Although there are busses and an arial tram, we chose to walk so as not to miss a thing. It's been a while since I've been there and they've added some wonderful exhibits and upgraded others. The primate habitats are outstanding - large areas for the gorillas, orangatangs and chimps with full glass viewing areas allowing the animals to come right up close and not be bothered by the humans. The panda exhibit is terrific as well. The zoo has the pandas on loan from China and has had success in mating and birthing these beautiful creatures. There is a juvenile in the same area as his mother who was asleep in a tree as we passed through. Apparently he will only climb down on her command. Another new addition since I was younger is the polar bear exhibit with 2 adults. Seems like San Diego would be too warm for them but the zoo goes to great lengths to cool their water in the warmer months. Our winter temps aren't that far from their native summer temps so they are all right. The viewing area allows visitors to see them on land as well as in the water when they are swimming. Such strong and majestic animals. I wonder how global warming will affect their natural habitat? I wonder how many people watching them that day and had driven to the zoo in their SUVs and non ULEV cars thought about their choices. Okay, I won't go there.... That's a different website!
We were also able to attend a seminar by Beth Leonard in Newport Beach. Beth and her husband Evans Starzinger were international business consultants who quit their jobs and have now been full cruising for the past 14 years. Beth is the author of Following Seas, a story of their 3 year circumnavigation, Blue Horizons chronicles seven years of high latitude voyaging and the Voyageur's Handbook, covering all aspect of the cruising life. Besides picking up some really good ideas and enjoying Beth's stories the highlight of the day was a visit and tour of their current boat, HAWK. Check out their website: bethandevans.com
And just when we thought we had enough to do this winter..............
We went to purchase good quality masks, fins and snorkels to allow us to clean Tenaya's hull and (we hope we never have to) clear the propeller of tangled rope, as well as for snorkeling. The store was having one of their "Discover Scuba Diving" days. Maybe because it threatened rain that day, a rare and unwelcome event for San Diego, we were the only customers and had a private introduction in a warm pool 14 feet deep. We had a great time learning what to do with the equipment and our bodies. Now it seems we are hooked! Looks like getting our dive certifications is on the agenda now too.

Katie on the Railroad Trail near Lake Mead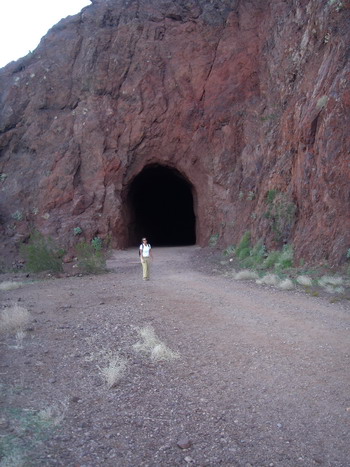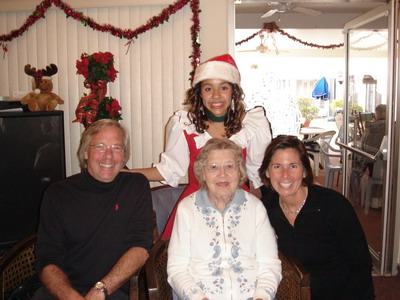 Katie and Jim visited her Mom for a Christmas party.