September 26, 2019
It was just what we craved, a month-long wander through the wilderness. After adjusting to life on land and the comforts of a small town, Jim and I missed being immersed in nature. I'll tell the story of our hike along 200 miles of the John Muir Trail in three pages covering about ten days each, the amount of food we could carry between resupplies.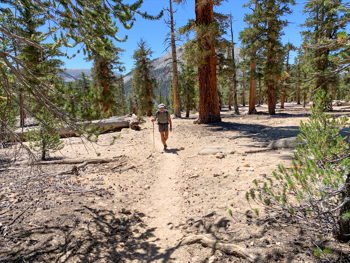 August 27, 2019 - Leaving Home
Hiking from Horseshoe Meadow to Horseshoe Lake had a nice ring. There was no need to drive our car anywhere, we just walked to Vons, took the ESTA shuttle to Bishop, changed busses to Lone Pine and had Lone Pine Kurt drive us up to Horseshoe Meadow. Our campsite was set up by noon and we spent the rest of the day wandering a little and relaxing a lot. After sunset, friends from Ridgecrest came to send us off with a tasting of exotic wines.
Our plan was to walk northbound (NOBO) along the John Muir Trail until we reached Mammoth Pass and exit at Horseshoe Lake. We would continue down Lake Mary Road to our front door, our shower, our fridge full of beer and wine, and our bed.
Day 1 - August 28
Horseshoe Meadow to Chicken Spring Lake including Cottonwood Pass
5.3 miles. Ascent: 1404' Descent: 114' Campsite Elevation: 11,240'
Most people try to do the JMT averaging 10+ miles a day but we opted for a leisurely pace of about seven. Having the option to spend more time exploring around camp promised to be peacefully restorative and made carrying 40 pounds this first day pretty easy.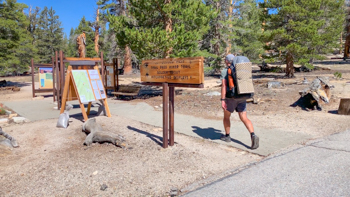 Day 2 - August 29
Chicken Spring Lake to Rock Creek including Guyot Pass
10.5 miles. Ascent: 695' Descent: 2168' Campsite Elevation: 9820'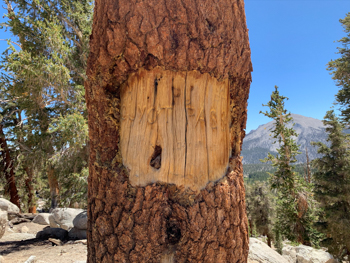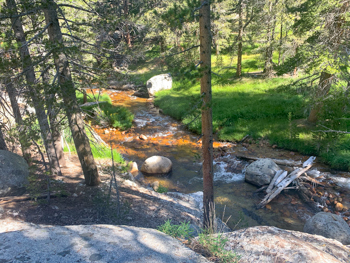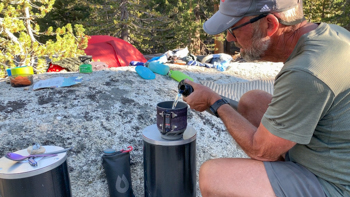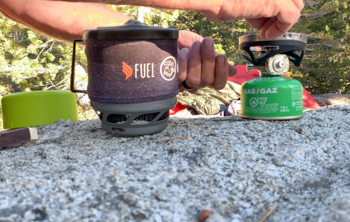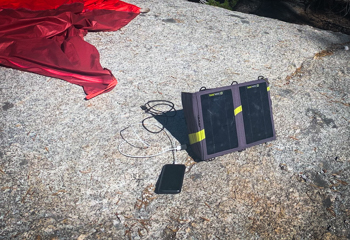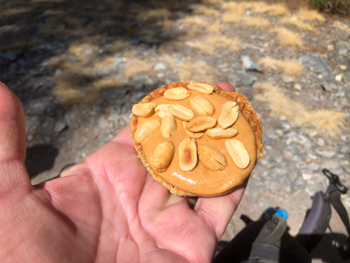 Our solar powered Goal Zero charger keeps our iPhones and Garmin watches charged and our solar powered Luci Inflatable Lantern provides plenty of light in our tent each night.
We eat simply with ProBar Meals and pour over coffee for breakfast and a Backpacker's Pantry entree for dinner after a cup of hot cocoa. During the day we graze on ClifBars, Honey Stinger waffles with squeeze peanut butter, peanuts or pistachios, Epic salmon fillets, Pay Day candy bars and Bolts. This menu gives us our needed 2000 calories per day and we never get tired of the choices.
Late each afternoon Jim heats water using our JetBoil stove, first to make cocoa and then to rehydrate our dinners in their original packaging while I wash out our socks and hang them to dry overnight. Afterwards, the day's wrappers and any trash we picked up on the trail goes into the bag. I squeeze all the air out, seal it, and place it in my Bearikade Expedition.
Day 3 - August 30
Rock Creek to Crabtree Meadows
6.47 Miles. Ascent: 1660', Descent: 898' Campsite Elevation: 10,300'
This is the normal jumping off spot to add Mt. Whitney when hiking NOBO. To be honest, we were happy not doing that section. We summited when it was a lot less crowded and are happy with those memories. Besides, now we are decades older and a quite a bit slower.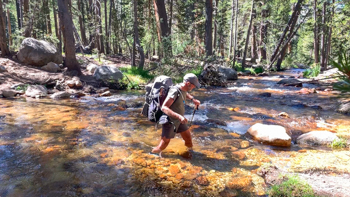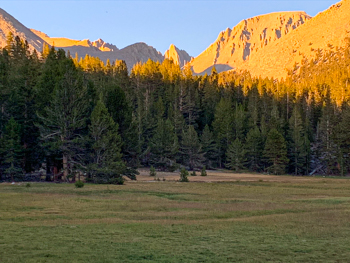 Day 4 - August 31
Crabtree Meadow to Bighorn Plataeau
7.23 Miles. Ascent: 1824', Descent: 856' Campsite Elevation: 11,430'
Bighorn Plateau is unique along the trail with its round blue tarn surrounded by sandy starkness. Just to the northeast is a small talus peak called Tawny Point. We climbed it in the late afternoon, signed the summit book, and were treated to a spectacular view. At sunset, Mt. Whitney reflects its majestic image in the calm water which adds to the surreal experience.
Tawny Point: 2.1 Miles Ascent/Descent: 892' Peak Elevation: 12,332'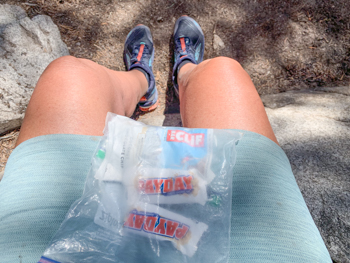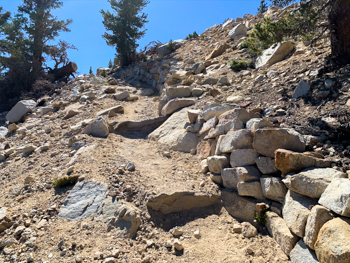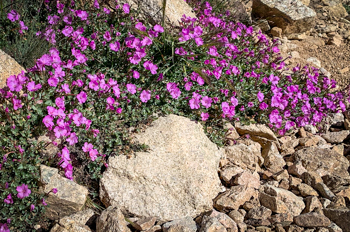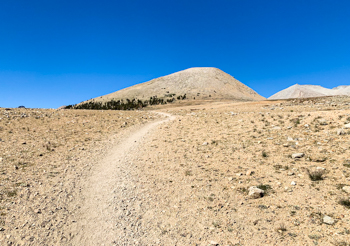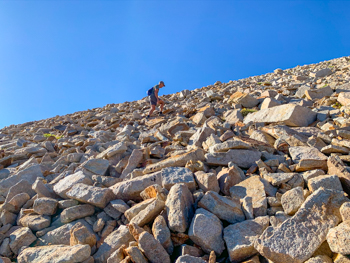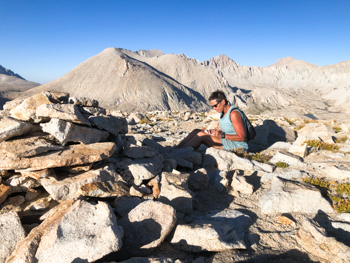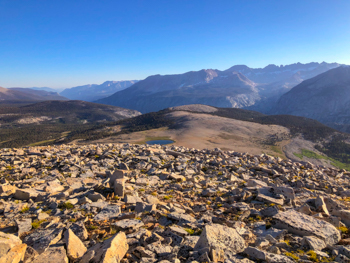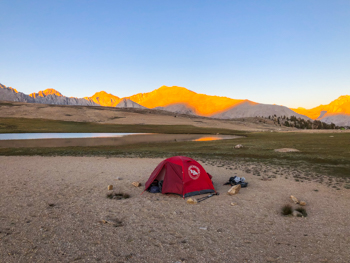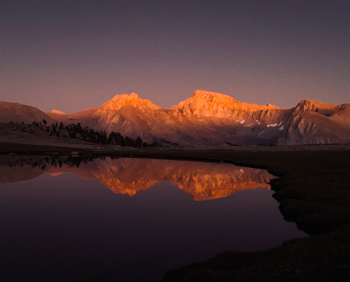 Day 5 -September 1
Bighorn Plateau to Lake South America trail from Tyndall Creek
3 Miles. Ascent: 511' Descent: 518' Campsite Elevation: 11,140'
During the sunny morning at Bighorn Plateau we pulled out our maps and reviewed our itinerary to be sure we would arrive at our first resupply on time. We had extra days so decided to hike the short distance to Tyndall Creek then veer off the trail toward Lake South America.
We hiked up to the first tarn and found a nice campsite. No one else was there. I really wanted to swim a lap in the cool, clear water but after setting up the tent we immediately headed toward Lake South America. Overgrown and rarely used, the trail was absolutely gorgeous in a springtime grassy sort of way. Too much snow turned us around once we reached the top of the switchbacks.
Lake South America: 4.2 Miles. Ascent: 725' Descent: 761'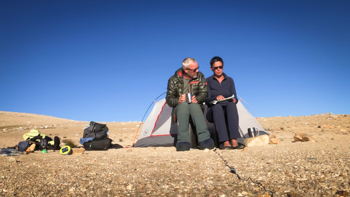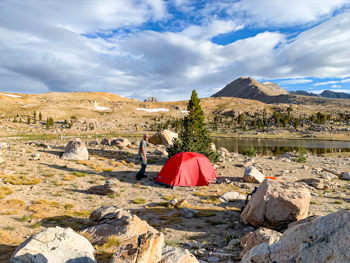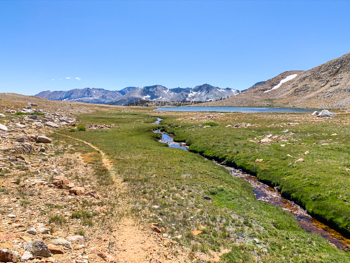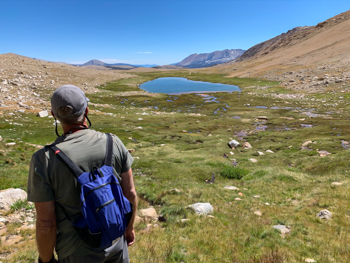 Day 6 - September 2
Tyndall Meadow to Center Basin Creek including Forester Pass
8.27 Miles. Ascent: 1896' Descent: 1994' Campsite Elevation: 10,530'
We had gone to bed assuming we'd take a zero day in this tranquil location but awoke to sporadic clouds and figured they would offer shade going over Forester, the highest pass of the JMT, so decided to push on. As we packed up, the clouds built. While we walked towards the pass, they darkened. Halfway up, it started to rain. Just below the summit, we heard the first claps of thunder.
We didn't linger at the summit which was cold, rainy, windy and scary with simultaneous thunder booms and lightning flashes. I jogged down and Jim - who bounds over rocks and scurries downhill like a goat - was right on my heels. The weather intensified as we hurried down the long, exposed, sometimes snowy ridge. For some reason we found this really fun.
The trail morphed into a mini raging river as we splashed our way down to the first grouping of stubby foxtail pines where several campsites awaited. Water ran through most like cascades through travertine pools. Fortunately one site was out of the stream and we set the tent up as quickly as possible. Our clothes were soaked and Jim shivered uncontrollably. We zipped our light, warm, cozy Western Mountaineering Alpinlite sleeping bags together and, with the ingestion of a protein bar, Jim's teeth finally quit chattering.
We are very pleased with our Arc'teryx Bora packs. The shoulder straps can be adjusted in a myriad of ways and they move with our bodies which makes them comfortable to carry regardless of weight. Their excellent design and water repellancy kept our things dry in the downpour.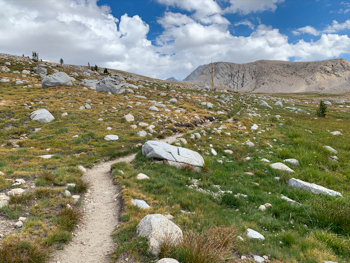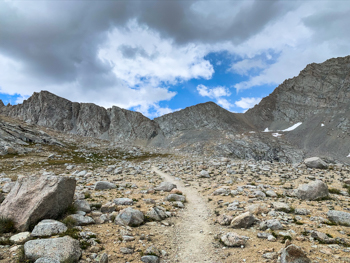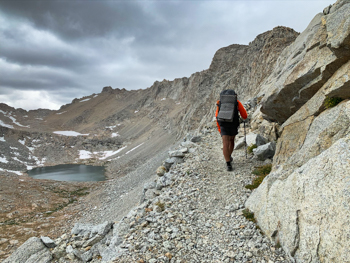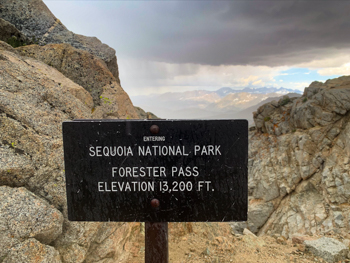 Day 7 - September 3
Center Basin Creek to Bullfrog Lake Cutoff
6.54 Miles. Ascent: 1000' Descent: 1669' Campsite Elevation: 10,525'
Rain pummeled into the night but the morning was sunny and warm. Luckily, the meadow is strewn with irratic boulders over which we draped our tent, fly, sleeping bags and clothes to dry. It looked like a yard sale and we apologized for the stain on the scenery to passing hikers.
As is typical when thundershowers come up from the south, weather is worse over these higher passes on the southern part of the JMT. They usually last for three or four days with the clouds forming earlier each day.
We hiked together down Bubbs Creek. At the split, I pushed uphill towards Charlotte Lake to find a site and set up the tent before the rain came. It began sprinkling at the Bullfrog Lake junction so I found a spot and got to work. Jim arrived just before the skies opened up.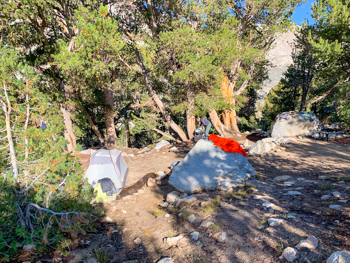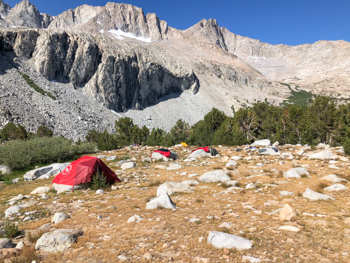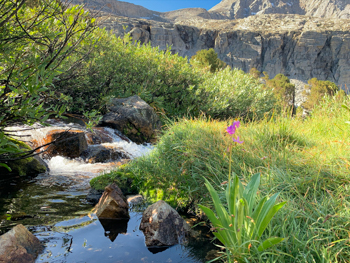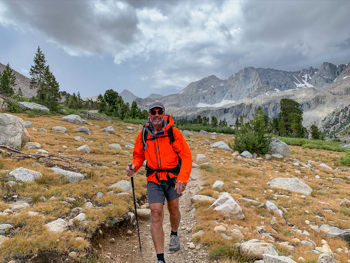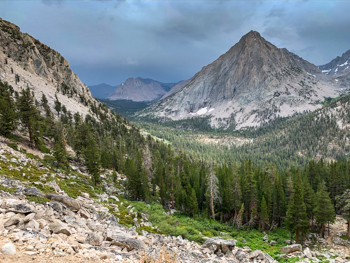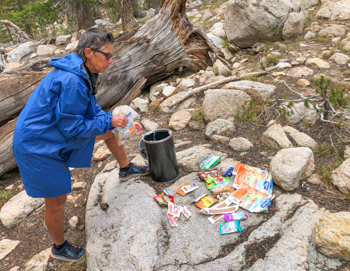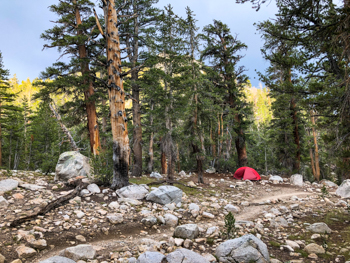 Day 8 - September 4
Bullfrog Lake Cutoff to Rae Lakes including Glen Pass
6.32 Miles. Ascent: 1646' Descent: 1610' Campsite Elevation: 9185'
Up, up, up the rocky switchbacks of Glen Pass we hiked to the narrow summit, then down, down, down to Rae Lakes. Fin Dome stands regally along the western ridge and can be seen from most points in this basin. We chose a scenic and secluded spot by the northernmost of the Rae Lakes. Once the afternoon showers passed, the two fawns hunkered down under a bush in the meadow were joined by their mother and ventured down to the lake and then up past our site.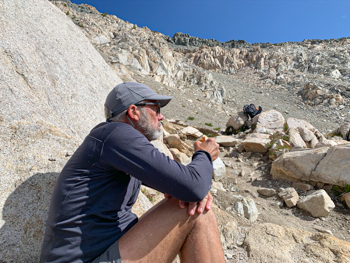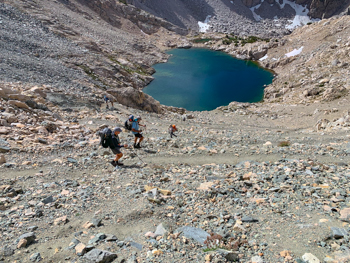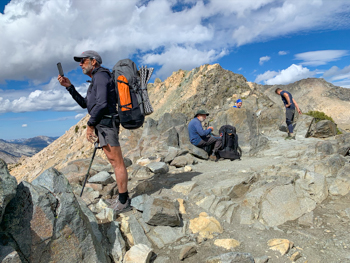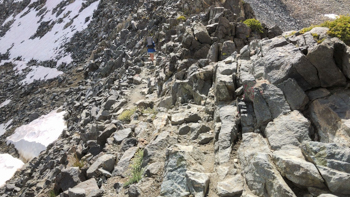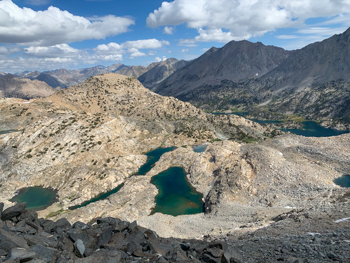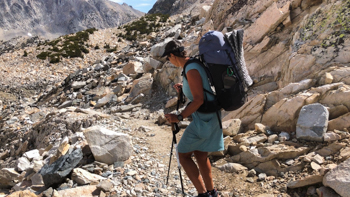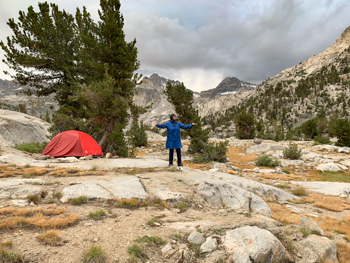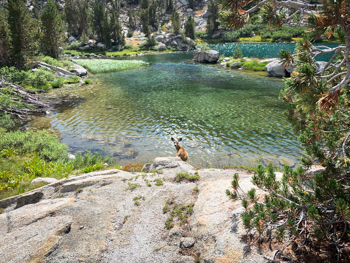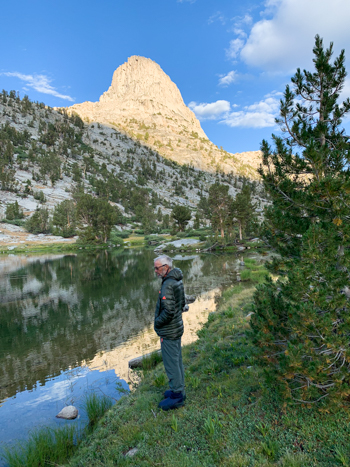 Day 9 - September 5
Rae Lakes to Woods Creek Junction
6.17 Miles. Ascent: 183' Descent: 2122' Campsite Elevation: 8492'
In light rain, we ambled down to Woods Creek Junction, a popular place to camp for those hiking the JMT, PCT and the Rae Lakes Loop. We knew there were sunny sites away from the hoopla of the main clearings under the trees and we hoped to get one.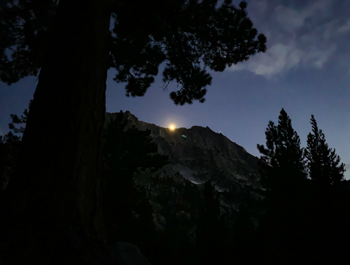 Day 10 - September 6
Zero Day at Woods Creek
We lucked out and got a nice, quiet spot with both sun and shade. An added bonus was the huge boulder where we did our best lazy marmot emulations.
Normally I wash our socks out in my aluminum cup, but for more items I decided to use my Bearikade. It worked perfectly and reminded me of doing laundry in a bucket when we lived on the boat. In keeping with Leave No Trace and proper distances, I used only a tiny bit of biodegradable soap and dumped the water well away from the river and our camp. Stringing a line between trees, I hung all to dry clipped with tiny badge clips. Drying clothes efficiently and insuring nothing blows away was another lesson learned while living aboard Tenaya.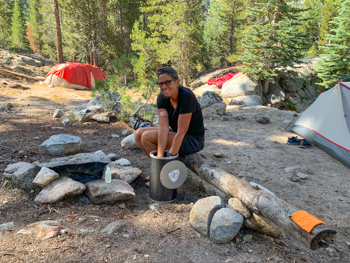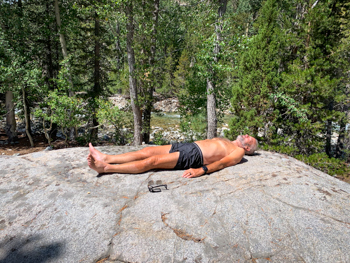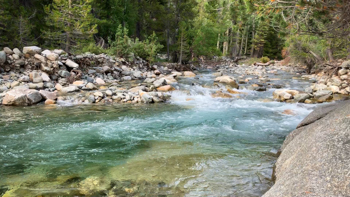 Day 11 - September 7
Second Zero Day at Woods Creek
Resupply Arrives
Scott and Amy, our son and daughter-in-law, left Roads End about 0600 with our 10-day resupply and new shoes for Jim. Starting with a new pair of Altra Timps would have been a good idea. They brought treats too - a burrito for Jim and bread and roast beef for me as well as oranges and a liter of margaritas! Words cannot convey our gratitude.