September 28, 2019
Day 24 - September 20
Muir Trail Ranch to Marie Lake over Selden Pass
8.01 Miles. Ascent: 3208' Descent: 439' Campsite Elevation: 10,595'
Besides having adorable log cabins with real beds, wonderfully prepared comfort food, private hot tubs, and an old-style washing drum which, by the way, you can buy on Amazon, MTR offers hikers the option to have a packer haul our gear up Selden Pass. With almost 15 more pounds of food stuffed into our Bearikades, Jim and I did not contemplate long. Because they were closing for the season the next day, Hilary offered to have our packs taken over the pass to Marie Lake. Cora, the young packer, had never been so it worked out perfectly.
Marie Lake is stunning! The JMT skirts the western edge with small plants here and there. The overall feel is like a huge spreading puddle among granite slabs and boulders. We found a flat, sandy site surrounded by stone high above the lake and enjoyed the sunset and sunrise immensely.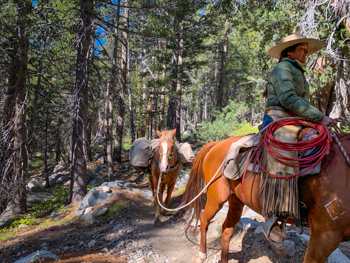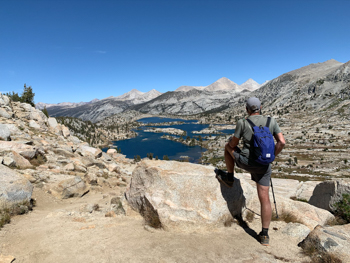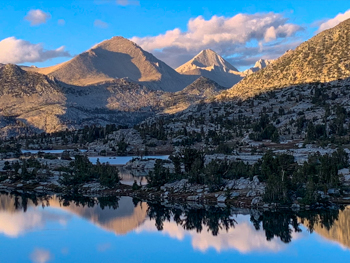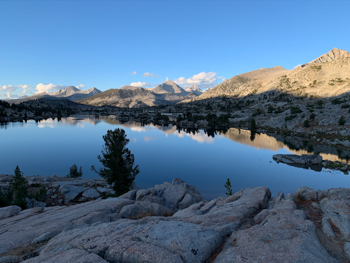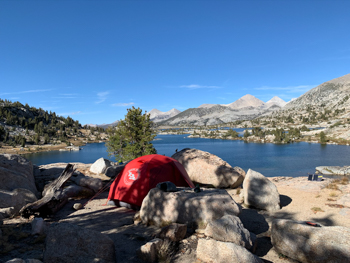 Day 25 - September 21
Marie Lake to Bear Creek Junction
7.83 Miles. Ascent: 216' Descent: 1751' Campsite Elevation: 9080'
Leaving Marie Lake, we marveled at it's beauty and talked about returning next year to spend more time here. Dropping down through mountain hemlock and whitebark pines, we passed a few dark glacial erratics and were ready stop at the southern junction to Vermillion Valley Resort, just past a meadow before the trail headed uphill.
We found a decent spot not far off the trail next to a little stream.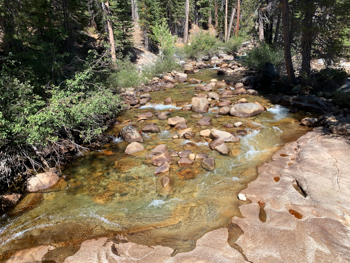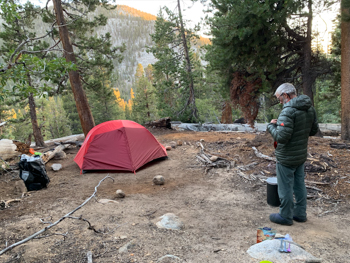 Day 26 - September 22
Bear Creek to Pocket Meadow over Bear Ridge
9.2 Miles. Ascent: 1952' Descent: 2099' Campsite Elevation: 8860'
Bear Ridge sounds benign. It is not. It felt like a pass. Although we noted the elevation gain and loss, the reality didn't sink in until we were hiking up for what seemed forever, and then down for even longer on switchbacks traversing the steep ridge. Fortunately most of it was forested and shady.
My left foot, which bothered me before we left on this hike, appreciated the reprieve at MTR but was now balking big time. The soft cushioning in my Altra Timps had broken down and molded into an unstable platform which kept my foot in a pronated position. Each step hurt. Jim plodded along behind me, capable of going much faster but content to follow my lead.
A steel footbridge across Mono Creek marks the low point and although it would have been nice to camp there, we pushed on, and back up, to a secluded site on the western side of the trail across a river flowing lazily over a massive granite slab. Earlier in the season it would not have been crossable.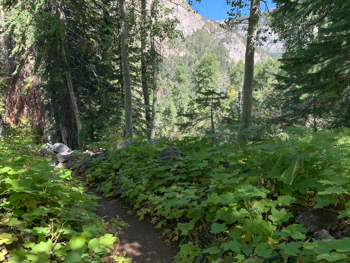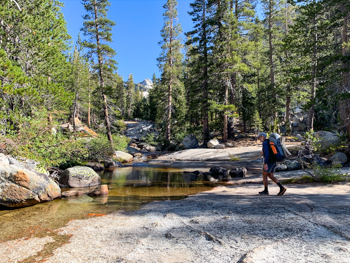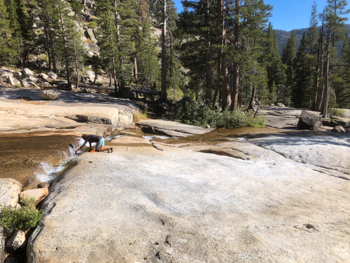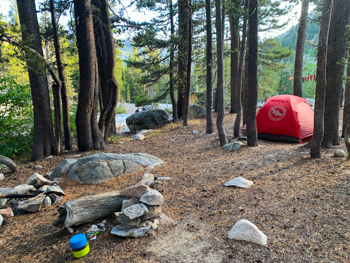 Day 27 - September 23
Pocket Meadow to Cascade Valley over Silver Pass
9.85 Miles. Ascent: 2477' Descent: 1837' Campsite Elevation: 9510'
Just past Pocket Meadow is the North Fork of Mono Creek crossing. Many switchbacks up, on the way to Silver Pass, is a Silver Creek crossing. Our guidebook says this about the two: Having to make two such wretched crossings, one right after the other seems very unfair. Perhaps I should not have underlined it because that knowledge was foremost on my mind as we left our idyllic campsite.
Sure enough, at the first crossing I hesitated, slipped, and fell in.
Jim, who photographs everything, missed the best part but captured my dripping dress as I stood up and waded across.
Silver Pass did not seem too tough. Indeed, the passes are lower as one travels NOBO toward Yosemite. We took a break at the summit, the last pass of the JMT for us.
The steep descent took us past several lakes in the rocky rubble above timberline and then through a dense hemlock and lodgepole forest to the bridge over Fish Creek. A short distance beyond, we camped in a nice spot near the river at Tully Hole. Most of the summer lush Tully Hole is beseiged by mosquitos, but nights were cold now and the annoying insects were gone.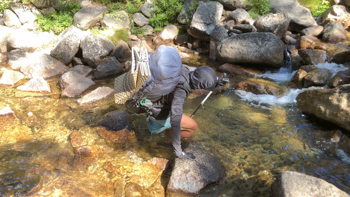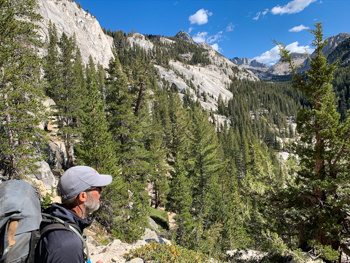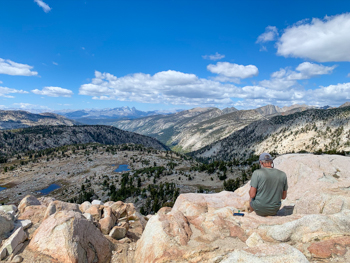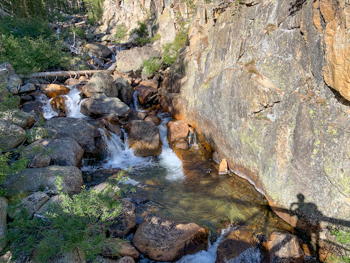 Day 28 - September 24
Tully Hole to Duck Creek
8.04 Miles. Ascent: 1768' Descent: 1318' Campsite Elevation: 10,010'
It's a steep climb of a dozen or so switchbacks out of Tully Hole to the barren saddle before Lake Virginia, a large, cobalt colored gem. On the northern side of the saddle is an area that looks like a talus moraine but is actually a rock glacier moving downhill. The ice at the center may be older than the ice glaciers - which are rapidly receding - in the Sierra.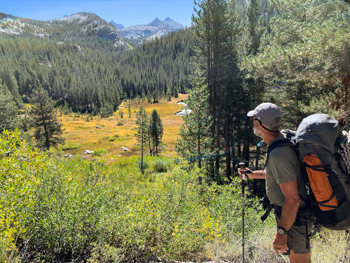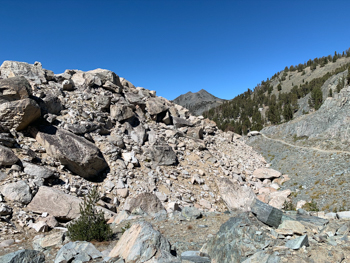 From Lake Virginia we hiked to Purple Lake. We took our packs off to make a tree break but a couple of guys came so we waited. Then a few more came. Then one looked at Jim and said something slightly profane. I recognized him before my baffled husband did.
In 1967 Jim worked for Richard's dad, Dick, at the Kelty store in Glendale. Then in the 1970s when Jim had Wilderness Experience, Richard had Sierra West. They spend time together at countless trade shows but hadn't seen each other in years. Perched on a fallen log, they had a great time catching up while I chatted with his friends. Eventually they went to look for a site by the lake and we continued on to a lovely spot next to a little gorge carved by Duck Creek. Apparently we all craved burgers and beer because a few days later we ran into each other again at Burger's where more animated conversation ensued.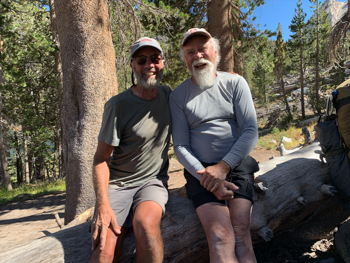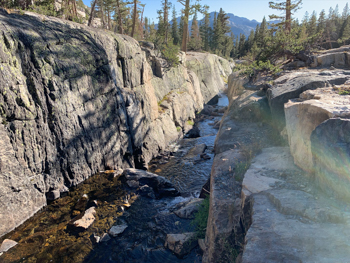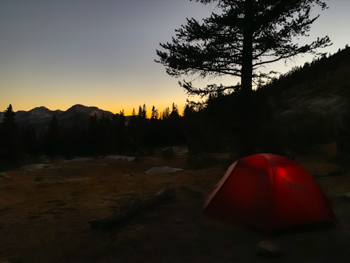 Day 29 - September 25
Duck Creek to Red Cones
9.38 Miles. Ascent: 570' Descent: 1689' Campsite Elevation: 8650'
Although this part of the trail is close to home and we hike over Coldwater Pass to Duck and Pika Lakes often, and also to Deer Lakes and over Mammoth Pass, neither of us had traveled it south of the cut-off to McCloud Lake. It's a nice section in very familiar terrain and vegetation. We stopped for a break above the river and I pulled out my phone to take a photo. As I had done unsuccessfully throughout our trip, I switched off Airplane Mode to see if I had a signal. For the first time since Day One atop Cottonwood Pass, I did! The next hour was spent with our eyes glued to our screens.
This last night in the wilderness, camped in a spot I so often run by, was bittersweet. I was looking forward to my PT checking out my foot, dealing with it, and giving it a rest. But, to a greater extent, we didn't want our time immersed in nature to end. Aside from the pull of beer in our fridge and wine in our rack, Jim would have been completely happy hiking on to Tuolumne or Yosemite.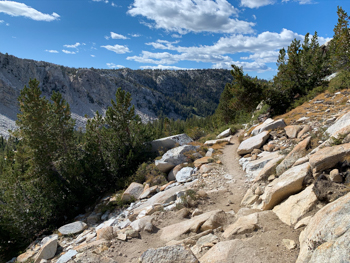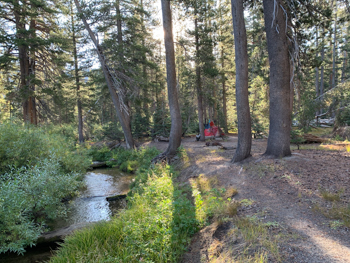 Day 30 - September 26
Red Cones to Horseshoe Lake over Mammoth Pass, then home
3.5 Miles to Horseshoe Lake, then 4.5 Miles home. Total hike: 201 Miles
How strange, yet normal, it felt hiking from Red Cones to Horseshoe Lake. We know it like the back of our hands but had never done it carrying backpacks or having been out for a month. Stepping onto the pavement felt like we were done although we still had 4.5 miles to reach our home. We hit the 200 mile mark a mile from our front door.
Would we do it again? In a heartbeat.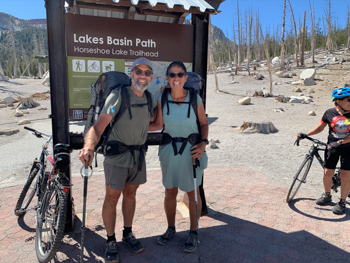 .