September 27, 2019
Day 12 - September 8
Woods Creek Junction to Just Below Pinchot Pass
7.33 Miles. Ascent: 2969' Descent: 196' Campsite Elevation: 11,300'
Spending two zero days at our quiet, pleasing site beneath towering peaks and above a gently flowing river was calming and enjoyable in a different way than sauntering through the ever changing landscape. Jim and I still give massive thanks to our son and daughter-in-law for hiking 15 miles up, carrying 20 pounds of food for us each, visiting for an hour and a half, then running 15 miles back down to Cedar Grove. We would not have been able to hike our relaxed pace without their kind and energetic efforts.
Woods Creek was the lowest elevation so far, and continuing our hike fully loaded up 2200 feet toward Pinchot Pass was tough. It was also beautiful. Heading up the canyon past the suspension bridge, the trail traverses a steep hillside covered in manzanita and wildflowers. Below, the river spills and tumbles over smooth granite slabs.
We made it to the last cluster of lakes below the pass and camped on the only flat clearing we could find beyond a large meadow and before the switchbacks.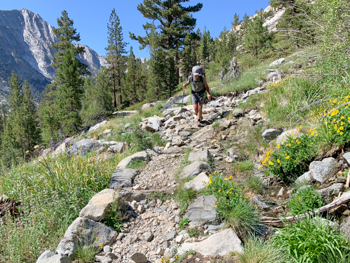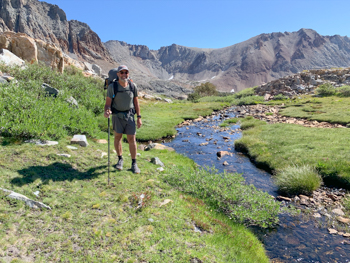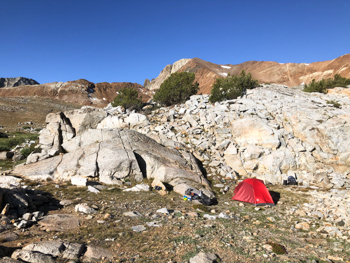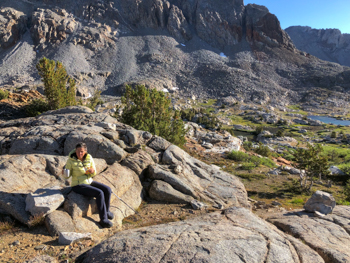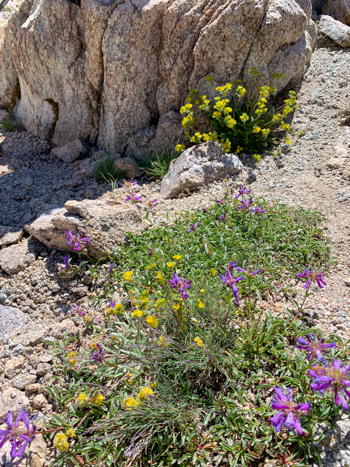 Day 13 - September 9
Pinchot Pass to Upper Basin
8.77 Miles. Ascent: 1729' Descent: 2034' Campsite Elevation: 11,400'
It was an easy hike over Pinchot Pass because we had camped high, then it was a long descent to the junction with Taboose Pass. A fire was burning at the trailhead so it was closed. We watched smoke blow across to the west from our site on a sandy patch above a stream in Upper Basin.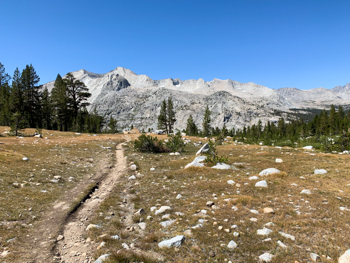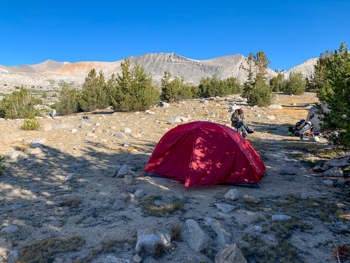 Day 14 - September 10
Upper Basin to Lower Palisade Lake including Mather Pass
7.1 Miles. Ascent: 1263' Descent: 1614' Campsite Elevaion: 10,613'
We like camping high so we can cross over passes early in our daily hikes. Early is relative, though. We rarely break camp before 10:00.
Again we spent most of the day hiking downhill. The trail runs beneath the jagged peaks of the Palisades and high along the lakes of the same name. We camped at the drainage of Lower Palisades Lake which was exposed and windy and had spectacular views of Le Conte Canyon far below.
As we we prepared to crawl into our tent for the night, three SOBO PCTers asked to share the area. They had flipped, skipped out of the Sierra after Forester Pass because of deep snow, and hiked on to Canada. Now they were back covering the miles they had missed. Once it was dark and we were snug in our bags, a woman came to stay as well. One guy asked what she thought of the Golden Staircase. "Brutal," was all she said. They were gone when we awoke.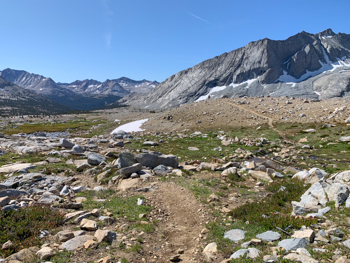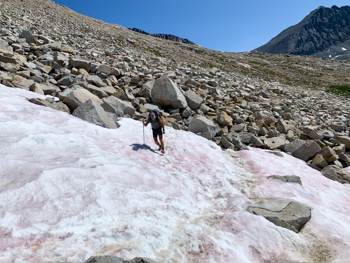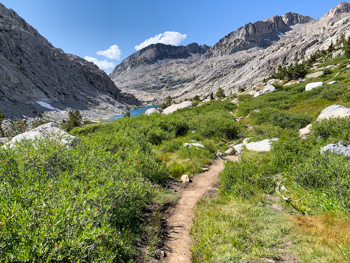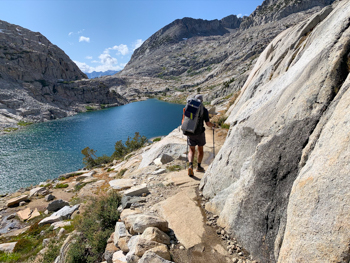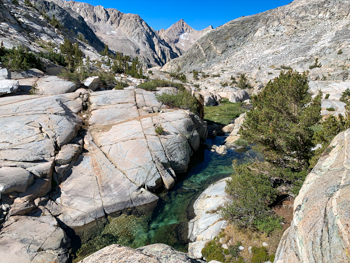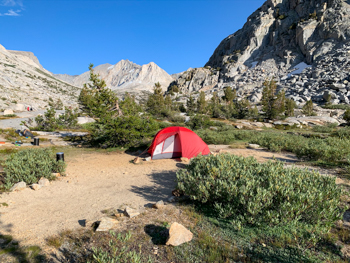 Day 15 - September 11
Golden Staircase to Le Conte Canyon just south of Bishop Pass Junction
10.02 Miles. Ascent: 583' Descent: 2752' Campsite Elevation: 8550'
Yes, we were happy going down the Golden Staircase, a 1500-foot descent of about a thousand switchbacks. Built in 1938 on rock walls against a near vertical headwall, it was the last section of the JMT to be completed.
Down we hiked to the Kings River, turned right, and headed upstream. Grouse Meadows was beautiful but had too many mosquitos so we continued on and found a single campsite with easy access to the river.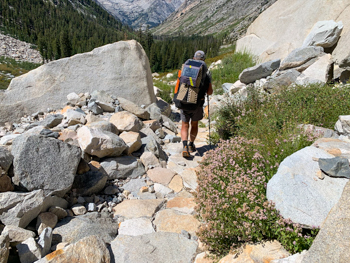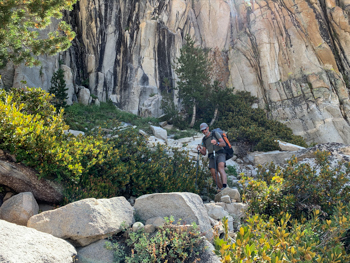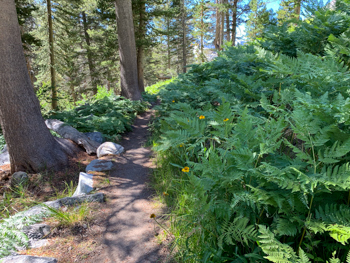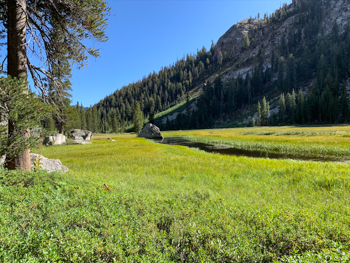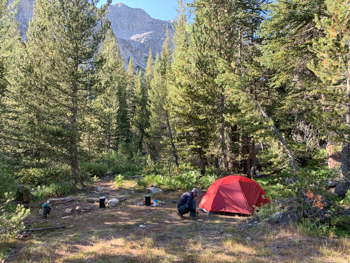 Day 16 - September 12
Le Conte Canyon to Starr Camp
7 Miles. Ascent: 2007' Descent: 85' Campsite Elevation: 10,320'
From Jim's journal: Well... interesting day. We started up towards Muir Pass headed for Starr Camp. I was moving slowly, not feeling 100% so told Katie to go ahead and I'd meet her at camp. About 2-2.5 miles before camp I was feeling really weak and was stopping often. At one point I was feeling weak and decided to sit down on a rock with my pack on. Next I knew, I came to with two women helping me. I had fainted in the trail and bumped my head. They helped, got me a wet bandana and cleaned blood off my forehead and put on a Band-Aid. They were Kristen and Leslie. I asked them to find Katie when they reached Starr Camp. I felt okay to continue up, but about .5 mile from camp Katie came running down. Then Leslie followed, still worried about me. Katie then took my pack and we made it to camp.
It had been a hot, cloudless day with a lot of elevation gain and very little shade. A large section involved steep switchbacks up through talus. Turns out that to save weight Jim started with only one liter of water, didn't refill his bottle, and hadn't eaten anything after we'd split up. He was running on empty and I had no idea he didn't feel well. I felt horrible for leaving him.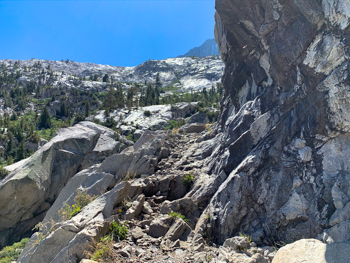 At Starr camp we discussed what went wrong and how we would handle things going forward. That evening the moon rose full and brilliant in the forest fire colored sky and reminded us why we love being in the backcountry.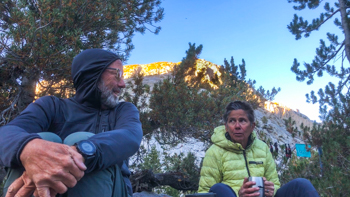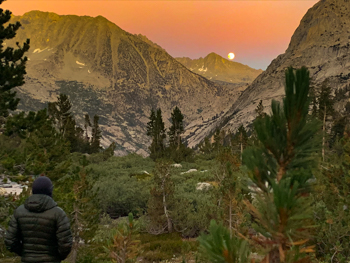 Day 17 - September 13
Starr Camp to Wanda Lake including Muir Pass
7.06 Miles. Ascent: 1830' Descent: 688' Campsite Elevation: 11,380'
More from Jim's journal: Today went way better than yesterday. Katie had planned a couple of campsites before Muir Pass in case we had to move slowly. But, I felt great all day - ate more snacks and more often, and drank more water. We cruised over Muir Pass, took pictures of the hut (so many old memories) and walked down to the outflow of Wanda Lake. Great campsite and incredible views up and down the canyon.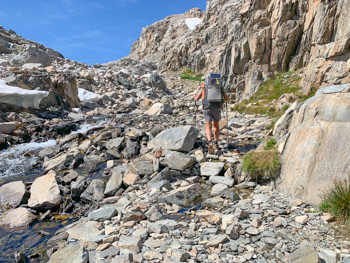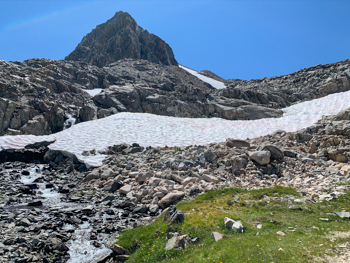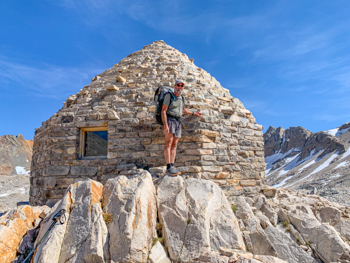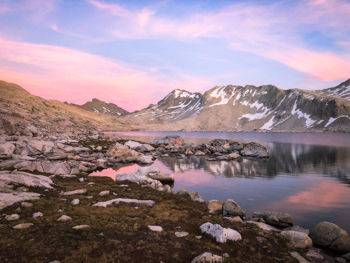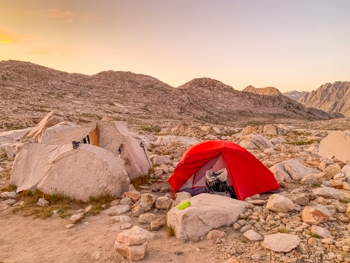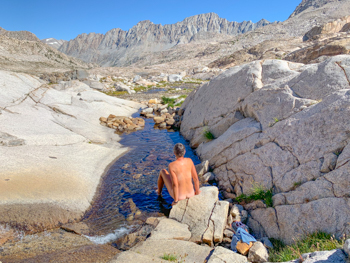 Day 18 - September 14
Wanda Lake to Evolution Lake
4.5 Miles. Ascent: 249' Descent: 731' Campsite Elevation: 10,850'
Evolution Basin may be our favorite part of the entire trail. The stark, rocky terrain is otherworldly. It was so bright inside the tent last night that I crawled out to see what was going on. It was the gigantic full moon! Shadows cast on the boulders strewn about were like a an eerie vision from a science fiction story. I pulled my sleeping bag out and laid there in awe.
While hiking through the basin the next morning we met a guy who told us about a nice place to camp that night. We followed his directions and found a wonderful spot overlooking the entire Evolution Valley.
We collected and filtered water at Evolution Creek just before it cascades out of this hanging valley into the one below. Next to our campsite were boulders perched on a vast granite slab where we sat and marveled at being in this spectacular spot far from civilization.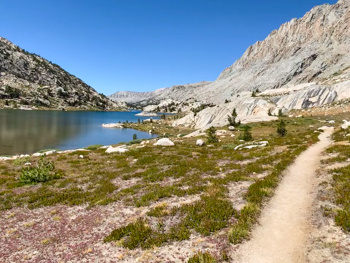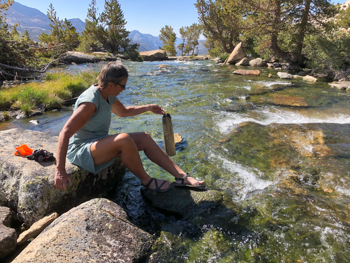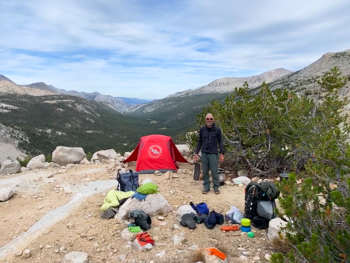 And now, to talk about business, doing our business on the trail. Leave No Trace means carrying out your toilet paper. Many people don't which pisses me off to no end because if we find it, we pack it out. Totally gross. Our solution is to use bidets and I have a Kula pee cloth.
If this is too much info, just scroll on by, but I think it's important if you plan to be in the backcountry...
I use a Hydrapack Stow one liter bottle for my bidet. It is soft and flexible so folds flat when not filled with unfiltered water for pottying. It is designed to be used with hot or cold water. With a small opening, the stream is strong and can be directed exactly where it is needed. For me as a woman, I just blast from front to back. Jim uses one he found on Amazon that has an angled nozzle to work around his junk. The secret is to spray first to avoid any cling ons, do your duty, then spray again to clean. It's amazing how fresh this can make you feel without daily showers. I use a tiny bit of biodegradable soap, too.
As you can see in the photo, my poo kit is all orange to make sure I don't accidently use it for anything else. Oh, the titanium shovel works much better in hard dirt than the thick, plastic ones. Be sure to dig a 6"+ deep hole and hit the target. Having the water go into the hole helps the poo decompose faster than burying it dry. Mother Nature needs all the help she can get.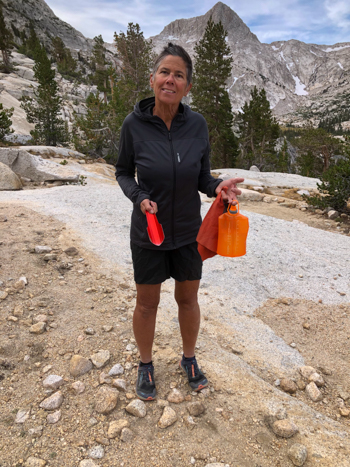 Day 19 - September 15
Evolution Lake into Darwin Canyon and down to Evolution Valley
7.27 Miles. Ascent: 1328' Descent: 2237' Campsite Elevation: 9740'
A mile from our campsite we turned off the JMT onto the Darwin Canyon use trail and stashed our backpacks under a tree. With our lightweight daypacks filled with snacks, fleece, water and a filter, we clambered up over scree, talus, boulders and slabs. Jim used to climb back here more than 40 years ago. Sitting on a rock gazing around, a serene aura overcame him as he reminisced about adventures deeply embedded in his heart.
Vowing to return for a longer stretch, we left and continued down into Evolution Valley where we found a lovely site under the watchful eye of The Hermit, an arete caused by two glaciers merging. I realize the word arete should have and accent circonflexe but have no idea how to do that in Dreamweaver. My appologies.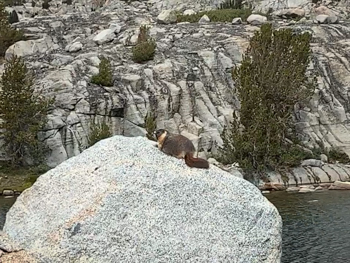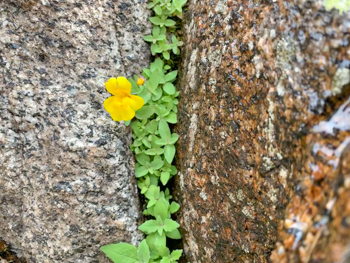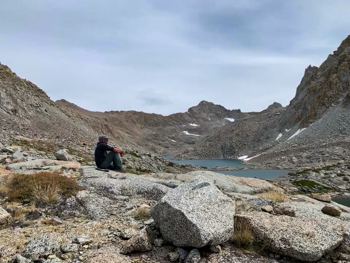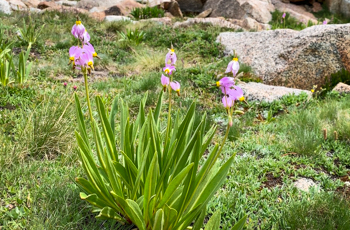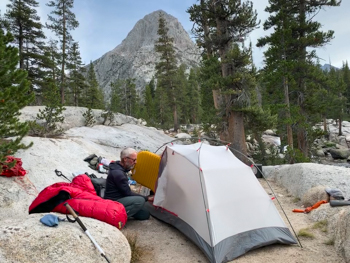 Day 20 - September 16
Evolution Valley to just before Muir Trail Ranch
12.35 Miles. Ascent: 754' Descent: 2716' Campsite Elevation: 7900'
We awoke to wind, clouds, and hail so decided to beeline directly to Muir Trail Ranch. In warmer weather we would have loved lingering here and wading in the clear, refreshing pools.
Hiking through the lodgepole forest, along the river flowing over granite slabs, and past lush McClure Meadows is absolutely breathtaking. We dropped down out of the third and lowest hanging valley and scooted along at an accelerated pace back into the John Muir Wilderness. We were hoping to reach MTR before they closed at 5:00 pm. We didn't make it.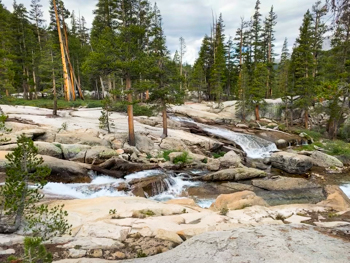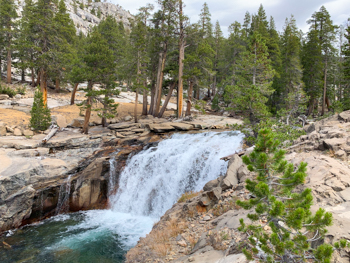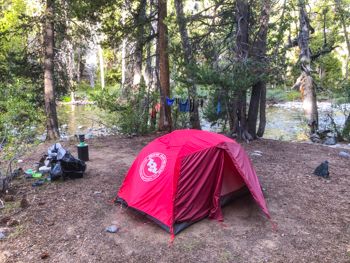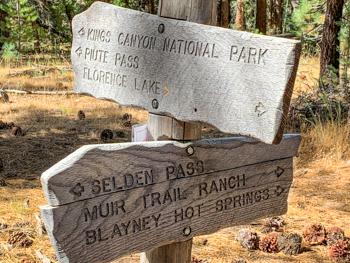 Day 21 - September 17
Just before MTR to Muir Trail Ranch
5.2 Miles. Ascent: 626' Descent: 705'
We spent the night in a group site not far from MTR. The only people there, we would have been fine staying another night until we could check-in. But bad weather was forecast and we were willing to spring for another night so we walked over to see if we could add an extra night.
Woohoo, they had a cabin available! We went back and packed up our tent, then returned and moved in for three nights. It felt super decadent. The owners and employees are really nice. The cook offered us lunch which was the previous night's leftovers, and five star dining could not have beaten that meal.
Days 22 & 23 - September 18 & 19
Muir Trail Ranch
Over the next three days we bathed, soaked in the 106 degree hot tub, did laundry, soaked again, had the yummiest breakfasts and dinners, soaked some more, organized our resupply, and soaked one last time.