June 10, 2017
Southern Utah. How did we not realize how gorgeous and mesmerizing you are? Why had we never come to visit before? Why did we think Utah was all about Salt Lake City, skiing up Little Cottonwood Canyon and, from our working lives, the Outdoor Retailer Trade show?
It's a nine hour, 550 mile, drive from Mammoth to the town of Escalante in Grand Staircase-Escalante National Monument and we took two days to get there. Along the way we discovered that rural Nevada - which oscillates between mountain ranges and long, wide valleys - is pretty cool too in a stark, wide-open, surprising way.
April 30, 2017 - Cathedral Gorge NV State Park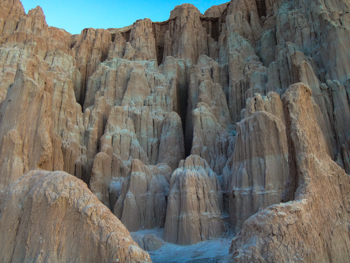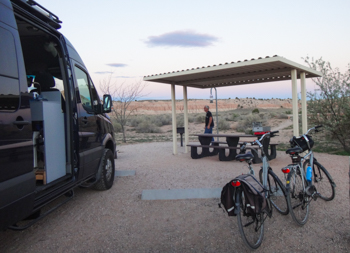 Our first night out we camped at Cathedral Gorge State Park quite close to the NV/UT border. The well-maintained sites are surrounded by rutted sandstone features that seem straight out of a fairy tale. We rode our bikes to see as much as we could before the sun set and a zillion stars poked through the black night sky.
The next morning we were on our way to Escalante to meet a friend, Brenda, for some hiking and exploring. On the way we stopped at Bryce National Park and were awed by landscapes even more colorful and otherworldly than the previous stop.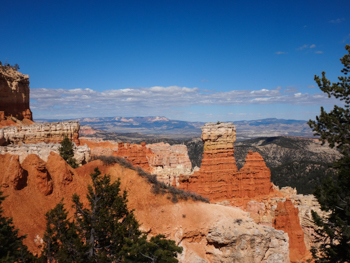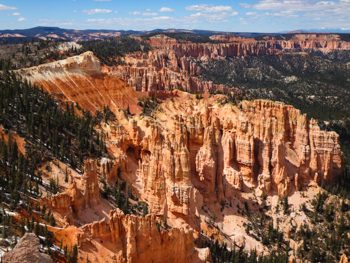 May 1-13, 2017 - Escalante Petrified State Park, UT
What a lovely campground! Roomy sites along a reservoir are backed by hills scattered with chunks of petrified wood. Both short and long trails wend up for scenic views.
It wasn't long before someone stopped to have a look at our Sprinter. Kendall, the park manager, had just bought a new 4x4 and had some questions about our DIY build. We bonded over bouncing ideas around. He has some really creative ones, can't wait to see what he does.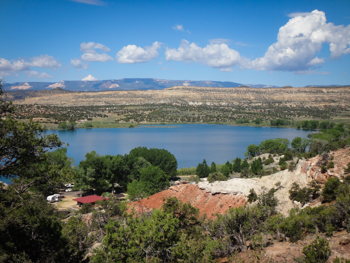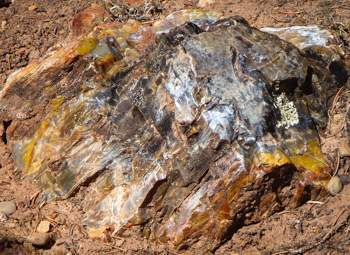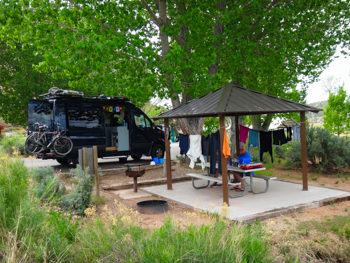 Brenda has been hiking and canyoneering in this area for years and was excited to show us around. She drove everywhere including two 120+ mile days on dirt roads: down the Burr Trail to Lake Powell, and to Hole-In-The-Rock where early Mormon pioneers lowered wagons and livestock down to waiting boats to cross the Colorado River. Today that area is covered by a sliver of Lake Powell. For more than a week our van only moved back and forth, between our shady site and her sunny one, to keep the solar panel charged.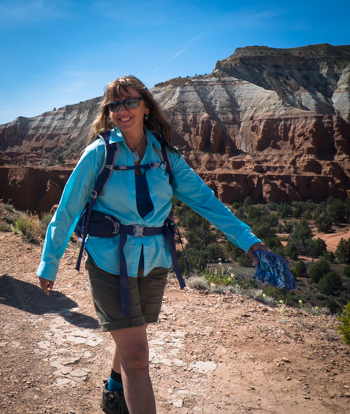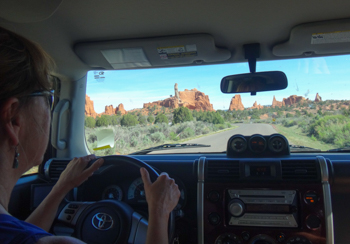 We went for hikes and searched for rock art.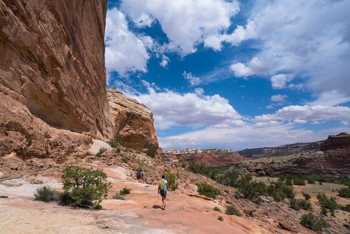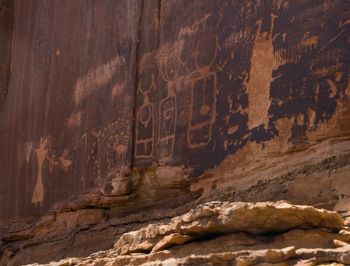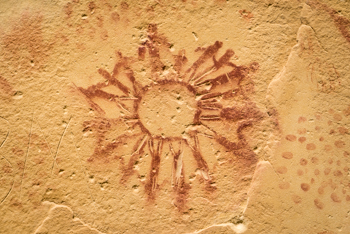 Our first hike was Lower Calf Creek. Walking up the canyon with steep orange cliffs on each side dotted with shrubbery had our senses on high beauty alert. The temperature was warm so when we reached the serene falls at the head, the spray and coolness were much appreciated.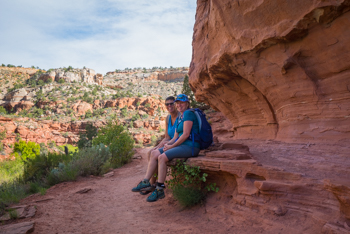 Willis Creek is the first slot canyon Jim and I experienced in Utah. It's stunning and not far from Kodachrome Basin so it was another day of over-the-top scenery.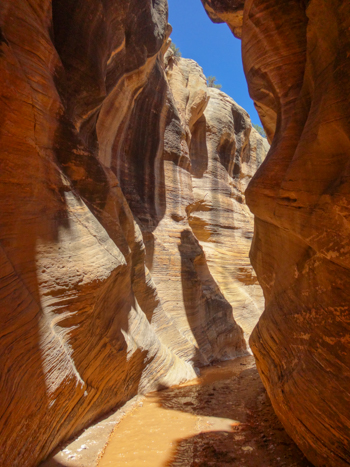 The highway to Boulder, Utah passes through miles of Navajo sandstone. Sometimes white, sometimes tones of orange or red, the ground is often reflected in the clouds which gives them a rosy hue. Other times, when squalls or storms loom, the clouds are simply shades of grey.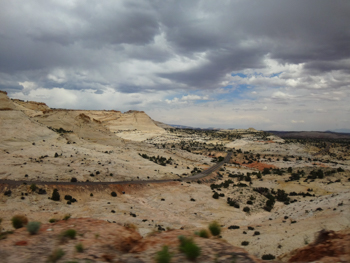 The Burr Trail is a dirt road that runs from the town of Boulder to Bullfrog Marina on Lake Powell. Via a section of steep switchbacks, the road passes through Waterpocket Fold, a 100 mile long rumple in the earth's crust. It is not for long vehicles or the faint of heart.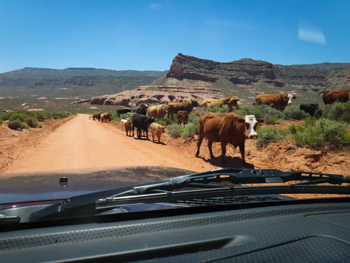 Before our drive to the end of the Burr Trail, we visited the Anasazi State Park Museum in Boulder which includes part of an Ancestral Puebloan village, extensive arrowhead collections and local historical information.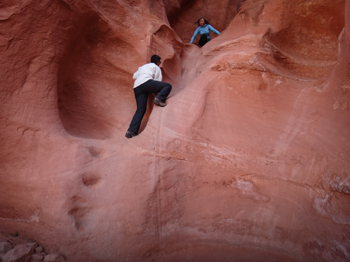 Next we hiked up Peekaboo and down Spooky slot canyons. This was the most fun Jim and I have had in a long time. We felt like little kids climbing and sliding, twisting and turning, squishing and squeezing.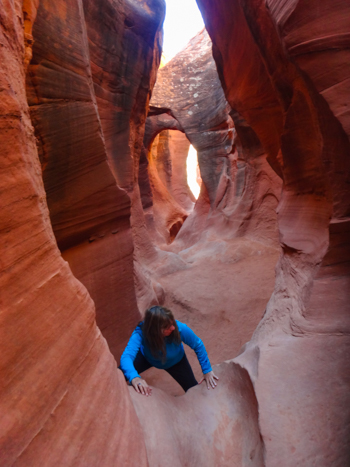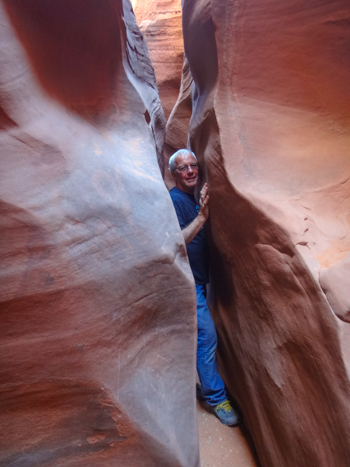 After our drive out and back on the Burr Trail we stopped for a late lunch at Hell's Backbone Grill in Boulder. For a restaurant in the middle of nowhere, this place has earned a loyal following with their almost exclusive use of locally raised food. Their first cookbook, With a Measure of Grace, weaves stories of their early days in this Mormon ranching town with delicious recipes and is a fun read for insight into the community.

The drive to Hole-in-the-Rock took most of the day. Although we only sat in Brenda's FJ, Jim and I were too hot and zapped from the heat to walk down to the water. Next time.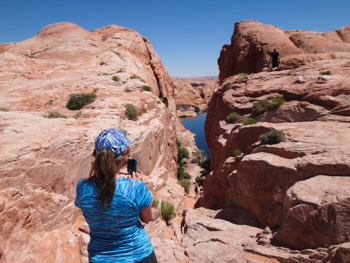 Brenda had never hiked the Pine Creek trail in Box-Death Hollow Wilderness because it requires two cars for a one-way jaunt. Once her friend, Craig, arrived and Jim and I were suitably conditioned, we headed up Hell's Backbone Road, left the Sprinter at the bottom and took her Toyota FJ Cruiser to the trailhead.
Patches of snow still rested in the shade of pines along the grassy section at the beginning of the trail.
As we descended, the vertical sandstone walls grew taller and the fast moving stream took up more and more of the canyon floor. We must have crossed it close to 100 times during the stunning 8.8 mile hike.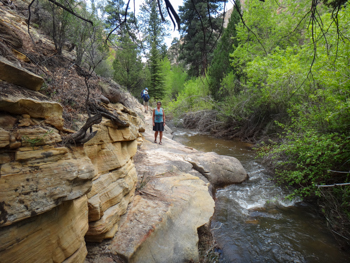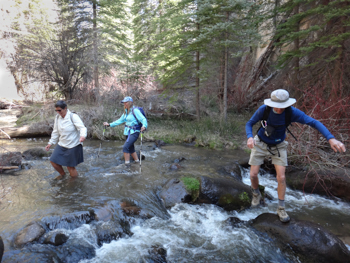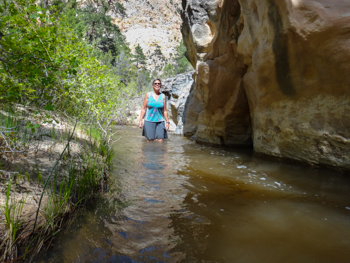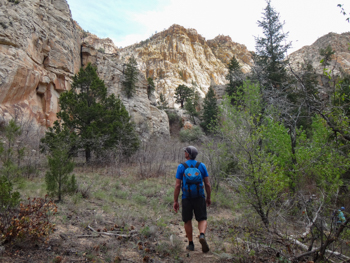 We stopped at Excursions of Escalante for a scoop of ice cream sandwiched between two thin, crispy homemade waffles, a yummy treat after a day of hiking. Jean asked if we wanted to try canyoneering but I hesitated. Brenda thought we'd like it but I was worried about being old, overweight and out of shape. Jean and Amie (who owns the business with Rick) said not to worry, most of their first-time clients have not done this sort of thing before; I'd do fine. We watched a video and decided, why not?
On Day 9 Brenda and Craig headed east to do a five-day backpacking trip. On Day 10 Jim and I discovered canyoneering.
Oh man, what fun!
Rick has been exploring the canyons in this area for nearly 20 years and knows them well. He is a kind, skilled, supportive guide that seems to genuinely love this area and helping people enjoy the entire experience.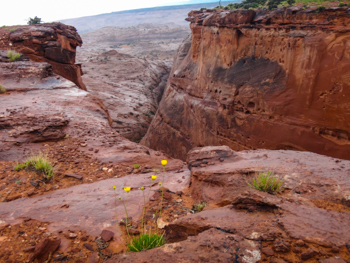 We lucked out and went with just two other people, Dennis and Kurt. Rain threatened so Rick took us to a slot canyon that had good escape routes along the way.
After rappelling into the canyon, Rick taught us that it's okay - important, even - to slide on our butts, wedge body parts into cracks and step on each other. Although we had a rope, this is not at all like climbing.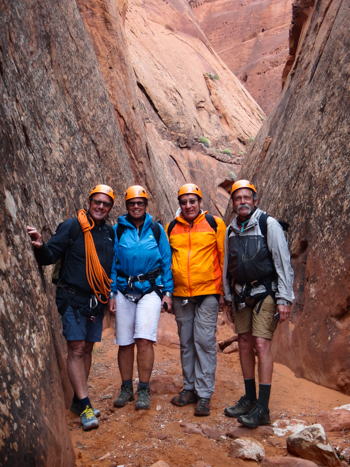 Assistant guide, Davis, belayed us and was there to answer questions when Rick was working with someone else or fixing anchors.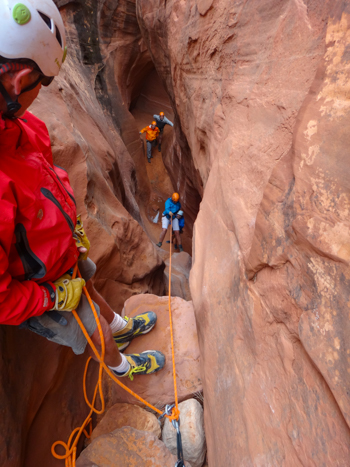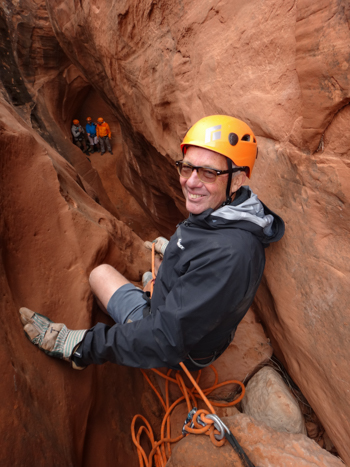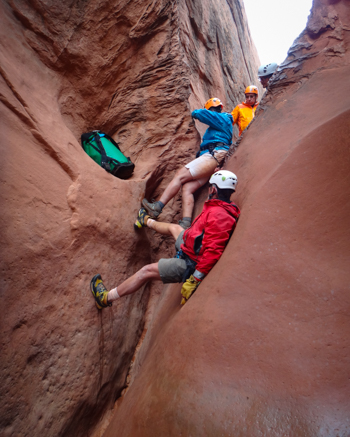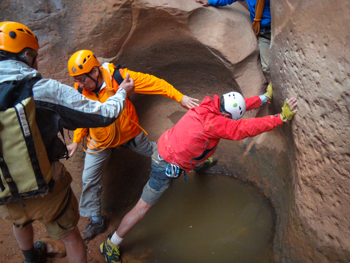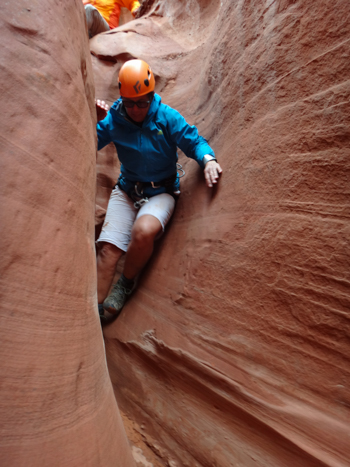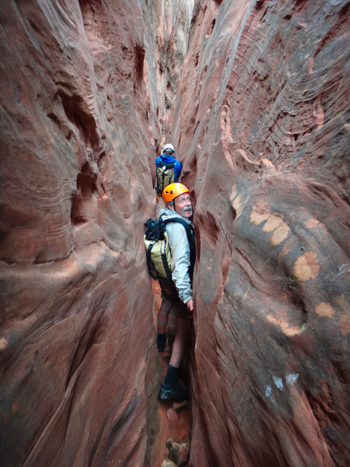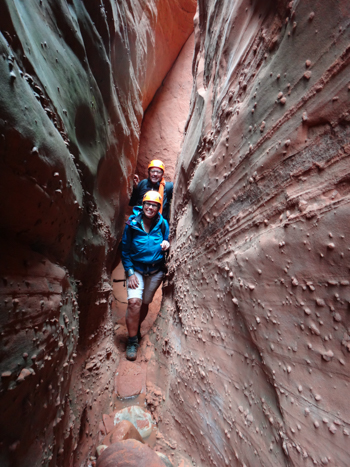 See those knobs on the walls? They will shred your shorts right through to your skin. Don't ask how I know this, but I was happy Jean had suggested buying clothes for the trip at the secondhand store in town.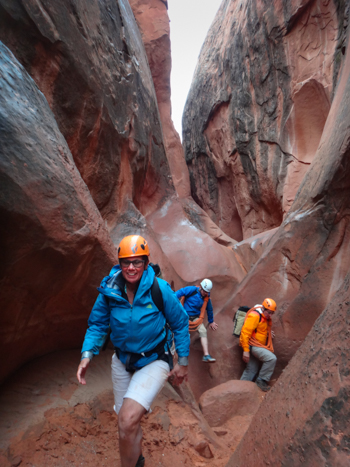 We had such a blast! Kurt and Dennis felt like longtime friends by the end of the day and we promised to keep in touch and probably even visit one day while on a road trip. Jim and I were hooked on canyoneering and signed up for another trip two days later.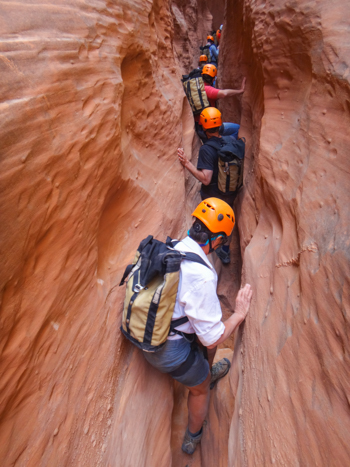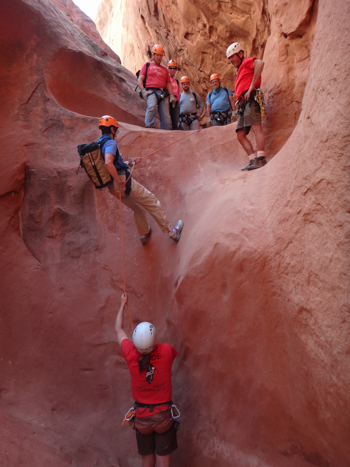 Next up: Utah Part 2 - Searching for rock art, visiting Bears Ears and Natural Bridges National Monuments, and more canyoneering.
Go to: Rock Art & More Canyons - Southeastern Utah