June 10, 2017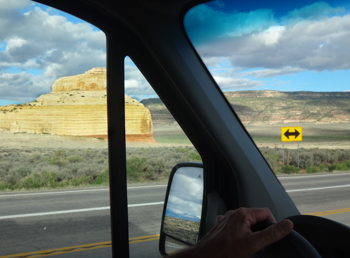 May 13-15, 2017 Goblin Valley State Campground
Jim and I spent two weeks in Escalante and fell in love with the canyons of Utah. Wanting to see more, we consulted guidebooks and friends and hatched a plan which took us next to Goblin Valley State Park.
We arrived in time to wander through the crazy shapes this area is named for as well as to do a hike up Wild Horse Canyon looking for petroglyphs.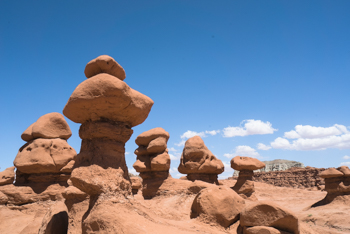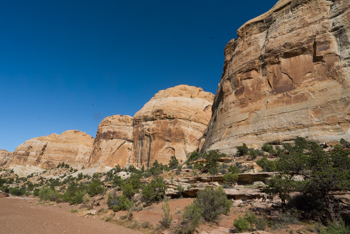 Perhaps it was our timing but the wind howled through this campground. The toilets and showers, which are configured like those in Escalante, were nowhere near as clean or inviting. It was, however, located well for doing hikes in the San Rafael Reef. Spots for free camping abound but we were happy to have access to real showers each day, however dirty they were, because we were much dirtier.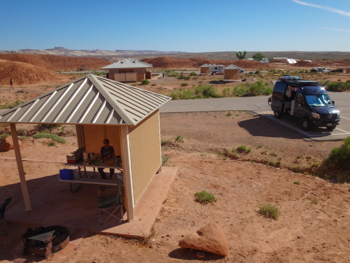 Nearby is a 30 mile dirt road to Horseshoe Canyon in Canyonlands National Park where the Great Gallery rock art panel is located. Since it is a seven mile hike round-trip with a steep descent of almost 800 feet, we planned our visit for late in the afternoon so we'd be climbing out in the shade. Temps were in the high 80s and the canyon bakes during the day.
Trudging through the soft sand was well worth the effort to see the Barrier Canyon style petroglyphs and pictographs in person. We were the last people out of the canyon as evidenced by the ranger following a polite distance behind us who must have had sweep duty.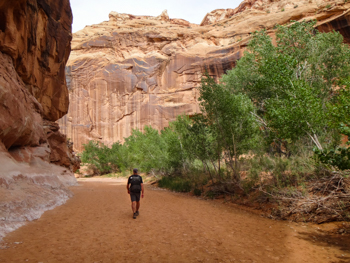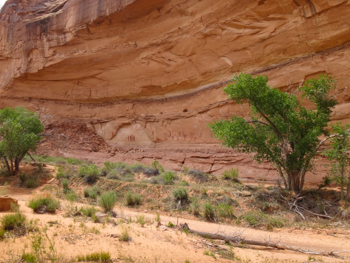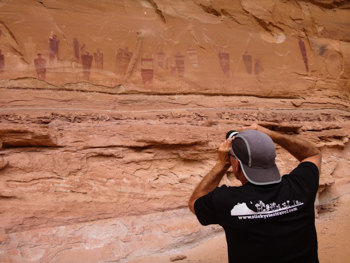 "If you only do one hike in the San Rafael Reef, do Little Wild Horse and Bell Canyons," a few people had told us. So that's what we did. It's an eight mile loop of moderate difficulty through the two slot canyons. We went up Little Wild Horse, crossed the upper section along a dirt road following the top of the reef, and went down Bell. Here and there the trails were filled with muddy orange water. Cold water, the folks coming the opposite direction warned us. All was good until the very end, which was also the very beginning, where the start of Little Wild Horse was flooded. On the way in we went up and over. On the way back Jim did the same. He much prefers climbing to swimming. I, on the other hand, love water and swimming so I eased into the chilly water and when I couldn't touch bottom, just dog paddled for the other end. Eventually I put my feet down and was able to stand up and walk out. What a fun day!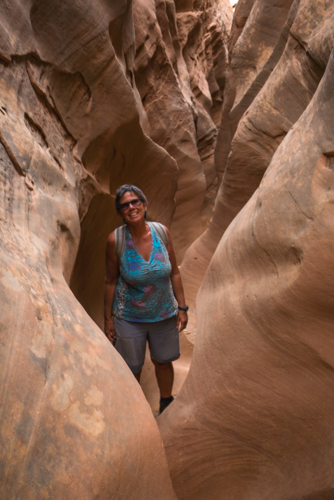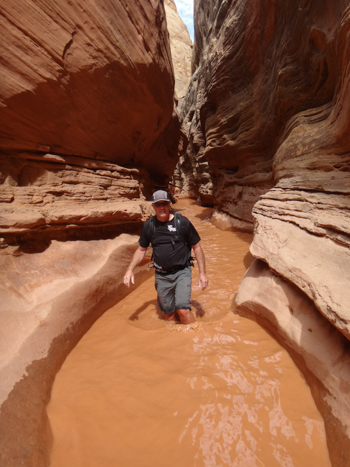 May 16-17, 2017 - Nine Mile Guest Ranch, near Wellington UT
Our original plan was to hike a few other canyons in the San Rafael Reef but water was raging through them and we weren't prepared or skilled for such adventures so we left in search of more rock art.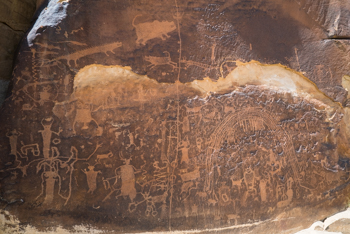 After a stop at another petroglyph site we drove to the head of Nine Mile Canyon and took a campsite along the stream at Nine Mile Guest Ranch Bunk and Breakfast for two nights. Parked in the shade of a large cottonwood and surrounded by grass and black cows, we relaxed and read.
The next morning we awoke to snow. The Mormon couple, Ben and Myrna, who own this working cattle ranch, offered a hearty breakfast of eggs, pancakes, sausage, hash browns, toast, strawberries and grapes. Oh, and coffee. Although they don't drink it, they made a pot just for us. They had been expecting another couple who did not shown up but I'm pretty sure Myrna still prepared the same amount of food.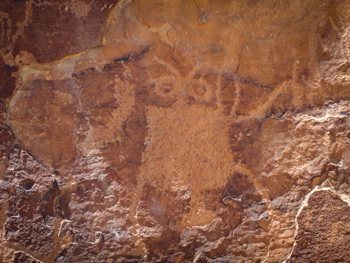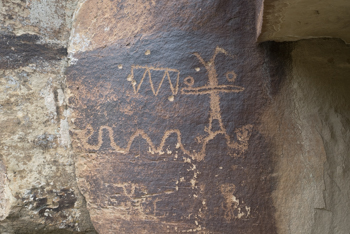 Nine Mile Canyon Road is really closer to 40 miles. Rock art made by the Fremont culture lines the narrow road. At the end is what some feel is the best work - the Hunter Panel. We knew we'd see plenty of petroglyphs but what we hadn't expected were two badgers. Live badgers. Two! Cool little waddly creatures, they are.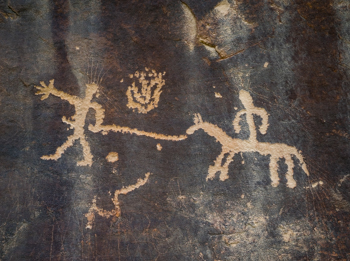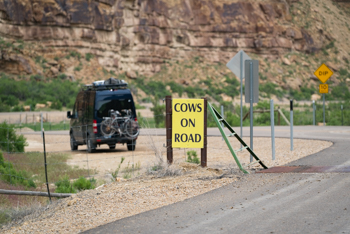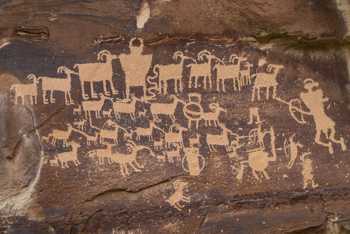 On our way to Moab to fill our fridge with fresh food, we stopped to see more rock art in the Archaic/Barrier Canyon, Fremont and Ute styles. Red pictographs from the earlier Archaic style had been pecked over by later Ute artists on one side of the outcropping. Around the corner were two Fremont panels.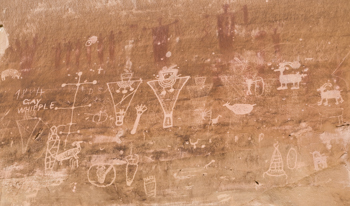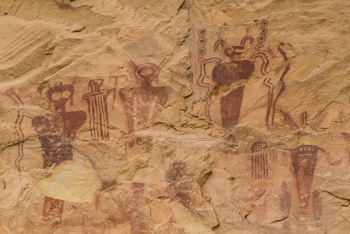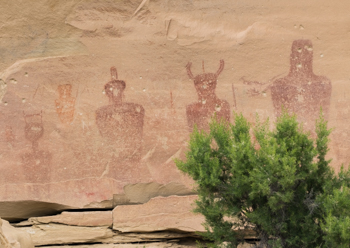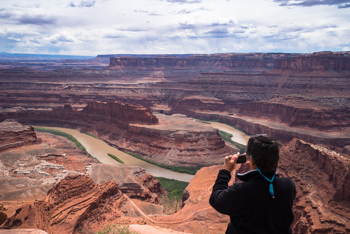 May 18, 2017 - Kokopelli / Atomic Motel, Moab, UT
We drove to Dead Horse Point State Park in search of a campsite. It was full but we were consolded by a pretty view of a gooseneck in the Colorado River. Later we were able to get the last available room in a cute and inexpensive little motel in Moab.
While walking to dinner we saw a sign advertising horseback rides at Red Cliffs Lodge on the Scenic Hwy. 128 Byway. Since we are planning to spend four days on horses in Mongolia this September, we figured we'd better see how our bodies like it. Mine didn't. I had to get off about an hour into the ride and walk back to the stables while Jim continued on and felt fine. I'll have to work on this riding thing...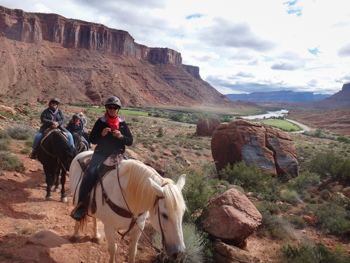 The next day we drove the self-guided Moab Rock Art tour and then headed south for Newspaper Rock and a disbursed camping site.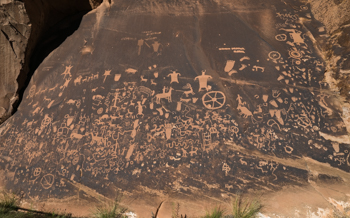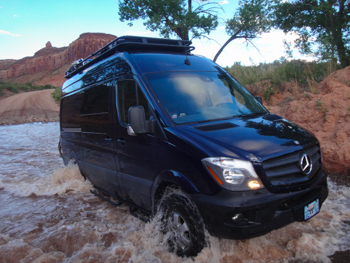 May 19, 2017 - Campsite in Indian Creek, UT
We found a great site at a campground in the shadow of the Needles. There were two firepits and a nice table built from rocks. No pit toilet though, but no people around so we tried out our five gallon bucket complete with toilet seat, wag bag and deodorizer for the first time. With the views and fresh air, it has to be better than pooping in a porta-potty inside the van.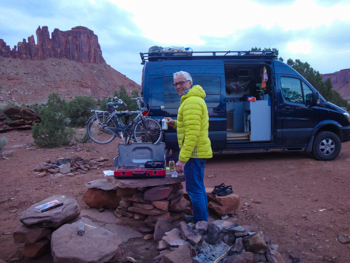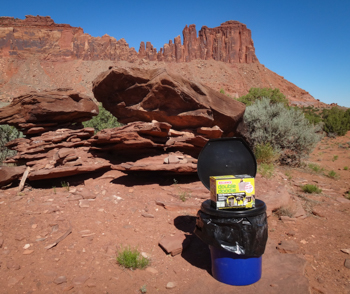 In the morning we continued south on a dirt road that runs through Bears Ears National Monument. We didn't stop to explore, just drove along in awe of the beauty and changing vistas.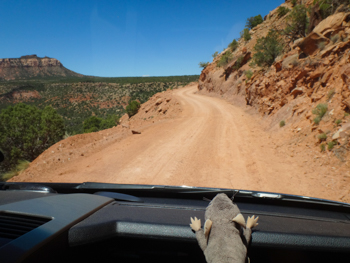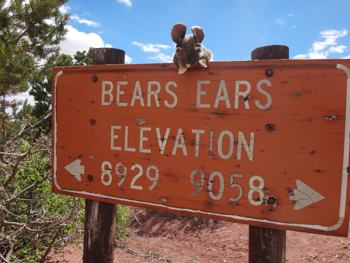 The road ends at the street leading to Natural Bridges National Monument. We drove through, stopping at all the view points, then went back and hiked the trail down the canyon and beneath the three bridges a week later. What a nice, cool walk that was on a hot day. Again, we were the last people out of the canyon. When we got up to the van, it was the only vehicle in the parking lot save one with a dozing ranger.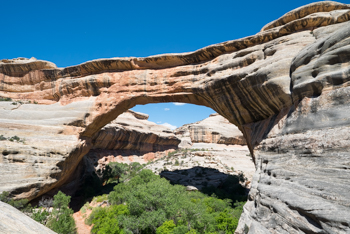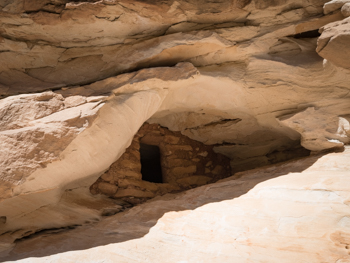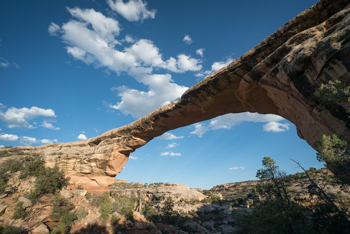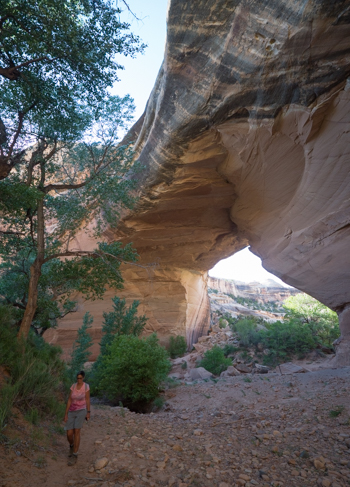 Moki Dugway is the most direct route from Natural Bridges to Bluff, our next destination. It's a steep, narrow, dirt road with about a million switchbacks. Utah has some crazy roads!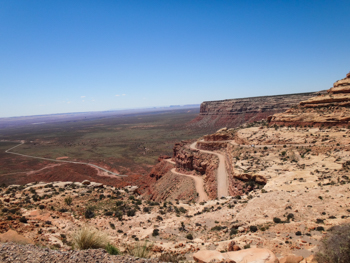 May 20, 2017 - Prospector Hotel, Blanding, UT
Not sure why we felt the need to book a hotel in Blanding which was out of our way and not at all necessary. Interesting to see all the signs and stickers against the National Monument status. Would have liked to have talked to some locals but those we saw didn't look approachable. Good burger joint at north end of town though.
May 21-27, 2017 Sand Island Campground, Bluff, UT
The only photos we took of our nice large campsite along the San Juan River hardly show the spot. I guess we were more interested in documenting our simple, cheap shower area at the back of the van. Just like on the boat, we like things to have multiple purposes. Even water jugs and tablecloths.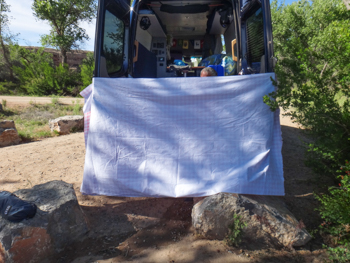 On the far side of the campground is a wall full of petroglyphs. A friend said that until a few years ago they were hidden by trees. Now they are fenced off for protection. Across the San Juan area is a large Navajo Reservation.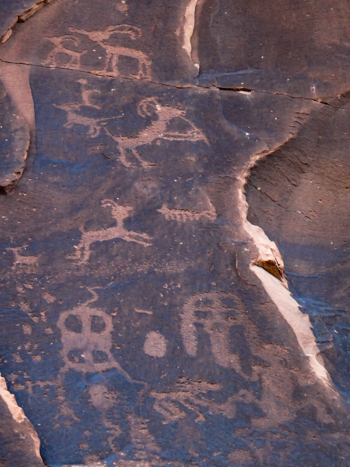 Bluff is a great base. Good restaurants, fuel, ice, emergency groceries and a few outfitters can be found.
Besides doing hikes along Lower Butler Wash Road such as to Procession Panel and seeing the shot up Wolfman Panel, we drove to Mule Canyon to see House of Fire, to Muley Point to look over the edge at the Goosenecks of the San Juan River and through the Valley of the Gods.
While looking for the House of Fire we met a guy from France. We talked about other sites we'd seen and he asked if we had been to Ding Dong Canyon. While I pondered Jim said, "Yes, we did do Bell Canyon."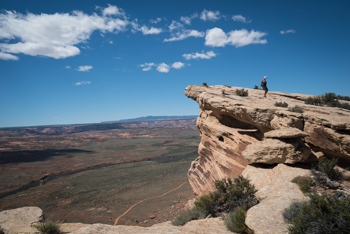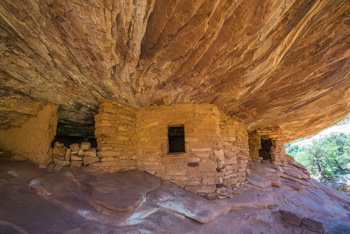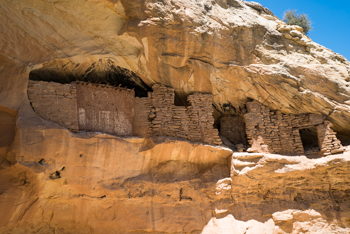 As we watched boats float by our campsite, Jim and I thought this would be a good time to try river rafting. Neither of us had ever done it. We went to Wild River Excursions and talked to Jared, the owner. After a few minutes he said, "You both seem pretty adventurous, would rather go in rubber duckys?" Huh? Oh, inflatable kayaks. Sure!
Our guide, Greg, is Navajo and lives on the reservation. I asked him what he thought about the controversy over Bears Ears and he said he thinks it should remain a national monument so it will be protected. He said some of his friends don't agree - and he didn't at first - but said they probably have not really thought it out.
Along the way we stopped at the Butler Wash Panel and River House which is Hopi site. We were surprised and annoyed to find a group of white people sitting inside listening to their white guide talk about something. They didn't leave in the 30 minutes we looked around the area. Greg commented, "I didn't know they were renting out River House now," and said his Hopi friend would have been really angry.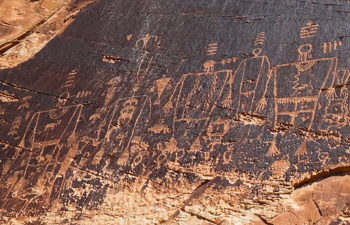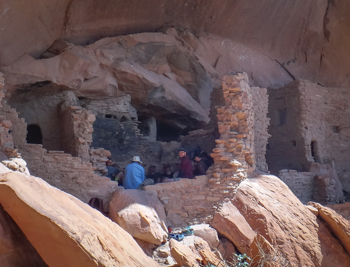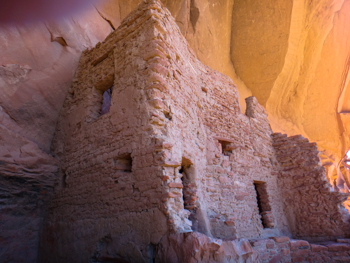 We also scheduled a canyoneering trip with Jared. He showed us photos of different canyons and when I got excited about a place with a free rappel into the water, he suggested Fry Canyon.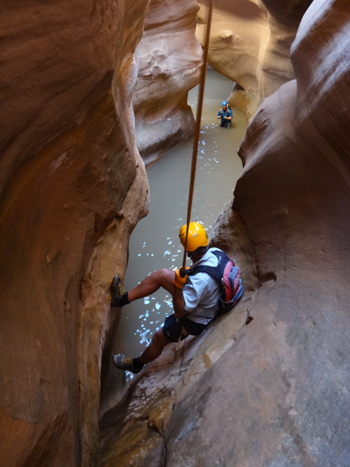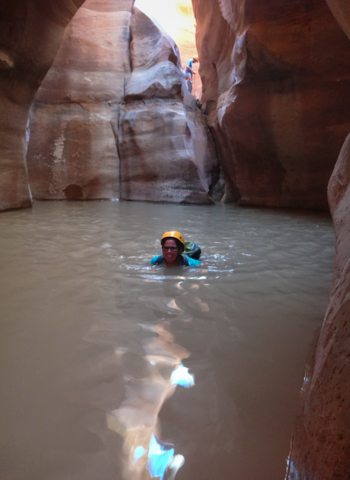 Besides our two guides, Jim and I were the only ones on the trip. We met them at Jared's other shop in Blanding and drove together in a small Jeep. It was a fun experience but we didn't learn anything new. We decided to go home through Escalante and go out with Rick one more time.
May 28, 2017 - BLM land outside Torrey, UT
We thought it would be fun to return to Escalante by a different route - the Hall's Ferry at Lake Powell to the Burr Trail. Turns out the ferry wasn't running because the water level in Lake Powell was so low. Instead we drove northwest to Hanksville and then southwest through Capitol Reef to Escalante and stayed on BLM land on the way.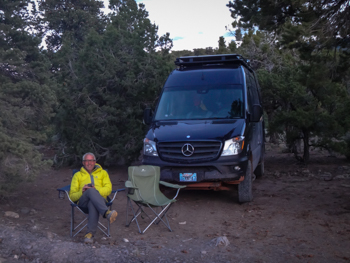 We found a spot with tire tracks and a firepit between pinions and junipers off a dirt road leading to an ATV area. It was a nice spot once the noisy guys stopped for the night.
Jim made a fire and we roasted Italian sausages. Afterwards, as we were enjoying a glass of Merlot, Jim noticed movement. A tiny mouse! It seemed to live in the rocks of the firepit. He was not afraid of us at all and came right up to our shoes. I put Sprinter Van Rat, whose body is about four inches long, out for scale. The little guy hopped right up to check him out. Then he started licking our sausage sizzlers which could not have been good for him so I gave him a few pine nuts.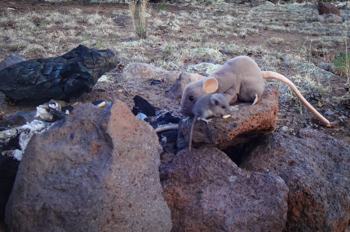 May 29-31, 2017 - Escalante Petrified State Park, UT
We rolled into town and stopped at Excursions of Escalante to ask about another canyoneering trip. Luckily they had two spaces available for the following day.
Kendall greeted us in the campground check-in line and pointed out our site. It was fun to talk more about Sprinter projects over dinner.
Rick likes to offer clients the best canyoneering trips possible and since Jim and I had already done two of the usual first-timers' canyons, and the other people on this trip appeared young, fit, or both, he chose a really, really cool spot. To protect the canyons he's found, all clients are forbidden to name names so I can't reveal it. I totally get that.
This canyon started off with a 200 foot rappel and had another rappel into frigid water where we had to swim under an arch before climbing out to warmth.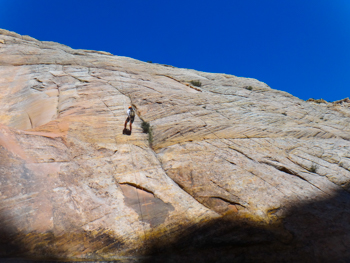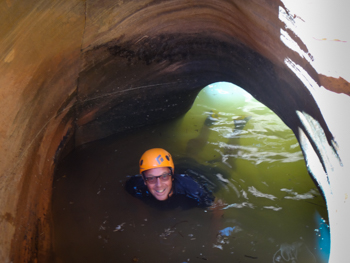 Next we worked our way through narrowing slots. At one point, where everyone else was sqeezing forward in a 14 inch wide section, Rick took me higher and we scooched along with butts on one side and feet on the other. I was too fat for that one. A little further along it widened and he had me go through. I was second to last, he was last. I got stuck. My feet were both caught in the bottom crack and my body was wedged a bit higher. Rick put his foot under my back foot to raise me up but my front foot would not budge. I wasn't strong enough to pull myself up. Davis had to come back and put his foot under my front foot so I could raise up to where it was wider. That was embarrassing and in those moments I committed to lose weight and shape up. (Side note: three months later I've lost 25 pounds. I am not getting stuck in a slot canyon again!)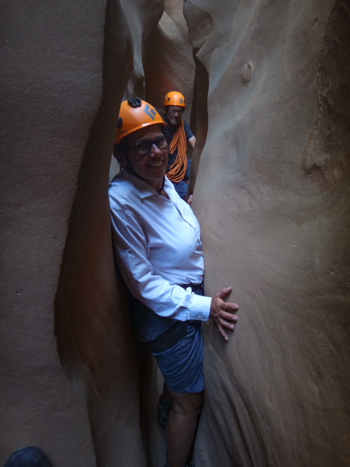 There was one more 70 foot rappel out of the canyon before we walked back up to the vehicles. This was the most fun we've had in a canyon. We are completely hooked on canyoneering.
I guess Escalante is a bit like Mammoth - if someone is going to the big city, they will run errands for others. When were were leaving the campground Kendall asked if we would take some pieces of petrified wood to Cedar City and drop them off at the engraver's shop. He said to just pull up to the back door and he'd load them into our van.
According to lore and letters inside the office from petrified wood pilferers, nothing but misery befalls those that do. The fact that his door would not open did not bode well. So I took a photo of him, the ranger, acknowledging we were taking them with his blessings. All went well.
After stopping to see one last panel of rock art we camped just over the state border, in Nevada.
June 1, 2017 - Kershaw Ryan State Park, NV
Pretty spot. We were the only ones there except the host and park manager.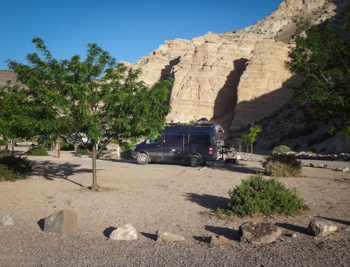 Go to August 2017 part three - Solar Eclipse
Bridger-Teton National Forest, Wyoming