April 13, 2017
Holidays in Mammoth are crazy with hordes of people, speeding cars, slow internet and long lines at the only grocery store in town. Wanting to get out of Dodge for the Christmas madness, Jim and I packed up and headed to Sedona and Zion National Park. We planned for two weeks. We were gone a month.
Our Sprinter 4x4 build-out was nowhere near finished but we had bench seats and a table that make into a bed with lots of storage below, a fridge, camp stove, water jugs and an assortment of bags, bungees, buckets and hammocks. It was pretty messy and totally functional.
Rancho Sedona RV Park: December 21-27, 2016
Jim and Hank have been friends for decades. They share a love of the outdoors and a fondness for photography. Hank and his wife, Joan, gave us a fabulous tour of Sedona and showed us their favorite places to shoot.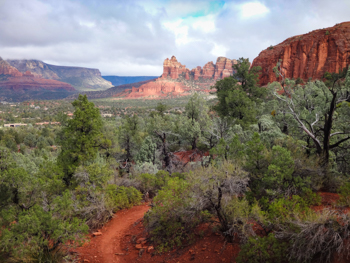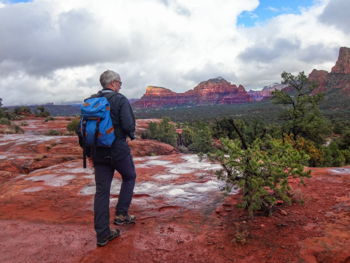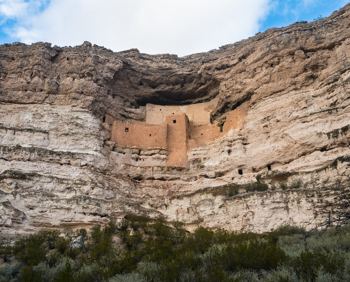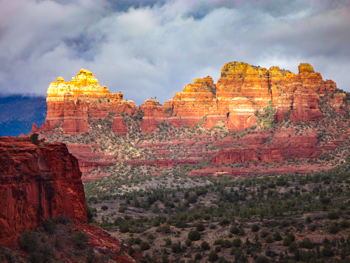 We got really lucky with a snow storm on Christmas Eve. Little Sprinter Van Rat was thrilled! He met Santa and made a snow rat.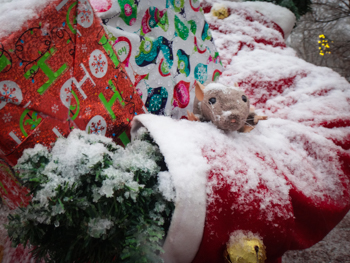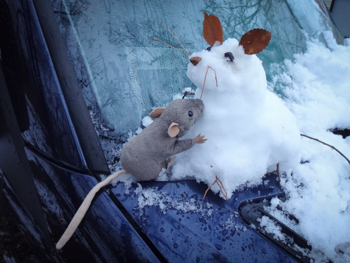 Plans for hiking to petroglyphs were scrapped in lieu of stomping up snowy and muddy trails to photograph the gorgeous red sandstone formations that encircle the city. The dusting of white was a bonus. Hank played chauffeur so the van stayed in the RV Park.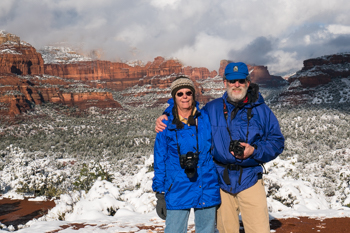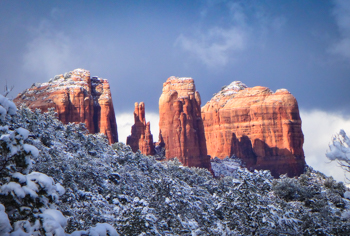 The snow only lasted a couple of days but water was everywhere. Rivers and creeks flowed furiously and pools formed in depressions on smooth rock surfaces.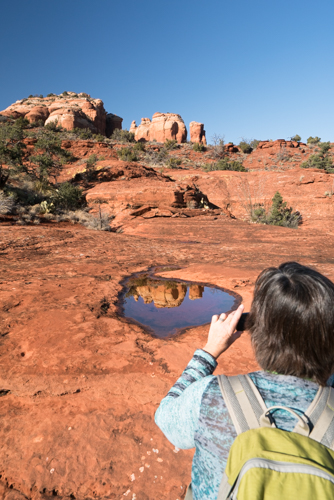 The Rancho Sedona RV Park was a pleasant and convenient base from which to explore. Quiet with full hook-ups, a laundry room, a decent toilet and shower block, it's a short walk to Tlaquepaque Arts & Crafts Village.
South Rim of the Grand Canyon: December 27, 2016
One reason Jim and I have given up sailing is to see more of our own country. Although I was born and raised in nearby California, and Arizona was my territory when I was a sales rep for Body Glove swimwear and Look snowboards, I'd never been to the Grand Canyon.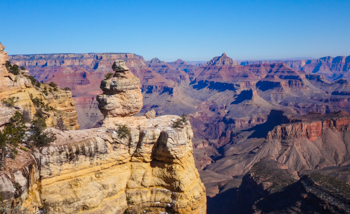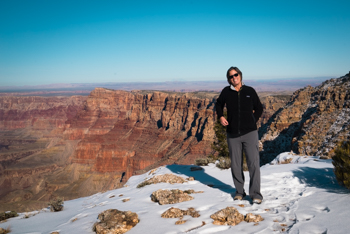 We made a slight detour on our way to Zion so I could see it. Wow. We will certainly be back to spend more time here.
Watchman Campground, Zion National Park: December 27, 2016 - January 2, 2017
When our friend, Kath, saw Jim and Hank planning our trip to Sedona on Facebook she suggested we swing by Zion National Park. She was the only host in the only campground open during the winter, Watchman Campground. We would be awed by the beauty, she said. Because it's first come, first served, she reserved us a really cool site for the day we'd arrive.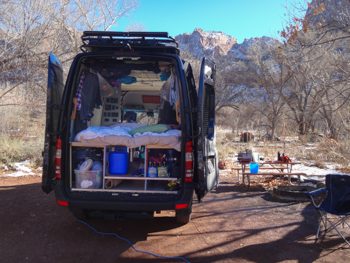 We arrived in the dark to find our spot by the stream had been taken by a massive 5th wheel. In hopes of trading if we showed up, the guy had reserved a tiny spot just long enough for a van or car and tent. I was annoyed with his entitled attitude but Jim said we'd swap. The next morning we awoke to the impressive Watchman looming above. Then we moved to a proper site.
Kath was gone. "They said it never gets below 20 degrees here," she said. "It got down to 14 before it rained like crazy. The pipes in my trailer froze. You never saw anyone breakdown camp and hightail it faster than I did during the flood." Rats. It would have been fun to catch up. Jim and I toasted her unplanned adventure with the Mammoth Brewing Company beer we'd brought her and set out to see the park.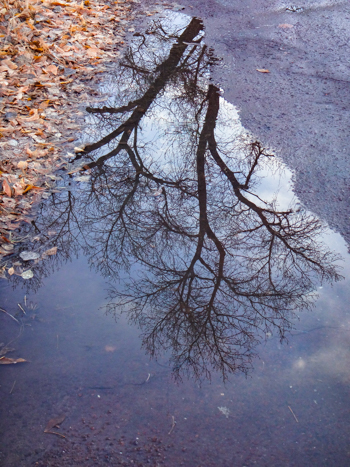 Because it is in a narrow canyon with vertical walls, there isn't much direct sunlight this time of year. Zion was blasted with the same storm we saw in Sedona but the frozen stuff was lingering much longer.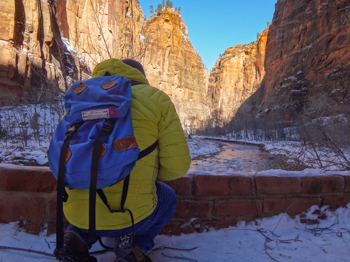 Many of the trails were closed because of ice fall or they were steep and slippery. Call us wimps but we bought YakTrax after slip sliding our way towards the Narrows.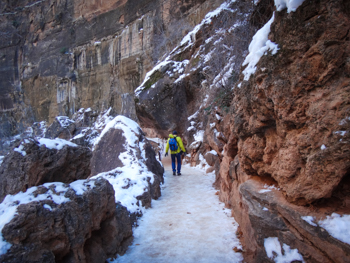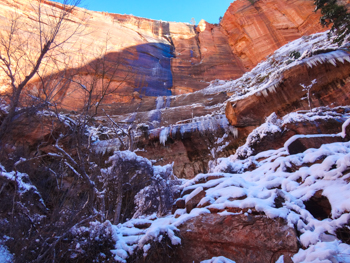 At the wide end of the canyon is a low angle trail. It had a little snow and a lot of mud. Deep, sticky, squishy mud.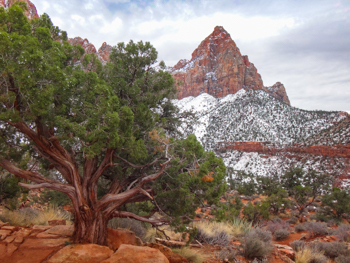 The small signpost says Stick to the Trail. No problem.
A note of caution: If you see a cactus that looks like this, do not sit next to it wearing thin pants or put your hand on the ground to take a photo. It will hurt.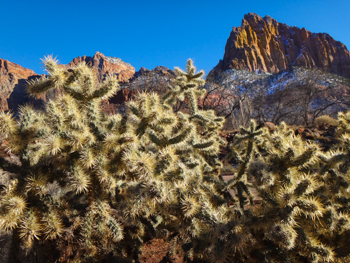 During the summer Zion NP is packed. Cars are not allowed to drive up to the Narrows and judging by the number of benches at the shuttle stops, the lines can be quite long. Winter was ideal as we could drive where we wanted and still walk everywhere too. Just outside the park is the small town of Springdale with everything adventurous spirits might want. Across the creek from the campground is a hotel with shops, a restaurant and a movie theater. The outdoor shop rents wetsuits for walking up the river into the Narrows. In their basement are public showers and a laundromat.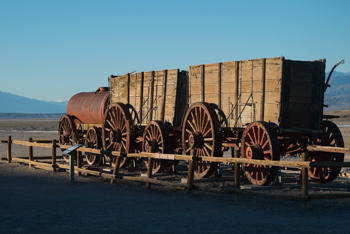 Fiddler's Campground, Death Valley National Park: January 2 - 16, 2017
We just meant to stop in Death Valley for the night on our way back home. We stayed two weeks.
Fiddler's Campground is part of the Furnace Creek Resort and we chose to stay there because for $18 a night we could use the pool and have access to their showers and wifi. It is just across the parking lot from the visitor's center where filtered water is available.
In the late '60s and early '70s Jim used to come out here spelunking. He drove both his VW campervan and Toyota Land Cruiser through Titus Canyon after exploring the desert's nether regions near the abandoned mining town of Leadfield. He suggested we drive the Sprinter through so we stayed a second night.
Titus Canyon in a narrow, one-way, 26 mile dirt road that varies from washboards to ruts and from clinging to the side of a mountain to threading along the base of a rock walled gorge. 4WD is recommended but a high clearance vehicle is necessary...unless it's a rental from Las Vegas.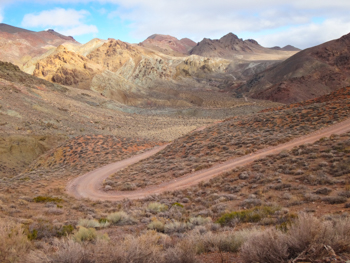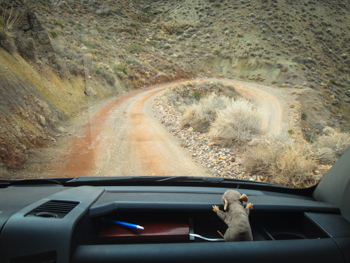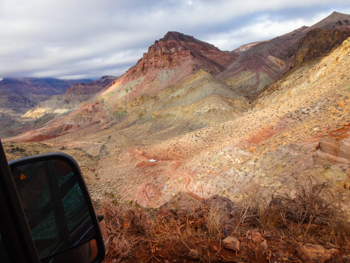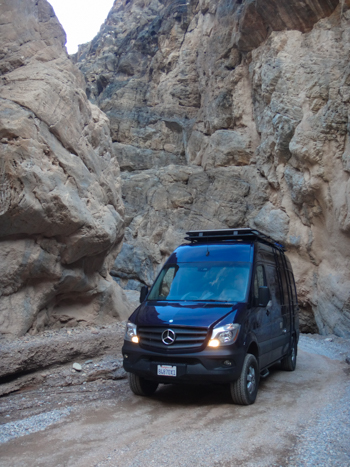 The Titus Canyon road starts by Rhyolite, a ghost town near Beatty, Nevada. Here we met wild burros that didn't seem very wild at all.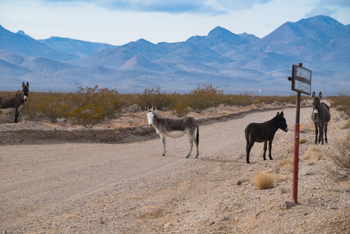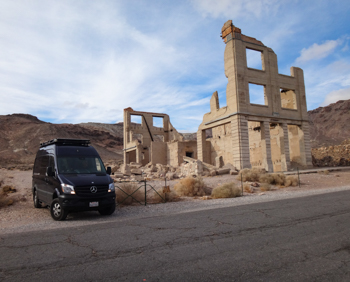 Belgian artist Albert Szukalski created this ghostly interpretation of da Vinci's Last Supper here in 1984. It became the cornerstone for the Goldwell Open Air Museum. There were a couple of these statues in a garden near our apartment in Antwerp which we really liked so these are extra special to us.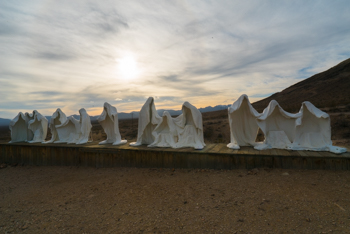 Our friend, Brenda, saw that we were in Death Valley and wrote that she was coming canyoneering over the weekend, would we still be here? We said yes and extended our reservation.
She did some crazy canyon stuff with her group and then spent an afternoon hiking Golden Canyon with us. Full of great ideas for more adventures, I'm sure we'll be meeting up with her again soon.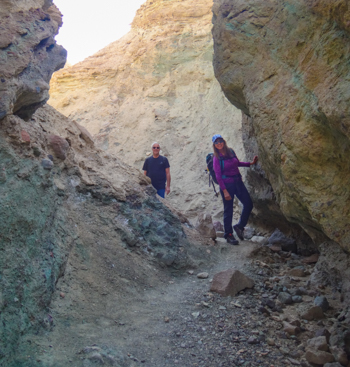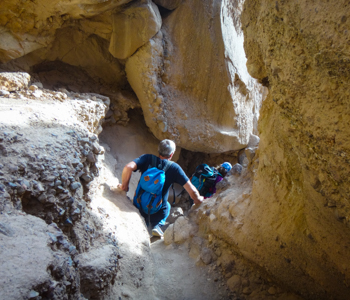 Each day we checked the weather for our route home. Forecasts showed windy, extremely windy, or damaging winds, often accompanied by copious amounts of precipitation. Hmm...did we want to go back to Mammoth in that weather or stay in Death Valley exploring someplace new? We stayed.
One day I saw a cool Sprinter 4x4 in the parking lot of the visitor's center so introduced myself to the guy sitting inside. In that regard, this land traveling thing is a lot like cruising. Mark had just arrived and was solo. He had guide books and maps and was planning his stay which was somewhat indefinite. I called Jim over and we checked out each other's rigs, got excited talking about our build-outs, and decided to go to Hole in the Wall together. He camped out there and we came back to the campground.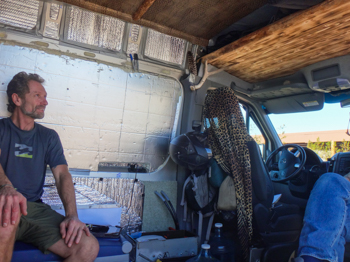 Bruce and Alene live aboard their trimaran, Migration, which was in Japan. Winter is not ideal sailing time in Japan so they came to visit family and friends in the US. The original plan was for them to come skiing in Mammoth for a few days. As the time grew closer we emailed and said there was too much snow and too much wind to get home; we weren't going to be there. Would they want to meet us in Death Valley instead? Turns out Bruce had been wanting to come here for a long time.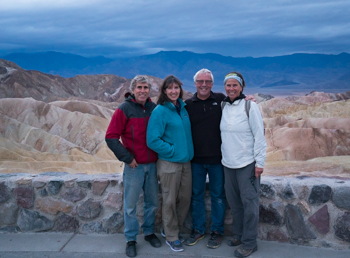 Alene does cartwheels. Everywhere. When we were all in Phuket, Thailand, Bruce and Alene rented a car to renew their visas in Myanmar and asked us to join them. On our road trip Alene cartwheeled along streams, inside caves, and in front of anything interesting.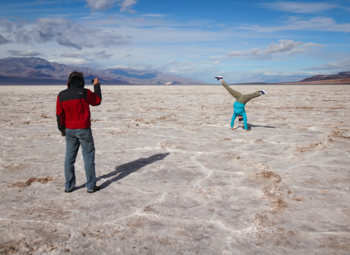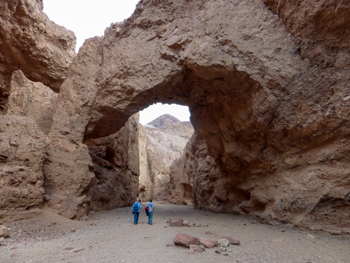 We did several of the most popular and beautiful hikes but I think our favorite was at the Mesquite Flat sand dunes. As a result of Mother Nature's threat of rain in the valley and snow on the peaks there were incredible dark, undulating clouds which turned gorgeous colors as the sun set. Yep, Alene did cartwheels on top of the highest dune.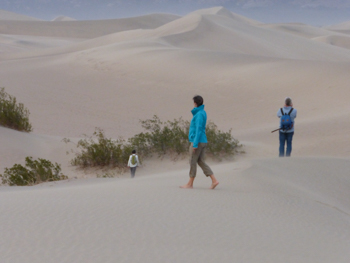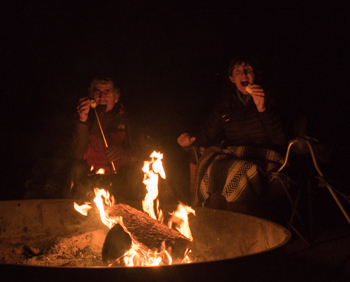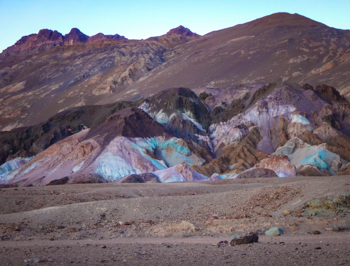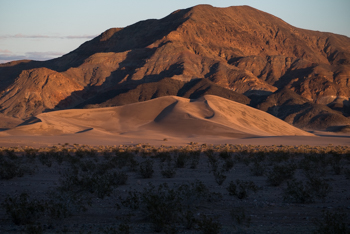 Another friend, Lori, also saw that we were in Death Valley. She and her partner were there too. Jeff Sullivan is the author of Photographing California Volume 2 - South, a guide to the natural landmarks of the Golden State. It's informative and well-written with spectacular photos and great ideas of where to go and when to be there. It has a permanent place in our van. Jeff and Lori travel extensively researching sites for their workshops and were giving a three-day private course. They asked it we'd like to tag along one day to see more of the park. Why certainly!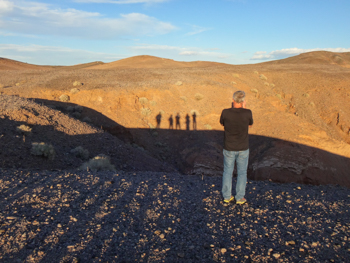 We are sworn to secrecy about the off-the-beaten-path places we went, but if you're interested in photography check out Jeff's book or, better yet, sign up for a course at Jeff Sullivan Photography. His night workshop at Bodie is on our bucket list.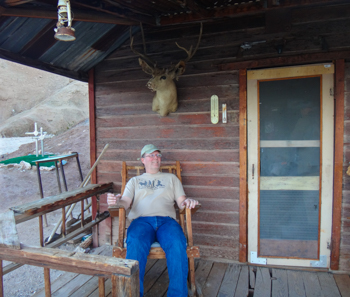 Inspired by Mark's freedom camping, Jim and I bailed on the campground in search of an open area to watch the full moon rise with no lights, generators or noisy neighbors. It was like being alone in an anchorage and we wondered what took us so long to "leave the marina." Our rooftop rack is the perfect place to cozy up and watch the night sky.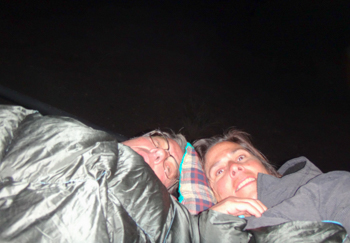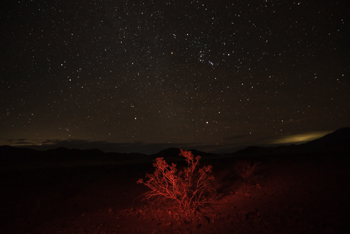 We finally had a good weather window to make it back to Mammoth. "It's good you got back before the next storm," said the best condo manager ever. "I don't think I could have kept your car dug out any longer."