September 28, 2016
Otranto
40 08'.9N : 018 29'.5E
We had only psyched ourselves up for an overnighter. Besides, we needed new Italian SIM cards to get weather forecasts for the rest of our passage to Sicily.
24 hours after leaving Porto Montenegro, Tenaya entered the small port of Otranto, Italy. Except for gybing to avoid big ships, our route was directly south - 180 degrees - down the Adriatic Sea. The cloudless night had been punctuated with nav lights, a tiny sliver of moon, and lots of shooting stars.
The Italian Waters pilot book says to moor near the customs office located in the large building in the SE corner of the harbor. As we crept into the crowded area, Jim and I looked for a yellow quarantine marker or a place to tie up.
Neither appeared. I called on VHF Ch 16 but got no answer. Hoping someone would see our yellow Q flag and point out a boat to tie to, we jilled about for what seemed an eternity. Nobody appeared.
I ran through our options: We could bail, continue sailing through another night to a scenic anchorage in a national park. But then Tenaya would be tied to a mooring ball on a lee shore with Force 6 winds and building seas and we would not be in the country legally. Or, we could keep going four more days straight to Siracusa in mostly contrary winds. Not great options. There are few safe places for a sailboat drawing two meters on our route. We wanted to stay here.
The commercial wharf draped with old tires and giant black fenders hung by rusty chains looked like our only option. "You've got one chance," Jim said as I held the coiled sternline preparing to lasso a bollard several feet from the edge and into 20 knots of wind.
I missed. He circled around and I caught it on the second try. Before I could get the bow secured, the wind blew it off. With the engine full throttle forward and the bow thruster on, he still couldn't get back. The sternline was taut as the boat pivoted around the bollard. Jim pulled out his knife just as I freed it. Our hearts raced as he steered back into the bay.
We went back towards the office building and tried the radio again. Nothing. Seeing Coast Guardians on the bow of their boat, we motored close and I asked were to go. They called someone and eventually we were told it was okay to anchor.
Maybe it was because we were tired, hopefully not because we are really stupid, the idea of anchoring had not occurred to us. After stopping in Slovenia, Croatia, and Montenegro where boats must park in a certain spot to clear in, our trains of thought were only running in that direction.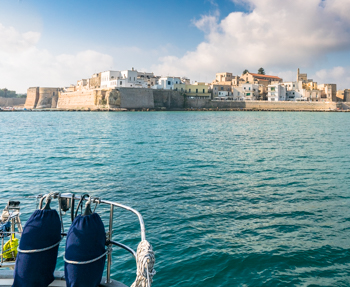 Swells work their way into the anchorage but the holding is excellent and we were content.
For two days we paddled the kayak to the old town and wandered through the narrow roads, pleased to be in Italy again.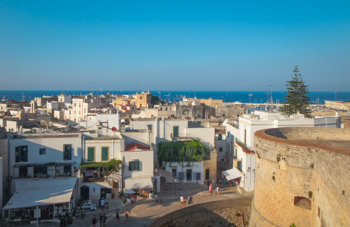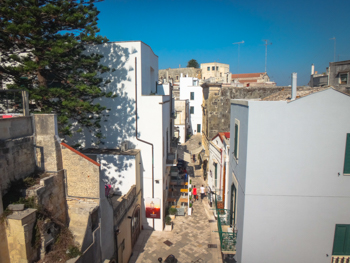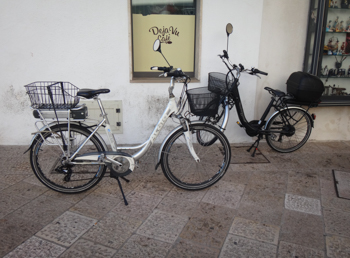 Inside the old castle was a wonderful exhibit of Steve McCurry's photographs. He's best known for his 1984 portrait of an Afghan girl in National Geographic.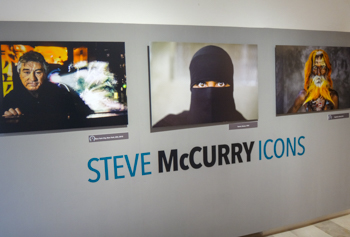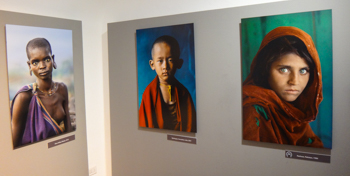 The cathedral has a cryptic reminder of the violence the city endured when the Ottoman Empire invaded in the 15th century. More than 800 citizens refused to convert to Islam and were martyred. Their skull are stacked behind glass walls at the altar.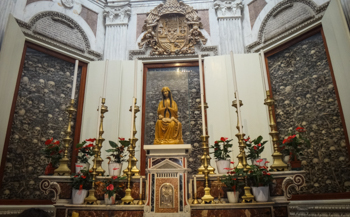 The day before we planned to head further south, the generator did not start. I turned on the ignition to charge the batteries. Nothing. Jim flipped the switch to the house batteries. Still nothing. Well, at least we were stuck in a pleasant place.
Fortunately the starter battery is the same as a car battery. A man from the boat shop ordered one for us, came out to help Jim install it, and took away the old one. When Jim checked the water in our deep cycle Trojan 105 batteries, one was in the red insuring they would not hold a charge. He emailed Nautica in Siracusa and ordered six replacements.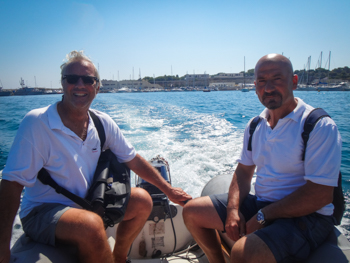 Siracusa, Sicily
37 03'.7N : 015 17'.4E
We left Otranto at 1600 on August 30 to reach Siracusa early morning on September 1. The sky was clear and wind in the single digits. The hum of the engine kept our batteries charged.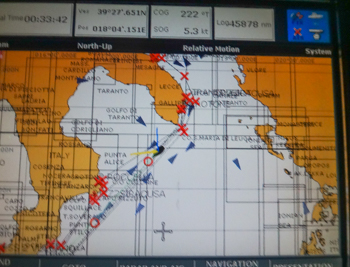 I came on watch at 2100 the first night as we passed the heel of Italy's boot. At 2300 I wrote in the log: Directly under Milky Way! Shooting stars! At 2357: No moon yet - beautiful stars. At 0100: Told Jim to keep sleeping, I'm happy :-) Between 0300 - 0500 Jim wrote that we were being passed by the Royal Princess cruise ship, approaching two cargo ships, and at one point a couple of more cargo ships, one tanker, and a yacht were less than a mile away.
At 1325 on Day Two I wrote: Debris floating - maybe life vests and black hull of upside down boat. I scanned the area for signs of people but saw none. We were directly north of Libya between Italy and Greece.
At midnight the second night the lightning began. Flashes, not bolts. We were between the mainland and Sicily with Mount Etna to the Northwest. At 0700 Jim wrote: Nice sunrise. At 0730: 3-4 dolphins at bow.
By 0915 we were tied to the outer pontoon at Marina Yachting. We had traveled 236 miles in 42 hours. Today, September 1, marks 30 years that Jim and I have been together. What a long, strange, incredible trip it's been.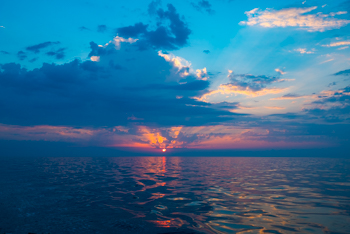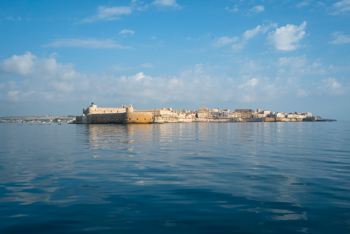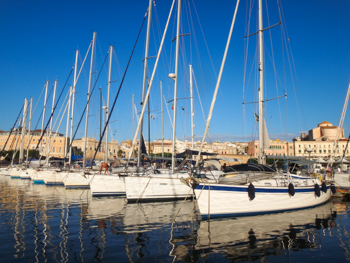 The marina is adjacent to Siracusa's ancient city called Ortygia. With narrow, cobbled streets lined with Greek, Roman, Norman and Baroque architecture, it is filled with character, shops and cafes.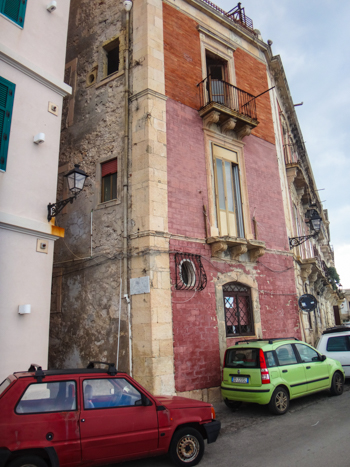 Siracusa has been a city for 2700 years.
At the northern end of Ortygia is a large daily market with fruit, veggies, fish, cheese, bread, and household products. Just outside the marina gate are several places to sit and have a cappuccino and croissant in the mornings. This is a very comfortable place to be parked for a while.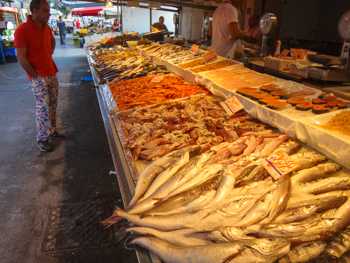 Our new batteries were waiting at Nautica when we arrived. Concerned delivery would be troublesome as our pontoon was awash with lumpy seas, we arranged to park at the fuel dock to make the transfer. Two guys from Nautica rode them over in bicycle trailers and lowered them down to Jim in the aft cabin. Then they peddled the old batteries away.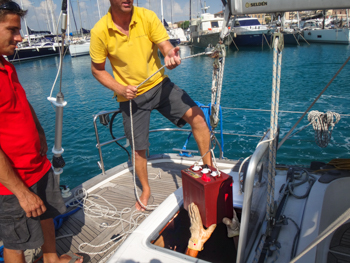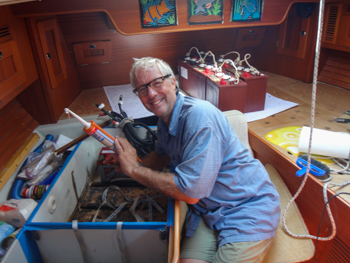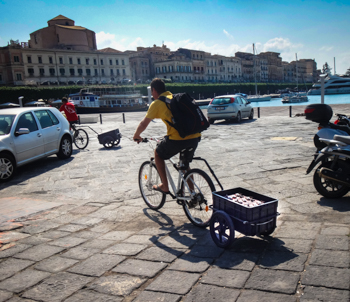 The marina let us park inside next to our new friend, Carlos. Carlos is from Mexico but keeps his boat in Malta. He was on his way back after a summer of sailing solo. One night he came aboard and made tacos with cuitlacoche, aka corn smut, a black fungus that grows in ears of corn between the kernels and leaves. The Aztec name roughly translates to 'raven shit'. It tastes better than it sounds.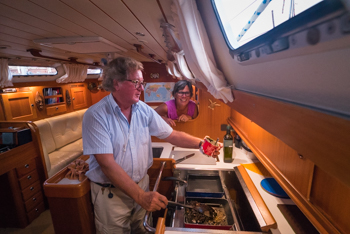 Have you ever heard of canoe polo? We had not, but arrived in Siracusa during the 2016 Canoe Polo World Championships. There were teams from all over the globe, both mens' and womens'.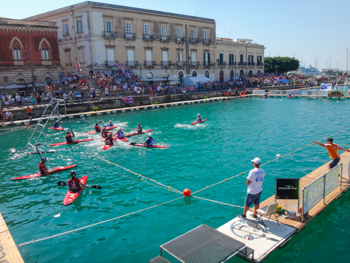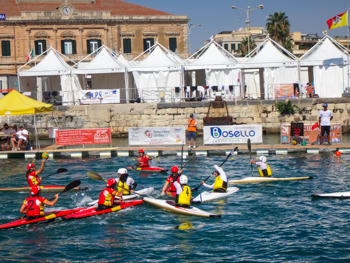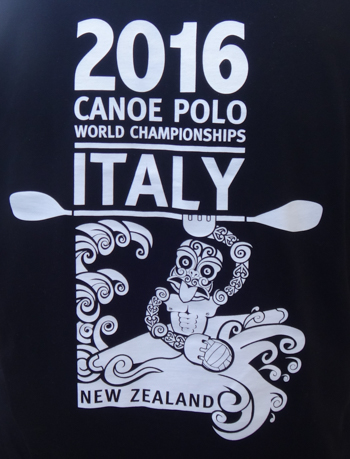 With Tenaya safely moored, Jim and I rented a car and drove north to Catania to pick up friends Gary and Christel who spent two weeks crossing Sicily with us.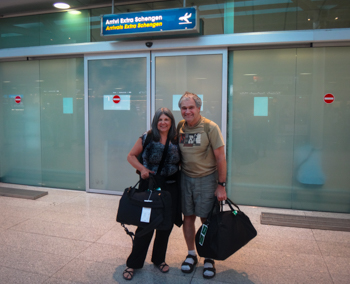 Siracusa is a UNESCO World Heritage Site with much to see and do. We saw the Archaeological Park Neapolis with its Greek theater and Roman amphitheater, and visited the Archaeological Museum. In Ortygia we wandered the streets, bought fruit, veggies, cheese and mortadella at the market, and enjoyed yummy meals each evening.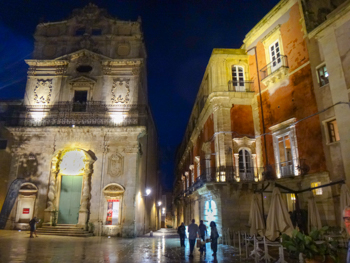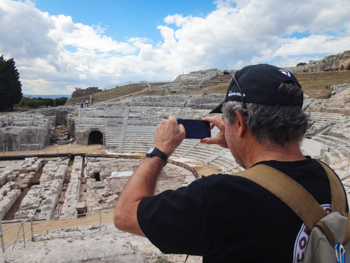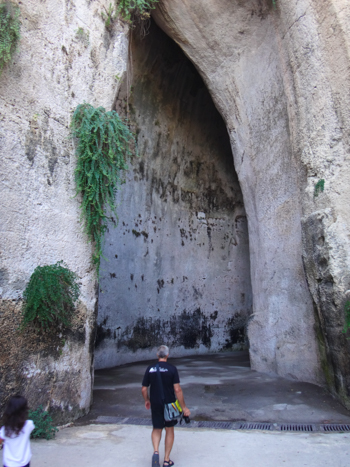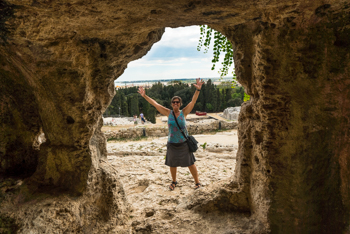 Marina Porto dell'Etna, Riposto, Sicily
37 43'.8N : 015 12'.9E
High on our list was a visit to Mt. Etna. The marina in Riposto, 41 miles north of Siracusa, was the closest place to moor Tenaya for the inland excursion. Our berth provided a view of the active volcano lightly spewing ash and gases.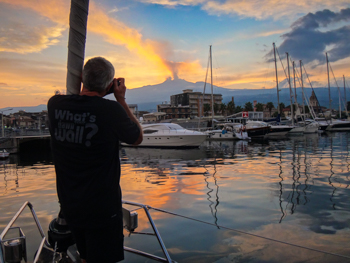 We arranged the trip with an outfit in the marina. A driver took us to the southern entrance where we rode a gondola and then a beefy 4WD bus to reach 2900 meters. Gary is a longtime ski instructor and was happy to be on a big mountain.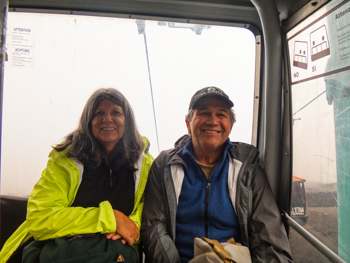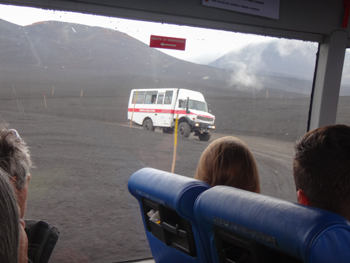 As soon as we got off the bus it started to rain. Christel made the sensible decision to stay in the hut while the rest of us made a mad dash up the trail. As we peered over the edge into a small fumerole, thunder cracked nearby. The guide said to go back. The rain turned to sleet as a cloud enveloped the conical peak.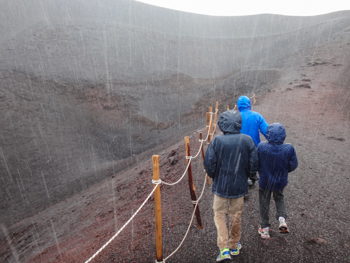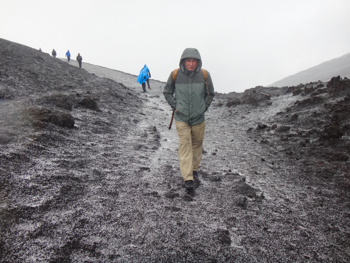 The only fumerole we saw was pretty anticlimactic after peering down into the boiling magma from the non-roped-off crater of Mt. Yassur on Tanna. I'd like to hope there were more exciting ones that we missed because of the weather, but either way, it's still fun to go someplace new.
At the base we wandered past the tourist shops and restaurants to the Silvestri Craters which are 2000 feet below the summit. Jim and I took a lap around the rims because, well, they were there and our driver was not.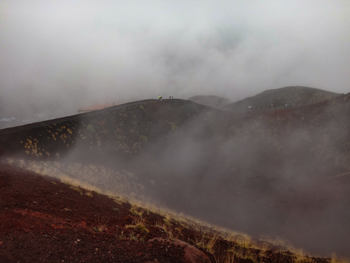 Gary had had an operation on his foot earlier in the summer and was still recuperating. Each day included down time with two bags of frozen fava beans.
During an icing session in the main salon there was a noise on deck. We were tied in a marina, what could go wrong? Turns out one of the windlass switches had shorted out and disgorged chain all over the bow. Fortunately we carry spares.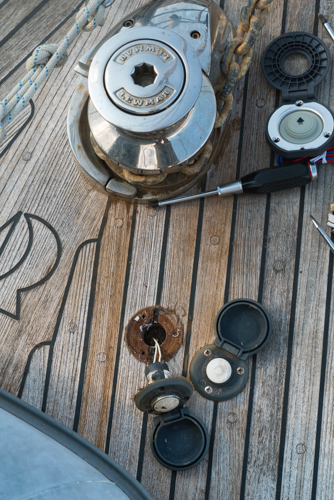 The log was not working when we left Siracusa so I donned snorkeling gear, jumped into the murky water, and scrubbed with a firm brush until it spun freely.
The log has never stuck after being stopped for only two days. We completed the approximate 30 mile scenic coastal cruise from Riposto to Messina without noting the mileage, currents, or wind speed.
Marina Nettuno, Messina, Sicily
38 12'.0N : 015 33'.6E
Marina Nettuno is the closest marina to the Strait of Messina on the Sicilian coast. It doesn't offer much protection from the large ships traveling to and from the inner harbor. Less than a month before our arrival a cruise ship got too close to the marina, blasted its engines, and wreaked havoc on some of the pontoons. There's a great YouTube video of it.
Jim and I tied all kinds of spring lines to keep Tenaya safe in the turbulence. Once she was secure I put on my snorkeling gear and went in to clean the log. I could get it to spin, but not smoothly. The water was super clear with more small fish than I'd seen anywhere in the Med so I lingered until a marina guy zipped up in a skiff and said swimming was not allowed. I apologized and got out. Later I saw him at the office and apologized again. He said it was okay, he'd seen the brush in my hand and knew I was working on the boat.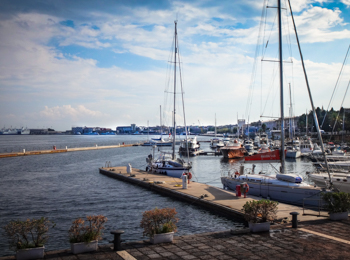 Messina is a pleasant place to visit, but after one night of Tenaya bucking wildly, we left.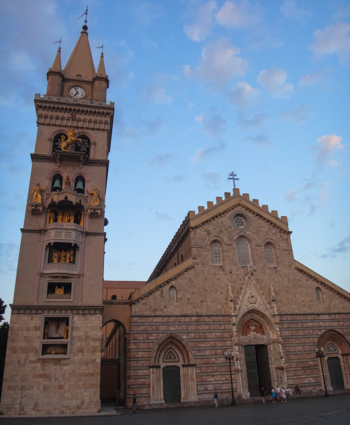 We were on our way at 0817. By 1000 we were through the strait. At times the current was 1.5 knot against us. 49 miles and about 7 hours later we dropped the hook at Vulcano in the Aeolian Islands.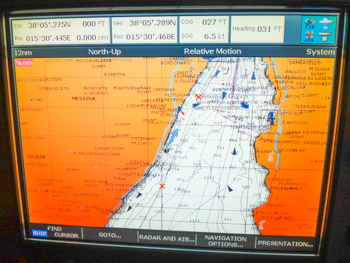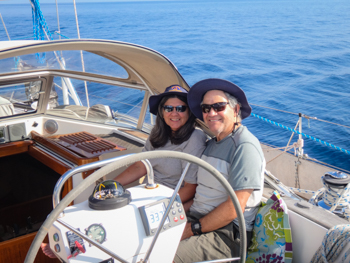 Cala del Formaggio, Isola di Vulcano
38 25'.1N : 014 56'.8E
Jim and I were excited to be at Vulcano again. Eight years ago, the year after we sailed from the Netherlands to the Med, we anchored here. Then we headed west. Now we have come from the east. Although we didn't sail through the Red Sea, we tied our knot around the world here at Vulcano.
Our page from August 2008 says the main anchorage, Porto di Ponente, was really crowded and we worried others had not put out enough scope. As we left I saw two more coves that were almost empty. Next time we'll go there, I wrote.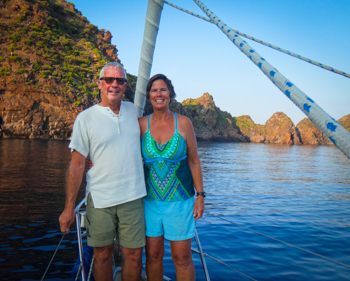 On September 13th We glided by to have a look at the popular anchorage. Boats were everywhere.
"The next one might not be so crowded," I said to Gary who was perched on the upside dinghy at the bow.
"Let's go there," he said without hesitation. Having skied with him, I would've bet money on that response.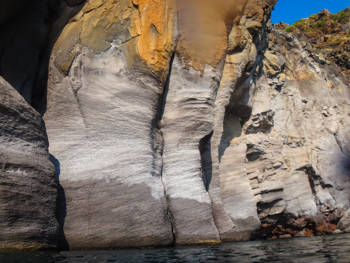 One large motor yacht was anchored near the entrance so we went in further looking for a good spot. Depths stayed deeper than 20 meters until pretty close to the rock walls. We ended up dropping the anchor in 13 meters over rocks. Explains why it was empty here, the other anchorage is 3-8 meters over mud.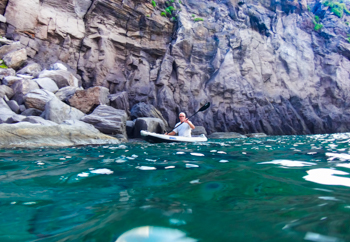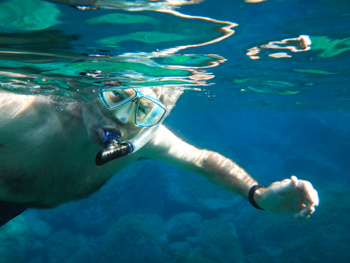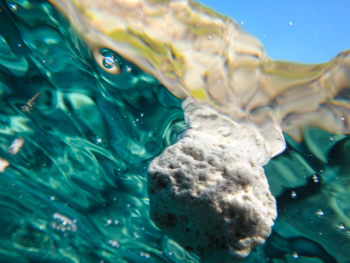 The warm water was so clear we could see the bottom 13 meters below. White stuff that looked like styrofoam was floating on the surface. Gary dove off first to check them out. Pumice from Stromboli!
Jim and Christel paddled the kayak by the walls, most of which descended more than 10 meters below the surface, while Gary and I snorkeled. As I was finning back from across the cove, a catamaran came in. I splashed and flailed trying to make myself seen while hurrying back to Tenaya. They missed me and almost ran aground in front of the small, stony beach before anchoring. We were glad we'd finished exploring.
The big motor yacht left. We were alone in the middle of the cove. It was peaceful, beautiful, and a wonderful place for what would turn out to be the last night Jim and I would spend at anchor on Tenaya. Ever.
Dr. Sylvia Frey and her crew at OceanCare were berthed next to us in Siracusa. She told us that the areas east and north of Sicily should be excellent habitats for sperm whales and deep-diving dolphins but little research had been done to learn how many were out there. Each day they went out in hopes of seeing and documenting the mammals.
So when bounding dolphins came to our bow as we sailed from Vulcano back to Sicily, I took photos and noted the latitude and longitude in our log. When Jim saw what looked like a log (third meaning for the word log on this page, how do people ever learn English?) which turned out to be a sperm whale, we slowed and took photos before noticing another one ahead. I sent all the information to Dr. Frey and wished we could have stayed longer to help.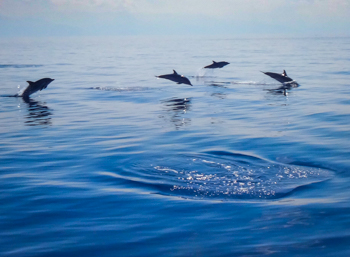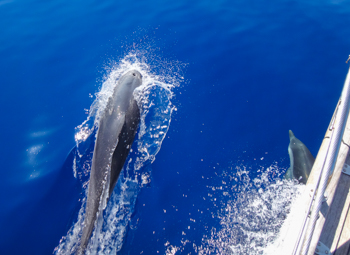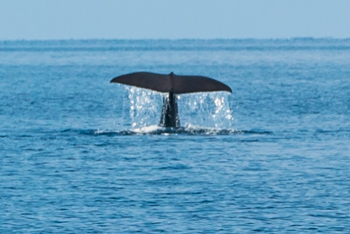 Porto Nuovo, Presidiana, Cefalu, Sicily
38 02'.3N : 014 01'.9E
At Cefalu's eastern edge is a lovely anchorage between rocks on shore and in the water, but we moored at the nearby marina in the shadow of La Rocca, a 270 meter promontory.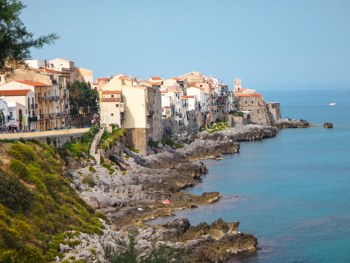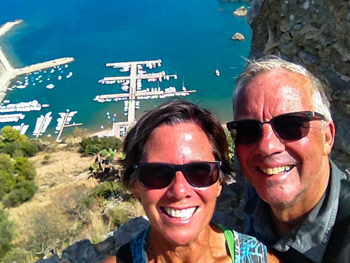 The buildings beneath La Rocca seem jammed together so tightly that their roofs spout skyward at odd heights, their lateral walls intrude on each other, and their basements ooze into the rocky shoreline.
The light here is magnificent and we were treated to gorgeous sunrises and sunsets.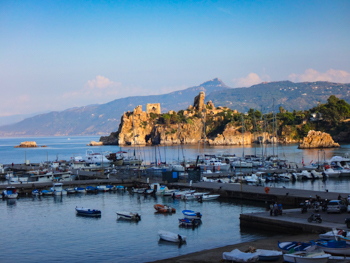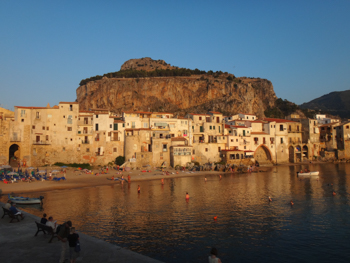 Although we did not anchor among the rocks, we paddled the kayak around them. Jim and I poked the bow into lots of nooks and crannies and Gary and I took turns holding the kayak in place while the other climbed up and dove off into the shimmering water.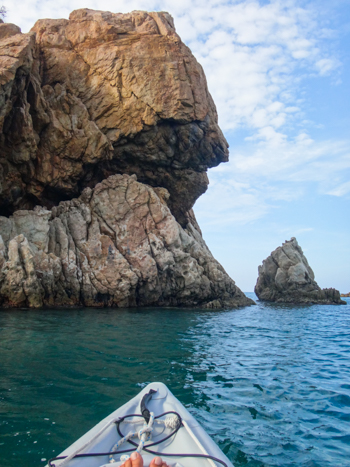 Marina Villa Igiea, Palermo, Sicily
38 08'.6N : 013 22'.2E
Palermo was the end of the trip for Christel and Gary. They took a very informative tour around the city with a guide recommended by the marina manager while Jim and I prepared for our next leg.
Above the marina is the Grand Villa Igiea Sofitel luxury 5 star hotel. What better place to have a farewell dinner?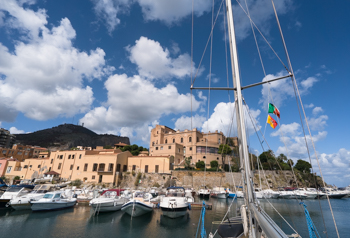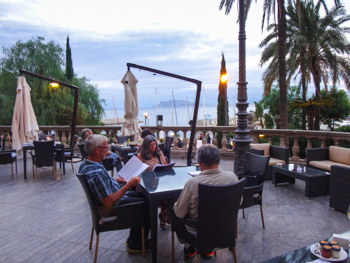 Thanks for visiting, Christel and Gary. We had a blast with you two. Again.
Go to December 2016 - Passage to Mallorca and Leaving Tenaya