August 25, 2015
Luka Jazi Anchorage, Otok Molat
44 13'.31N : 014 52'.92E
Once we left Punat, on the island of Krk, we blasted through Croatia on a mission to get to Siracusa by September 1 to meet friends joining us in Sicily.
At 0700 on August 13 we dropped the mooring line and headed south in light winds under a sunny sky. By 0900 we were sailing on a broad reach in 25 knots. At 1530 we were anchored in sand in 5 meters of water at a pretty anchorage called Luka Jazi on the eastern side of Otak Molat. What a wonderful day after being stuck in a marina for a month!
It was so nice to finally be at anchor again. After diving in to cool off, we lowered the kayak and paddled around the shoreline and to the tiny harbor.
The following day we walked the short distance to the town of Molat which sits between Jazi and the ferry stop where boats Med-moor to the wall.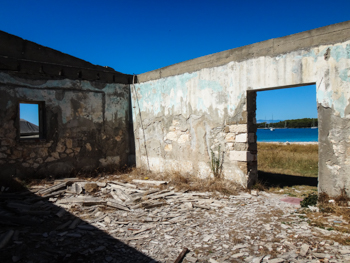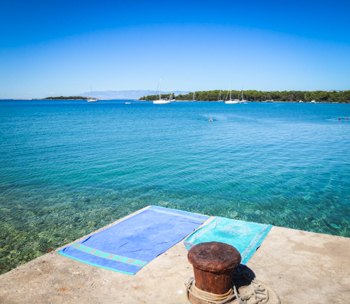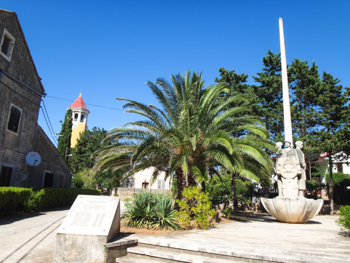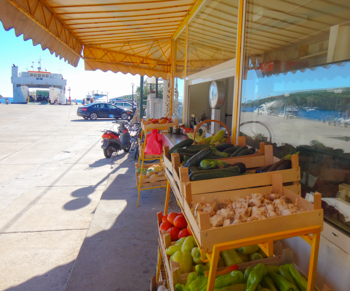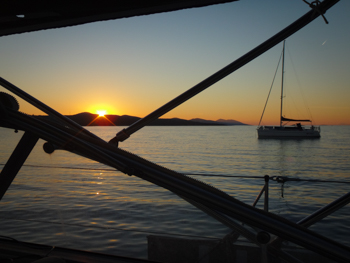 ACI Marina - Split
43 30'.14N : 016 25'.9E
Gliding along a flat sea in the morning fog on August 15, Jim noticed the batteries weren't charging. So, instead of heading for Stupica, another pretty anchorage, we beelined it to a marina in Split. The wind stayed below 8 knots on the nose and the sea was slight so we motored at 2200 RPMs and made it to Split before dark.
At the end of the 83 mile day, after seeing dolphins twice, we plugged into shore power, had a beer in the cockpit, then went to watch the sunset.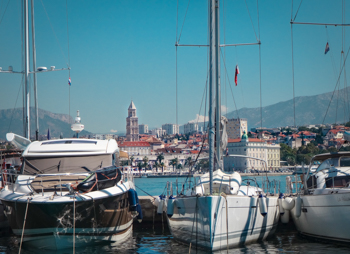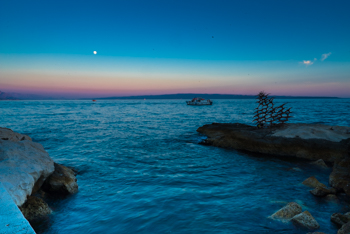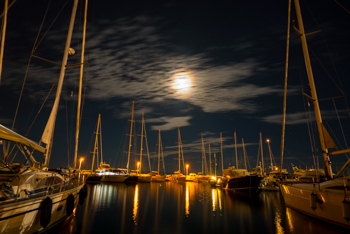 The next morning Jim pulled out his multi-meter, did a series of tests, and concluded the regulator was fine and the alternator was defective. Fortunately we carry spares for everything in the system. We can't thank John Neal of Mahina Expeditions enough for recommending we carry this expensive part. It's the second time we've had to replace it. The first was at a remote atoll in Papua New Guinea.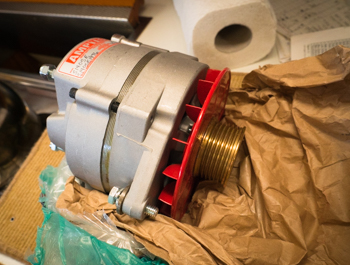 By afternoon all was good and we were free to wander around the ancient Diocletian's Palace.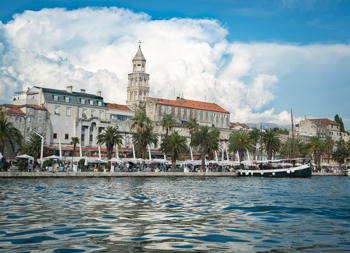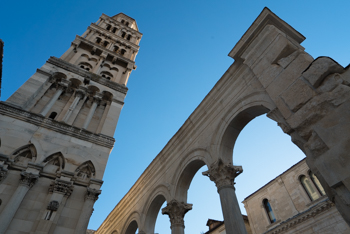 Vis Town Quay
43 03'.5N : 016 11'.3E
It was a straight shot south past Hvar to reach Vis. 28 miles in all.
Like a bite out of the northeastern shore, the bay called Viska Luka cuts across a third of the island. On each side of the head is a town - Vis on the west, Kut on the east. Both have town quays and Kut has pontoons and moorings. We tied near the eastern end of the concrete quay at Vis.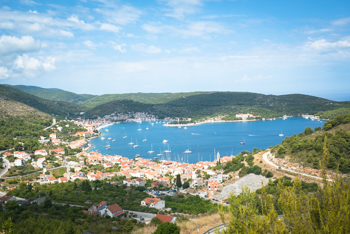 Greek settlers arrived in this bay in the 4th century BC and it's been populated ever since by various powers - the Roman Empire, Venetians, Austro-Hungarians, French, English, and Italians.
During WWII the partisan resistance, headed by Marshal Tito, and the British Special Operations Executive Forces were based here. There was a small airfield for allied fighter planes and George McGovern made an emergency landing here in his B-24 bomber.
Foreign visitors have only been allowed to visit Vis and the surrounding islands since 1989. That's probably why there aren't any tacky tourist developments, just authentic buildings and a lovely, rural interior.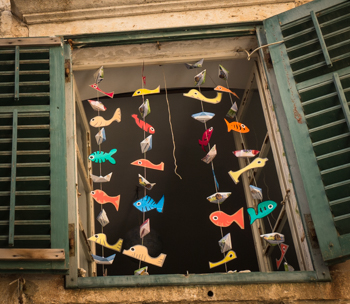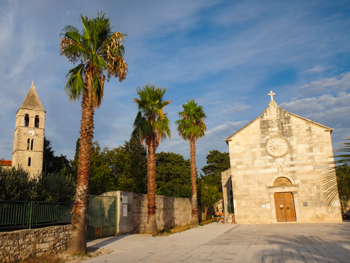 Apparently Vis is pretty quiet most of the year. During the summer dozens of charter boats participating in The Yacht Week Croatia arrive once a week. There were about a hundred of them when we were there anchored, tied to the walls, and rafted together in a long line. Vis, along with most of Croatia, is popular with Italians. They arrive by powerboats, sailboats, cars, and passenger ferries. I love their fashion and style, and overhearing their language.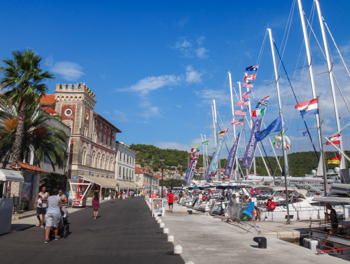 One day we rented a car and toured the island hoping to discover a place among the vineyards to buy some local wine. We probably should have researched it better as we ended the day with none. As we zigzagged across the island, we saw two caves where Tito hid with large pads outside for guns.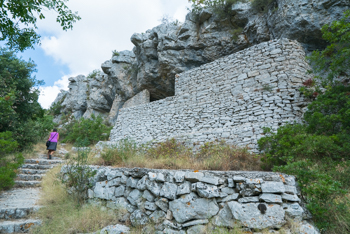 Directly across the island from Vis, and at the head of another large bay, is the small, slightly bohemian town of Komiza. We made it there in time for a tasty lunch at one of the cafes that line the waterfront.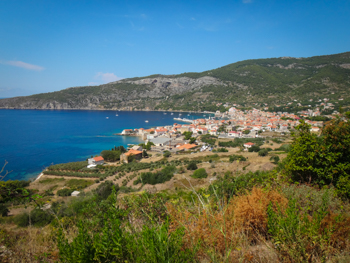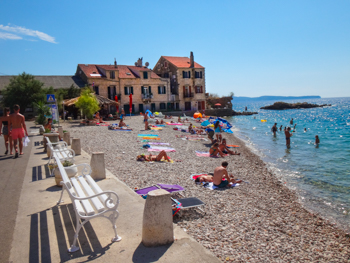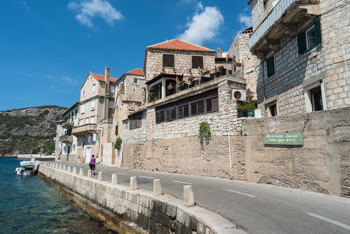 Luka Rogacic, Vis
43 04'.14N : 016 11'.15E
About two miles from Vis, at the entrance of the large bay, is a small bay with a narrow arm running parallel to the northern shore of the island. What looks like a black hole in the hillside partway down is a tall, dark, deep submarine bunker built by the Yugoslav National Army.
"Let's go anchor by it," I suggested when we learned of its existence. Jim worried if it was deep enough, wide enough, and protected enough, but finally agreed to go have a look.
The anchor stuck well and there was enough swinging room. I was excited to spend the day kayaking, swimming and snorkeling in the clear, clean water, and to spend the night at anchor.
As we tipped the kayak over the side it began to rain.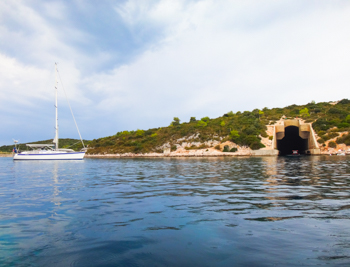 We bailed on snorkeling and kayaking further than the bunker. The bunker was pretty cool though, and worth the stop.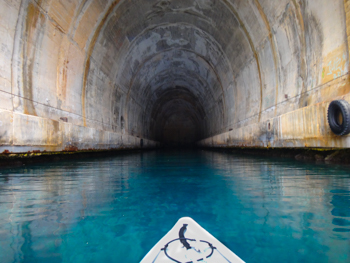 We also bailed on spending the night there. At 1314 we pulled up the anchor and set off for the Lastovo Islands 34 miles south. The wind was directly behind us and never hit the double digits so we motored on a rippled sea. Through the rain we saw two dolphins. Two hours before we arrived the sun emerged from the dark clouds.
Mrcara, Lastovo Islands
42 45'.7N : 016 47'.5E
Oh wow, this is the most beautiful anchorage we've been in since we left Thailand!
It's deep. We dropped the anchor in 25 meters, backed down, and tied to shore one boat length away.
It's clear. Amazingly so. We settled in 13 meters and could see all the contours of the rocks below.
It's not crowded. Only two powerboats were here too, nestled in the shallower water at the eastern edge of the bay.
It's quiet. There is nothing ashore except flora and fauna.
It's perfect for us!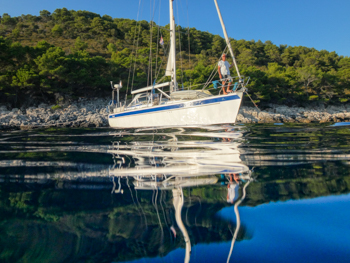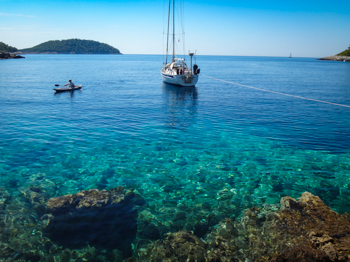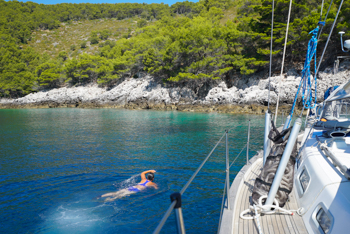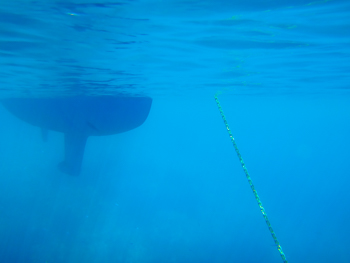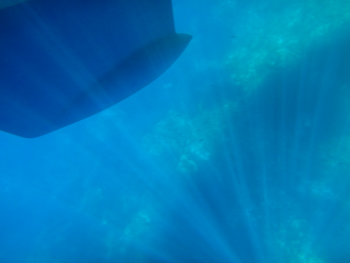 During a strong blow in Punat, Krk our Monitor windvane hit the wooden quay several times. The only damage appeared to be a dent in one of the bars but the gate would not open. Jim took the opportunity of a beautiful, calm day to whack it back into place.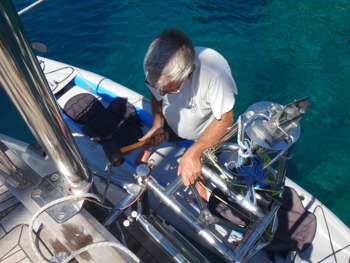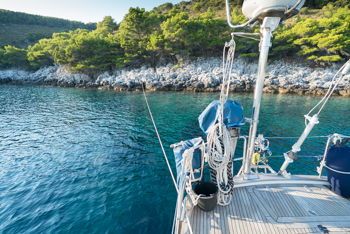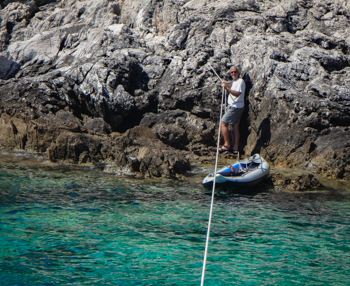 Ubli, Lastovo Islands
42 44'.7N : 016 49'.5E
Ubli is a Port of Entry so we were able to check out here. We tied Tenaya alongside the wall behind the ferry dock. Sure enough, while we were across the narrow waterway talking to the officials, a ferry arrived and disgorged cars and pedestrians.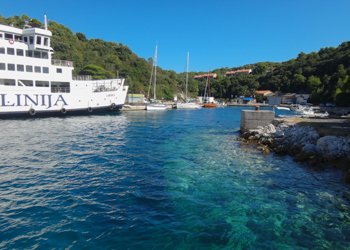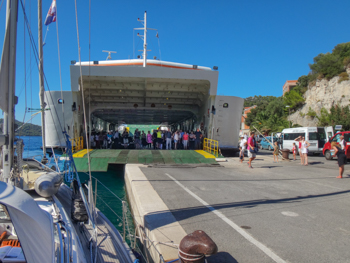 The water boiled and churned around the ferry's wide stern but Tenaya pulled away easily. At 1645 we began an overnighter to Kotor, Montenegro. The sea was smooth and there wasn't a cloud all night. About 2100 the big, red, nearly full moon began to rise directly in front of us. At 0100 two small dolphins bounded alongside Tenaya. We reached the coast as dawn broke.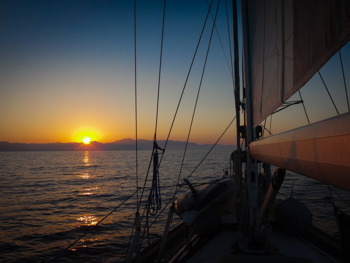 Puerto Montenegro, Kotor
42 26'.14N : 018 41'.5E
Croatia is not part of the European Union's Schengen Agreement which only allows foreigners to stay 90 out of 180 days so the time we spent here allowed us to spend more time all together in Europe. However, Tenaya has to follow different rules. Because she is not registered in Europe and VAT has not been paid, she has to leave the EU every 18 months.
Our plan had been to go back to Albania to see our friend, Niku, and gift his family many of the items we were clearing off Tenaya, but bad weather was forecast and the port of Shengjin was no place for us to be. We went to Montenegro instead.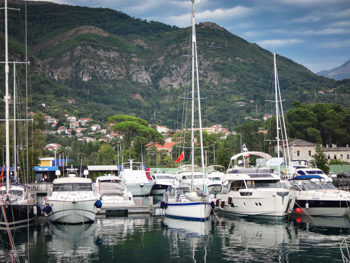 Customs and Immigration procedures are quite strict in Montenegro. Even though the long concrete quay is shared by the marina and officials, incoming and outgoing boats must tie up to the north side in the proper area for clearance. Once tied to the wall we had to announce our presence and a woman came in a golf cart to take Jim to clear in. Then we motored around to our slip. We did the reverse when we left for Italy six days later.
Just like our visit to Kotor last year, it rained most days. We only left the marina complex once, to have dinner with friends from California. That's a great thing about Facebook - Richard saw our posts from Montenegro while he and his family were there too. Great timing!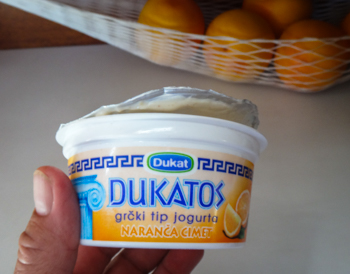 Puerto Montenegro caters to the luxurious super yachts and hooty tooty (or wannabe) holidaymakers from Eastern Europe. Each night the bar by the pool, close to the visitors' berths, blared with dance music. Even with the ports closed, air conditioning on, and fans whirring, it was still really loud.
The marina area has ritzy hotels and all kinds of nice shops. For crew over-wintering here, they provide a mountain cabin for skiing and snowboarding. I found some interesting things in the small well-stocked grocery store. Yogurt with orange and cinnamon sounds better than it tastes.
We were happy to be on our way back to Italy on August 26.
Italy - Otranto, Sicily, Vulcano