July 20, 2016
Shrouded in fog, a steeple stands tall above a jumble of green that seems to float on glass. Bled Island. It's the only image in our minds' eye of Slovenia.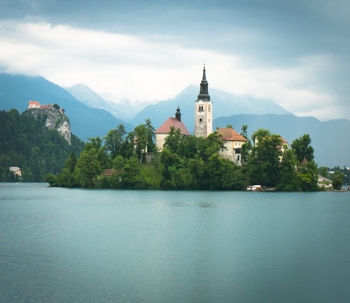 Europe occupies less of the world's surface than the United States, Canada or Australia but is packed with dozens of countries. Slovenia was there somewhere, we just didn't know exactly where.
So it was with much excitement we learned it is located at the top of the Adriatic Sea. Right next to Italy. Not far from Venice. It is full of mountains yet has a tiny coastline with two harbors and two marinas.
Jim and I decided that after we left Venice we'd sail Tenaya to this sparsely populated, ruggedly beautiful country, park her in a marina, and do some land travels.
The same week we arrived back at Certosa Island and while Tenaya was still on the hard, Jim's brother, Greg, e-mailed that his family was flying to Slovenia. Would we like to meet them? Of course! So the day after Tenaya splashed we rented a car and set off.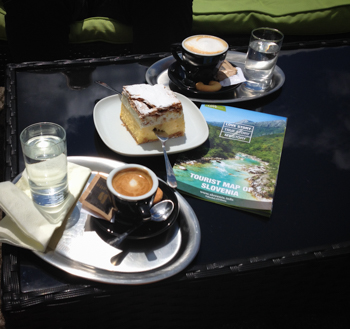 The mountains rose as coastal Italy faded in the rear view mirror. A 3.5 hour drive on excellent highways brought us to Lake Bled. A pass purchased just over the border let us breeze through the toll stations without needing to stop.
Our only break was to see the Predjama Castle. Part of the stone structure is wedged into an enormous cave while the other clings to the cliff like mushrooms to a dank tree.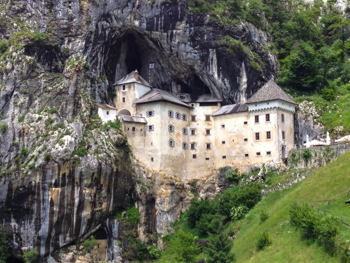 Our plan to walk around Lake Bled was thwarted when thunder cracked and rain poured. When it cleared we started walking clockwise and ran into Greg, Allison, and Claire.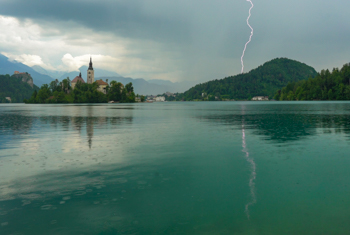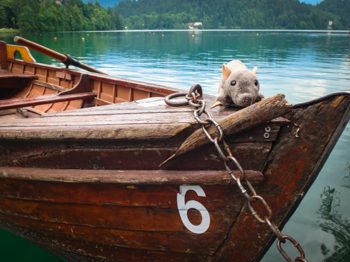 Lake Bled is stunning, but touristy, so we stayed the night in rural Ukanc, near Lake Bohinj, about 30 kilometers away.
The Chalet Zlatorog Mountain and Alpik apartments are built and furnished with authentic materials and are absolutely charming. Allison was ready to move in permanently! A clear stream separates the grassy grounds from a forest of pines.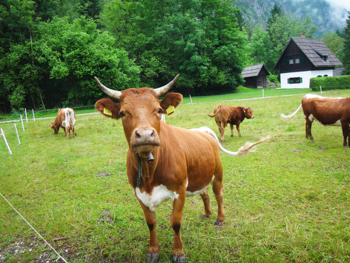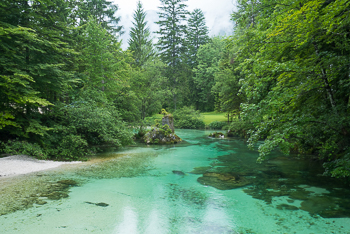 We hiked up to the Savica Waterfall which cascades 60 meters to feed the large lake.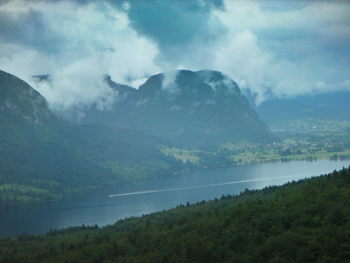 The small medieval Church of St. John the Baptist stands at the southern end of Lake Bohinj. Its walls and ceiling are covered with 15th and 16th century frescoes including the saint's gruesome beheading.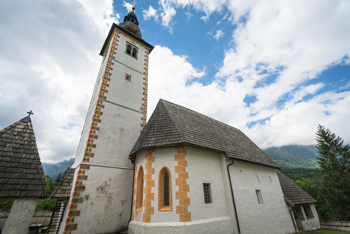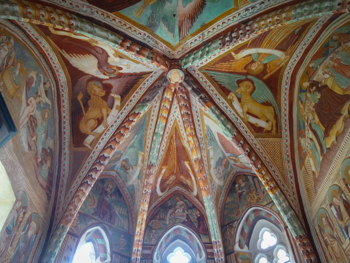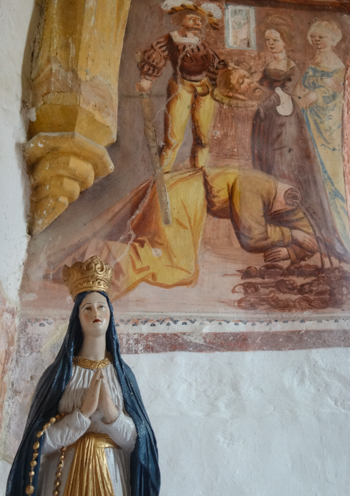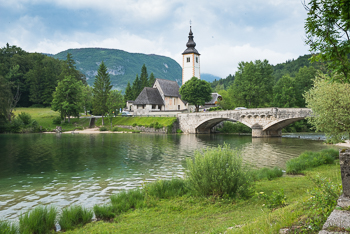 For a panorama view of Lake Bohinj we took the cable car to the base of Vogel Ski Center. Our friend, Nancy, said she competed here while on the US National X-C Ski Team. Pretty cool.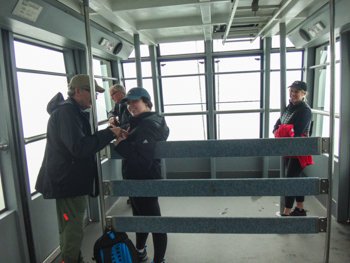 As we began the near vertical ascent, clouds enveloped our car.
Visibility was better down in the valley.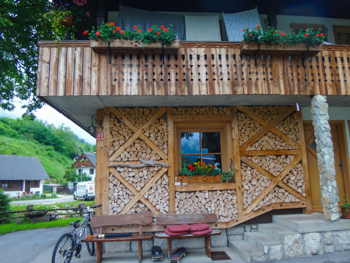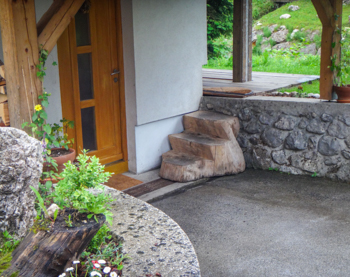 Zlatorog is a mythical chamois with golden horns that lived on Mt. Triglav. He trusted humans until the day a hunter tried to kill him for his horns. He became angry and thrashed through the mountains leaving the scarred landscape. There are statues of him everywhere.

Jim steered our little Nissan Micra back to Bled then continued north to Kranjska Gora, Slovenia's largest ski resort and the entrance to the Triglav National Park.
Here we crossed the Vršič Pass which our Lonely Planet guide book describes as "...one of the road-engineering marvels of the 20th century: a breakneck, Alpine highway that connects Kranjska Gora with Bovec 50km to the southwest. The trip involves no fewer than 50 pulse-quickening hairpin turns and dramatic vistas as you cross the Vršič Pass at 1611 meters."
It was built during WWI by Russian POWs to give Germany and Austria-Hungary an advantage over Italy.
Yep, it was incredible.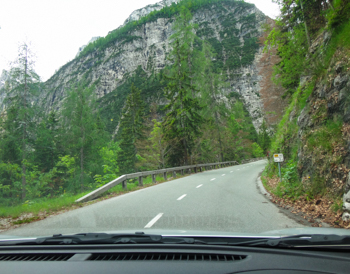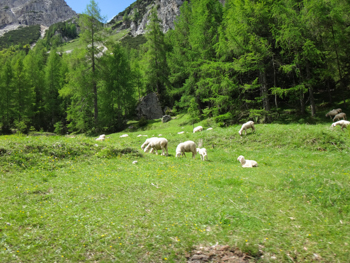 There were a lot of motorcycles and we were surprised to find so many bicyclists as well.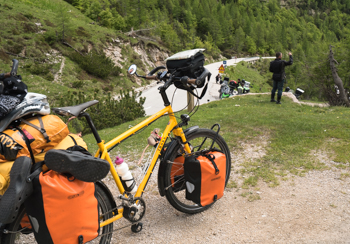 On the way down we stopped to hike up to the source of the Soča River which flows through magnificent gorges and provides massive fun for kayakers, rafters and canyoneers.
Just getting to the cave where the headwaters emerge proved too much for my skirt and sandal-wearing body. Look closely and you can see Laura and Liz from Chicago working their way across the via ferrata to the cave.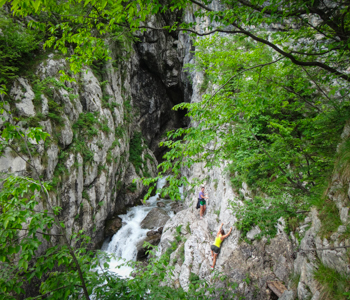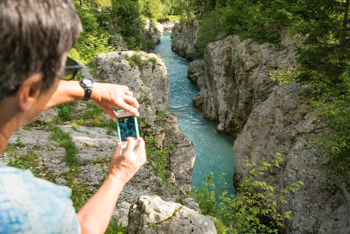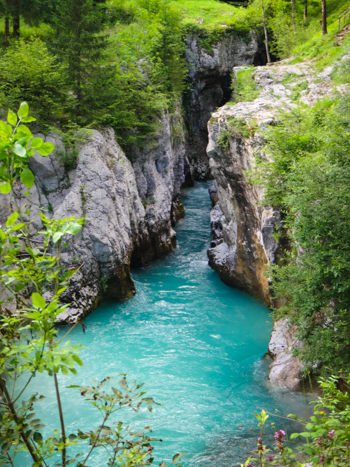 One of the places we stopped to watch the river was not far from Bovec, our destination. Rescue swimmers were practicing where the tumultuous river transitioned from narrow to wide.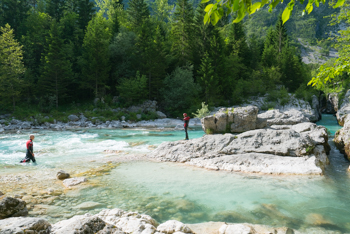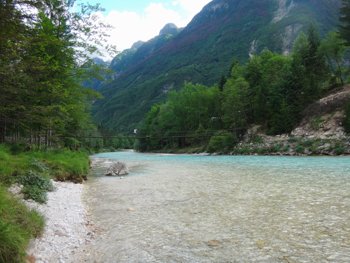 Greg, Allison, and Claire had a room booked at the stately Dobra Vila. Had there been train tracks, our nondescript hotel would have been on the other side. Taking advantage of their location, we enjoyed a delicious dinner together.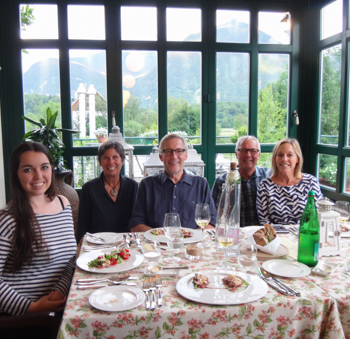 Then it started raining. Hard. And it didn't let up until we left two days later.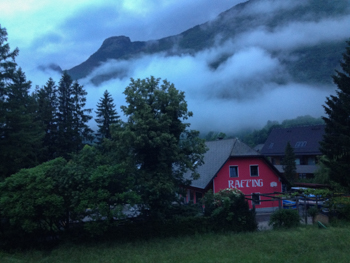 Portorož, Slovenia
45 30'.20N : 013 35'.74E
Our month in Vento di Venezia was up on July 6th so at 0730 we tossed off the docklines and headed out of the canal. It was bittersweet leaving Certosa Island and Venice but time to move on.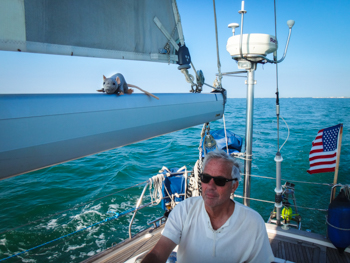 The bora blows from the NE and had been fairly strong for the last week. We were happy it eased although it meant motoring the 50 miles to Portorož.
Jim shifted into neutral as we entered the marina to stop and check-in. When he tried to shift back into gear the prop didn't engage right away and we limped ahead to the fuel dock. Worried we might have snagged something, I went over the side to see. Nope, nothing wrapped around the prop. I finned to the ramp and scooted up the slippery mossy concrete out of the water.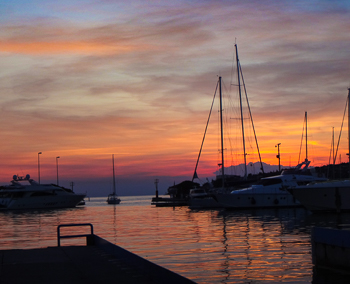 The next morning we motored five miles to Piran, a quaint harbor with a customs office. Because we were going to Croatia, a non-Schengen country, we had to check-out.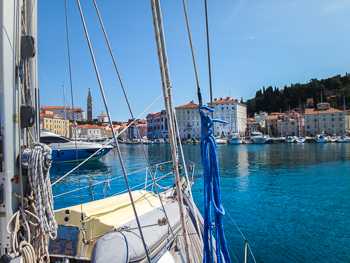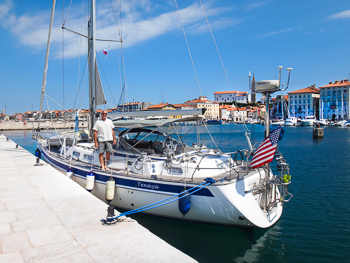 Slovenia. One more country where we did not spend enough time.
Video: Slovenia in Two Minutes
Go to July 2016 Part Three - Punat Marina Krk, Croatia