July 12, 2016
On a clear day, we could see the Italian Alps from our berth at Vento di Venezia.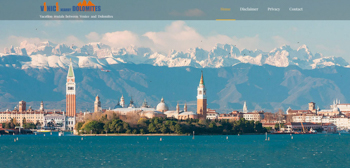 "Shouldn't we take a trip through the mountains while we're here?" I asked Jim. "Sure," he said. So we planned an itinerary, rented a tiny Fiat 500, and made reservations on Booking.com.
We like loops so drove to Padua, Bolzano, Val Gardena, the Gruppo del Sella, Cortina d'Ampezzo, and back to Venice.
Our only stop in Padua was at Ikea to buy the elder flower syrup needed for Hugos, my new favorite drink. Wonder what the cashier thought as we checked out with six bottles and nothing else.
Bolzano is a delightful city surrounded by an abundance of green. Backed by foothills, a river tumbles through a wide grassy park and into the center of town. Along the streets are patches of flowers as brilliant as the sky.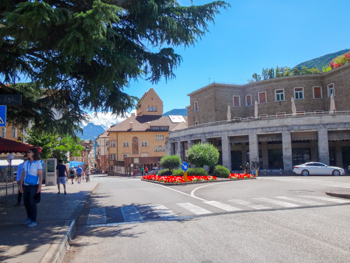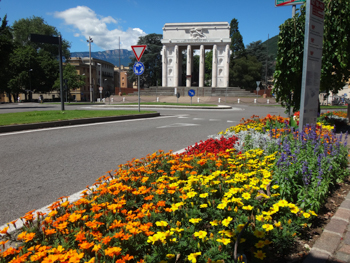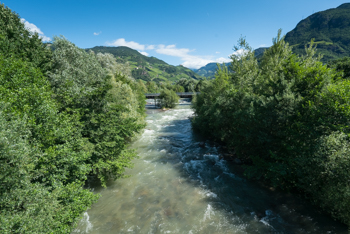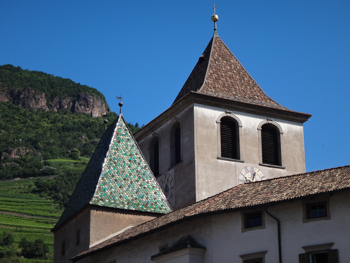 Bolzano lies in a valley below mountains that grow taller as they approach the Austrian border. It is a backcountry mecca and home to Reinhold Messner, perhaps the most famous mountaineer of all.
It is also the final resting place of Otzi, the Iceman. Otzi suffered a fatal injury approximately 5,300 years ago at 10,000 feet in the South Tyrol. There he chilled and mummified until a hiking couple found him in 1991.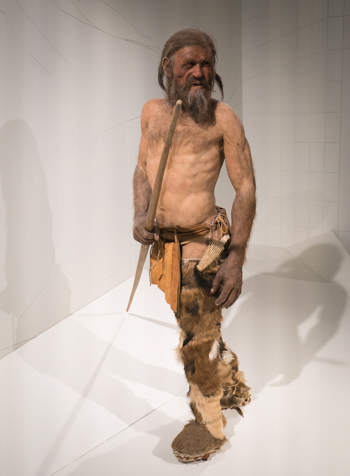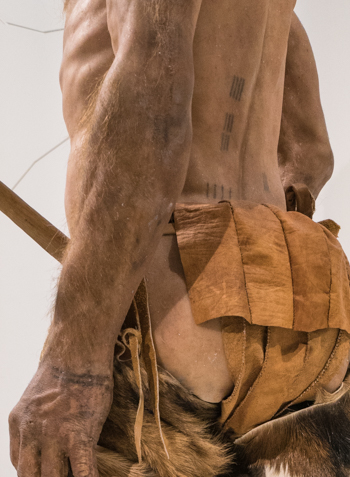 The South Tyrol Museum of Archaeology in Bolzano was built to preserve Otzi, his clothing and tools. It's a wonderful place to learn of his recovery, what his body explains about his life, how he has been preserved, the details of the life-like statue of him, and all about the Copper Age from grains to tools.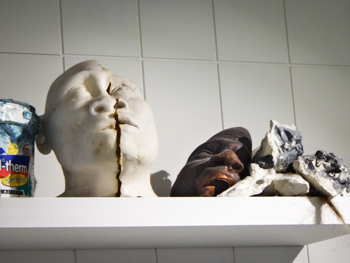 Jim's brother said a friend was in Bolzano at the same time. We met Steve and his project associate, Sascha, at the regal Parkhotel Laurin and shared a delicious dinner and compelling conversation in the lovely park on the grounds.
The next day we drove into the mountains through Val Gardena and the Gruppa del Sella.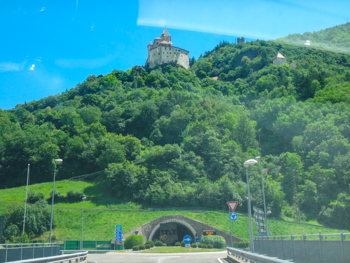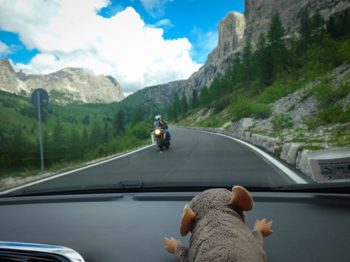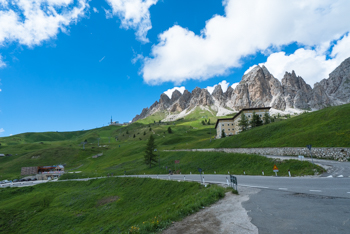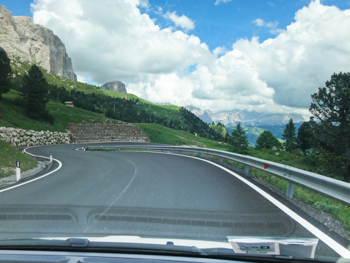 A Fiat 500 fit our budget and is cute in a minuscule toy type of way. Since we're in Italy, it made sense to rent one. But for the life of me, I don't know why we accepted the automatic.
We were passed by cars, motorcycles, an old VW bus, and a bicycle. Uphill and downhill. There are a lot of cyclists on these alpine roads.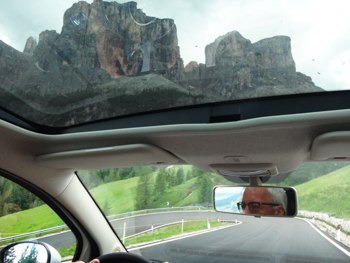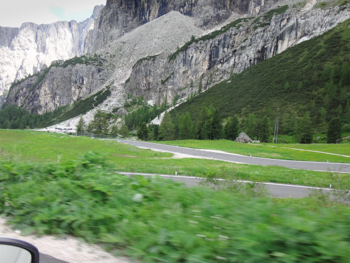 In one section most of the cyclists were wearing bibs. At a roadblock we were ushered onto a detour that took us up a steep dirt road under a ski lift to avoid the race finish hoopla. The little Cinquecento gasped and crawled and eventually made it back to pavement.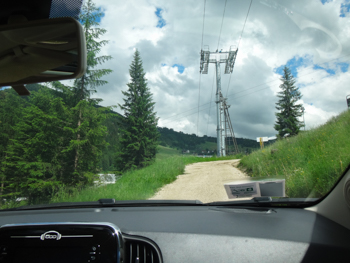 Jim and I drove to Cortina d'Ampezzo for Christmas the second year we lived in Belgium, 2001. There wasn't much snow but we made a few runs, enjoyed the ambiance, and stayed in the classic Hotel de la Poste in the center of town.
This time, as jobless folk, we had a room in the charming Villa Nevada across the river. For nostalgia's sake we splurged on a nice dinner at the Hotel de la Poste, and I replaced my worn boiled wool slippers.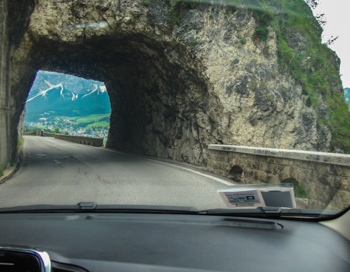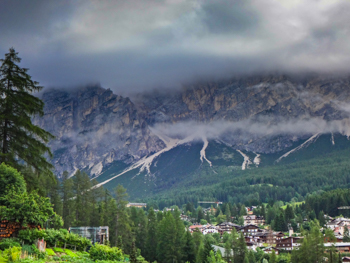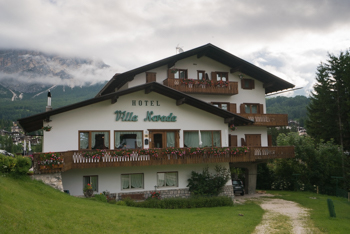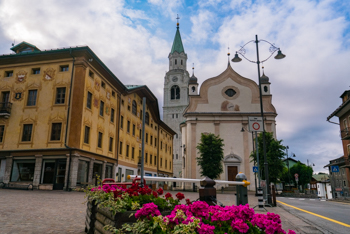 The drive back to Venice took us through some pretty towns. The massive, angular mountains gave way to gentler pine covered peaks, and eventually to foothills and flats.
Our trip was only three days, not long enough to hike or explore. We would love to return one summer for a few weeks of ambling along the verdant tracks beneath the towering ranges.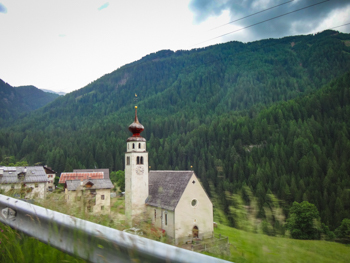 Go to July 2016 Part Two - Slovenia