July 10, 2016
Murano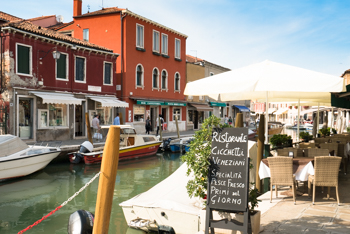 Murano is the place to go if you like glass. Artisans apply centuries-old glass-blowing techniques to their creations in the backroom workshops of many galleries. Glass vases, jewelry, stemware, statues, chandeliers, and pretty much anything you can imagine can be found in the stores lining the streets and canals of Murano.
Fear of burning Venice to the ground in the 13th century drove authorities to banish the trade to Murano. Today the island is devoted to the tourist trade, although I imagine behind some of the large metal doors and beneath a few ancient brick chimneys are craftsmen creating gorgeous pieces for the world's elite.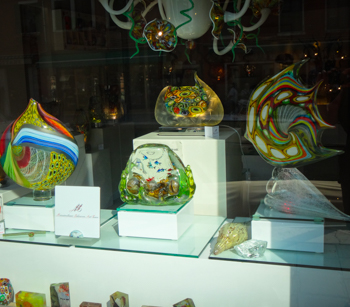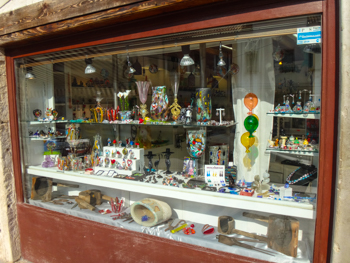 A light fixture inside one store caught my eye so I went in for a closer look. Five different multi-colored glasses were attached upside down to a horizontal strip of wood. Light bulbs dangled inside each glass. Simple, yet very cool. Perfect for over our bathroom sink.
Sensing a sale, Fabio introduced himself and invited us to see the workshop. We watched two men making custom ordered gold-trimmed crystal wine glasses in the oppressive heat. Afterwards Fabio gave up a tour of the two-storied gallery.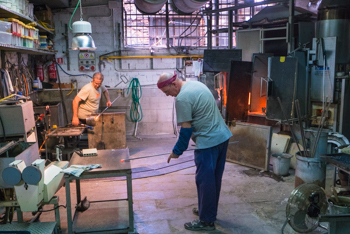 I've liked quirky colorful glass chandeliers since I first saw them here 15 years ago. Jim, who usually goes along with my nesting needs, would not acquiesce. So it was with great surprise that I heard him utter the words, "We should get one." Apparently my incredulous look required an explanation. "You've wanted one for so long that it's not a whim." Right. I am prone to whims.
A chandelier was still out of the question but we agreed on using an upside down vase with a bulb inside. Fabio said I could design it myself. Back in the shop I picked through the containers of glass bits to make two piles - one for the glassblowers and one for myself.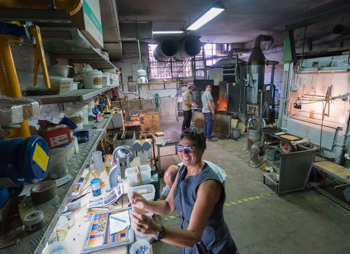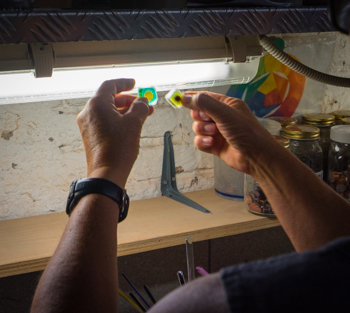 Both of our custom-made light fixtures will arrive in Mammoth when we do, late October. They are an extravagance but our rationale is that we're at the end of our sailing journey around the world and have collected traditional souvenirs along the way - molas in the San Blas Islands, black pearls in French Polynesia, baskets in Vanuatu, greenstone in New Zealand, carved wooden spears and masks in Papua New Guinea, gorgeous fabrics in Indonesia, knit socks and gourd lamps from Turkey - and it seems fitting to have something traditional from Venice.
Fabio wouldn't allow photos inside the store but their website has some nice shots of their collections.
http://www.renoschiavon.it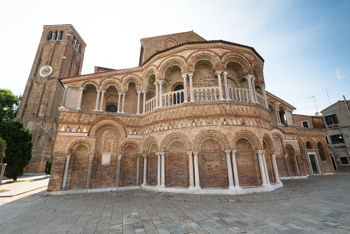 Mike and Helga aboard Swallow said the Basilica dei SS Maria e Donato on Murano had a spectacular stone mosaic floor. I love mosaics, so off we went. The church dates to the 7th century but has been altered and restored over the years.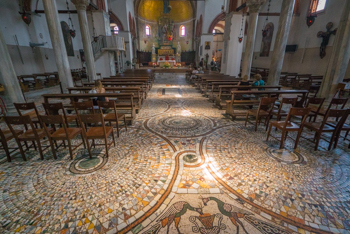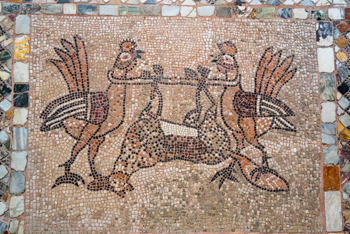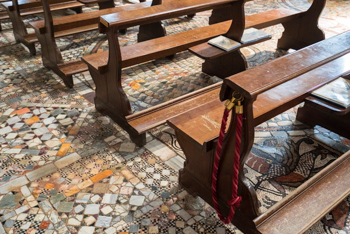 And as you might expect from a church on an island famous for glass, there were some fabulous pieces including a crucifix, light fixtures, and a brilliant bowl for, perhaps, holy water.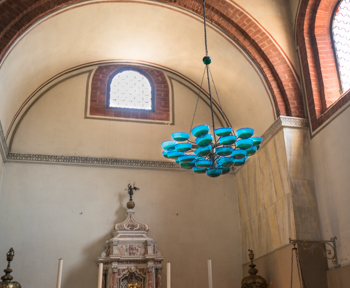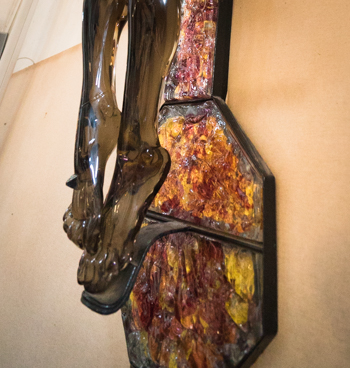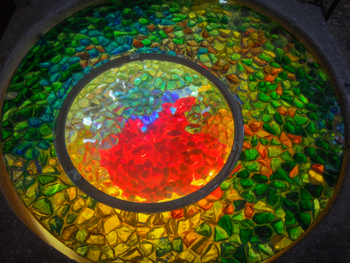 Even the confessional doors were made with glass.
Behind the alter are four long ribs from a dragon slain by San Donato. The unfaithful reckon the bones, which measure over a meter each, may be from mammals that lived during the Pleistocene. There are also relics of San Donato on display.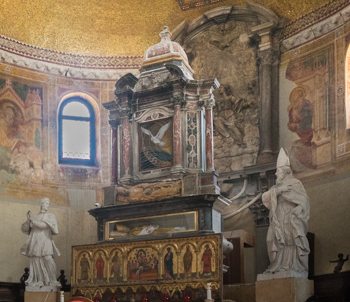 An added bonus for me was a painting of what seems to be a Last Judgment. I have a thing for Last Judgments and will travel to see them.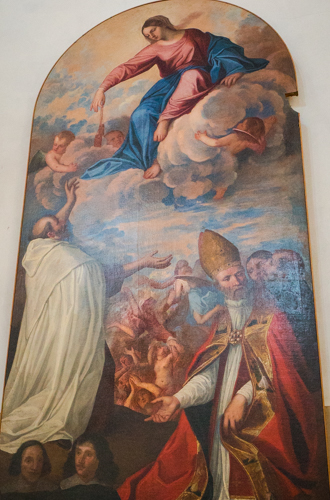 Elisa and her brother, Ricardo, recently opened Murano Gelateria. They have adapted the skills they learned at University - Master Gelatieri - to create vegan gelato by using olive oil instead of cream. The showroom is all white and the gelato is only colored with fruit. It is delicious!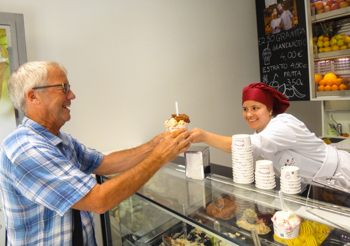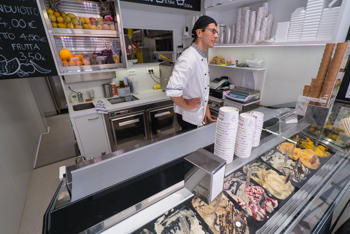 On a typical visit we would alight from the Museo vaporetto stop and find a table on the deck overlooking the canal at Ai Piantaleoni. Sometimes we'd order a meal - the octopus salad is the best we've ever had - but always I'd order a hugo, a refreshing iced drink made with 2 parts prossecco, 2 parts elder syrup (available at IKEA), 1 part sparkling water, a slice or two of lime, and a few mint leaves.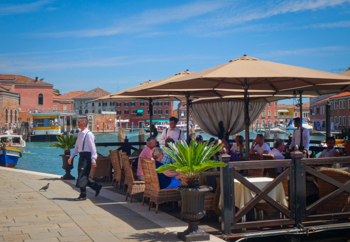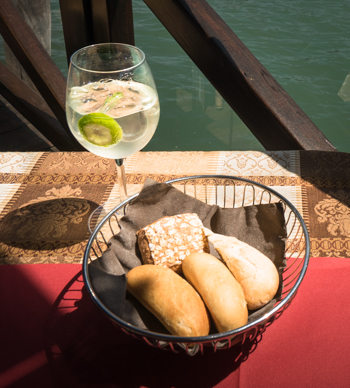 Burano
"I came to Venice to see the colors of Burano," said the traveler we met on the Academia Bridge one evening waiting for the full moon to rise. He knew nothing of Venice's history or sights and didn't really care.
Last year when we said we were sailing to Venice, a friend who is a professional photographer said, "Go to Burano."
"The glass place?" I asked, without a clue.
"No. Burano. With a B. The buildings are really colorful."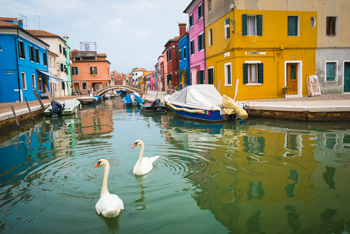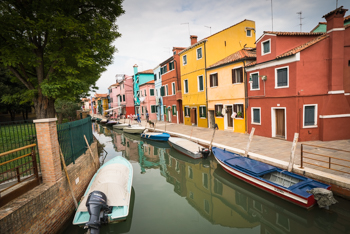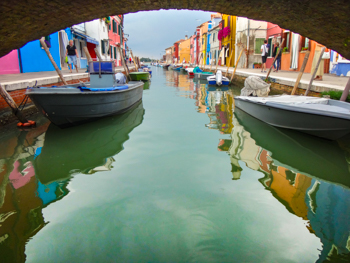 Ages ago Burano was know for lace. Austerity after WWII had a devastating impact on the trade. A few women carry on the tradition, but now more lace souvenirs are imported than produced here.
We visited on a cloudy day and can only imagine how the buildings would look in brilliant sunshine. I probably went a little crazy with the saturation adjustment in Lightroom, but that's how the place feels.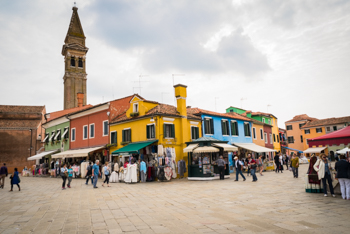 Here and there are small shops and cafes along narrow canals, and everywhere are narrow alleys turning, wending, and abruptly ending. Like Venice and Murano, there are no cars, only boats.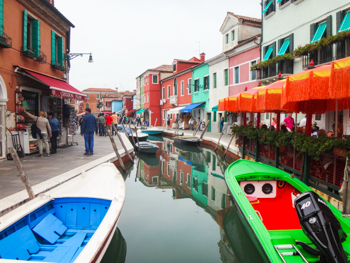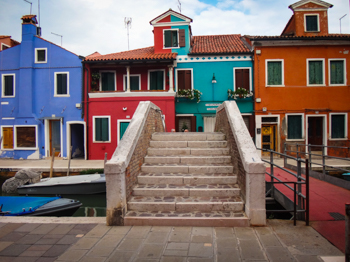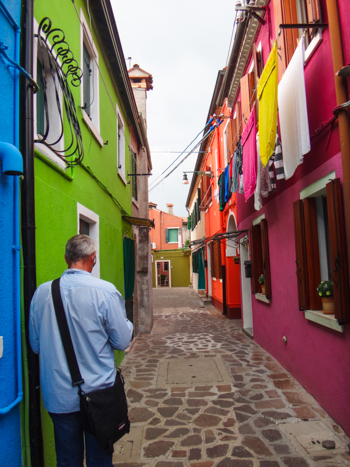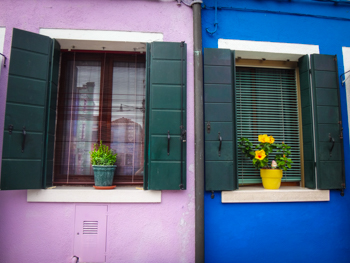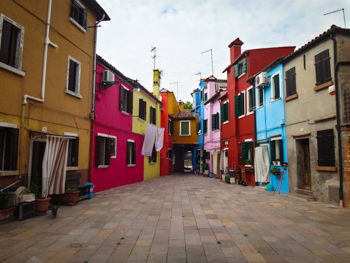 Torcello
There were so many holy scenes depicted in Venice's Basilica di San Marco that I didn't want to miss a Last Judgment. so I asked our tour guide. She pointed to one high up on a side wall that was not included in our tour. "It's not very good," she said. "Go to the Basilica di Santa Maria Assunta on Torcello," she said. "There is a beautiful mosaic there."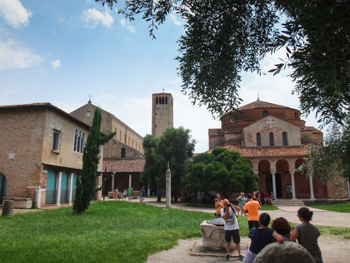 Torcello is a rural island just past Burano where very few people live. There are no hotels, large restaurants, or roads lined with shops. A paved path stretches across the island along a small, quiet canal.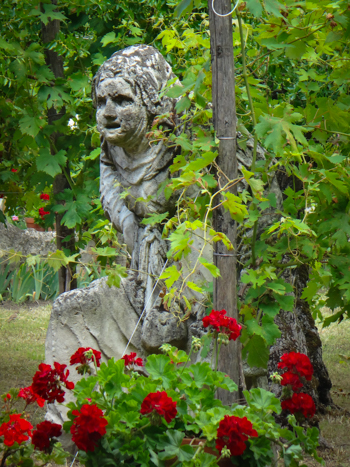 20,000 people lived on Torcello during the Byzantine period. Of all the original buildings, only two churches remain. One is the Basilica di Santa Maria Assunta.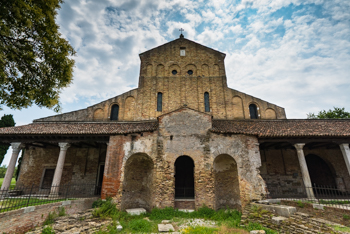 Emblazoned with tiny tiles and mostly golden, the entire back wall of the church is an incredible Last Judgment.
Taking photographs is not allowed so I was happy to find postcards of the mosaic in the gift shop.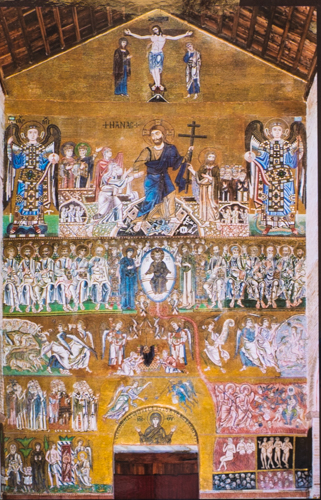 Padua
Fourteen years ago I found myself on a bus tour passing through Padua. It stopped in front of the Basilica di Sant'Antonio, a popular pilgrimage site, just long enough for people to have a look inside. My guidebook said there was a magnificent Last Judgment painted by Giotto in a small chapel called Cappella degli Scrovegni not too far away.
I told my friend, Lori Lynn, that if I wasn't back by the time the bus left, to tell our guide I'd take a train to Venice and meet them at our hotel that night. Off I scurried, map in hand.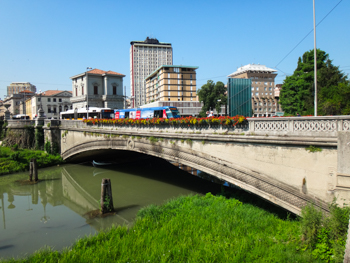 At the entrance I learned that tickets must be reserved in advance and the next available time was over an hour away. Dejected, I hurried back and met the bus as the last few people were loading. I've wanted to see it ever since.
Padua is a half hour train ride from Venice. The 4.2 vaporetto takes longer to reach the train station than the train takes to reach Padua. Jim and I left the boat at 7:30 am and were back aboard before dark.
This time I ordered tickets to the Cappella degli Scrovegni in advance from the chapel's website.
The ceiling of the chapel is painted to look like a night sky with stars on dark blue. One side told the story of Jesus' life, the other side his mother, Mary's. At one end was the alter, the other end was an enormous Last Judgment.
What captures my attention most in these depictions are the afterlives of bad people. This was a good one.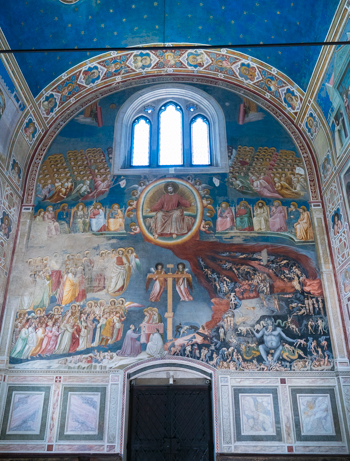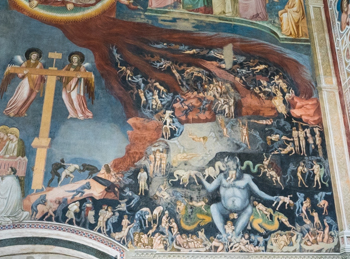 The website said no photos were allowed so we left our cameras in our checked messenger bags. Inside, people had cameras and took photos. After our thirty minute visit I returned to the ticket office at the Musei Civici agli Eremitani and asked to buy two more ticket, explaining the reason why. The man gave me a deeply discounted price and apologized because we'd have to wait 90 minutes. That was fine, we would wander though the museum.
We learned that once upon a time warriors were buried with their horses if both were killed in battle.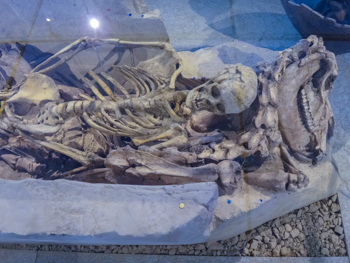 We learned there is no shortage of paintings with John the Baptist's head on a silver platter.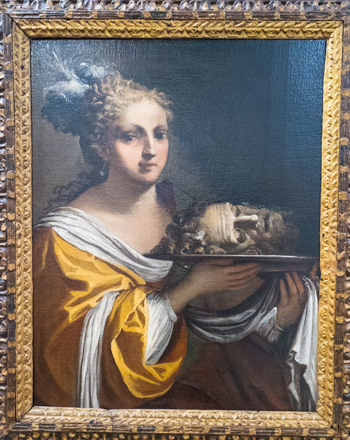 And we learned that in the middle ages people would strive to be good but there was evil at every turn.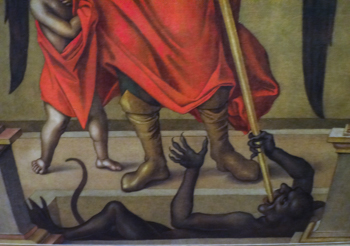 Go to July, 2016 Part One - Road Trip to Bolzano and Cortina d'Ampezzo