January 28, 2017
Mammoth Lakes, California
37 36'.17N : 119 00'
If all goes as planned, this will be the last page chronicling our sailing adventures. With heavy hearts, we've left Tenaya for sale in Mallorca.
Jim searched for a broker who understands VAT issues for both EU and non-EU citizens and found Dirk-Jan Coljee of Whites International in Port d'Andratz on the Spanish island of Mallorca. He will keep an eye on her until a buyer is found.
I'll explain why it's taken so long to write, but first, the last leg of our ten year journey....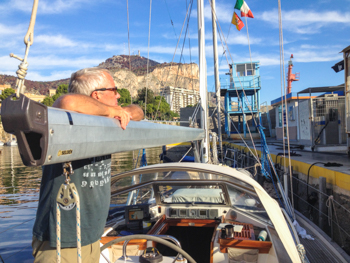 Marina Villa Igiea - Palermo, Sicily
38 08'.6N : 013 22'.22E
"It opens at 8 o'clock," said the marina manager when I called asking when the fuel attendant would arrive. It was 0845 and there wasn't a soul in sight.
We'd tied Tenaya to the fuel dock in Palermo a few minutes before 0800 on the morning of September 23 so we could top up for an early start on the 500 mile passage to Port d'Andratx, Mallorca.
Strong winds and uncomfortable seas caused by a system originating in the Gulf of Lion had delayed our original departure. Another blow was expected in a couple of days. We could have done a fast, bumpy, exciting sail but we've had enough of those. We wanted to end on an easy note. This was our weather window.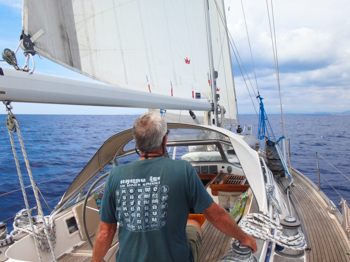 The forecast was for light winds and smooth seas for the first two days, then 15 knots on the nose. Our plan was to motor at 2000 RPMs - burning close to four liters per hour - for the first 24 hours which would put us close to the southeastern tip of Sardinia. Then we would slow down to ensure enough fuel to reach Port d'Andratx, west of Palma.
On short passages we do not keep strict watch schedules. Our goal is to make sure each person gets at least five straight hours of sleep each night and a nap during the day.
The sky lit up a magnificent red and turned the water purple as the sun set off the bow while we ate dinner together in the cockpit the first night. Jim stood watch until midnight then I came up to peaceful darkness. At 0100 a pretty orange gibbous moon crept over the horizon behind us. At 0400 Tenaya skimmed over the surface as the depth plummeted from 700 meters to 2500. With my newly found knowledge of whales favoring transitions like these, I kept an extra careful watch.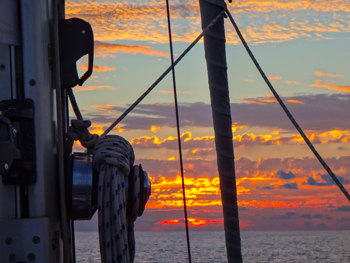 When he woke up at 0600 on Day Two, Jim saw the fuel gauge was lower than expected so backed the throttle to 1600 RPMs. We had been making 7-7.3 knots at 2000 and were still making 6.4-6.8 using only one liter per hour. I should have slowed down hours earlier.
Day Two was sunny as we motorsailed along a smooth sea. The mainsail was up mostly to provide shade. At 1700 we lowered the RPMs to 1500 and made 5.4-6 knots for 27 hours.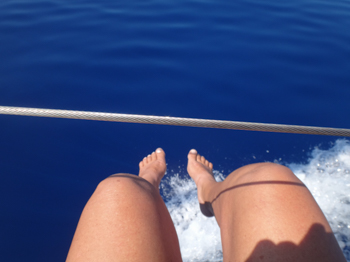 Highlights from the log that night: 2000: Very red sunset. 2100: Cloud bank to port. 0100: Big black cloud over us. 0200: Orange crescent moon. 0300: Some black clouds with lightning ahead and behind to starboard, otherwise stars. 0500: Clouds lighter. 0730: Pretty sunrise with my honey.
Day Three was sunny but not too hot. Our log was not working so we could not record the wind speed or direction. We decided to stop at Rapita, at the eastern end of Mallorca, instead of going all the way to Port d'Andratx. Then we wouldn't worry about fuel and would arrive during the afternoon of Day Four.
At 2200 Jim wrote: Changed heading to avoid oncoming boat CPA (Closest Point of Approach) .02 miles. 2300: Passed behind cargo ship. Pretty much no clouds, no moon, no lights, STARS. 2400: Lightning to the north. 0100: More lightning - changed heading.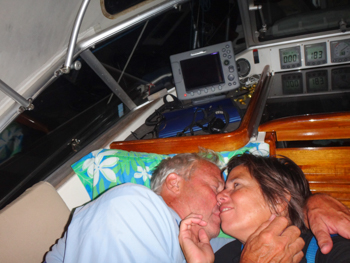 At 0200 I wrote: Back on course, still lightning but less. 0300: Lightning behind us, clear ahead for now. Jim in the cockpit with me. 0359: 2 dark clouds, 1 in front of moon. Some lighting. 0500: Lots of stars, some lightning bolts to port. 0600: My last hour of nightwatches ever :-( Stars above, clouds on all horizons. Fireworks mostly north but also west and south. 0700: Squalls to starboard with lightning. Pretty dawn.
Huddled on the portside cockpit bench wrapped in a fleece blanket with my back on my soft sleeping pillow, I watched the lightning bolts shoot across the sky. Why had I never brought that pillow up before? It was much more comfortable that the firm outdoor pillows. Instead of being afraid, I imagined the lightning to be a fireworks show that my dad, who loved sailing, had convinced God or Mother Nature, or whatever is in charge, to put on in celebration of our sailing adventures. It was a lovely grand finale.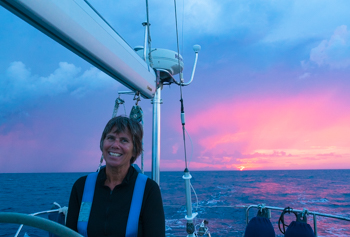 At 1400 Tenaya was within sight of Rapita Marina. We rolled out the mainsail and jib and sailed for an hour. Our SOG (Speed Over Ground) was only 3 knots, but it was warm and pretty and quiet and perfect.
By 1611 we had refueled (269 liters) and were med-moored to the wall near the entrance of the marina.
Rapita Marina, Mallorca, Spain
39 21'.6N : 002 57'.2E
Maybe there is a town nearby but we were here six days and never left the marina. Heck, we didn't even walk to the yacht club restaurant at the opposite corner.
Along our concrete quay was a nice toilet and shower block including a laundry room. There was only one washer and dryer, but every time I went to use them - which was often - they were available. One morning the floor was deep with water from rain the previous night. I asked one of the boat guys if there was a mop I could use. He shook his head and pulled out his phone. A few minutes later the cleaning lady rode up on her bicycle. I felt bad but she was really sweet and it was dry in no time.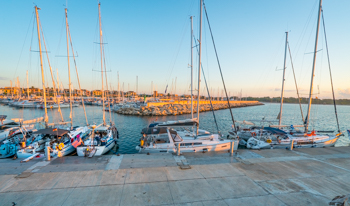 I washed and ironed all our curtains and washed the Sunbrella covers Jim made for our Bottomsiders cockpit cushions as well as all the clothing and linens we were going to donate or ship back to California. All old towels and sheets too worn to donate were thrown away, and I took our ten year old, unused sailing gloves to the office to disperse. Jim replaced the log and went through all Tenaya's manuals to make notes of anything that could help the new owners. He got rid of any unnecessary paperwork.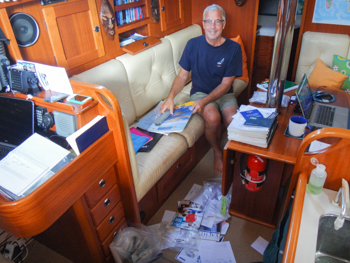 Each evening we were treated with spectacular sunsets. A walkway on the wall behind our quay overlooks the sea and affords spectacular views.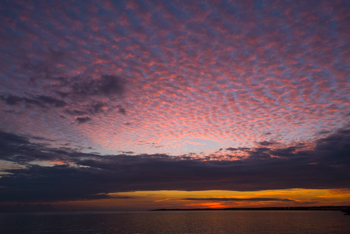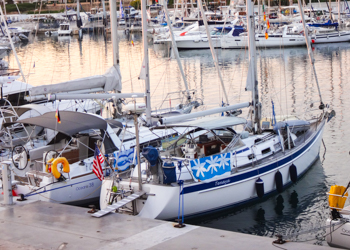 There is a cafe at the beginning of the quay as well as a small store were I bought fresh bread or croissants each morning. Sometimes I splurged and ordered cappuccinos too.
Everyday there was a different boat side-tied next to us. At one point a large catamaran towered over our cockpit. It made loud hacking sounds while water spurted from someplace inside the hulls. Sounded like this cat had a terrible case of furballs.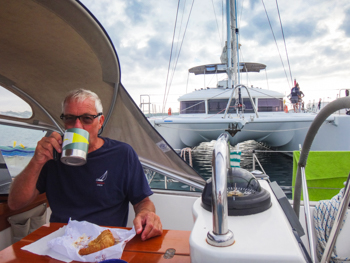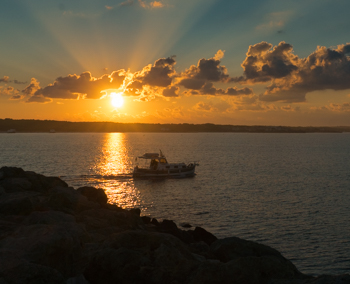 Port d'Andratx, Mallorca, Spain
39 32'.8N : 002 23'.2E
Summer rates are high at Port d'Andratx so we booked our berth beginning in October.
Puffy white clouds floated against the blue sky as we motored in little wind toward our final destination. Not ready to stop quite yet, Jim and I unrolled the sails, turned off the engine, and drifted noiselessly for the better part of an hour.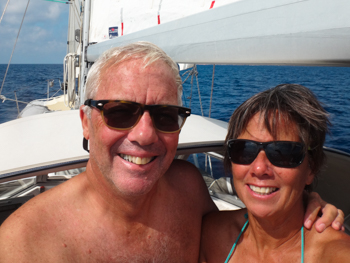 The x the

On that last day of sailing, tears of sadness for ending this incredible sailing life mingled with anticipation and excitement for the places we'll go in the Sprinter.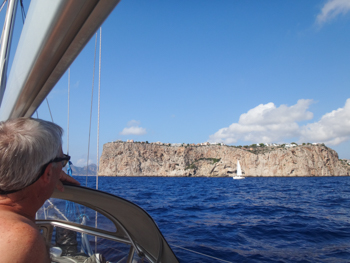 Port d'Andratx is one of the oldest yacht clubs in Spain. It is nestled at the head of a narrow arm surrounded by green hills and little development. It's quite different from the massively built-up city of Palma.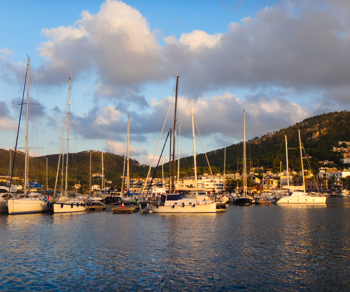 The first week we were berthed among the charter boats at the northern end of the marina. Each afternoon we had different neighbors. All were competent and friendly.
We spent two weeks clearing things off Tenaya, cleaning, polishing and making her as perfect as we could for whomever buys her. We left things we feel necessary for life aboard - snorkeling gear, long lines for tying ashore, our inflatable two-person Sea Eagle kayak and paddles, the dinghy and 8 hp outboard, Jordan series drogue, satellite phone, EPIRB, Musto foulies, guide books and instructional manuals, and, perhaps literally, a ton of tools and spare parts.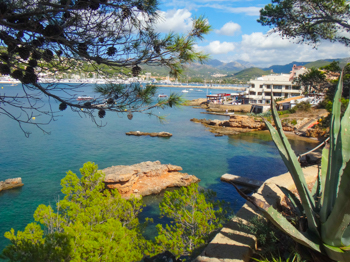 Dive weights and belts went to local divers. Galley gear, linens, and cleaning supplies went to the ladies working in the shower block to keep or give to their churches.
Wooden masks from Papua New Guinea, molas from the San Blas Islands, and our world map came off the walls.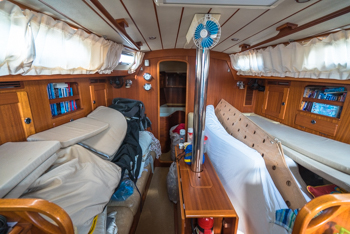 A few times we found things we'd forgotten about like the stashed bottle of our favorite New Zealand wine, the Ned Sauvignon Blanc.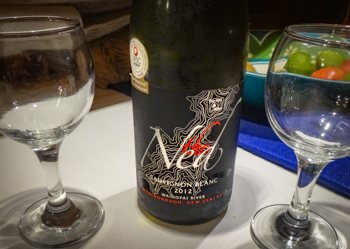 Besides providing memories, much of the galley gear and linens would also work for the Sprinter. Although it was expensive, we sent back six boxes via the Spanish post containing these items as well as our logbooks, favorite books, and clothing that would not fit in our luggage.
Note to anyone contemplating doing this: put everything in a large plastic bag first. Some of the boxes arrived soggy. One had a hole with our orange Kipling fleece blanket poking out. Contents were damp and smelly, books were swollen and ruined. Fortunately our logs were fine.
Jim made the engine room and all the stainless shine while I cleaned the bilge and every storage area. We used Simple Green, Soft Scrub, and bleach until it ran out, then used what was available locally. We scrubbed with sponges, brushes, toothbrushes, toothpicks and Q-Tips, and wiped with old t-shirts and paper towels.
I thought I'd been obsessive about keeping Tenaya clean, but wow, she really sparkles now!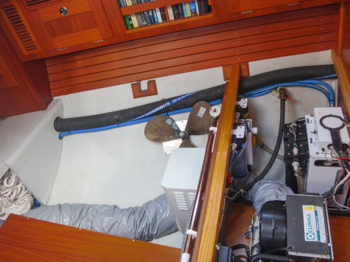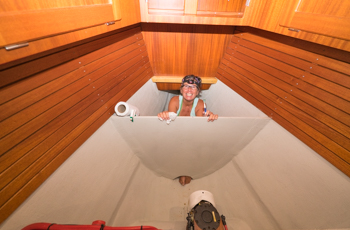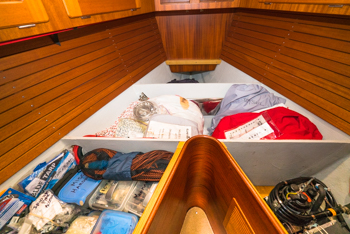 Oh, another thing we left - our bush knife from Vanuatu. It's the best thing for opening coconuts. A world-traveler is going to need that! We sure hope someone who has been following Tenaya Travels can buy her for their own adventures. She's a fantastic partner.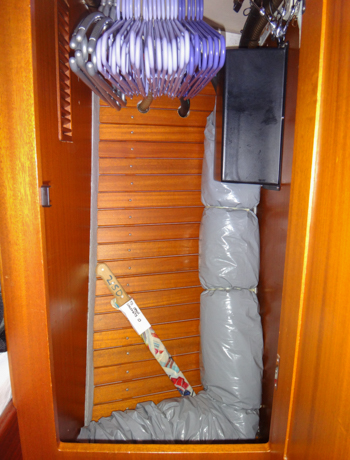 The last week we moved to the quay in front of the restaurant and bar. It's the safest location for the winter storms and very convenient for two tired people to have dinner.
On October 14 we said a tearful good-bye to Tenaya and took a taxi into Palma for our early flight back to California on October 15.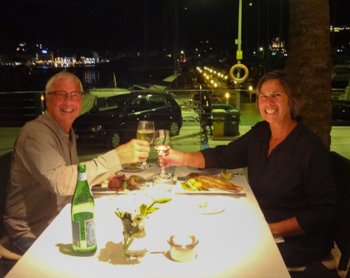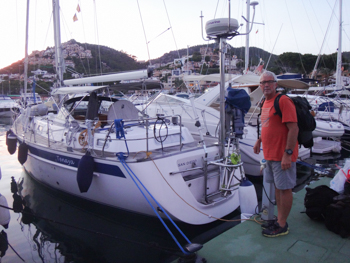 Leaving Tenaya was heart wrenching. She's been our home for ten years and our vehicle to see the world. Aboard her we've met people living in big cities, coastal towns, and on remote islands. We learned to see everything through different eyes. We learned what it feels like to be a minority. We learned that most people are undeniably good. And, more times than we can count, were blown away by the kindness of strangers.
We came back to a country we did not expect. After the election, we briefly wondered if we should keep Tenaya and continue traveling abroad.
But this is our country and we want to see more of it. We will do all we can to keep the positive momentum of the last eight years going forward, and we will resist, in anyway we can, the new administration's denial of rights.
Our travels will continue, just in a van instead of a boat. I will continue telling stories of our adventures here at Tenaya Travels.
We also have another site, www.sprintervanrat.com, which is documenting the build-out of our 2016 Mercedes Sprinter 4x4 through the eyes of a little critter - Sprinter Van Rat. He joined us on Tenaya this season and soon those photos will be on his site. He was a little freaked out by all the rat traps we had aboard, and is happy to be back in the van.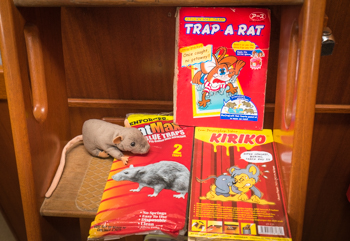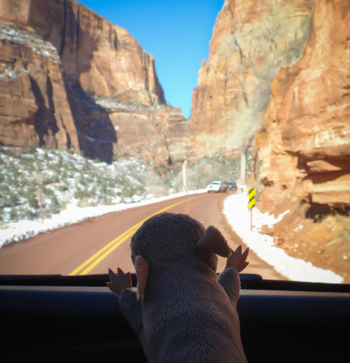 Thank you for following our travels aboard our sailboat, Tenaya. Stay tuned for travels aboard our van.
Go to January 2017 Christmas Road Trip Sedona-Zion-Death Valley