20 June 2015
D-Marin Didim
37 20'.24N 27 15'.73E
By June 4th Ted, Jim and I had seen enough around Didim and were ready to sail. With a flat sea and 9-13 knots on the beam, the conditions were ideal for Ted's first day on a sailboat.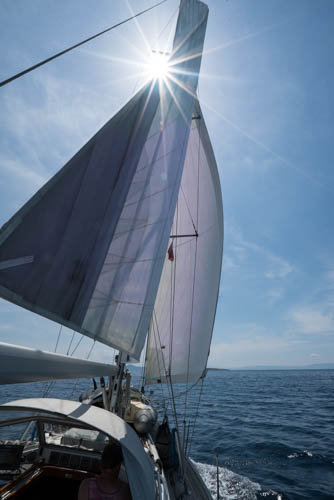 Paradise Bay
37 19'.13N27 28'.08E
We sailed 11 miles along the big bay, Gulluk Korfezi, into the smaller Kazikli Limani to Paradise Bay. A sailboat and a small fishing boat were already there.
Soon after the anchor was set, Jim and Ted paddled the kayak to shore. I was happy diving in the water and relaxing on deck with my book.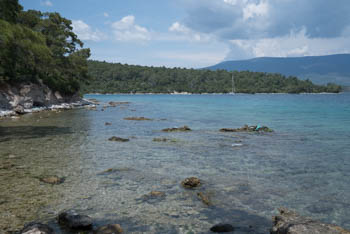 When the watermaker filled our tank and began to overflow through the faucet, I went to the bow to look for Jim. It's broken and I couldn't just push the button to do a flush. It must be done manually and I don't know how.
Sometimes, when I'm feeling stupid, I do stupid things. Jim and Ted were on shore taking photos of Tenaya. I waved. They waved back. I waved harder. They waved but did not stand up so I waved my arms over my head and whistled. Eventually they came.
In the meantime, the man in the little fishing boat hauled up his anchor and puttered over to help as I'd just given the universal distress signal. I felt terrible. Jim and I paddled a box of goodies and a bottle of Raki over to apologize.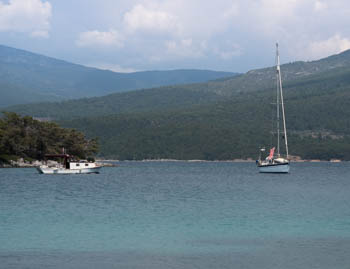 Asin Limani
37 16'.60N 27 34'.90E
The following day was hot and sunny with little wind. We motored 13 miles south to Asin Limani in the Asin Korfezi. A submerged wall extends into the entrance from the east, an old stone building and more wall protrudes from the west.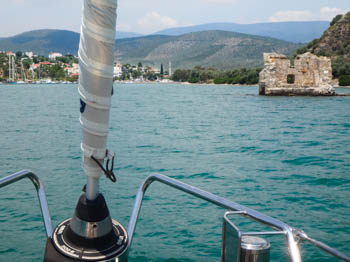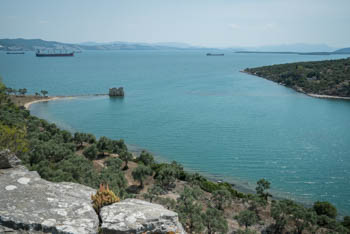 Tiny and not touristy in the least, this is mainly a fishing village. Nobody seems to notice that ruins from Iassos, an ancient city, are scattered about the hillside opposite the harbor.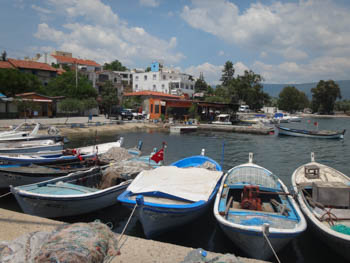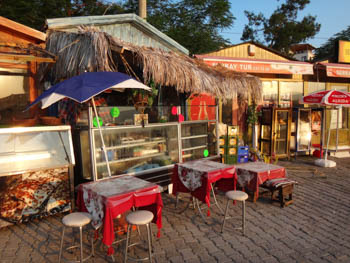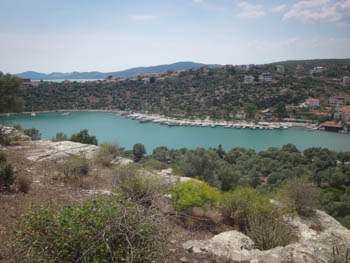 Once Tenaya was tied securely to the wall, we walked over to have a look. A large Turkish flag waves from the castle perched on the summit. After wandering through the theater, agora, and jumbles of marble blocks, we each took a different route to the top.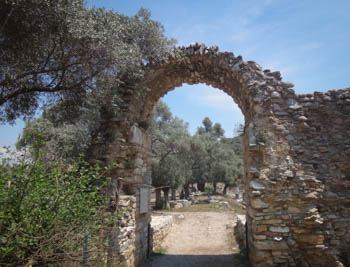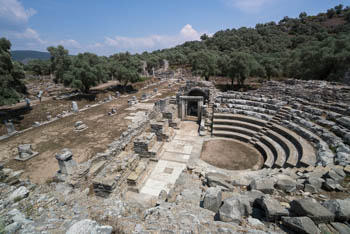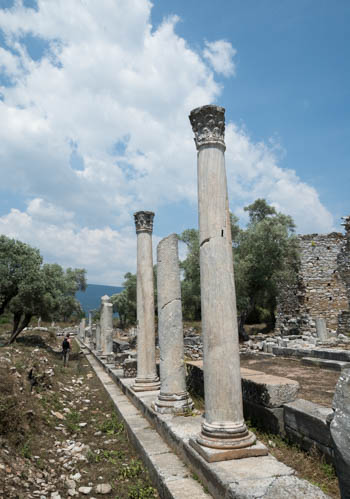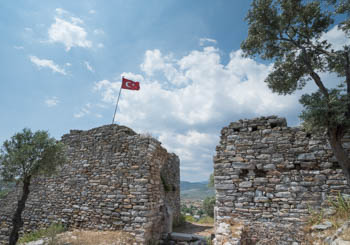 There were more cows and sheep among the ruins than people.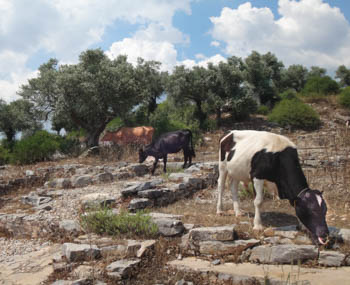 The remains of an elaborate building are in a fenced-off area with a roof. Partially painted walls adorned some rooms and what was left of the floors were intricate mosaics. Italian archaeologists work here which explains why locals asked if we were Italian.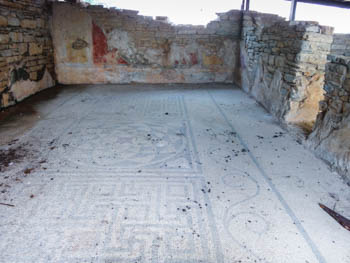 The next day Jim and Ted flew the drone through the ruins for more than an hour, four batteries worth of time. Nobody else was around. There was only one mishap - Jim flew it into a column. Neither the marble nor the quadcopter were damaged.
Watch the video of Jim's first flight
I wanted to see the submerged wall from under the water so paddled over with my snorkeling gear. The wall is wider than the length of my 12' kayak. Visibility was not good and spiky sea urchins were everywhere so I didn't go in. Paddled around to the next bay instead.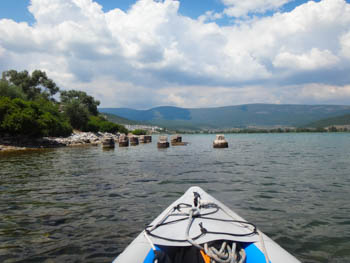 The following day we dodged fish farms (sea bass and bream) to cross the Gulluk Korfezi, to Port Atami, a small marina 12 miles away with a Japanese chef in the hotel's restaurant. We arrived to find the pontoons under construction and no place to anchor so we carried on for a total of 27 miles.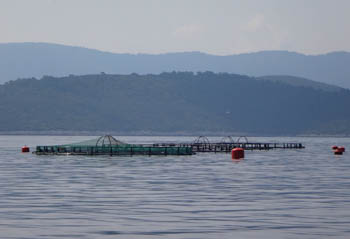 Palmarina Yalikavak Marina
37 06'.33N 27 17'.21E
I'm pretty sure we don't belong in the Marina for Billionaires. This place hypes itself as the best place in Turkey for Mega and Giga yachts. Giga? Nope, not a place we'll stay long but our crew wanted a proper shower. You'd think everything would be top-notch for 92 euros a night, but the tailed mooring line had more crusty, finger-slicing shells than any place we've ever been.
Yalikavak is a pretty town at the base of mountains that wrap around a bay. It's a holiday spot with lots of shops, restaurants and hotels.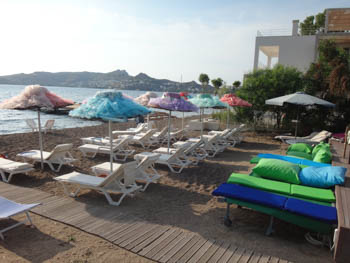 I first saw creatively beaded gourds hanging as lights in Bozcaada. Using body language, I asked if I could buy one. The man disappeared for a moment and returned with a gourd, uncarved and unadorned. He motioned for me to take it, no charge. Having a new lamp for our dining room in Mammoth may require more talent than I possess.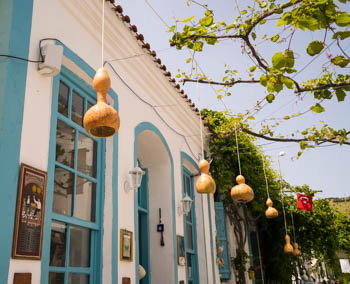 More delightful gourds decorated our bayside restaurant in Yalikavak. In perfect English, the owner said I could buy one around the corner. Yippee! After our Turkish coffee he walked us over and introduced us to the gourd seller. I bought two.

Gumusluk
Turkish friends told us not to miss Gumusluk (spelled without the proper accents).
As we approached the anchorage from the north, a sailboat came blasting towards us, wake flying, from the south. We let it pass. The skipper threaded to the head of the small bay while we chose a spot further out and dropped the anchor. I put the snubber on and Jim backed down. The anchor did not hold.
As we were rolling in the chain to try again, he came back out and stopped over our anchor, moving ever so slightly as we inched forward. We said our anchor hadn't held and we would try again. He stayed uncomfortably close.
Again it didn't set. I had a bad feeling about this place and he scared me. It was early in the day, crowded, and more boats were coming. We left. Sometimes you've gotta go with your gut.
Catalada Island
37 02'.08N 27 13'.47E
Rod kept quiet when I said we'd go to Gumusluk but he recommended Catalada Island. Twice. It is only a couple of miles away so that's where we went. Our anchor stuck like glue. There were a few other boats in the wide anchorage which, except for one, left before sunset.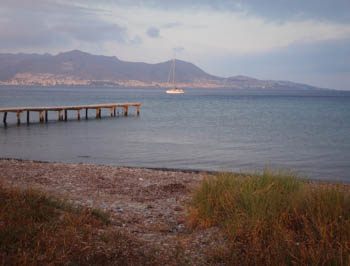 Catalada is an undeveloped island. There is nothing ashore except grass, trees, a few picnic tables and trash. Lots of trash. Aside from that sickening sight and the emotions it stirred, it's a really nice place. Quiet too, which is a rarity.
I went for a snorkel and there wasn't a bit of trash on the sea floor. No bottles, cans or wrappers. All I saw was an oar, a boat hook and a wheel from a passarelle.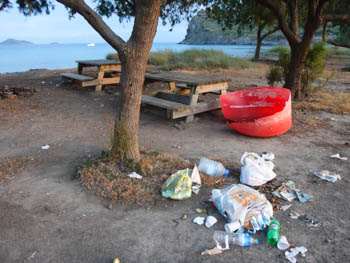 Karaada / Black Island
36 59'.07N 27 27'.64E
Cleopatra spent time on Karaada and enjoyed the healing qualities of the mud and thermal springs. How could we pass up an opportunity to do the same? We motored 16 miles to Karaada, the island just south of Bodrum.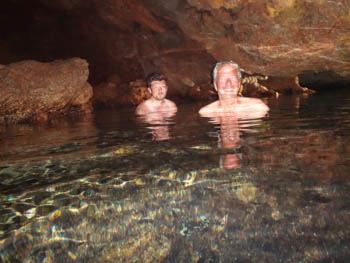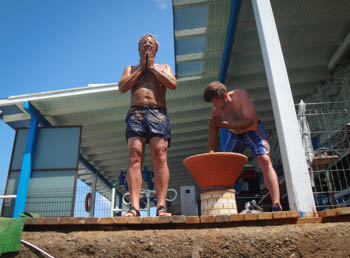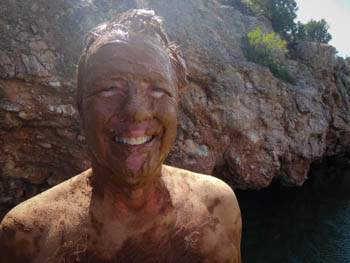 We were told to soak for 15 minutes in the mineral spring inside the cave before slathering mud on our bodies. Once it dried and we could no longer stand the tightness or the heat, we rinsed off in the warm water. Our skin was super soft afterwards.
The anchorage at Karaada is too exposed so we moved nine miles north to Kargicik Buku.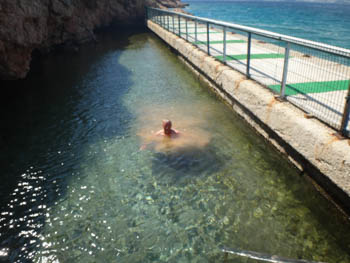 Kargicik Buku
36 58'.75N 27 33'.95E
There are several anchorages here. We poked our nose into the first place which is small and already had two small fishing boats rafted in the shallows, two big sailboats and a motor yacht tied to the southern rocks, and one large motor yacht tied to the northern rocks. We checked out the other spots but they were less protected and more crowded so we doubled back.
Before dropping the anchor Jim and I always discuss where we want to end up. I looked at how far we wanted to be from the powerboat and which rock I wanted to tie to ashore, then we calculated where to let the anchor go.
Jim showed Ted how to run one of our 100 meter multiplait lines through the windward aft cleat and feed it to me slowly. It doesn't float and we didn't want it getting caught in the prop.
In the kayak, I tied the ends of the long line and the kayak painter around my waist and paddled to shore. Jim put Tenaya into hard reverse as the wind blew him away and Ted fed me line. When I reached the shore, I climbed up on a flat rock, pulled the long line for slack, and took two wraps around a beefy rock before tying it with a bowline.
With Tenaya snug between the set anchor and a tight line to shore, we settled in for two days and nights. If the wind changed directions and picked up, we'd tie an additional line to shore.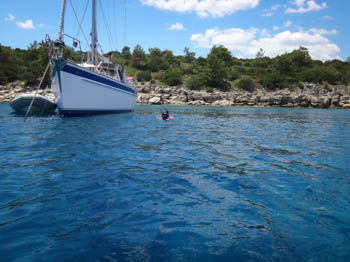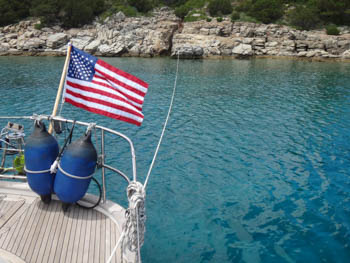 People were eating in the restaurant at the head of the bay so Jim and Ted dinghied to entrance of the anchorage to fly the drone and get some footage of this scenic spot. I took the kayak for a paddle. Ours is nice because although it's inflatable, it's firm enough to SUP in calm conditions.
The water was incredibly clear and refreshingly cool. After I snorkeled on our anchor, I went looking for turtles in the grass. There were a lot of fish and I saw some wrasses, but overall it was pretty bleak. There were no coral, sponges, or colorful reef creatures like in warmer waters. There was no kelp like in colder waters. There were just patches of grass and rocks.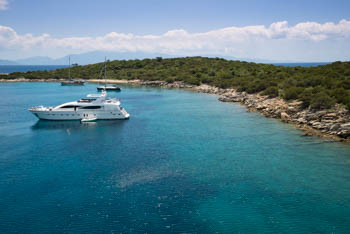 Because Tenaya was rock steady, it was a good time to go up the mast. If guests are game, we like to haul them up. Ted went twice.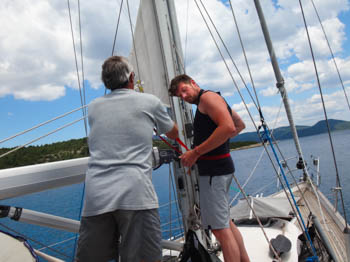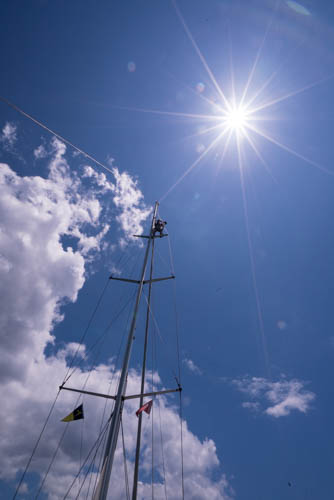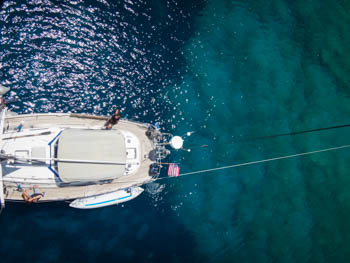 This was my favorite spot in the Aegean Sea even before the ice cream boat arrived. Several times a day a loggerhead turtle surfaced near Tenaya. Floating in the kayak, Jim heard a loud exhale like from a sea lion or dolphin. He turned around to see one less than two meters away, just floating there, looking at him. From my vantage point on deck, their heads looked to be almost the same size.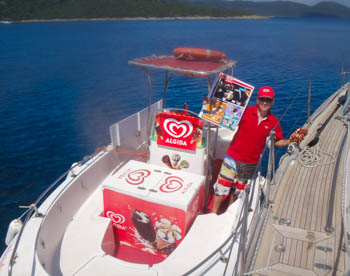 On June 11 we motored into Bodrum. An immense castle stands at the head of the bay next to the marina. We wandered through it, taking the better part of the afternoon.
Ted left the next day to spend four days in Istanbul before flying home. Thanks, Ted, for the photography pointers and all the help with the drone. It was fun having you aboard!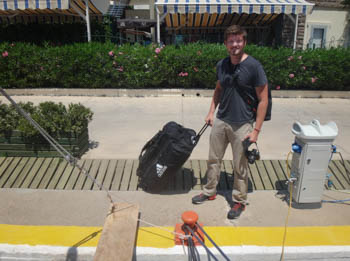 Each place has its highlights and Turkey is all about the history, land, people, and food. Sadly, this is as far south as we're going. In a few days we'll head west to Greece.
Two minute video: Tenaya Travels to Turkey
Go to July 2015 Part One - Westbound in the Aegean Sea, Greece