18 June 2015
Our guidebook says the Lake Bafa area is one of the most picturesque landscapes in Turkey. It was on the way to the airport and since Ted wasn't arriving until 11 pm, Jim and I decided to go there first. We had no idea what to expect.
No sooner had we turned off the highway onto a narrow, partially paved road, than we came to a herd of cows. This was their turf and we just hung back and enjoyed the scenery.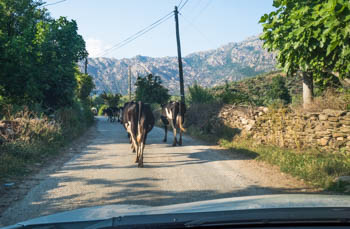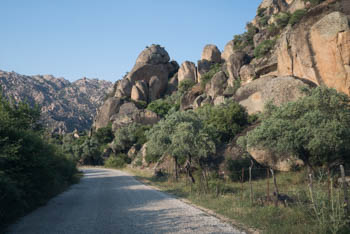 The road passed weathered granite outcroppings peppered with olive trees until we reached the village of Kapikiri at the eastern end of the lake. A group of ladies sat on blankets in the shade of a tree. I caught the eye of one, smiled and waved, said Merhaba, (hello) and shrugged my shoulders attempting to say where should we go? By now the road was barely wide enough for our car. She and two others stood and motioned for us to follow. They guided us up and down short, steep, curves harrowingly close to boulders, buildings, trees and a tractor. We stopped when the road did.
Durdu, Zeynep and Ayten offered to take us for a hike into the hills to see ruins of Herakleia. We were happy to stretch our legs in this gorgeous environment which, I'm willing to bet, is a batholith. Every few meters one of the ladies, or Durdu's five year old son, brought us a different wildflower.
We stopped at an olive tree that is 1,000 years old and Zeynep helped me climb over the walls of a cistern she said is 10,000 years old which may be an exaggeration. Everywhere are pieces of the past. Several times one of the ladies pointed out remains of the wall that was built to encircle the ancient city and extends to the summit of the closest peak. It is not gentle terrain.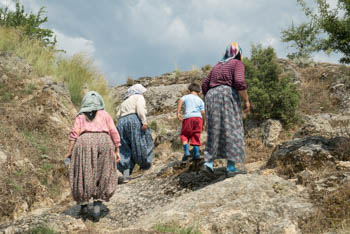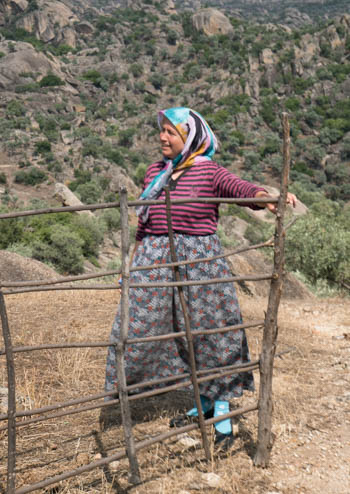 When we got to a high point Ayten, Zeynep and Durdu sat down alongside the old town wall and opened up the bundles they carried on their backs. Stacked on round trays were items for sale - woven scarves and tablecloths, beaded necklaces and bracelets, knit hats and slippers.
Although the area is close to wealthier cities, the people here have very little. They farm and try to sell things to the few tourists who visit. We made sure to buy an equal amount from each woman.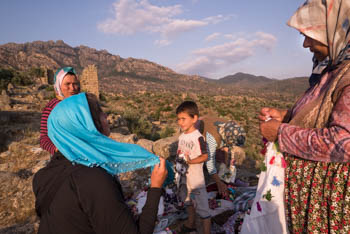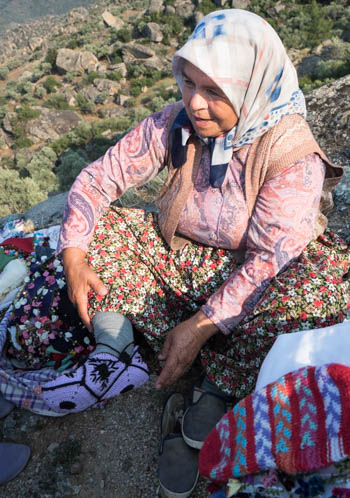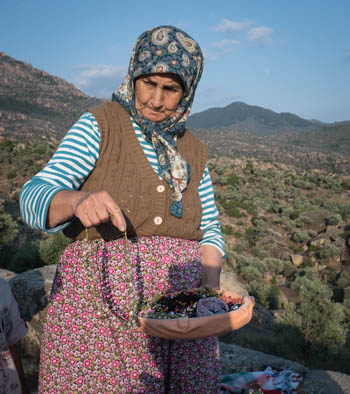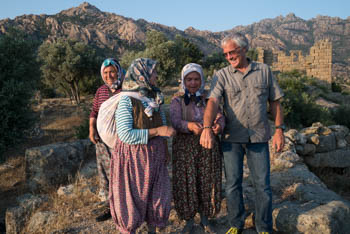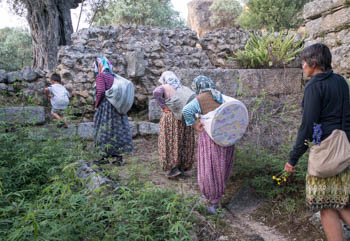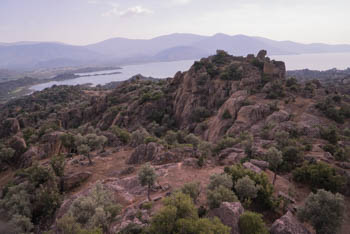 As we walked back to town, the setting sun shone through the trees and glistened through the blue glass topping the mosque's minaret.
Zeynep and her daughter, Durdu, asked that we take photos of their houses and send them. Before we left, Zeynep gave me an armful of ripe apricots from her tree.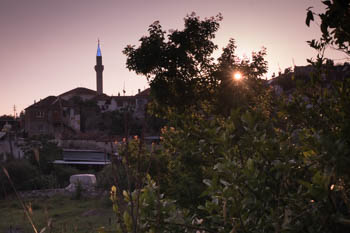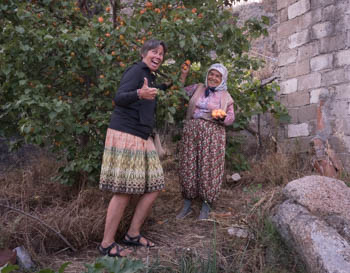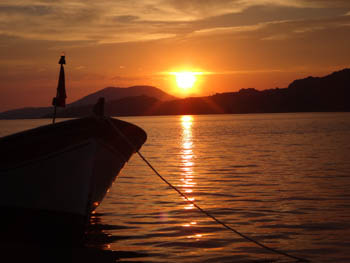 Ted had not traveled outside the US before and was willing to leave the next 12 days' itinery up to us. He's a climber, digital artist, and photographer who usually shoots landscapes but was up for seeing ruins, meeting people, and messing about in boats. Ooh, this was going to be fun!
On Day One we went to the ruins at Didyma and Miletus. On Day Two we came to Herakleia.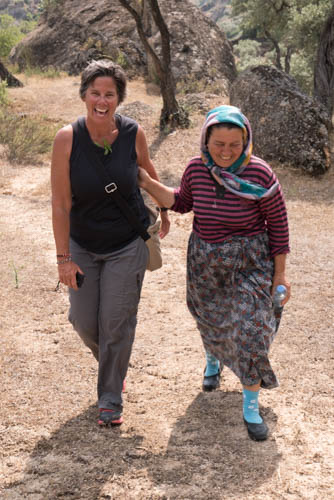 There is a monastery high in the mountains and a fresco painted on the wall of a cave. We were interested in seeing one or both but didn't know where they were. The ladies offered to guide us to the monastery which ended up being the painted cave. In the distance, high up on the tallest peak, we could barely make out the monastery. Hiking to it would have been an overnighter, for sure, for my creaky knees.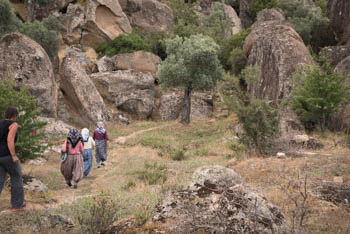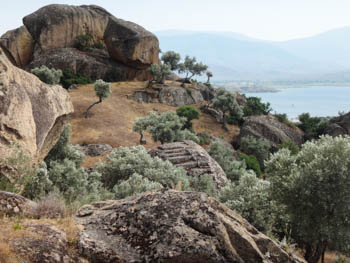 We hiked higher and further into the mountains passing many ruins including stone tombs. The sky darkened and thunder boomed in the distance. When a few drops fell, Durdu said that it would not rain until the following day. The weatherman on television said so.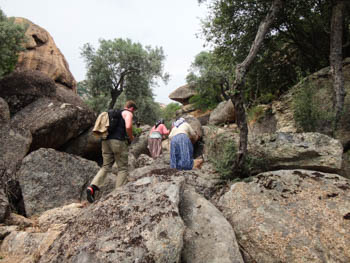 The cave was cool when we reached it after an hour of walking. The paintings showed people with their heads illuminated in light, the way saint were depicted. Christians hid out in this area during the 8th century when Arabs invaded.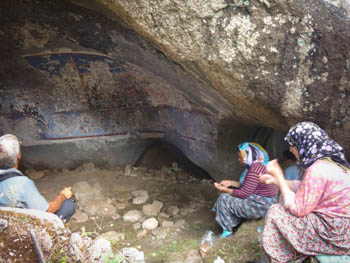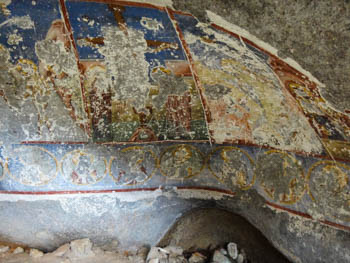 Before we could rest too long, the ladies hopped up and we were on our way back down. Durdu explained to Jim that each time there is a hard rain, artifacts are exposed. We saw a shell from when this area was under the sea and passed many partially buried blocks for houses and walls.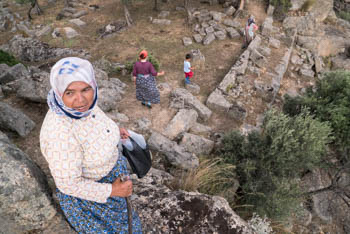 Zeynep climbed up to a bunch of flowers and picked a bundle. She gave some to each of us and said to put them in olive oil for four weeks. The potion is sure to sooth sore joints. How did she know I needed this?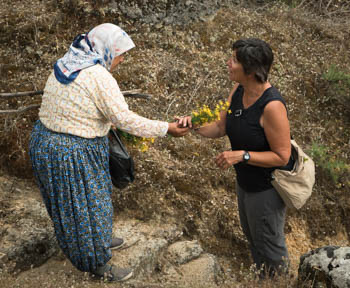 Ayten said goodbye and Zeynep invited us into her house for tea. She and Durdu brought out their trays for Ted to shop. Because Jim and I had printed so many photos for each woman from the previous day, I don't think they expected us to buy more, but we did. Just a little.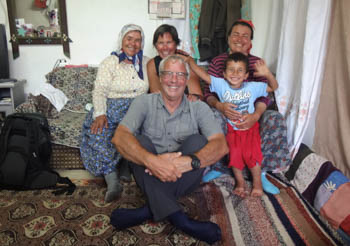 Jim bought a drone and had it shipped to Ted. On the shore of Lake Bafa, they opened it up and Ted showed Jim how it works. His footage flying over the tiny island topped with a castle is fun, maybe he'll let us link to it.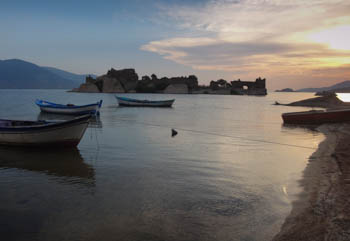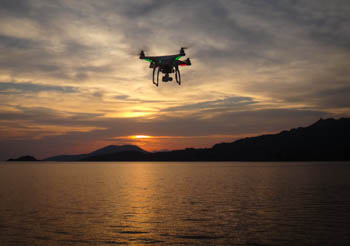 Two minute video: Tenaya Travels to Turkey
Go to June 2015 Part Three - Cruising between Didim and Bodrum, Turkey