15 June 2015
With winds in the single digits and a flat sea we motored 43 miles southeast from Cesme to Sigacik. So far, our daily hops have been all about motoring. Either there is no wind or it is on our nose. Our trusty Yanmar 54hp and autopilot are getting good workouts. We wonder if we will ever sail again.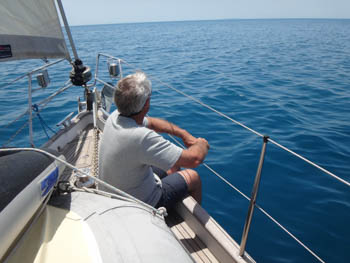 Sigacik - 38 11'.49N 26 46'.92E
We pulled into the new Teos Marina in a protected nook at the head of a large bay on May 21st. Call us lazy, but because we are traveling so quickly and want to see as much ashore as possible, so it's easier to step off the boat in a marina than to deal with the kayak or dinghy.
A small, walled 16th century Genoese village is built along the fishing harbor with revamped houses clustered inside. On Sundays an extensive market begins inside the fortress and spills into the narrow cobblestone streets. Colorful awnings and umbrellas shade the fruit, veggies, pastries, flowers, soaps, olive oils, jams, and knitted items from the brilliant sun.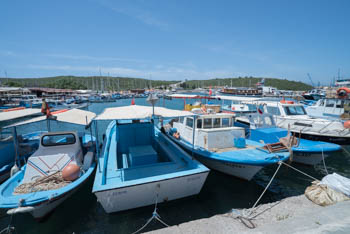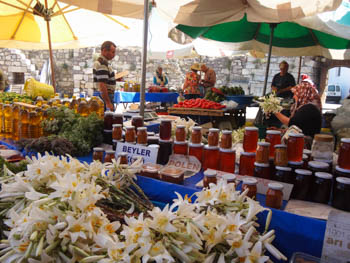 As I browsed through the handmade slippers on this family's table, Grandma showed me hats she had knitted. She is a good saleswoman. In the sweltering heat I bought one. I also bought the best body scrubber ever from camera shy Great Grandmother. Mother, in the window, invited us to sit and have a cup of Turkish coffee with them. Son translated everything for us while Grandpa watched from the far end of the table.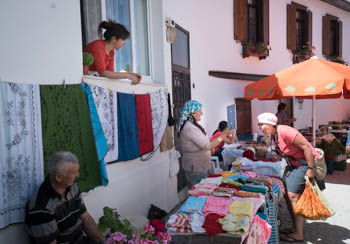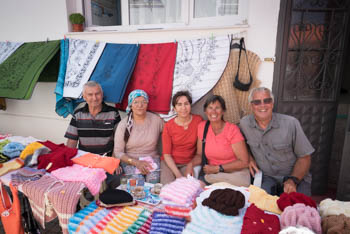 A seven mile loop leads up the hill to the ancient ruins of Teos. Sprinkled among olive trees and wildflowers, chunks of columns jut to the sky while most lie indifferently on the ground. Large marble blocks are jumbled together like discarded children's Legos.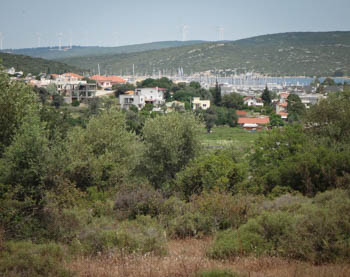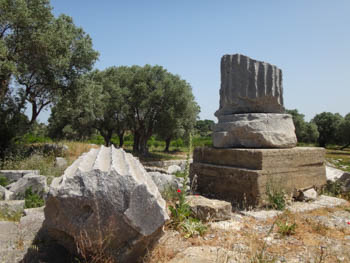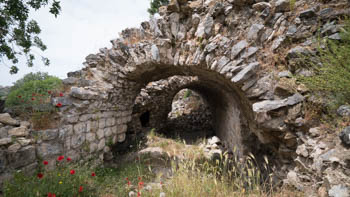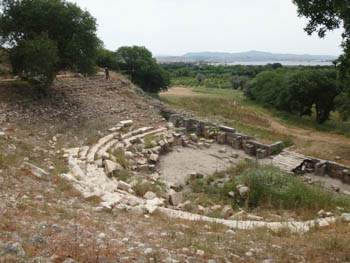 We wandered through wildflowers from the Acropolis to the Temple of Dionysus to the theater. At one point I noticed movement and looked down to see this gorgeous bee. About the length and width of my index finger, the wings were dark and sparkly and its head was a mass of bright red. I was glad Jim was ahead of me. He doesn't like bees.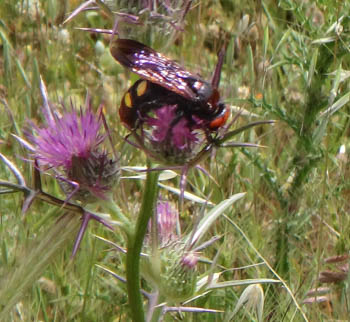 It's a farther walk down a dirt road to the ancient Teos Harbor. In its heyday, about 2,500 years ago, ships were loaded with marble quarried nearby to sail as far away as Rome.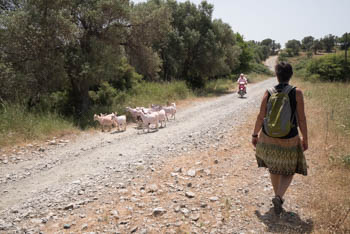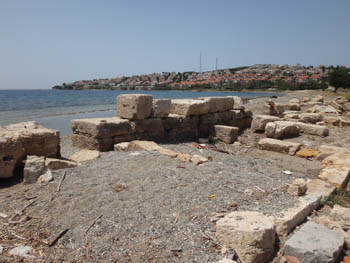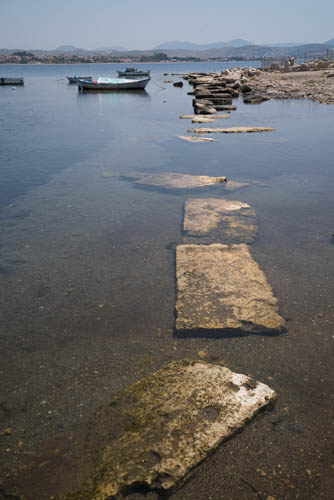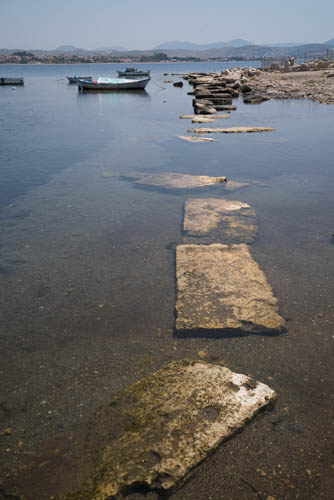 Be careful what you wish for. We'd been complaining of no wind so what happened after we turned out of the bay and headed southeast towards Kusadasi? Wind. On the Nose. 15 knots with short, confused seas. For six hours. In the last hour the wind shifted to southwest and we unrolled the sails. How great it felt to be sailing at last!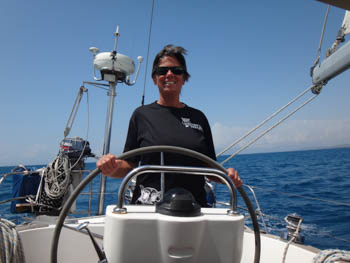 Kusadasi - 37 52'.34N 27 15'.71E
We came to Kusadasi to see Ephesus, perhaps the best know ruins in all of Turkey. We were not alone. There were three cruise ships, albeit sailing ones, docked across the harbor and a bazillion tourists.
As we wandered the boardwalk our first evening we saw this interesting statue. A plaque says it stands for friendship with Greece and is a remembrance of the population exchange of 1923 where 1.5 million Greek Orthodox people living in Turkey were sent to Greece and 1/2 million Muslims living in Greece were sent to Turkey. They were forced from their homelands and made refugees in places where they knew nobody.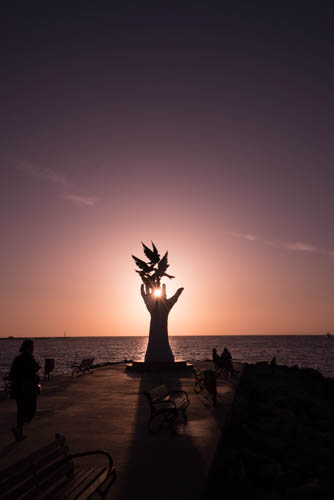 Ephesus
The first place our taxi driver took us to was Mary's house. Mary, mother of Jesus, is said to have lived her later years here, her care entrusted to John the Evangelist.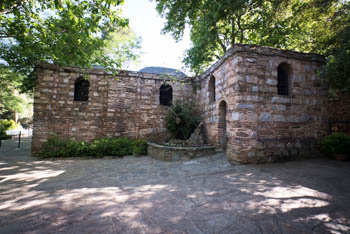 The ruins of Ephesus are still being restored and it is easy to see how the ancient city was laid out and functioned. It was once next to the sea and had a great harbor. Over the centuries, the Meanders River (origin of the term meandering) silted up and left the area with fertile growing grounds.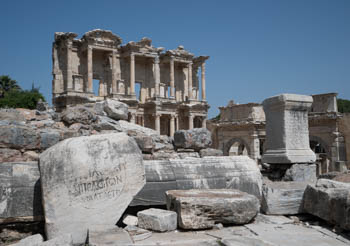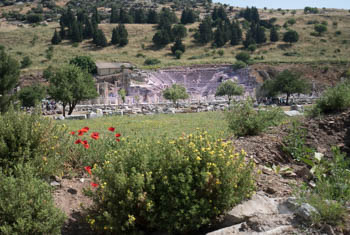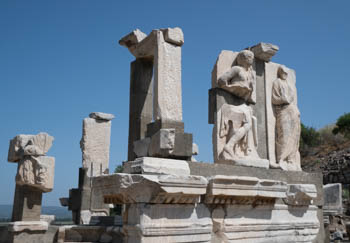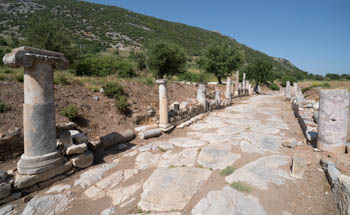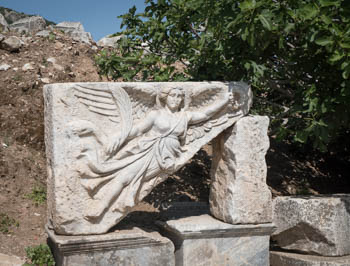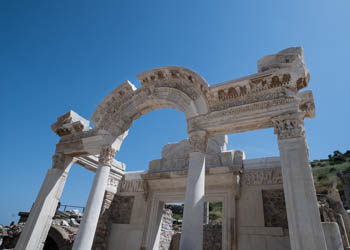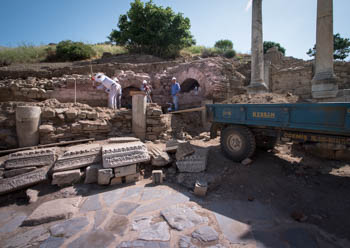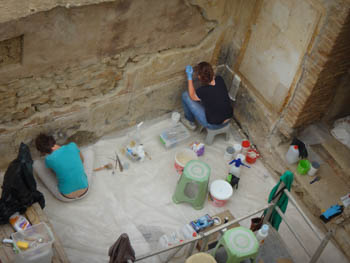 We left Kusadasi before 0700 for our 56 mile trip to Didim. Motoring past the island topped with a castle reminded us, once again, what a fascinating part of the world we are traveling through.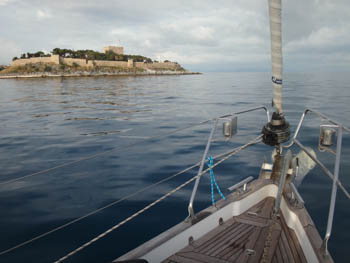 Go to June 2015 Part One - Didim Area Sites, Turkey
Two minute video: Tenaya Travels to Turkey