14 June 2015
What a difference this season is compared to our last seven years. It took 15 days and 9 stops for us to travel 450 miles. Before returning to the Mediterranean we would have done that as a three-day non-stop hop. But Turkey is rich with history, ruins, delicious food and friendly people. We are still traveling way too fast.
We thought we'd be out of Istanbul by the end of April. We left May 13th. We thought we'd have time to see all the coastal ruins between there and Bodrum. Wrong again.
As we were preparing to leave Istanbul, Jim received a message from Rod Heikell saying he and Lu were coming to West Istanbul marina. Excitedly, we waited for them. They gave us lots of great ideas and now our Turkish and Greek pilot books (written by them) are well marked up. It certainly helped with our route planning!
Asmalikoy - 40 36'.91N 27 42.57E
56 miles across the Marmara Sea, on Marmara Island, is Asmalikoy, a quiet fishing village. Water is deep enough to side-tie to the wall. Aside from the natural beauty, the best thing about this place are the jetties. They are made of marble blocks! There is a quarry near a harbor at the northern tip of the island where I'd planned to go but Rod suggested this place instead. It is charming.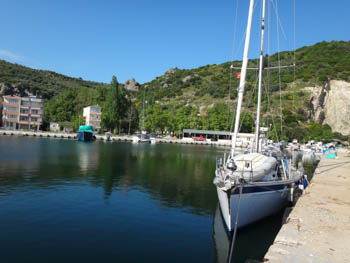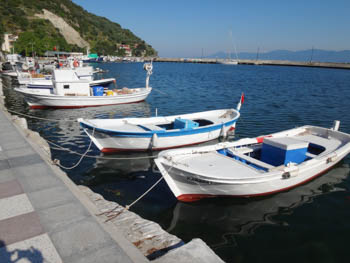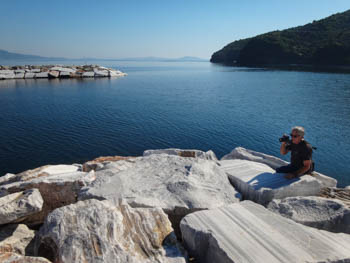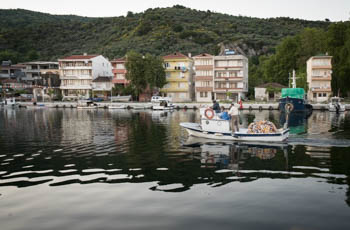 The Dardanelles
Like the Bosphorus in Istanbul, the Dardanelles is a watery dividing line between Europe and Asia Minor. At one point it is less than a mile wide.
With light wind, crisp air, calm sea, and continuous shipping, we motored down the eastern side of the waterway. The RPMs ran higher than normal and we covered the 75 miles in 10 hours.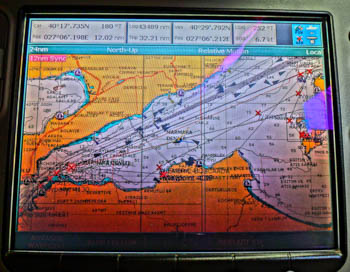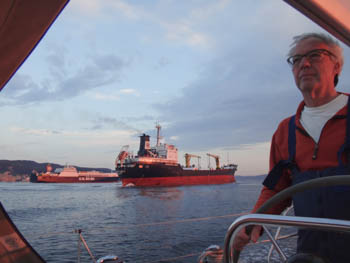 Canakkale - 40 09'.16N 26 24'.30E
We left Asmalikoy at 0600 to reach the municipal marina at Canakkale in the late afternoon. Ferries and fishing boats share the harbor with pleasure boats. We arrived to find the place packed and were happy we'd made a reservation.
A man motioned for us to back into a space between two large powerboats. It was tight but into the wind which was perfect. As I was adjusted our fenders we began to blow down so Jim repositioned Tenaya. Maybe the harbor guys though better of putting us there and pointed across the fairway to the other end. We puttered over slowly and saw we would be wedged between two small boats with our bow sticking out quite far. We shook our heads and were guided to the outer pontoon near the Coast Guard boat. From here we had an easy escape the following morning.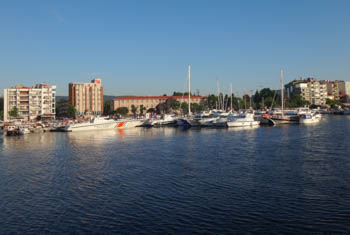 Tourists come to Canakkale to take the ferry across to the Gallipoli peninsula. It was here in 1915 that Australian and New Zealand forces fought unsuccessfully to capture Constantinople, now Istanbul, from the Ottoman Empire. Huge losses of life resulted on both sides. ANZAC Day began as a memorial of the the souls lost here.
People also come to see the ruins of Troy. We'd planned to go, but the more I read, the more daunting the place seemed with layered civilizations so we passed and were happy viewing the diorama beyond the marina gate. We didn't get to see the wooden horse at the ruins, instead we saw the replica that was built for the movie with Brad Pitt. No, we did not do this stop justice. We'll do better further south.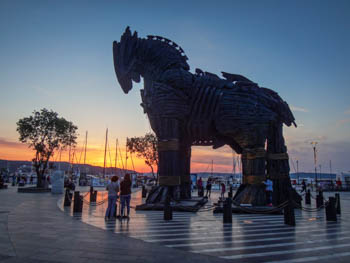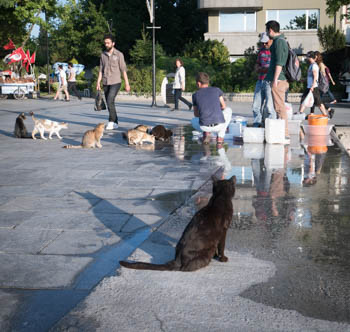 Go to May 2015 Part Three- The Aeolian Coast, Turkey