May 28, 2014 (posted 24 July 2014)
They were nice from the beginning, the Cambodian people, I mean. We had yet to step foot in their country, but already the kind Khmer were offering suggestions of places to see. Jim and I were going to Angkor Wat, but beyond that, we had no idea. Sometimes we travel like that, making it up as we go along.
So, it was a delight, not only for Jim because she was so beautiful, but because the woman who struck up a conversation at the airport gate in Phuket had some very good ideas. One, she said, was a small village where all the houses are perched on stilts. This was intriguing, but in the end we found Kampong Phhluk to be the only place we did not like. The tourists looked at locals through their view finders and it seemed the people did not like it one bit.
I sat between Jim and Chhindy on the airplane. While Jim watched the green karst islands in the Bay of Thailand disappear beneath the clouds, Chinny told me that he is a business student and was returning home from visiting his brother. He was very good-natured and drew a map showing the locations of the most popular temples. On the paper he wrote his contact information in case we had any questions.
But we needed no assistance at all. Jeff, the owner of Maison 557, the B&B we'd booked for five days, and his staff took fine care of us. Each morning he brought tropical fruit - papayas, mangoes, dragonfruit, rambutans and bananas along with freshly squeezed juice, baguettes and croissants to our private table in the leafy garden by the pool. At one point in their glorious and tragic history, Cambodia was a French colony and little bits of influence linger in the architecture and cuisine.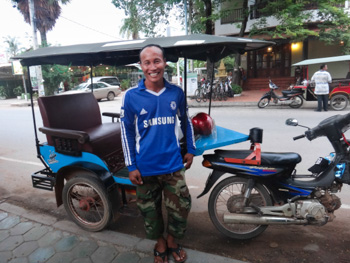 Jeff arranged for Mr. Vuth to be our tuk tuk driver and he is the best tuk tuk driver in all of Siem Reap. I am certain of this although he was the only one we used.
We traveled 300 kilometers in Mr. Vuth's tuk tuk and Jim and I were sorry when it came time to leave. We have concluded that seeing the temples (previous page) in this way is ideal. Passengers are free, with no barriers or exertion, to see and smell and feel and hear all the countryside has to offer.
Even if you cannot see, your nose will tell you were you are. The city smells of incense, sweet and pungent spices, exhaust and rubbish. Outside town, the scents of burning wood, cut grass, wood chips, cows and spoiling mangoes float on the breeze.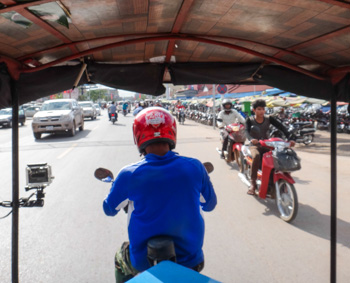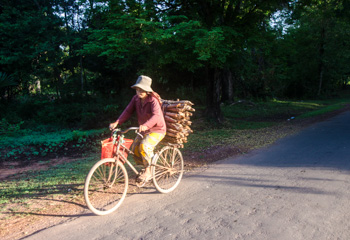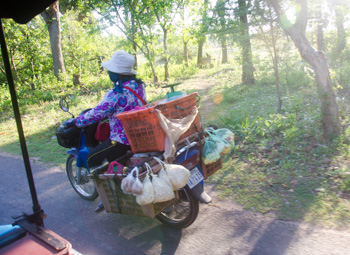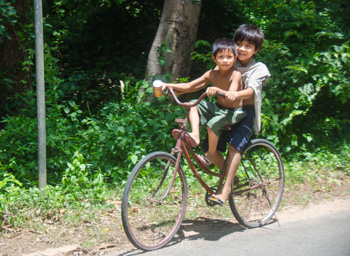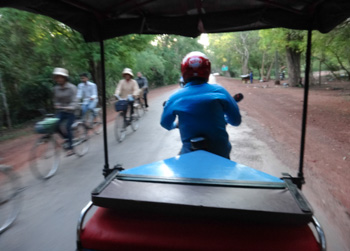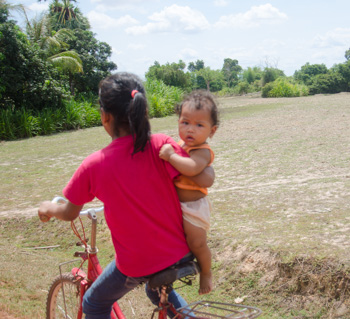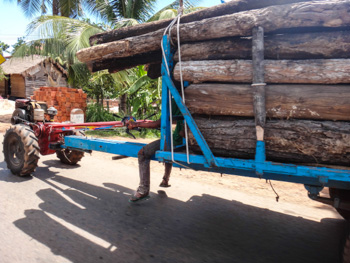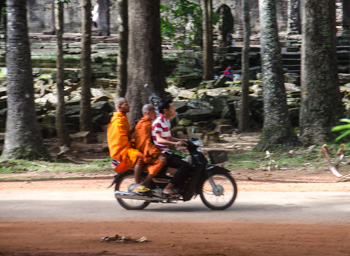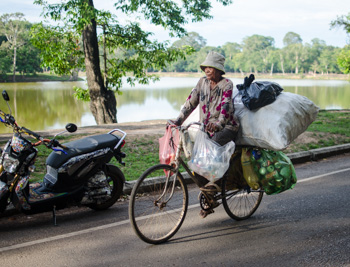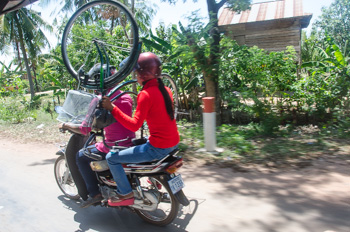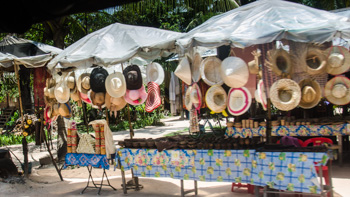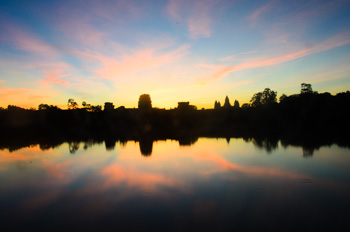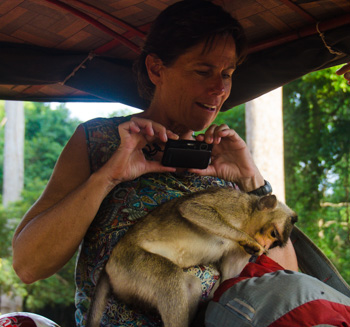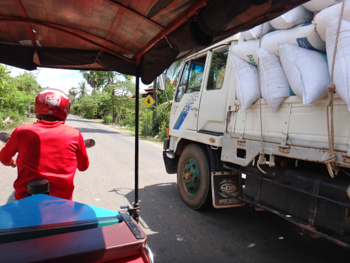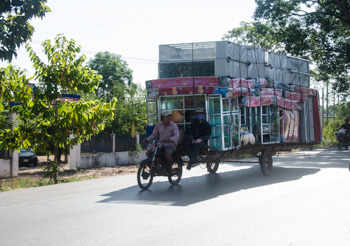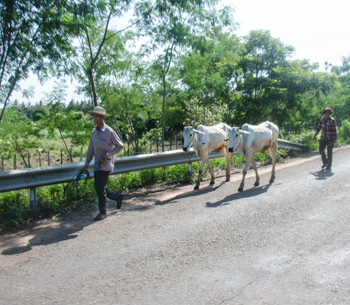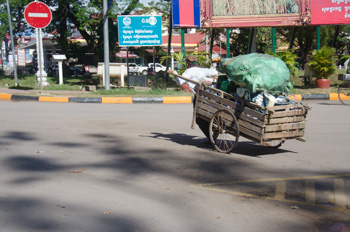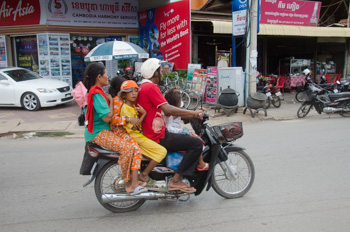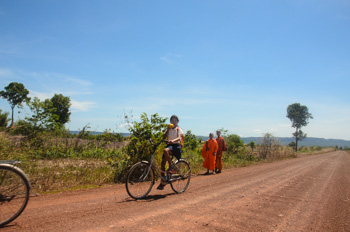 Mr Vuth took us to Angkor Wat, Bayon and Ta Prohm, the most popular temples. Then he asked which others we wanted to visit because you cannot see them all in five days. "Which are your favorites?" I asked him.
He circled a temple in the middle of my map and then drew a line off the edge indicating a road which split in two and made an X at each end. Okay, I said, we would like to see them all. He said one was a long way, maybe two hours, and I said that would be fine.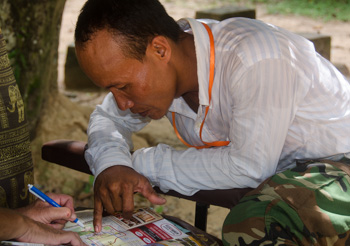 The first day he took us to a restaurant where the menu was in English and the food was western and expensive. The next morning I said we did not like places like that and would prefer local food. He looked disappointed and we did not stop for lunch.
Jim and I were hungry when we rode through a village where a delicious aroma swirled around a row of tables. I leaned forward to ask Mr. Vuth to stop. "We would like to eat here," I said, and at first I don't think he believed me.
He had napped in a hammock outside the sightseers' restaurant but this time he joined us. He explained the two meals available and then we sat down together and drank our sodas until the lady brought our bowls of stewed meat and rice.
The next day Mr. Vuth invited us to his parents' home in the country for lunch. His mother served rice, tasty sweet potatoes and fish with a spicy sauce. This was our favorite experience of the entire trip!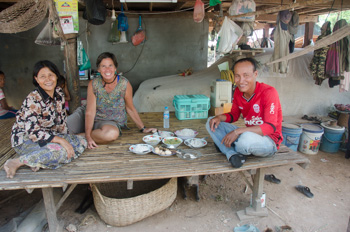 Mr. Vuth grew up here on the farm and after lunch he showed us the pigs and fowl and we finally had a good look at the contraption we'd seen on the roads, the one with the noisy lawnmower type engine and very long handlebars. He pointed out metal-bladed wheels and then we realized that the same driving apparatus can be used on the road or in the field, and that the cart being towed can also be changed. What a useful piece of equipment!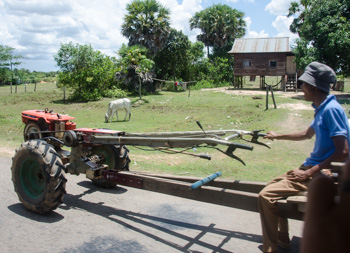 Mr. Vuth took us to the market where his mother bought the ingredients for lunch. Because I liked her sweet potatoes, he showed me what they look like in their jackets in case I did not know. He also showed me the type of fish she prepared. People looked surprised to see us since we were nowhere near a temple, but they were pleasant and some of the ladies gave me bits to sample.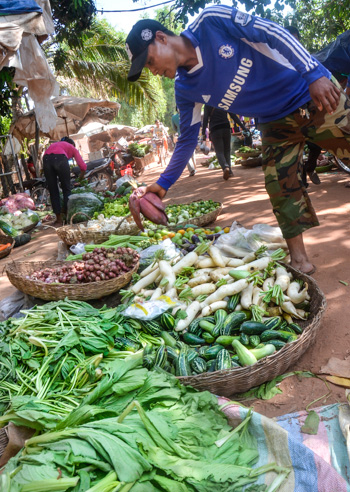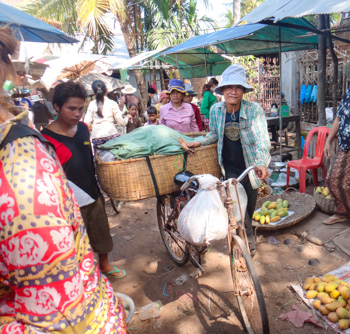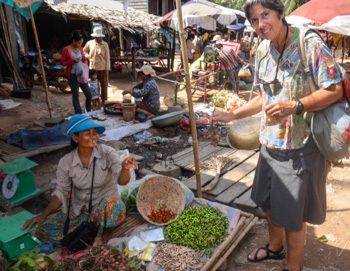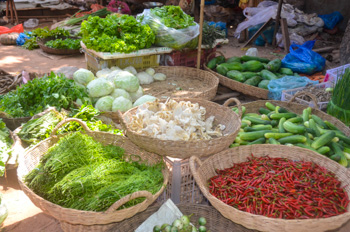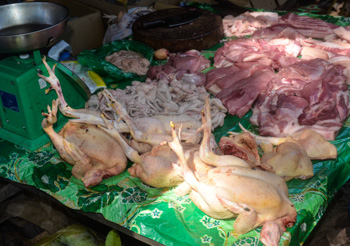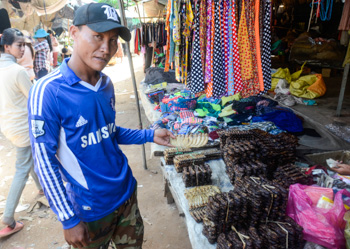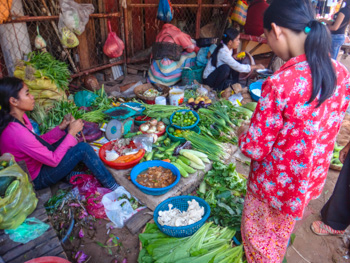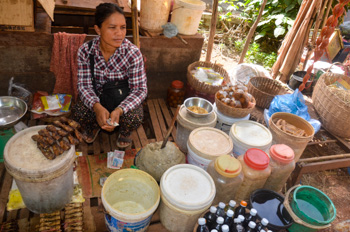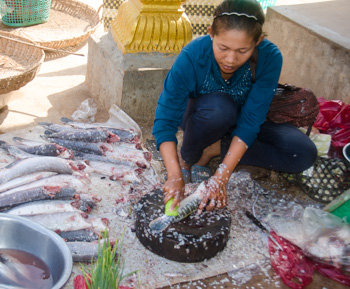 Now that Mr. Vuth understood how we like to travel and that we enjoy tasting new foods, he pulled over at every opportunity so we could try the local delicacies such as rice smoked inside bamboo and types of fruit we did not recognize.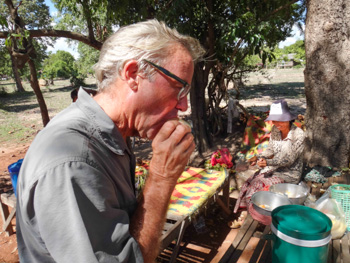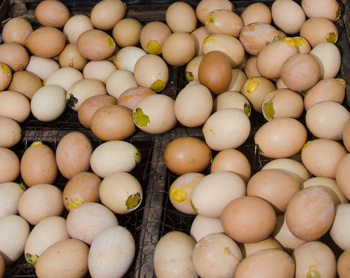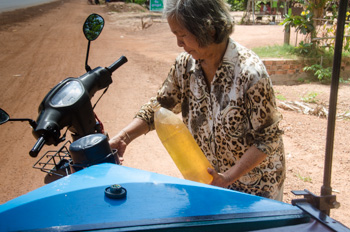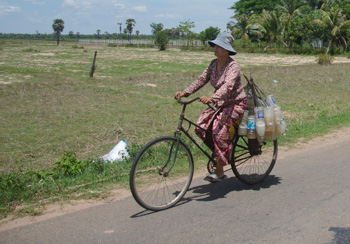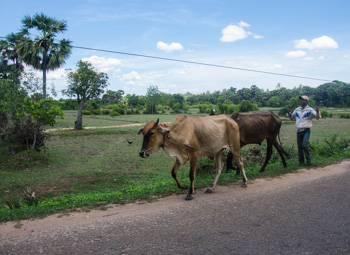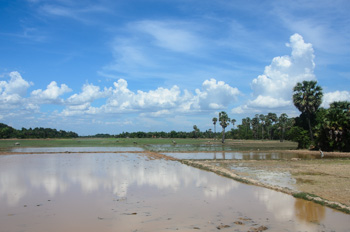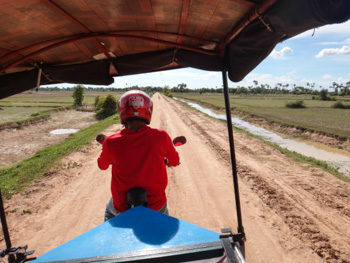 Darkness comes quickly this close to the equator and one day we found ourselves quite far from town at sunset. The highway is four lanes of flowing trucks, motorbikes, a few cars and some tuk tuks. We could not tell if Mr. Vuth's tuk tuk had rear lights, but doubted it, so I dug out my headlamp and mounted it on Jim's head so the red light blazed from the back of his head.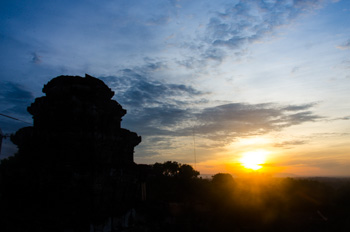 If you go to Siem Reap with an adventurous spirit and, after Angkor Wat, would like to visit temples more ruined than restored, with giant roots and vines growing though the jumbled blocks of stone, and few other people, and you'd like to get a good feel of the area as a whole, and maybe even try some local dishes, and then retreat to a quiet, zen-like space where you can float in a small, deep, refreshing pool under a canopy of green, then I dare say you will do very well to to stay five days at Maison 557 and arrange for Mr. Vuth to be your guide.
Mr. Vuth: vuthdasidea71@gmail.com
Maison 557: info@maison557.com/www.maison557.com
Go to June 2014 Part Three - Road Trip in Laos: Vientiane to Pakse
Go to Previous Page -Angkor Wat and more Cool Places around Siem Reap, Cambodia