April 20, 2014
"Do you want to learn to cook Thai food?" asked Khun Aun. "Yes!" I exclaimed. "Okay, tomorrow Khun Pik and I will teach you something."
The next evening Khun Aun, the trainer at the gym here at Au Po Grand Marina, and Khun Pik, manager of the seriously good Port of Call restaurant came to Tenaya and brought all the ingredients to prepare Tom Yam Goong and Laab Gai.
We peeled and sliced lemongrass, took the midrib out of kaffir leaves, sliced galangal, smashed shallots, mashed coriander root, quartered tomatoes, trimmed mushrooms, peeled shrimp, cut up limes for juice and pinched off coriander leaves. Each ingredient was tossed into lightly boiling water and, voila, we had Tom Yam Goong!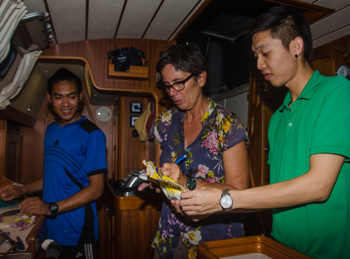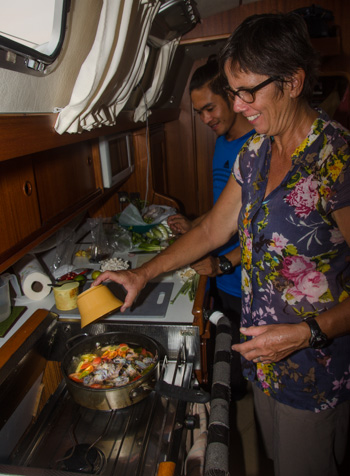 To prepare Laab Gai we boiled minced chicken in water until cooked, drained most of the water out, added thinly sliced red onion, chili flakes, ground roasted glutinous rice, and equal parts fish sauce and lime juice. We chopped spring onions and coriander and added them to the pot and then sprinkled mint leaves on top. Laab can also be prepared with pork or beef.
Our new friends plated the meals with peeled and quartered whole baby cucumbers and sliced beans and served them with steamed rice. It took some coaxing to convince them to join us because they had planned to cook and run. Khawp khun kha, Khun Aun and Khun Pik! Ah roy mok kha, it was delicious!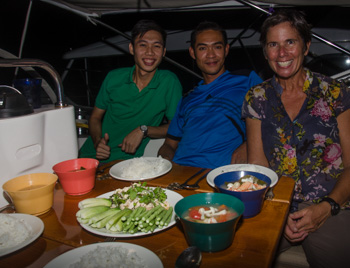 Khun Pik asked if we'd seen much of Phuket. We hadn't, so he offered to give us a tour. Along with his beautiful wife, Khun Maew, we drove to the Chinese Temple and Chalong Temple before stopping for lunch along the water.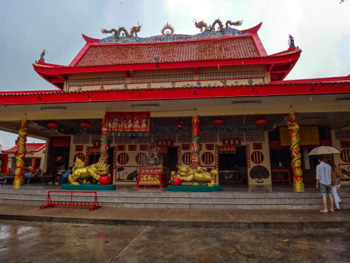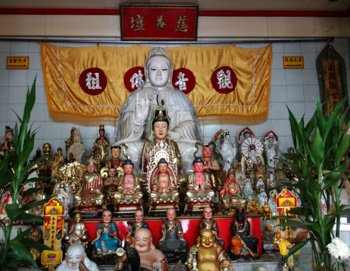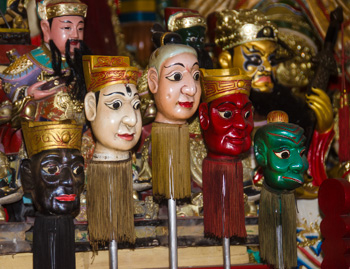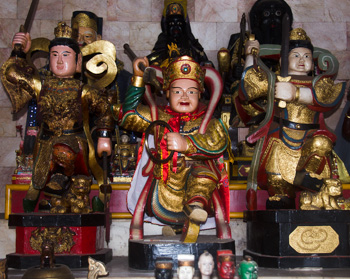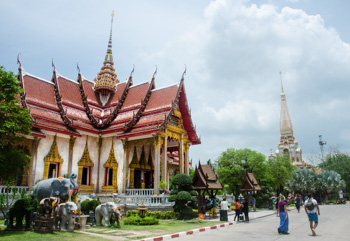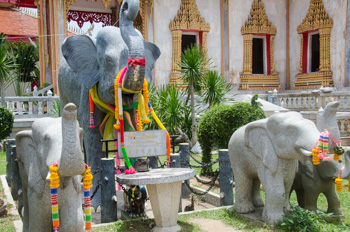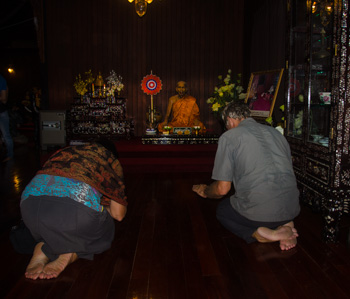 The menu had pictures but Jim and I still couldn't figure out a few things so Khun Pik translated with his smart phone. We feasted on oysters, squid prepared two different ways, fish and rice.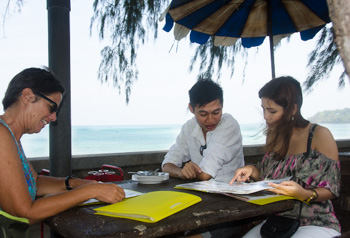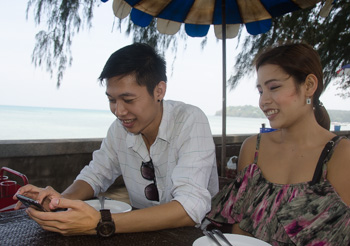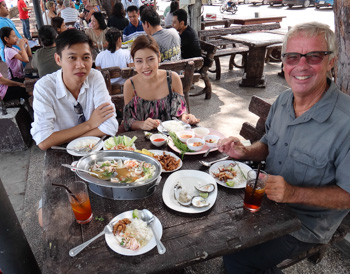 Our tour continued after lunch to a scenic lookout at Point Yamu on the western coast where everyone takes photos and then up to the Big Buddha.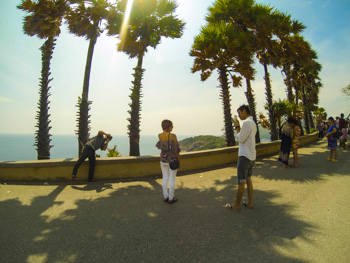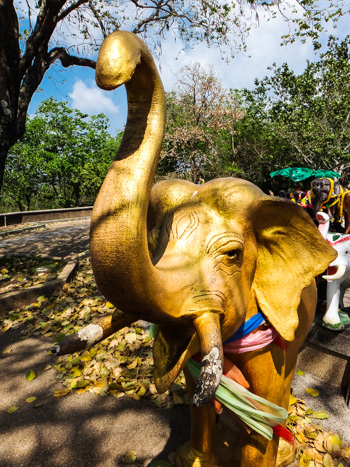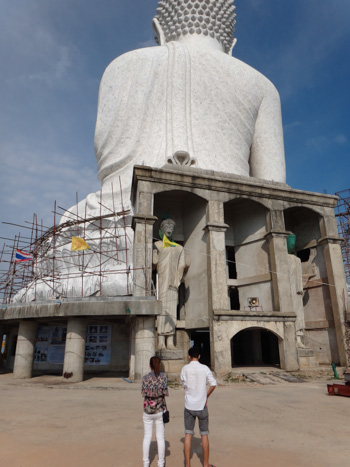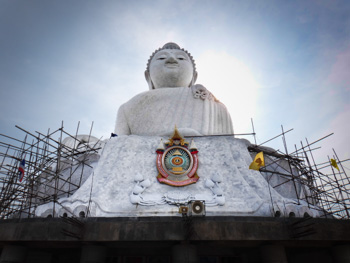 Like a serene sentry, the big Buddha watches over Phuket from high atop the mountains.
Below the big Buddha are statues of monks - some of the most famous and others depicting the day of the week to correlate with one's birth day. Bells with messages are hung all along the perimeter.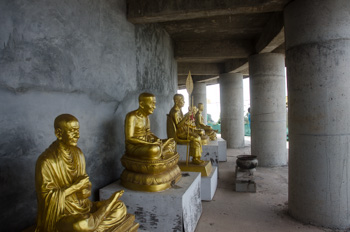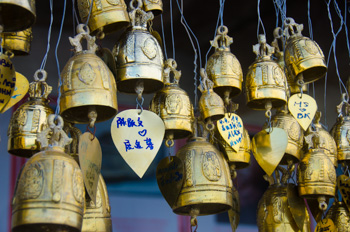 Last weekend was Songkran, the Thai New Year. People celebrate by dousing others with cold water and smearing talcum powder on their faces. It began as a celebration welcoming the new year and the return of the southwest monsoon where Buddhists gently poured water over statues of the Buddha, village elders, family and close friends to ensure prosperity and good luck.
It has morphed into a crazy street scene. In the popular beach town of Ao Patong, most of the revelers were tourists. April is the hottest, driest month in Thailand so the chilled water is welcome relief. But so is air conditioning. We kept the windows rolled up and the doors locked as the car inched along the crowded street.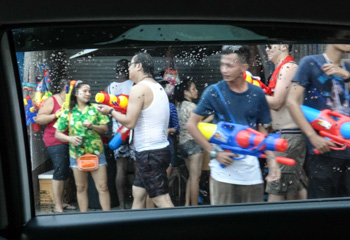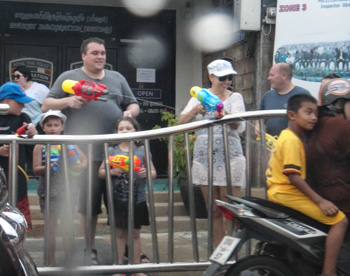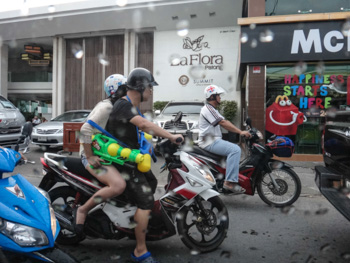 Khun Pik and Khun Maew used to worked at the upscale Paresa Resort high on the western coast overlooking the sea. They knew it was the perfect place to watch the sunset and enjoy a cocktail.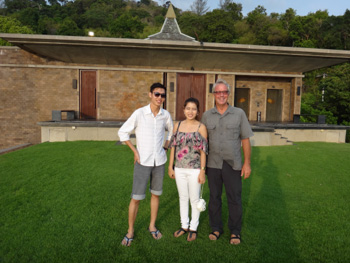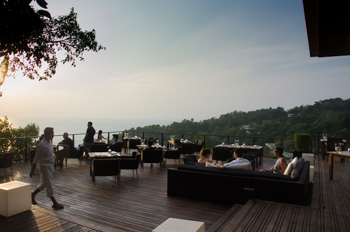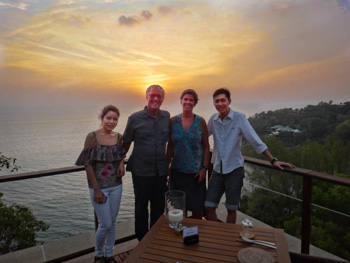 And to top off a very good day, they invited us to their home for more Thai cooking lessons and a wonderful multi-course dinner. Khun Aun and his girlfriend, Khun Ao, joined us. Again Khun Aun was busy in the kitchen and helped Khun Maew, a chef at Port of Call, and Khun Pik turn out a fantastic meal while Khun Ao taught me a few key phrases in Thai.
Watch a short video of Khun Ao teaching me to say something in Thai
A sink and the gas burner were on the back patio. Cooking outside makes sense for so many reasons! The house doesn't get hot from cooking, smoke from frying chilis won't sting your eyes and the scents will not linger inside the house.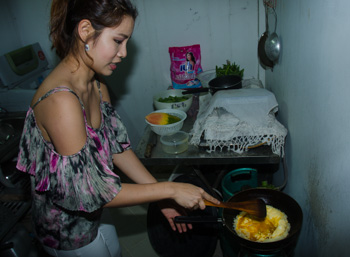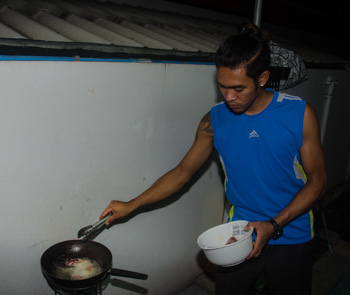 Khun Aun kept watch over the grilling fish and squid after already grilling and frying meat. Look at all that food! Thank you, everything was delicious. Khawp khun kha. Ah roy mok kha!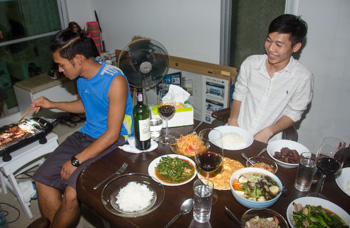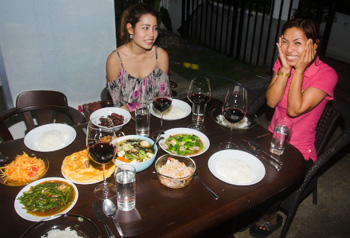 After seeing their red trimaran named Migration in Niue and again in Nelson, NZ, we finally met Bruce and Alene in Tanna, Vanuatu last year. We shared some good times before they hurried off to reach Thailand by the end of the year.
So guess what? Migration is on the hard here at Ao Po Grand Marina! Bruce and Alene have been busy with an extensive, complicated refit so have rented an apartment nearby. They were excited about our cooking lessons so I told Khun Aun. He offered to cook a meal at their place, we just had to shop for the ingredients. Alene gave up her spot on their motorbike so Bruce could take me to the Saturday market. What fun!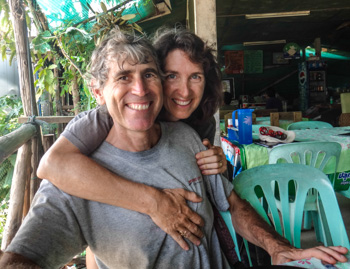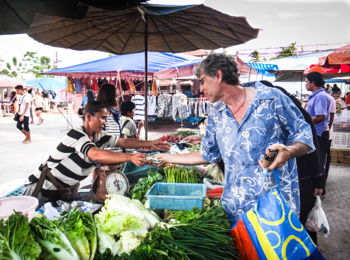 The following evening Khun Aun showed us how to prepare Pad Krapau Kun, Mie Luang Pad Pahk and Krueng Keng Gai. Only when the last dish was cooked and we'd been sweating and choking on the chili vapors did Alene remember that they had air conditioning. Ha! They sure have acclimated to the heat here, I hope Jim and I will too. We gathered around the outside table and enjoyed the tasty meal.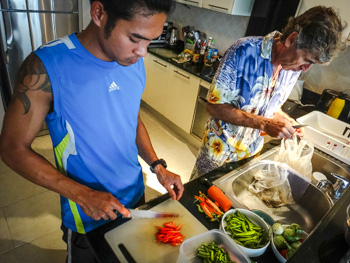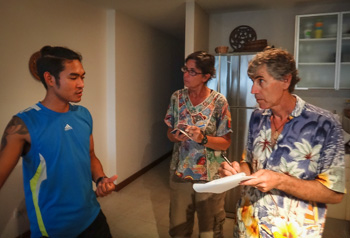 Watch a short time lapse of our cooking lesson
Go to May 2014 Part One - More time in Thailand