March 28, 2014
'Fun! Like a mild Class IV rapid,' Corinne wrote with a grinny face in the logbook at 1:00 AM. We were heading north to Langkawi in NE winds 12-18 knots and choppy seas. It was the first time the conditions had been anything but calm for her. We couldn't leave Straits Quay Marina until High Water, which was at 3:00 PM, so our 66 mile trip to Langkawi was an overnighter.
Fishing boats were scattered about near Penang and Langkawi, but there were few along most of our route. We did the entire trip at 3-4 knots to arrive after dawn.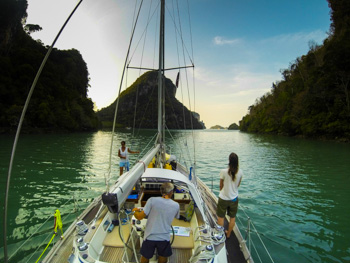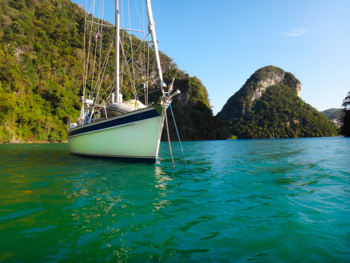 Fjord Anchorage - 06 11'.46N 99 47'.27E
A few small sandy beaches dot the steep coast of Pulau Dayang Bunting behind Pulau Gabang Darat. We chose anchor off one in hopes of seeing some wildlife.
We weren't disappointed! As soon as Tenaya was settled, Corinne spotted a long-tailed macaque walking across the beach. The following morning she pointed out more macaques, some with babies, and a large water monitor lizard. It swam gracefully with its head above water until it lunged for something below. Eventually it clambered out of the water and walked with a bowlegged swagger up the beach and across the rocks.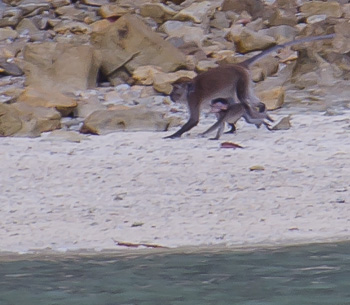 During the afternoon a troupe of dusky leaf langurs, also known as spectacled leaf monkeys, gathered at the beach. Bright orange babies clung to the bellies of their mothers who were so dark they looked black except for the white around their eyes and shock of hair like a long, white mohawk.
White-bellied sea eagles and brahminy kites soared above and a brown-winged kingfisher hopped from branch to branch before taking off. This pretty bird with bright orange-red head and beak is endemic to Langkawi. Between 10:00 and 12:00 each day groups of jet skis blasted through between the islands. Small fishing boats would rumble through day and night. Still, it was a lovely spot and we knew Tenaya was well anchored in the sticky mud.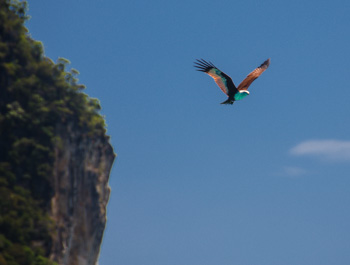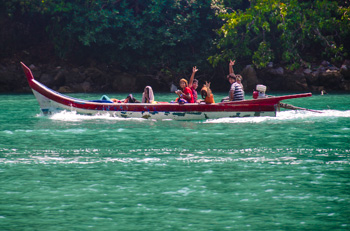 What a beautiful place to kayak! We paddled next to vertical limestone walls, under shady tree limbs, among small rocks and along the shores of several tall, densely forested islands to land on sandy beaches.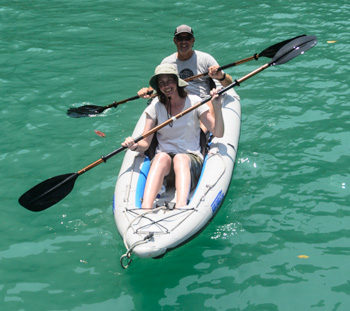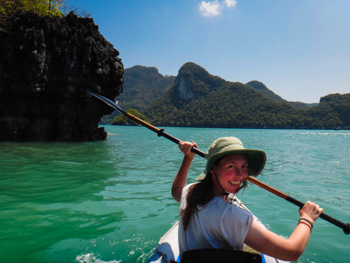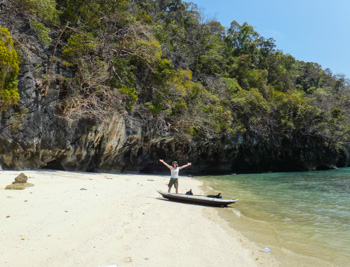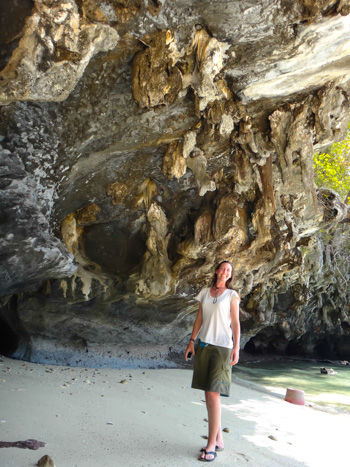 When we'd had our fill of kayaking and monkeying around, we hauled up the anchor and motored 17 miles northwest to Telaga Harbour Marina on the main island of Langkawi.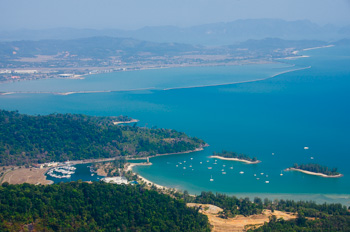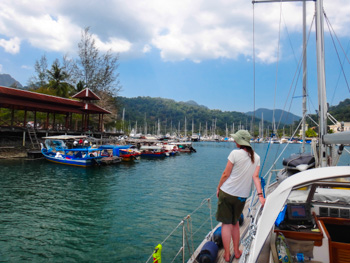 We motored past two small man-made islands and the picturesque anchorage to reach the sheltered marina. It was wiped out during the tsunami several years ago but has been rebuilt. The surrounding area still has signs of life from before that devastating day. Now people graze their cows on the grass between concrete slabs. Normally we would stay in the anchorage with its breezy freedom but we're only staying a few days and this is easier.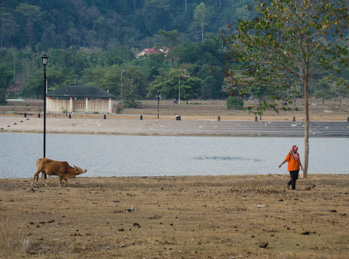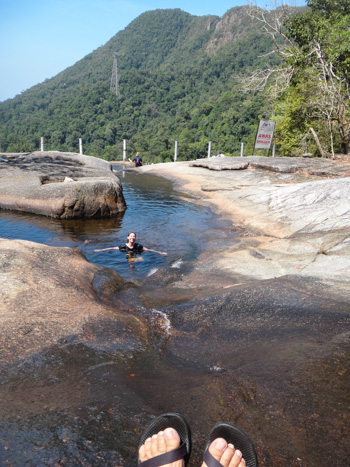 Granite slabs, fresh water and natural pools. What more would you want on a hot day? A water slide!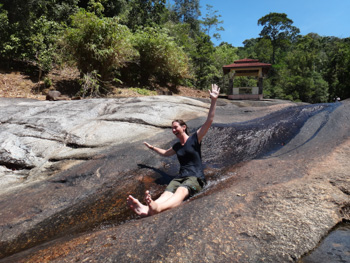 Beneath a broad canopy of leafy trees, we climbed a hillside of stairs to reach Telaga Tujuh, Seven Wells. The only two people already there waved from the last pool. Just beyond, the batholith plummets and creates a marvelous waterfall during the rainy SW monsoon. Now, in the drier season, fresh water is piped to the top and only a meager amount finds its way over the falls.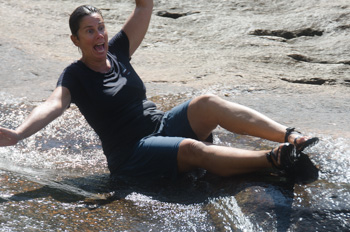 Corinne and I quickly identified the slide and down she went. Yee Haw! She landed in a narrow pool and didn't hit bottom. I went and had a blast so Jim came over to give it a try. Like little kids, we kept taking turns. With a big smile, the guy from the last pool came up to have a go. He was hooked too and soon his wife was doing laps as well.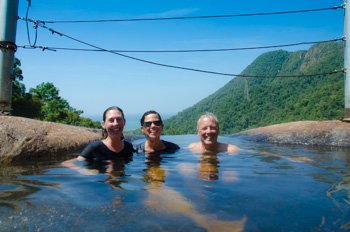 Seven Wells is right next to the Oriental Village tourist area where a gondola goes to the top of a hill for a lovely view of the harbor and surrounding islands. Bold and brazen macaques scamper around the stairs looking for people with food. Jim stopped to take a photo of two in the walkway ahead of him. After pulling his camera out of his pack and while taking off the lens cap, they rushed him.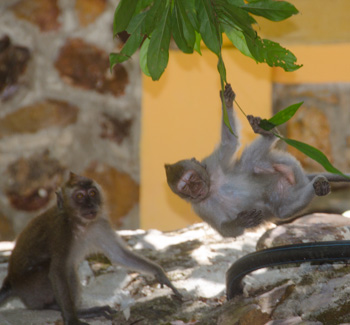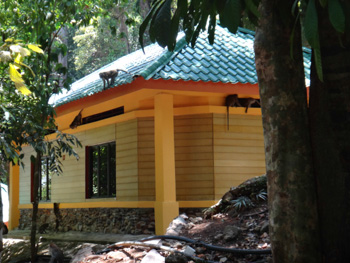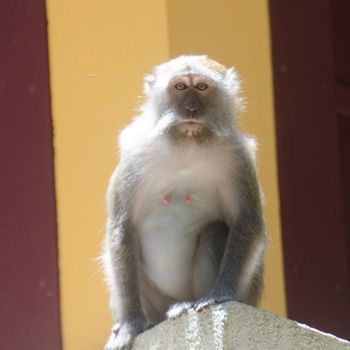 Besides the cable car, there are shops and touristy attractions at Oriental Village. Fish Therapy caught our eye. We sat on the edge of a shallow, tiled pool with lots of small fish. As soon as we put our clean feet in, they rushed over and started nibbling. The slightest movement chased them away. So, when they tickled too much, our involuntary jerks provided a short reprieve. Our skin felt smoother after a 15 minute session but our tattered feet really needed hours.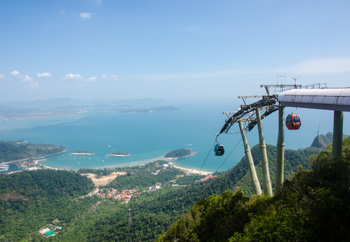 We have known about the crew of Totem, a family of five living aboard and traveling, since 2010. We both crossed the Pacific that year but did not meet. When I stumbled upon their well-written blog after googling Hermit Islands, I contacted them and Behan gave us all kinds of helpful information about places in Papua New Guinea.
Totem and Tenaya were in Telaga Harbour at the same time. We finally got to meet in person! Once again, Behan helped us with anchorage ideas and waypoints, this time for our trip to Phuket. Bonus - youngest crew, Siobhan, baked yummy muffins for the cruisers market day and we scored some!
Totem has an awesome blog. Check it out! www.sv-totem.com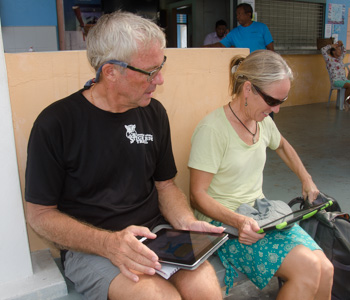 A young couple was having wedding pictures taken at the marina. I wondered aloud if they might like to be photographed on a sailboat so Behan asked the photographer. Relieved there was no charge, he relayed the invitation to the couple who said yes.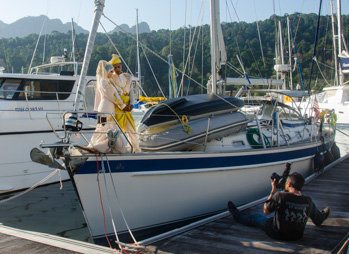 When they headed for the bow, I worried. It was a muddy mess from the last anchorage. We were too busy having fun to clean it but the bride didn't seem to care.
We don't need to be in Phuket until April 1 so we'll stop at a few islands in southern Thailand on the way.
Go to April 2014 Part One - Butang Island & Phuket, Thailand