March 23, 2013
Dark clouds loomed and sprinkles turned to rain as we motored out of One15 Marina into Singapore Harbour. I called Immigration Control on VHF Channel 74 and said we'd be at Sisters Island in 15 minutes to clear out.
In that short time the rain intensified, the wind howled, the visibility dwindled to nothing and thunder and lightning shocked simultaneously. Corinne sat silently soaked in the cockpit as I searched for the grey boat. It was hopeless. Jim was down below gathering our passports and paperwork into a waterproof pouch when I hollered down to him to call on Ch. 74 and bail. "I'm heading back," I yelled over the wail of the wind. "I've already called them," he said climbing out into the bluster.
I could barely see the chartplotter so he told me which way to steer as Corinne tried to watch for traffic. We were at the confluence of several ferry routes and had no AIS. The massive number of ships had crashed our chartplotter. We crept back to our berth and spent one more night in the marina.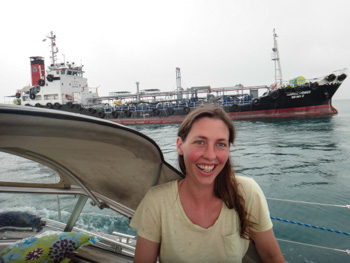 We had better luck the next day. Tenaya had already rounded Sentosa Island and was passing a field of oil storage tanks when the dark clouds rolled in bringing wind, rain, thunder and lightning. We kept our eyes peeled for moving tankers among the many anchored ones. Sure enough, one caught us by surprise. It wasn't until he honked that we realized he was moving. Jim steered us in a big circle and we came back around behind it and continued on.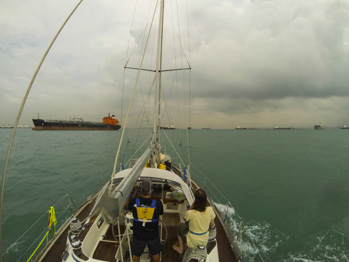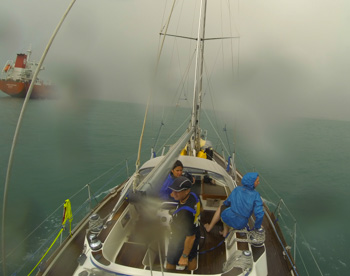 Five hours later we were out of the anchorage and heading north parallel to the traffic separation lanes. We had more than 2 knots of current against us, but the sea was slight and wind was light. The full moon illuminated the gigantic ships passing less than two miles to port.
Panamax ships, the largest the locks of the Panama Canal can accomodate, are 965 feet long. Malaccamax ships are bigger. Our AIS system shows them measured by the mile and we saw some up to .22nm. That's over 1200 feet long! Indeed, they can be up to 1312 feet long. One overtook a smaller ship which brought it closer to us. After he'd notified the skipper of his intentions, he shined a bright light all around and slowed as we came into view. It was reassuring to know he was keeping a good look-out.
The plan was to do an overnighter to Admiral Marina near Port Dickson where we could check into Malaysia and take a bus into Melaka. But the conditions were ideal and we didn't want to stop. So we kept going. Three more nights.
Days were hot and night were lovely. We saw many big ships, tugs towing barges, and all types of fishing boats. People had warned us of hazards and said many obstacles are unlit. Most yachts do day hops along this stretch to avoid night sailing but we like sailing when it is cooler. Unless there are interesting places to stop, we'd rather keep going. We stayed well offshore and had our laminated flip book with pictures of the lights different ships show in the cockpit next to our binos. It was fun trying to figure out what each pattern meant and what to look for. This worked for larger fishing vessels but we learned the small boats had their own light schemes.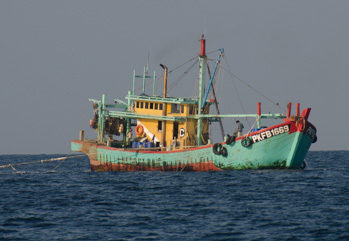 These fishing boats drag long nets behind them. Sometimes they work in tandem with nets between them. They show all red lights. The rear ones flash if you are too close to their nets which can trail 200-300 meters.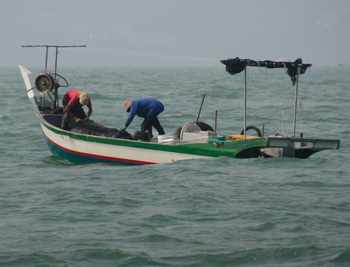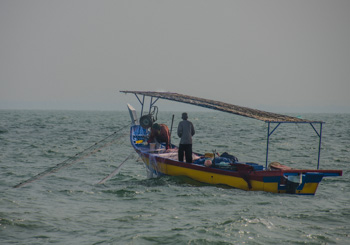 These small boats have nets off their bow. Often a flag or buoy marks the other end as they reverse to keep the net taut. They usually show a red or white solid or strobe when you get close.
Corinne came up into the cockpit one day while I was keeping an eye on a small tanker that was traveling north outside the lane. His AIS info and the vector said he would move behind us and pass on our starboard side, but he looked like he was coming up our port side. So I called him on the radio. He said he would pass us on starboard and soon made a pronounced turn. I held our course as is expected. Corinne noticed a tiny fishing boat appear directly in front of us. I guess he thought if the big guy was coming, he'd hit us before them. I held our course and he stayed right in front of us as if he were stopped. When the tanker was finally on our starboard side, I turned 5 degrees to port to pass in front of the little boat. Then he moved forward towards our port side. We ended up passing him by less than a boat length. The two men onboard seemed completely unconcerned as they struggled to deploy a fish trap.
We would reach the entrance to the channel between Pulau Penang and the mainland too early so Jim plotted a new course around the outside of the island to approach Straits Quay Marina from the north. "This doesn't look like what I expected," Jim said as we followed a ship with a 2.7 meter draft through the shallows just south of the buoyed channel. "I didn't expect a city with tall buildings." I'd only told him about the old area of Georgetown which is now a UNESCO World Heritage Site. But the entire city is the second largest in Malaysia.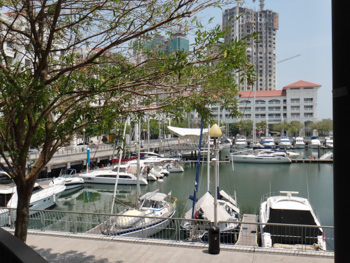 I had emailed ahead for reservations and John Ferguson replied with instructions to call when we were outside. We did and he talked us in. The poles outside are range markers from the north. But before we were lined up, the depth gauge showed 2.5 meters, 2.3. 2.0. We draw 2. I stopped looking when it hit 1.9. John was on the mole watching and said we should be okay. I guess he meant that the tide was coming in so if we got stuck, we'd float soon enough. He motioned to turn to port once inside and we saw three people waving from an empty berth. Wow, what a reception! You'd think we were coming in with 35 knots and a cross current.
Straits Quay is part of a complex with apartments, restaurants and a shopping mall. Bus numbers 101-104 go into the pulsating heart of Georgetown.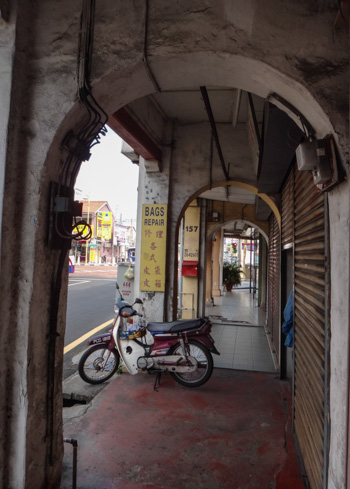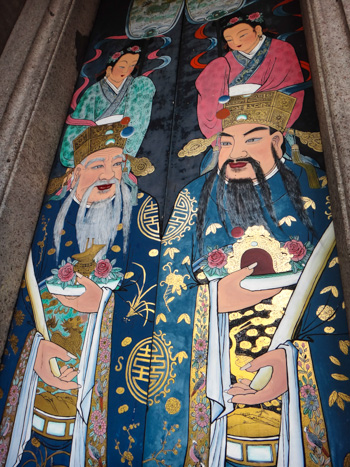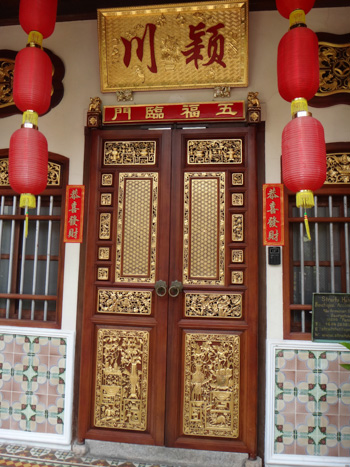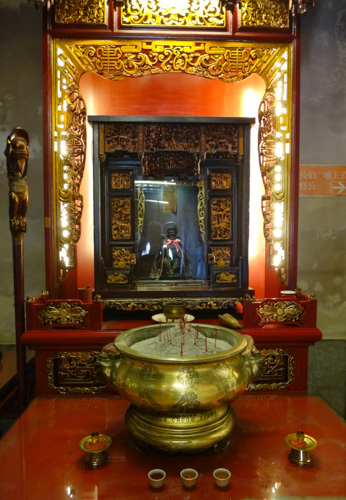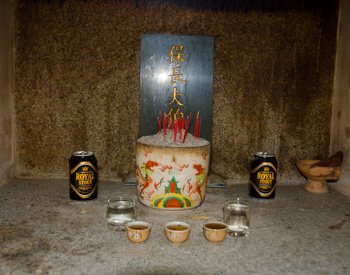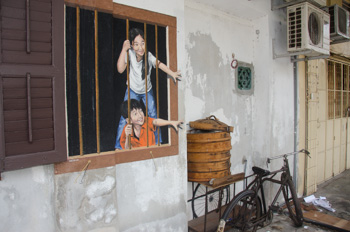 Georgetown was the first British settlement along the Malaysian peninsula. Colonial buildings pepper the melting pot which includes Chinese flavors, Little India and the Clan Jetties. With people from many different cultures calling Georgetown home, it's no wonder we heard rave reviews about the food.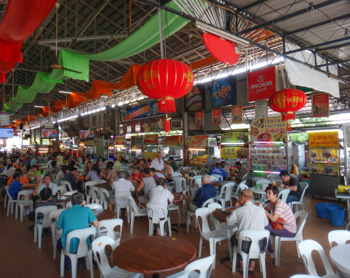 Our taxi driver said that all married Malaysian couples are provided low priced housing, allowing every family to own a home. More expensive private houses are available too, but those who buy them first are not eligible for the less expensive apartments provided by the government.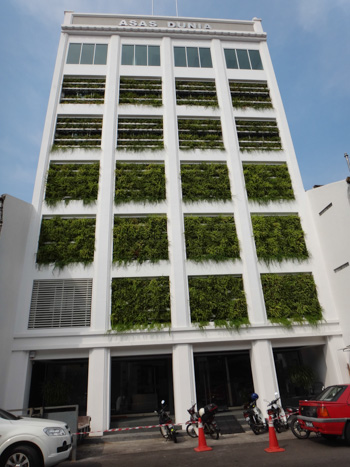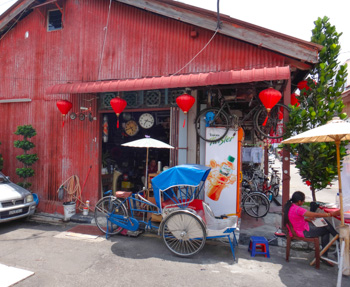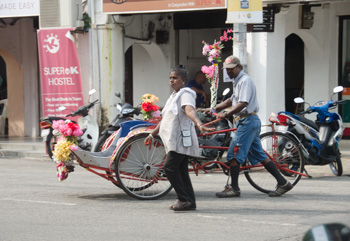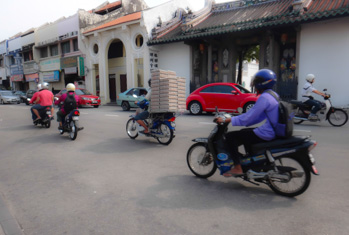 The Clan Jetties are traditional Malay longhouses that extend over the water. Those we saw were perched on stacked drums filled with concrete. Just beyond is Junk Anchorage where yachts can anchor in deep water and be near this delightful, pungently fragrant neighborhood.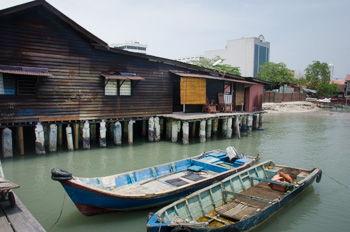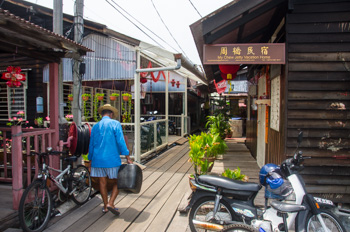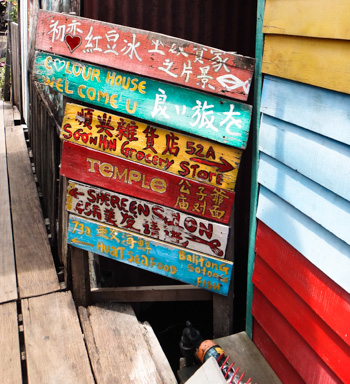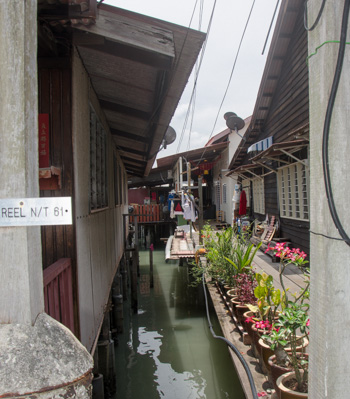 Many fishing boats are anchored here with their nets and traps drying on the docks. The anchors are ingenious - bricks lashed together with rope.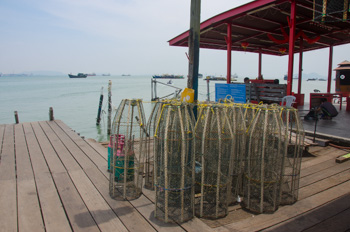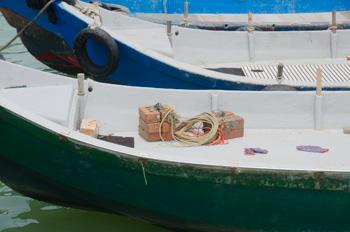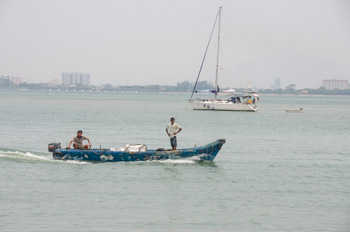 Yachts cruising Malaysia are required to check in and out of each port. Many don't, but we try to follow the rules. I stayed on board while Jim and Corinne went in to clear out. All went well at the Marine Department even though the sign on the door said no shorts or flip flops.
While Jim was working with him, one official jokingly called across the room to ask Corinne if she was married. She said yes and he called back, "But you haven't got a Malaysian husband!" He got a Tenaya Travels pen for that! The office pretty much shut down for a few minutes while the other officials came out from behind their long counter. A photo session ensued, much to the dismay of the other couple trying to check out.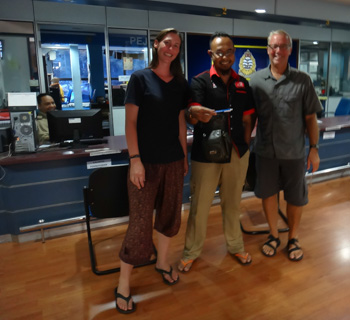 Things went equally well at Customs where the official, policeman and taxi driver recognized them and welcomed them warmly. The other couple were once again baffled by the rapport between the Tenaya crew and the officials.
It all changed at Immigration. The stoic man in charge said we must check out the day we leave, not before. The earliest he would clear us out was 12:01 AM. It didn't really matter though. The woman at Customs said we didn't need check out with Immigration since we were staying in the country. Jim and Corinne were dressed casually so perhaps that was disrespectful. Or maybe they were friendly instead of reverent. Who knows. He didn't get a pen. Only people we like get pens.
Go to March 2014 Part Five - Langkawi, Malaysia