January 4, 2014
Palau is a paradise for American cruisers. We are issued a visa on arrival for one year and are welcome to stay indefinitely. A mooring in front of Sam's Tours is $50 per month. There are hot showers and trash disposal as well as a dive shop, restaurant, bar and fuel dock. They accept mail and Sam and his crew take great care of their customers, including cruisers.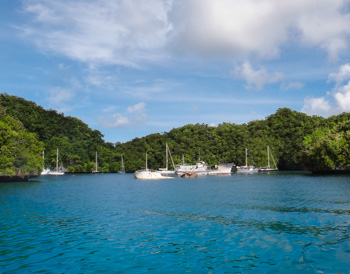 That alone would entice us to stay if we felt the need to linger somewhere. But there are other benefits too. The area is absolutely stunning! 249 limestone islands make up this westernmost group of the Caroline Islands. Bulbous and covered in dense green foliage, the islands have been carved away at the waterline to form a most appealing landscape.
Underwater is a feast for the eyes. Hard and soft corals are healthy and colorful. Beautiful fish abound. The color of the water varies from sandy shallows of pale turquoise to deeper cobalt. Here and there are hints of green. It's too warm to be invigorating but just right to spend hours immersed and observing reef life.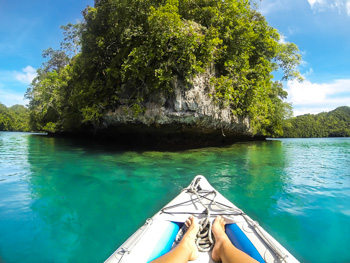 Palau enjoys Free Association with the United States. The US military has access to the excellent natural harbors while Palauans and the rest of us benefit from all kinds of goodies from the States. After three months in Papua New Guinea I was thrilled by the selection of familiar treats the first time my friend, Joan, took me to the supermarket. I scooped up a bag of Reeses peanut butter cups. A big bag. And I was in awe wandering through the huge ACE Hardware stocked to the ceiling. Concentrated Simple Green, rolls of velcro, thick paper towels, natural sponges... So many things I searched out in New Zealand and Australia but could not find. Palau is just another zip code in the US Postal Service system so anything not available here can be easily shipped in.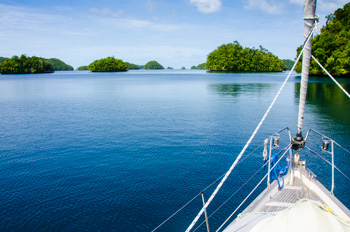 The Rock Islands lie immediately south of Koror, the main town and anchorage. For those of us passing through, special permits must be acquired before anchoring there. A Rock Island Yacht Permit is $20 per month and the Rock Island Use Permit is $50 per person, good for 10 consecutive days. That is steep but well worth the price for safe, secluded, spectacular anchorages with splendid snorkeling, sensational kayaking and some of the best diving in the world. Arrangements can be made with Sam's Tours to be picked up by a dive boat as most dives are either outside the barrier reef or drift dives.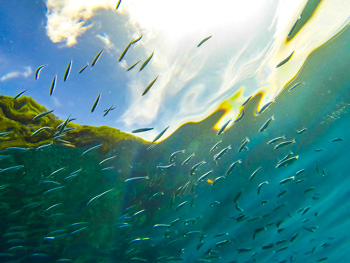 Jellyfish Lake is an odd place where billions of harmless jellyfish are trapped and float around in a large group. Palau makes a killing off this as they charge an additional $50 per person for the privilege of swimming with them.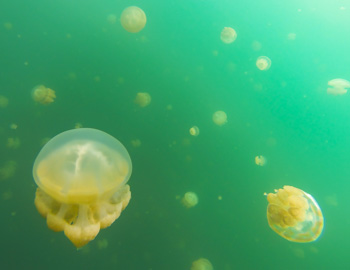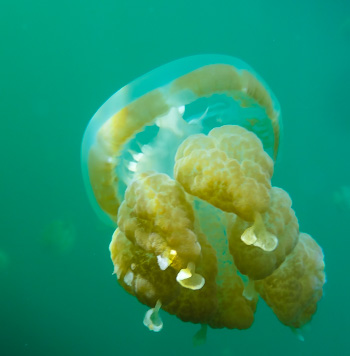 We returned from Korea with colds so could not dive until the middle of December. Our plan was to do our first two dives from Sam's and then go out to the Rock Islands for a week to get the full benefit of our permits. We bought the Use Permits including Jellyfish Lake for $100 each.
We dived Siaes Corner which is a gorgeous wall with oodles of creatures. Two turtles, several reef sharks, a large Napolean wrasse, an enormous colorful triggerfish and a moray eel were some of the highlights. Next we dived Ulong Channel where we hooked onto the reef and watched black-tip reef sharks swim by before releasing ourselves to slowly drift into the lagoon over colorful coral, sponges and lots of fish.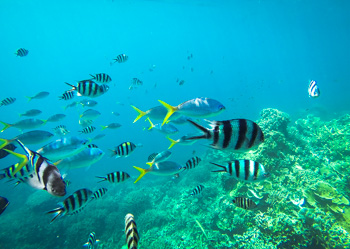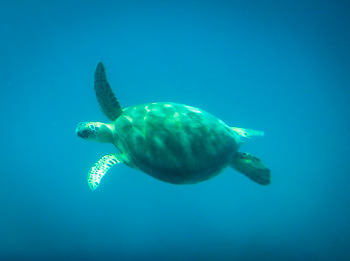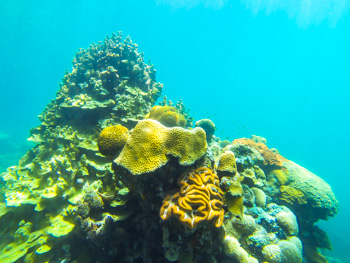 Two days later we dropped the mooring to head out to the Rock Islands. When Jim shifted Tenaya into gear she made a loud, horrible, grinding noise and would not go into forward or reverse. We drifted back towards the other boats and he tried again harder. This time she went forward and I snagged the mooring.
I went in the water to look at the prop. Aside from missing part of the rope cutter, it looked fine although it was really hard to turn and doing so made the awful noise. It took a week of messages to friends and forums, unbolting the Centaflex coupling and pulling the prop shaft out to eliminate potential causes. The problem seemed to be coming from the cutlass and the only way to know for sure was to take Tenaya out of the water. There is no haul-out yard here. The folks at Surangel's Construction offered to tow us to their 'dock' and lift us out with their crane. The mast must come down and Tenaya would be supported with the type of bars used to hold up walls. No cradle or boat-specific braces. Not ideal, not by a longshot.
A few people suggested cleaning or greasing the area where the prop shaft leaves the boat near the cutlass. Jim pulled the prop shaft out again and we scrubbed the shaft, the opening and the water intakes and greased the shaft. Afterwards it slid easily and silently. Yippee! Jim put the coupling back together and all was good. When he explained what he'd done on a forum, several replies said that the cutlass bearing should be lubricated with water only. Grease may work initially but might cause junk to stick and jam it up later. Great. Perhaps we had just dodged a bullet but shot ourselves in the foot.
A neighboring boat invited us for Christmas dinner so we stuck around. On December 27 we bought Use Permits again including Jellyfish Lake. The Palau Guide identifies about 80 anchorages in the Rock Islands. Many have shallow bars at the entrance and require half to full tide to clear but we chose four anchorages accessible anytime.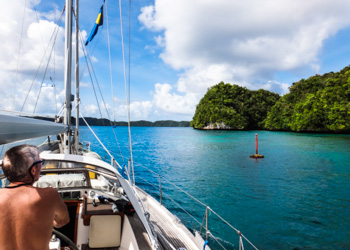 It's a scenic journey through the Rock Islands but we were mindful of the many reefs scattered about inside the lagoon. The Navionics chart is off and it was disconcerting to be moving over a picture of a reef even though our eyes, depth sounder and waypoints assured us we were safe.
Anchorage 402 - Fast Break
07 10'.57N 134 22'.22E, 17 meters
This anchorage is about half way between Jellyfish Lake and Clam City, two popular snorkeling spots. It's also the furthest from town so we decided to come here first and work our way back.
Clam City is just off a sandy beach with picnic tables. We paddled up to find two boat loads of Japanese snorkelers having lunch and taking photos.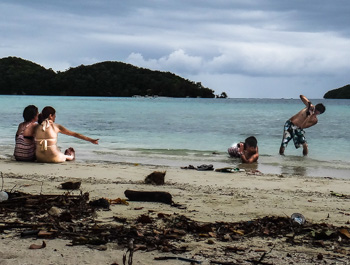 The clams have been planted there for the enjoyment of visitors and are located just beneath the second mooring. Jim stayed in the kayak while I dove down to have a look. Many are dead and are just empty shells but there are several large, colorful clams about a meter wide.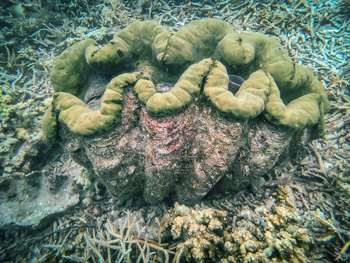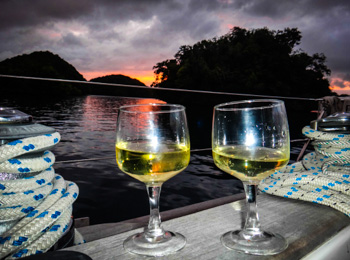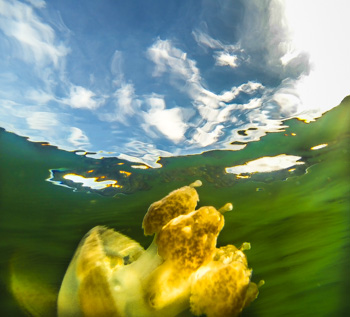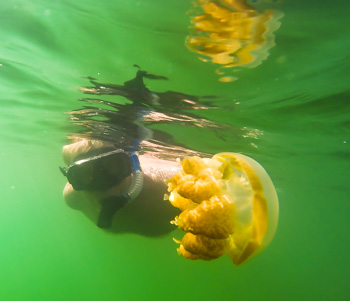 Jellyfish Lake is bizarre. It's a marine lake where saltwater seeps through fissures in the limestone. The water is green and murky like pea soup. At first we saw only a few lone glutinous globs but soon we were surrounded. Big ones, tiny ones, all sizes, pulsating up, down, left and right. It was impossible not to brush up against a few. We did not duck dive far as the bottom is toxic. No scuba diving is allowed.
The longer I stayed, the more my feelings about the creatures changed. Instead of thinking them creepy, I began to see their beauty and vulnerability. I wanted to protect them from the flailing fins of folks floating on boogie boards and wearing life-jackets.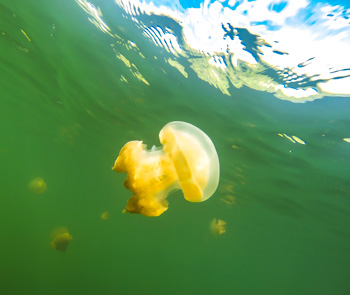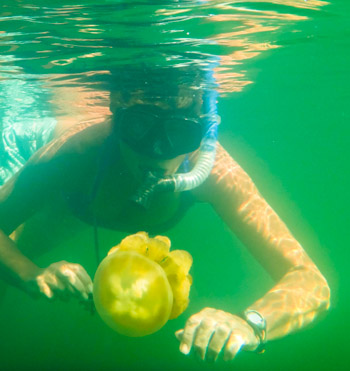 Anchorage 420 - Fish Net
07 13'.71N 134 22'.75E, 9 meters sand
What a wonderful anchorage! Tenaya floats at the southern end of a pretty bay in glistening turquoise water. The view north is of many small islets. All around is fantastic kayaking with ledges to paddle beneath at low water, caves to peek in, coral to gaze down on and turtles to glide by while tropicbirds, terns, noddies and bats soar overhead. Although we planned to visit more anchorages, this enchanting place captured our hearts and here we stayed.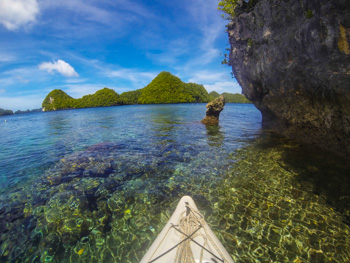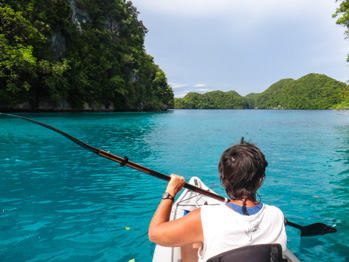 That's a green turtle off the bow of the kayak in the photo below.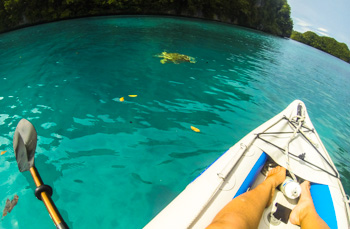 A lovely 1.5 mile paddle through the islands brings us to Cemetery Reef, a popular snorkeling spot where there are fish galore. We passed it on our way in and saw dozens of mooring balls joined by lines marking the reef. It was noon during a squall and there were no boats. The next day we paddled up at 3:00 pm. The area was bordered with boats and scores of life-jacketed tourists bobbed in the water. We kept paddling.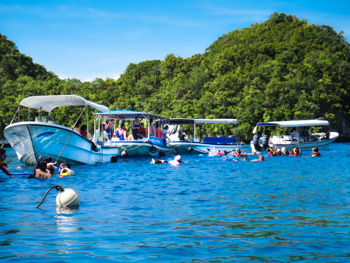 Hoping the tours break for lunch, we paddled up at noon the following day and found Cemetery Reef deserted. The water was choppy so we continued paddling across the narrow channel to anchorage A215 called Cemetery. The entrance has two meters at low water and it was low water then. Whoa, we would be nervous bringing Tenaya in over all that coral. Inside is a big, protected hole that would be an ideal typhoon shelter. We found plate coral, fleshy coral, soft coral trees and tunicates while snorkeling along the north wall.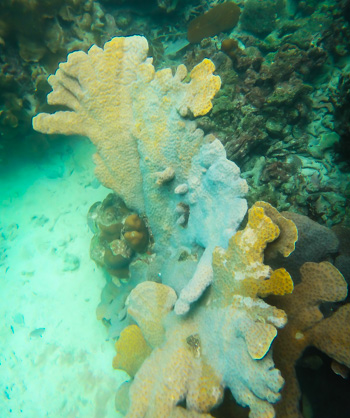 There were still no tour boats when we returned to Cemetery Reef at 1:00 pm. The water was now calm under a brilliant blue sky. As soon as we slid into the water hordes of scissortail sergeants and blue and yellow fusiliers surrounded us. The guides must feed them. We also saw yellow-masked angelfish, ternate and staghorn damsels, coral rabbitfish, red and black anemonefish, titan triggerfish, lined butterflyfish, striped and blue lined surgeonfish, moorish idols, pearly monacle bream, unicornfish, redbreasted and crescent wrasses, a few Napolean wrasses and many more we couldn't photograph to identify. The reef is healthy, in the entire area we only saw one Crown of Thorns sea star.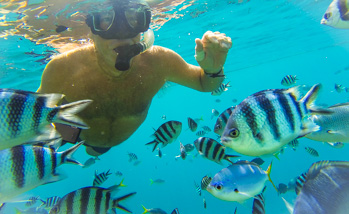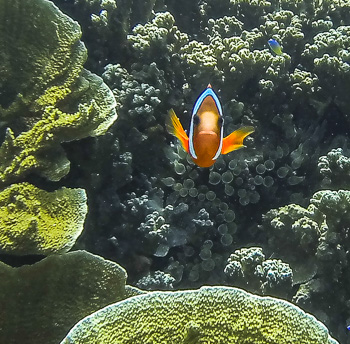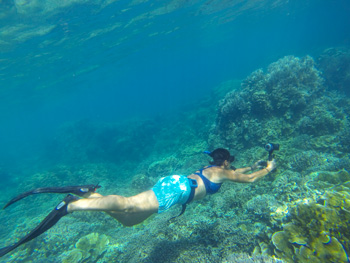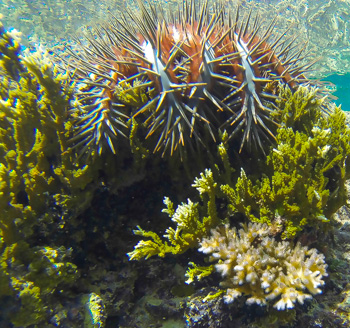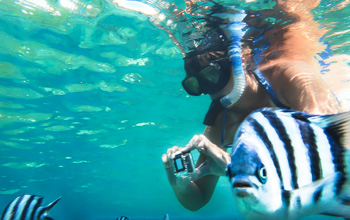 On New Year's Eve we returned from kayaking to find a big powerboat anchored near Tenaya. People waved from multiple levels. Later we saw a distressed turtle near their stern and paddled over. It was trying to dive but couldn't. I asked if there was a turtle sanctuary or rehab center here but they said no. The onboard diagnosis was that it had swallowed a pufferfish.
We introduced ourselves and met Kohta, his wife and their friends. He comes to Palau several times a year and shipped this boat here to enjoy the lovely anchorages. This is his favorite. He was almost apologetic about the luxurious craft saying he is an avid sailor and prefers sailboats. It's his dream to cruise with his wife. He invited us for a barbecued steak dinner with Japanese side dishes. What a fabulous finale to 2013!
The next morning we were offered a traditional New Year's Day breakfast of miso soup with mochi and small vegetables. Kohta's wife, I think her name is Yukimo, cut some of the vegetables into flower shapes. There was also a pressed fish piece with the face of a horse on it because this is the year of the horse. That too, along with the sake, was delicious. Kohta-san invited us to visit Yokohama. If we come by sailboat he assures us we can tie up in front of a fabulous restaurant for as long as we want. Guess he picked up that we love Japanese food.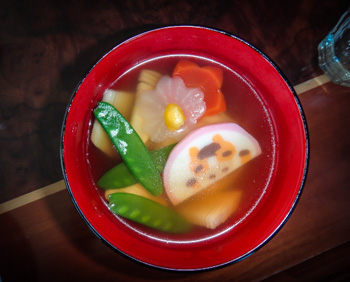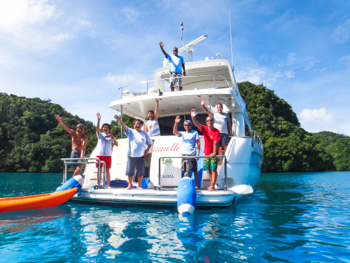 We wish you our friends, family and followers, a wonderful 2014 filled with love, laughter and learning.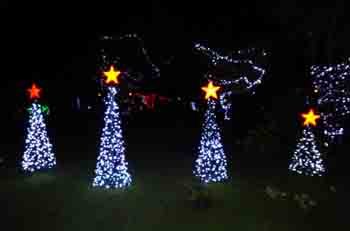 We are delighted with our tiny GoPro Hero 3 and Sony DSC-TX20 waterproof cameras! The Sealife can't hold a candle to them and our Nikon DSLRs have been stored in their bags since we left PNG. If these photos seem a tad surreal, it's just that Ive been having too much fun in Lightroom. The colors reflect how the scenes appeared to my mind's eye.
Go To February 2014 Part One - Passage from Palau to the Philippines to Kota Kinabalu