September 11, 2013
02 25'.11S 150 46'.33E
Kavieng, PNG. This was supposed to be our 'big city' stop. Check in and out of the country, replenish supplies and, if we were lucky, find an internet connection. Then be on our way. From the people we expected indifference. Or worse.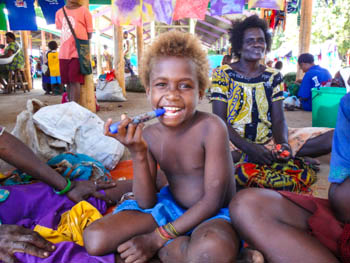 We could not have been more wrong! From day one, we have been taken by their warmth and hospitality. Walking down the street, we are often greeted with "good morning" or "good afternoon." It's easy to strike up a conversation. When we ask for directions, invariably we are offered an escort or a ride. In a country feared for violence in the cities, this has been a pleasant suprise.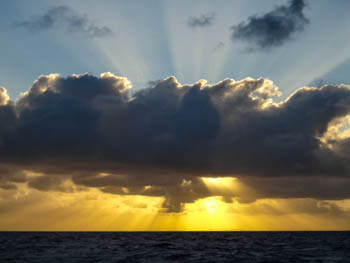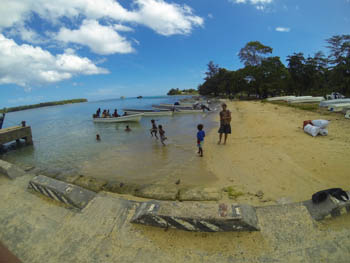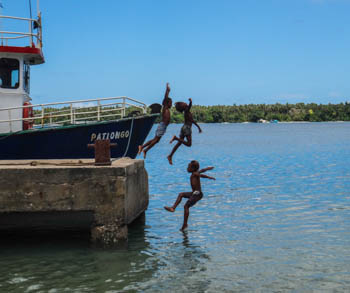 We are anchored across the channel from Kavieng in front of tiny Nusalik Island. It is flat and covered with tall, leafy trees and coconut palms. Tenaya floats in 12 meters in the Duck Pond, a protected spot surrounded by reefs except for a narrow entrance. She barely moves unless the afternoon breeze kick up a chop. The water is delightful and there are no other yachts.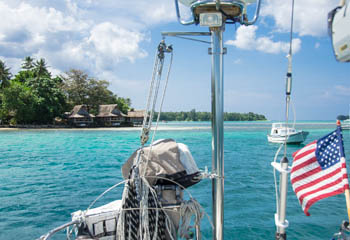 From Tenaya we can see people on shore. They congregate by the church waiting for boat rides. Sometimes they wave as they pass. We wonder if we should meet those living along the shore, but this is part of a city so we hesitate.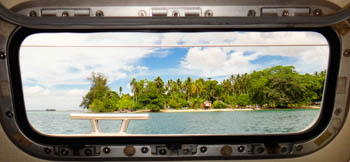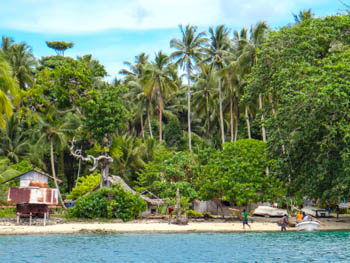 Shannon owns the resort with her brother, Shawn, and suggests we ask Nadine about doing our laundry. Her village is nextdoor. This is the perfect opportunity to meet some of our neighbors. They are friendly and Nadine washes and dries my towels and sheets for 20 kina, about $10. It's high so I do the rest of my laundry myself.
We decide to meet the others along the shore and are welcomed warmly. We introduce ourselves and tell our story which goes something like this: "Hello, we are Jim and Katie from the yacht. We are American but sailed from Europe. The yacht is our home. We live on it all the time. For seven years now. Thank you for letting us park our home in your bay."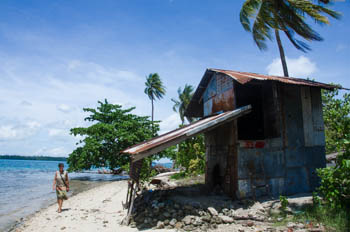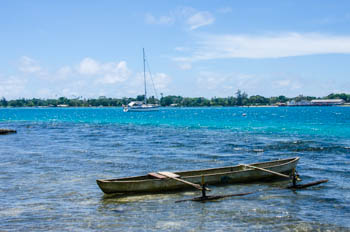 They ask questions about us; we ask questions about them. We get to know a little about each other. Jim asks if he can take pictures and, if they like one, offers to print it on the spot. It's our favorite icebreaker because people almost always like photos of themselves or their kids.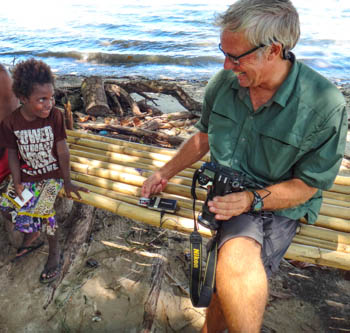 We invite them to visit us on the boat and learn that nobody has ever asked them before. They are pleased and assure us our boat is safe. No harm will come to her.
Levy Isaac says he has some carvings of crocodiles. They are not yet oiled, but would we like to see them? Of course! And as we walk back to the dinghy Solomon paddles up. "Do you like masks?" he asks, and pulls out a crazy golden colored one with the tongue hanging out that he's carved.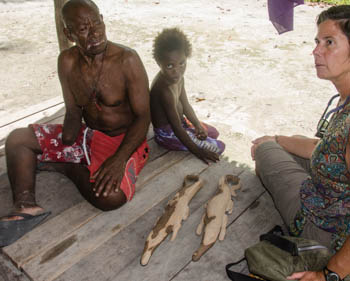 We have a sign to let people know when it is convenient for them to visit - we fly our US flag off the stern. Several people paddle out to have a look inside but nobody wants to trade. They can buy what they need across the channel.
Alice and her daughter, Sharnay, paddle out the crocodiles that Isaac has oiled and we buy one. Sharnay carefully turns each page of a National Geographic while Alice, Jim and I talk. We wonder how Isaac carved them with only one hand but don't quite know how to ask. Alice volunteers that actually Solomon carved them. When they leave we give the magazine to Sharnay and receive a huge smile in return.
The women that work in the kitchen of the resort have never been aboard a yacht either. I send Jim out for a paddle in the kayak and bring Maria, Margaret, Dorothy and Daisy out to Tenaya for cake and stories. I give them the tour thinking they will marvel at the toaster and microwave. But do you know what they like best? The beds, couches, fitted sheets and pillows! Dorothy leans over and pretends to sleep in the main saloon with her head on a yellow pillow and Daisy hugs one with a colorful peacock the entire time she is down below.
Three girls make their way out to Tenaya Nellie on an inner tube, Lida on a surfboard with a paddle and her younger sister, Marjorie, paddling a smaller board.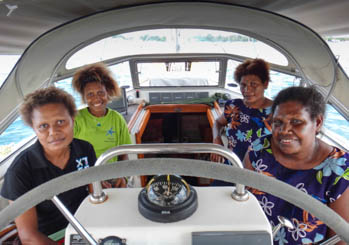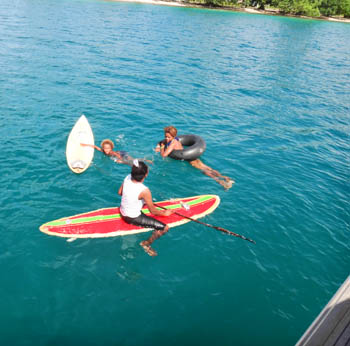 Little Marjorie paddles out by herself a few days in a row. She can't be more than six years old and I have no idea who her parents are. One day she sits in the cockpit for more than an hour while I make banana bread. I cannot speak her language and she cannot speak mine but it doesn't matter. Finally I think it is time for her to go; perhaps someone is wondering where she is. I usher her to the side and pull her surfboard out of the dinghy. She does not look pleased but climbs over the side. I slide into the water and start to swim along with her in case she falls off. Standing sturdy as a sentry, she quickly leaves me behind.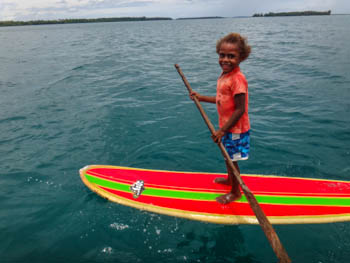 Hudson is related to the minister on Nusalik although I'm not sure how. They are both from New Hanover and spend time on Nusalik. She is a translator and was pained by my horrible attempt to say 'see you later' in pidgin so offered me language lessons. She, Edry and Aquila came out to Tenaya to teach me some common phrases.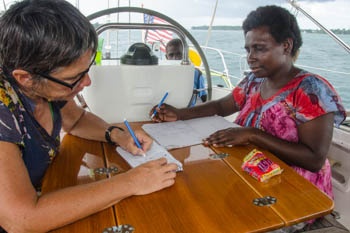 Now I can tell my story in pidgin: Neim blo mi Katie. Mi pla stap lo yacht. Yacht blo mi em olsem haus blo mi. Mi likim Kavieng tumas. Tank yu, Hudson, tumas!
We were told the resort might help us get fuel but they tell us to get it ourselves. We dinghy over to the Government Wharf and leave the rubber ducky on shore with two men who say they'll watch it for us. One is shaving intricate patterns into the other's hair.
Jim tells Malcolm that we would like to buy 300 liters of diesel. That is one drum and 5 jugs. "Fine," says Malcolm, "I'll get you the drum and you can bring your jugs." After chatting for a while Jim asks to borrow a pump and Malcolm replies, "Nobody uses my pump but me. I'll find a boat and bring it out myself tomorrow." And he did just that.
I become friends with Dorothy, Daisy and Jayne. They visit me on the boat and introduce me to their children. Jim teaches Dorothy how to make fitted sheets and Jayne lets me borrow her cookbooks. Now I know how to make those delicious crepe-like pancakes the resort serves! Dorothy owns an island off of New Hanover. She wants to give us a bit of it to start a resort or some type of business to help the people. It is a tempting offer! I ask Daisy and Dorothy about the tatoos on their faces. Daisy says she got hers when she was fifteen. Dorothy's are because she is Mondo's daughter. At the time that seems sufficient, but later I wish I had probed further.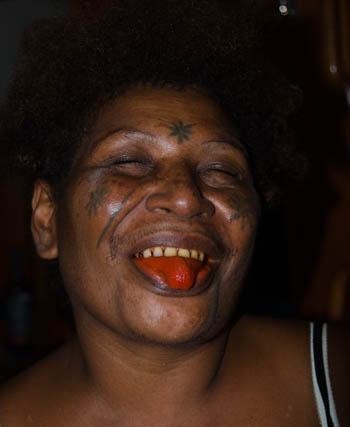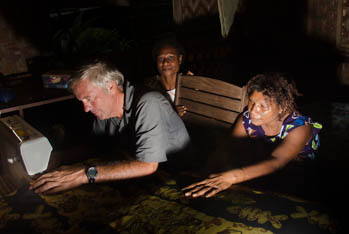 We are thrilled to find school supplies for sale in Kavieng. We want to buy syllabi for Julie at the elementary school on Panapompom but they only have one for E1, nothing for E2. We buy it and several age appropriate books and send them off. The woman at the post office assures us she will call the postmaster in Alotau to be sure the package arrives safely in Missima. Theft is a problem with post in PNG.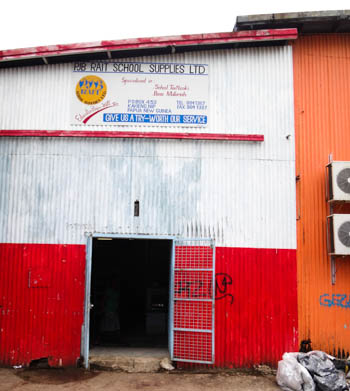 Diving is amazing in and around Kavieng. The water is crystal clear and the fish, coral, sponges and wrecks are prolific. Jim and I decide to get our Advanced Open Water certification from Scuba Ventures Kavieng. Cara is a PADI instructor and her husband, Dorian, is NAUI. Between them they've got it covered and offer dives on many spectacular sites. They've got two boats so if there is a dive group at the resort, they divide and conquer. No problem squeezing a couple of extra yachties on board one of the boats!
We took Peak Performance Buoyancy, Underwater Naturalist and Night Dive in addition to the required Deep Dive and Navigation courses. We considered taking Underwater Photography as Dorian is an excellent photographer (these are his photos) but we figured we'd best get our buoyancy control down first. It was great being the only two people in the course.
After our Buoyancy course near shore we are headed out to do the Navigation course. We see a banana boat pushing an old, derelict fishing vessel named Michelle. Robert steers us close and Dorian asks about it. They are taking it out to sink. He volunteers to tow it with their boat if they can sink it where folks can dive on it. The men agree and we pull it outside the reef and around Nusalik. In 30 meters Dorian tells them to open the seacocks and cut any hoses. It takes more than an hour for Michelle to go down. Cara's got her gear on ready to film the sinking and Robert and I snorkel around looking at all the life already growing on her hull.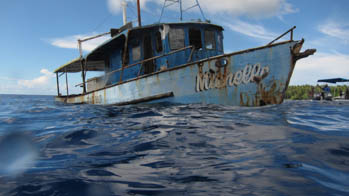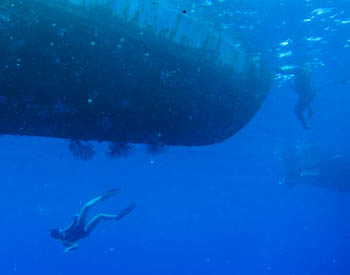 When she finally starts to go, she goes fast. Her stern sinks below the water and her bow raises to the heavens. She drops vertically and an enormous freezer blasts through the awning sending splintered bits of floor flying through the air and water in all directions. The water on the surface boils and I can no longer see the boat. Cara follows it down fast, filming all the way. She gets narked but gets great footage.
The next day we do our Deep Dive on the Michelle, the first people to dive on it. How cool is that?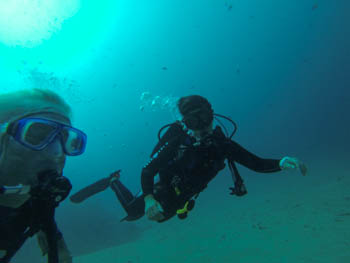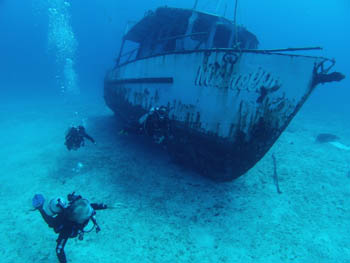 Lemakot village is a 45 minute ride down the eastern coast of New Ireland. In 1913 German missionary sisters arrived and settled in this area which was avoided by the locals because of bad spirits. They brought education, health services and the Catholic church. When the people saw they had overcome the bad spirits, they came to the land. Now there is a health center, school of nursing, a vocational school, and a lovely church on the grounds. August 27 was the 100th anniversary of the arrival of the Missionary Sisters of the Sacred Heart of Jesus.
There was a three day celebration and we attended the first day when all the schools in northern New Ireland were invited. We were impressed with the level of commitment to the community so donated some kina to the school and to the Catholic dioscese. A short time later we were called to join the honored guests on stage. We did not mean to buy our way into being honored guests!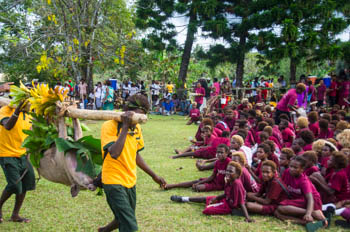 Call us cynical, but often we think missionaries did more harm than good in island nations. Perhaps accusing them of cultural genocide is a little harsh, but...
As Lisa from Otago University points out, they did bring health services and education and, in many cases, continue to fund these endeavors when the local governments cannot. Missionaries also translate the Bible into regional languagues and make dictionaries, thus keeping those languages alive. These are all important and should not be mocked.
I mention to the woman who brings my fruit bowl that I love the masks decorating the open-sided, thatched roof, dirt-floored dining area of the Nusa Island Retreat. "My father carved those," she says softly. "Which ones?" I ask marveling at the smooth wooden surfaces of some and the rough, painted life-sized heads with ornate bushy headdresses of others. "Most of them." My eyes light up. I have to see more. Dorothy says she will arrange for us to visit her village across the island and meet her father.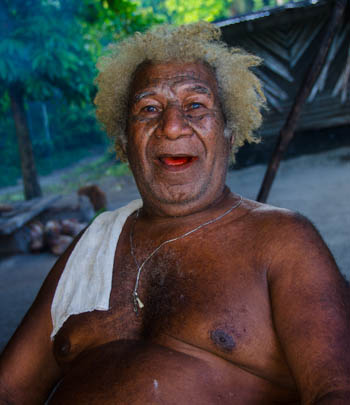 Jim and I meet Dorothy after her shift and walk together to Panakondo. The first person we meet is her father, Bruno Mondo. We like him instantly; he is friendly and funny. Dorothy's sisters and brothers' wives have set up two tables with necklaces and carvings. As I look at Mondo's carvings, those I don't choose are taken away and more are brought out. We learn the dark wood is walnut and the reddish wood is rosewood. The shapes of the masks show different headdresses so that when villages come together for festivals they can be recognized. Not all the carvings are masks. Some are fish, dolphins and small statues of people. Under this statue's grass covering is a substantial penis. I laugh when I uncover it. We buy him and name him Bruno. Mondo likes this and carves his name on the bottom of the statue.
Mondo has not always been a carver. To earn money he was a plumber. He came to Nusalik many years ago from Kimbe on New Britian. 'Raskols' make that city a dangerous place now so he is happy to be living quietly here.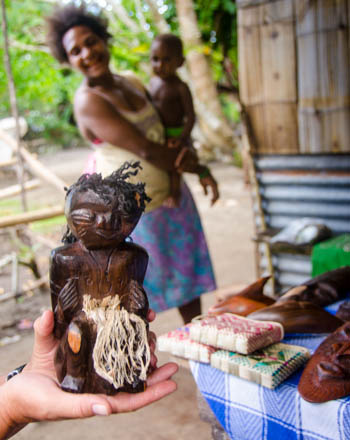 We learn that some necklaces are made of small shark vertebrae which has been boiled in hot water and then dried. Green spiral shells are used to make lovely bracelets and other shells create green and white bits that can be shaped and used as eyes on masks.
Traditional money is made from a certain type of shell that is filed into tiny circles and then a hole is drilled in the center for stringing. The longer they are, the more money they are worth. They are still used as part of a 'bride price' and we saw the head sister set one at the foot of the shrine honoring the 100 year anniversary of the Missionary Sisters of the Sacred Heart. We admire the one Diane shows us and ask if it is for sale. She answers, "No." Later Christine, Mondo's wife, says she will sell it for 150 kina.
Jayne, Mondo's first born, shows me a caling shell and says the outside can be cleaned off and the edges sharpened or serrated to peel potatoes or to scrape coconuts. That how they do it on picnics. I am intriqued and she offers to have her husband, Blaise, make one of each for me. I quickly agree. They are my favorite galley souvenirs ever!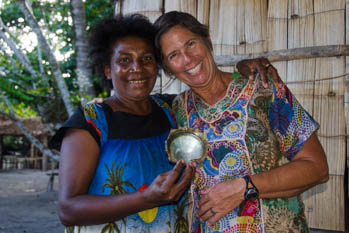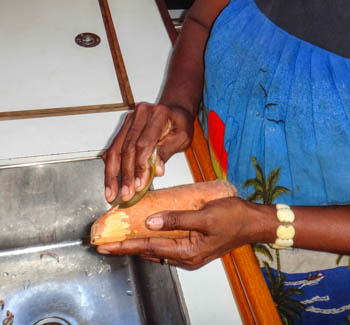 We buy several of Mondo's carvings and when the shopping spree is over he gives me a carved pig, I think because I get excited each time a pig wanders by. I say we'd like to buy a bigger mask like those at the resort. Mondo says he'll carve one that has a long tongue, and shows us the piece of walnut he will use.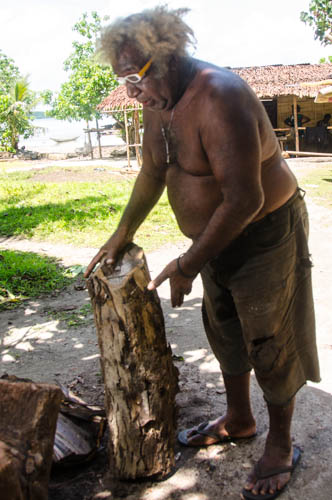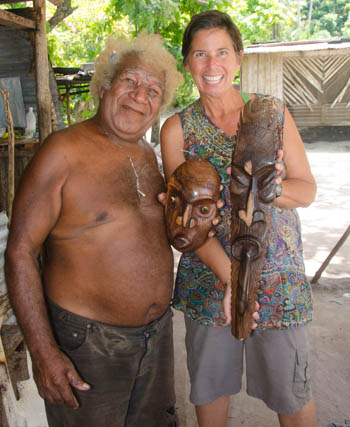 A few days later we go back to the village and buy our new mask with the long tongue and another he has carved for us, a globe fish. He starts to tell us the story of the globe fish but he says his English is not good enough. So the next day he tells the complete story to Sylvester in pidgin, who translates it to English and writes it out for us.
Click here to read The Legend of Tangut the Globe Fish
We return to the village several times. Each time Nago the dog leads us. He always runs ahead and then stops in the middle of the track until we reach him and I boot his rear. Sometimes Jim fixes things, other times we are delivering or picking up things in various states of repair. Anything that we bring back to the boat to work on must to be sprayed with bug spray. Cockroaches seem to love living in old electronic gadgets.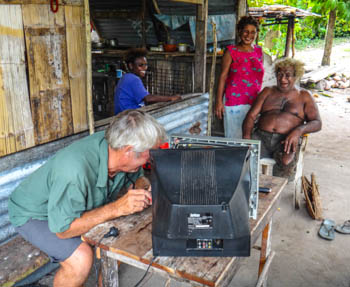 Jim finally gets a chance to try betel nut. They forget to tell him to keep the mustard seed dipped in lime (the mineral, not the fruit) away from his tongue, only poke it into the betel nut he is chewing. His tongue hurts the rest of the night but it is red and he is happy. As Mondo says, he's "a real island man".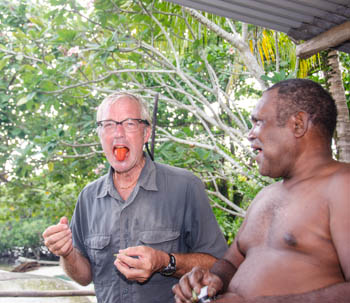 When it comes time to leave, our friends at Panakondo want to have a mumu for us, a traditional feast. It would last until late in the night and we need to leave early the next morning for the three day trip to the Hermit Islands so was ask to just have a small, early dinner instead. I bring a chocolate cake and Dorothy fries two reef fish and boils pumpkin and greens. They are deliciously smothered in coconut milk. We give each other gifts. At one point the pigs get restless and start snorting and squealing. Mondo goes to a bench, sits down, and chops coconuts for them to eat and drink.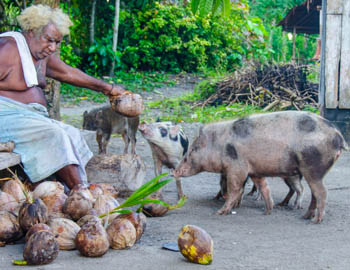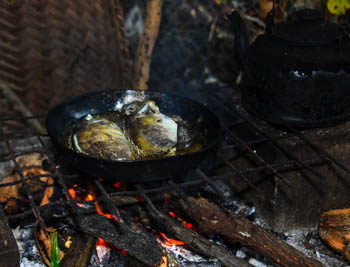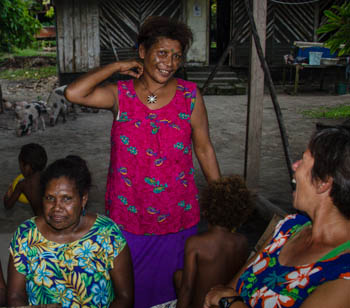 Each time we part company we say, "Mi lukin yu behaen." That is "I'll see you later." When we leave for last time Jayne says, "Mi lukin yu no mo." Tears roll down my cheek. Daisy and her daughter, Delty, walk us to the end of the village. Dorothy has disappeared. I hug Daisy one last time and now she is wiping her eyes. Jim and I walk off into the dusk alone. My heart is heavy.
Info for yachties:
It was a five day, 664 mile passage from Panapompom to Kavieng. We could have stopped at Budibudi Atoll, where the people are friendly and there is a safe anchorage, but we preferred making the trip in one shot. We didn't know it at the time but they use sailing canoes too. For safety reasons we passed by Kokopo and checked in at Kavieng. Southwest of New Ireland we passed a spot marked PLANET DEEP on the Navionics chart. We've never seen that before. It says the depth is 8789 meters; about 27 thousand feet. That is like Mt. Everest upside down!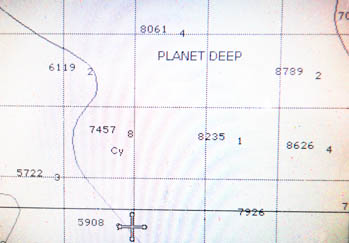 Anchorage: When entering, keep the first mark to port, the second to starboard. Two others with white tops further down mark more of the reef. The small one between the two sets flashes at night and guides banana boats to and from the resort. That is the one missing from most charts. Ignore it for entering the Duck Pond anchorage. Reefs and shallow water are clearly visible in decent light. There may be one or two small motor boats moored at the far end closest to resort. (Not pictured). Don't anchor any closer to land than they are. Holding is good in 10-12 meters of mud.
Just around the corner, beyond the bungalows on stilts, is the spot to land the dinghy at the resort. It shallows to sand and deep grass just beyond the two moored boats but is deep enough to pass. Turn left down the center of the channel between Nusalik and Nusa taking care to turn before reaching the area that dries at low water off of Nusa. Use the small flashing mark for reference, especially at night. Call Nusa Island Resort on VHF Ch 69 for an escort if entering in poor light. We thank their guest for this helpful aerial photo.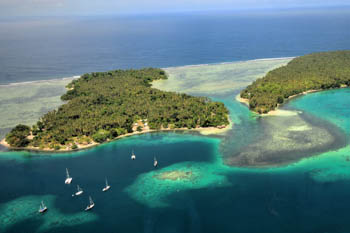 Nusa Island Retreat: Leave the dinghy at this eco-resort to catch rides on their banana boats to and from the market in town. The cost is 10 kina return and they will run a tab. Yachties are welcome for meals but a reservation for dinner is needed by 1400. Don't try to use their wifi, it's only for guests. Instead, buy a dongle and SIM card (3G) at BisiWorks or use the wifi at Scuba Ventures. Phone service is reliable and requires a different SIM card. Most people have mobiles and you will need to call for a boat pick-up. They may be able to help with fuel. Phone 723 18302 or (675)984 2257. VHF Ch 69. Email:nir@global.net.pg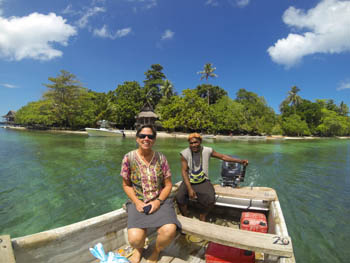 Fuel: A sure bet for diesel is Woodman Limited next to the Government Wharf directly across the channel. It is behind the range marker and through the gate in the fence. Take jugs over or make arrangements with Malcolm to bring any quantity of fuel to your boat in the anchorage. The cost is 4 kina per liter (USD $2) and a small service fee as well as the boat hire. You can also get petrol and zoom which is petrol with oil added for 2 stroke outboard engines.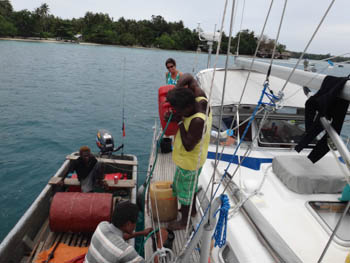 Customs and Immigration: From the market turn left and walk a short distance to the war memorial. Turn right up the hill following the stream of people. Stay on that street past Westpac bank, the bus stop, the post office (tall aerial, no sign) and the ANZ bank where there is a shorter line to get kina at the ATM. Customs will be on the left in the fenced area where Origin Gas is located. It is in the back left corner past DHL. We were able to get our visas here for 100 kina each for 60 days from that date. They weren't concerned that we had already been in PNG for a month. The official procedure is to check out and leave within 3 hours but they allowed us to check out the afternoon before leaving early the following morning. We were told by Shannon at the resort that a crew before us was unable to get visas and were given 3 days to leave the country, so best be humble, polite and respectful if you show up without one.
LPG: Origin Gas. Directions above. If coming from Australia and you've got odd cylinders, bring a receipt that you've had them fill by Origin before. We have new stainless tanks and they caused us all some grief before the man finally filled them.
Provisions and Necessities: Most shops are down the first street to the left when you reach the top of the hill. The chemist and hardware store are on the left. Bisi Trading is the nicest food store (no sign, on the right almost directly across from the other bus stop) but most locals shop at Joe Tong a little further down. Turning right at Joe Tong will take you to Bisi Trading if you need a dongle and SIM card. There are many little Chinese shops that sell all kinds of stuff. Taxi Kavieng 727 452321, Star Taxis 727 45239
Diving: Wrecks, drift dives, beautiful walls, tons of fish... It's all spectacular! Cara and Dorian of Scuba Ventures Kavieng are super nice and have some great guys looking after divers. We took our Advanced Underwater course from them and really enjoyed it. If they have a group going out, yachties are welcome to join for a reduced price. They provide wifi for 30 kina/hr. at their office across the channel. Phone 726 44440 or (675)984 1244. Email: info@scubakavieng.com
Laundry: Nadine in the village next to the resort can do it or Alice further down the beach. Just ask either the resort or as you walk along the beach meeting your neighbors.
Trash Disposal: There is a rubbish bin at the market and others around town. The resort has to haul all theirs over to town so don't add to their burden.
What to buy if going to the Hermits and Ninigo: Sugar, flour, rice, salt, flip flops, fish hooks, wood glue and epoxy, paint, fabric, needles, thread, scissors, washing powder, bleach, Panadol or Tylenol, brass screws, nails and hand tools. They have sailing canoes in Ninigo so tarps, twine, big needles and ropes. Masks, snorkels and fins if you've got extras. Convince those visiting friends to leave theirs! The folks in Ninigo really need used clothing. They are rarely visited by yachts as most go to and from Palau from the Hermit Islands. Save your petrol if going to Ninigo because getting to shore is a long dinghy ride.
Go to September 2013 Part Two - The Hermit Islands, Papua New Guinea