August 20, 2013
10 47'.20S 152 23'.30E
Panapompom. Pana means island. Pompom means big leg. Neal tells us the story. Many people here had one normal leg and one very, very big leg. People were afraid it was contagious. The island was no good, people moved away and did not come back for a long time. There are still two old people on the other side of the island with big legs; all the others have died. So here we are on the island of elephantiasis disease.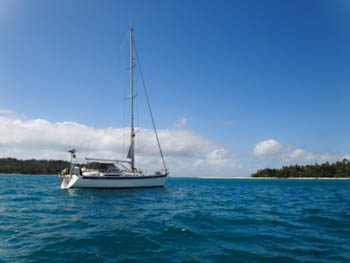 Leaving Panasia we saw a big ship in Cormorant Channel. It appeared to be coming straight for us so I turned on AIS. Nothing. We altered course to sail on a beam reach to go in front of it but it still seemed on a collision course so altered course again to pass starboard to starboard. We passed less that .25M CPA with still no AIS information. 15 men were on deck, very strange for something that looks like a coal ship. The name on the bow was Ya Ta 2 and Chou Zhou was written across the stern.
We tell ward councillor, Ishmael Losane, when we arrive. Joseph Saulo is here from Brooker Island and says he saw the ship anchored near Panasia when he left. He says six different boats come for two weeks at a time and behave the same way. They anchor during the day and move around during the night. He went on board once but the captain did not speak English. They have been coming since 2010.
The people of Brooker and Panasia are very frightened when the boats are there because they do not know what they are doing. The people do not take saltwater for boiling food and they do not fish.
We inform PNG Search and Rescue and ask them to forward to the proper authorities. The next day we receive messages back from both MRCC and SAR thanking us and saying they will take action.
It was a lovely sail north to Panapompom from Panasia. 31 miles with overcast skies, slight seas and SE winds 11-17 knots. It doesn't get much better than that!
Despite its name and history, Panapompom, in the Deboyne Islands of the Louisiade Archipelago, is a delightful place. The water is clear and warm, turtles swim by and squid congregate beneath the boat. The anchorage can get rolly when the swell wraps around Nivani, and bouncy in high winds, but in two weeks it never gets bad enough for us to consider moving.
The people are friendly and welcoming. The men make magnificent wooden things, from intricately carved spears to model sailaus to full-sized, long range sailing canoes.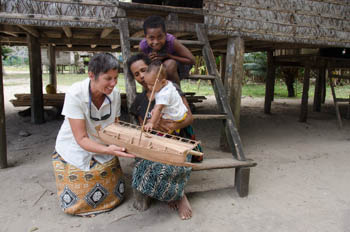 Children greet us each time we go ashore and help drag the dinghy up the beach. People like to trade but are tempered in their approach. They also need kina to send their kids to school. Joel sells us a beautifully carved ebony spear and another man offers a gorgeous and delicious painted crayfish after we give him a pair of reading glasses. Others bring green coconuts, limes and cherry tomatoes to trade and baskets and shells to sell.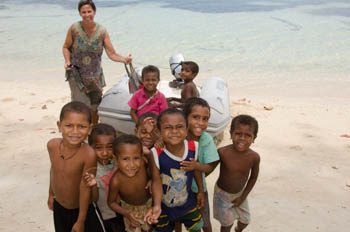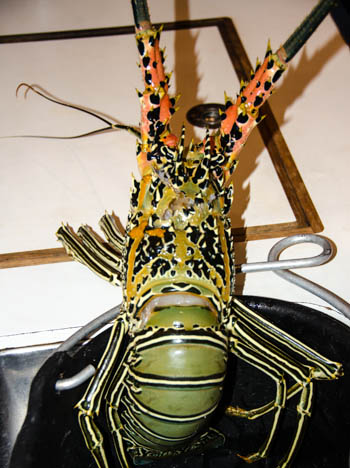 It is hard for people here to earn money. They cultivate and sell copra but that pays very little at the moment. In the past they have sold beche de mer (sea cucumbers) but harvesting is not allowed now. Their best hope for kina is to sell crafts to the few visitors that sail into their bay.
Ishmael is a soft-spoken bright young man. He was recently elected ward councillor, the government representative for the island. He wants to help the people get the things they need like an outboard motor for the banana boat to take sick and injured people to the clinic on Panaeati when the weather is too bad for transport by sailau. They also need chain saws to cut wood for houses. The government has provided some roofing materials but the frames must first be built.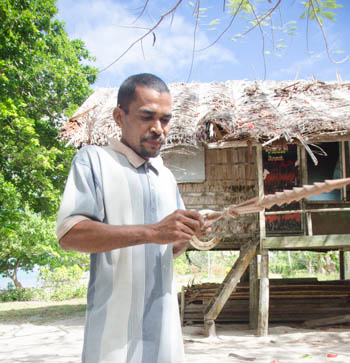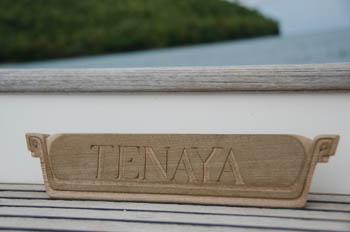 Ishmael is a talented carver and organizes the events for the Louisiades Rally which visits each September. Although they only stay two days, the crews are treated to canoe races, sailau races, a feast of local food and the opportunity to buy beautiful carvings.
In return, the locals receive clothes and other items they desperately need from the 20-30 boats, and the rally organizer donates funds and supplies to the clinic on Panaeati, a neighboring island.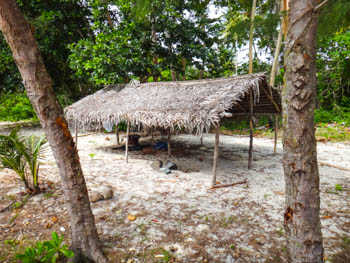 The rally is one of the highlights of the year for the islanders. They clear any fallen branches, coconuts and washed up rubbish from the beach on Nivani, the small uninhabited island nearby. A shelter has been built for yachties and they are welcome to have BBQs and parties on shore there.
During WWII the Japanese had a seaplane base in the lagoon. The allies were at Port Moresby on the mainland. Poate was a small child and remembers his mother carrying him as she ran into the hills when planes flew over and there was gunfire. Both Japanese and American planes litter the land and sea of this area.
There is Japanese Zero in the shallow water between the two islands and there are the remains, which is really just a propeller, of a Japanese plane at the end of Panapompom. Abel George, a former school teacher that lives in that village, said it used to be an entire plane, painted red. Over the years all the parts have been carried off to be used in some manner. The wreck of an American plane sits just inside the reef on the way into the anchorage.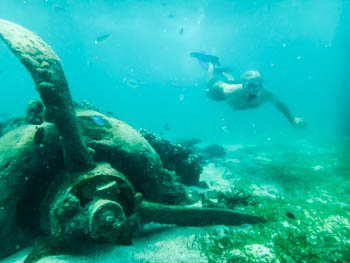 For many years there was a copra plantation on Nivani owned by an Australian named Dusty Miller. Ishmael's father, Milia, was the manager and foreman. Miller was also involved in collecting beche de mer and trochus shells for the Japanese market. He became ill in 1981 and returned to Australia to die. He turned the business over to Milia who ran it successfully until two of his brothers that live on the mainland stole most of the money. Milia is proud that he is the first native man in Deboyne to get a business from a white man.
Milia lived on the island for a few years and then moved over to Panapompom. He still owns it but allows others to collect coconuts to make copra.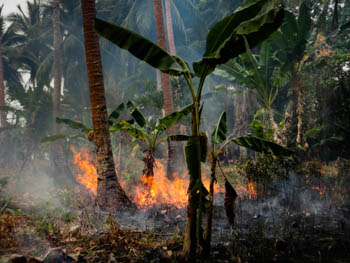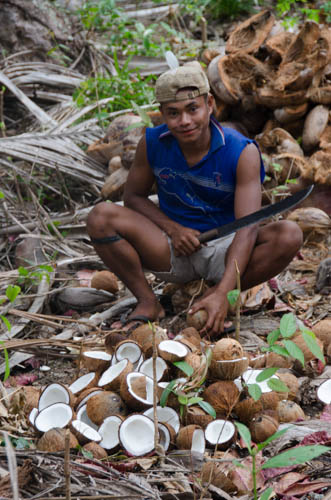 When we first arrived, Martin paddled up in his dugout canoe and showed us where to anchor. Once we were settled he came aboard for some banana bread and stories. The people of PNG love to tell and listen to stories.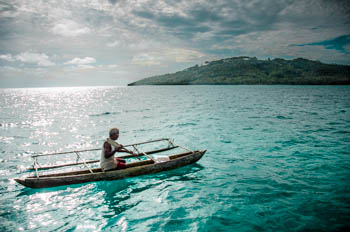 We found out that his sewing machine wasn't working properly. Two days later Jim fixes his well-maintained but ancient Singer hand crank. Word spreads. Many more people have broken machines. They stop us in villages and carry them from all parts of the island. Jim is back in business as the sewing machine repairman.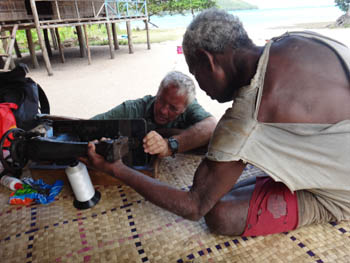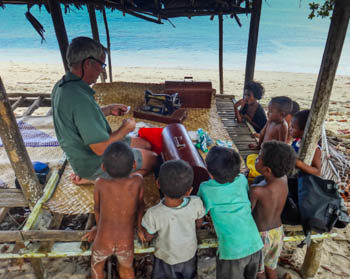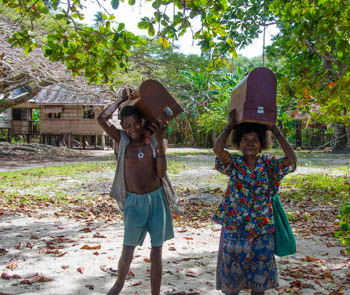 Cockroaches scurry out of two when the cases are lifted off and the one below is rusted and beyond hope. Inside Jim finds broken eggshells from an abandoned nest of a small bird or reptile. We have no idea.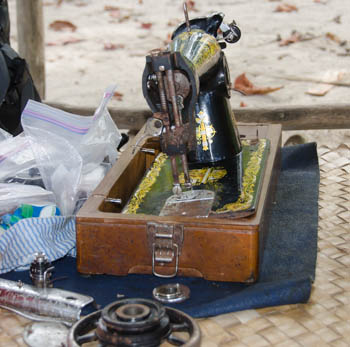 Ideally, it would be nice to offer a repair workshop. But, in reality, each machine is different, complicated, and it is time consuming to determine the problem. And there can be many problems! We do not have enough tools to supply everyone and people here do not share. Instead, Jim offers to explain what he was doing to the owner of each machine as he goes along. He stresses keeping the machine clean and oiled.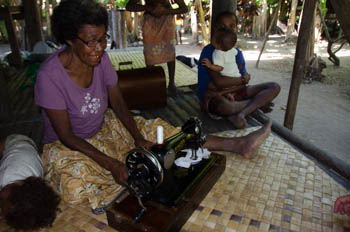 Wendy (with her new eyeglasses compliments of sv Worrall Wind) and Poate (pronounced Pwotty) allow us to set up shop under their house. She watches carefully as several machines are repaired and understands how they work. A member of the Women's Fellowship, Wendy will help the ladies with their machines. Martin worked in the shop of a mining company and is good with mechanical things. With their knowledge and help, we think there is a brighter future for the aging, hard-working Singers on Panapompom.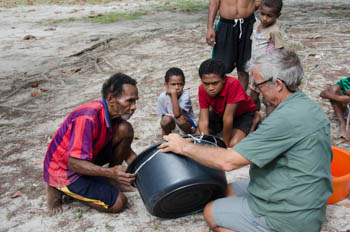 People lack the most basic items. Like glue. They usually know how to fix things but have no resources to do so. Jim helps Milia fix a new wash tub that was cracked on the transport boat from Misima. Abel Luwamai's plastic water tank had a number of cracks at the bottom and would not hold water. Jim fixes both with epoxy, adding a support bracket to the wash tub. Such quick, easy and inexpensive repairs can make big differences to the people living in remote areas.
A solar powered battery washed up on shore with a GPS, probably from a fishing operation. It works fine but Jim adds some wires to make it more user friendly.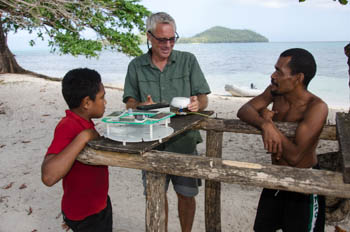 Ishmael's mother, Grace, is part Fijian. Her grandfather was from Fiji and was the first missionary to settle here. He married a woman from Panaeati. Grace has long, thick black hair and is tiny compared to my towering 5'8" body. She weaves beautiful Fijian baskets and gave me one as a going away present.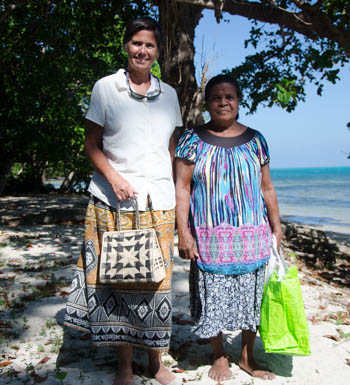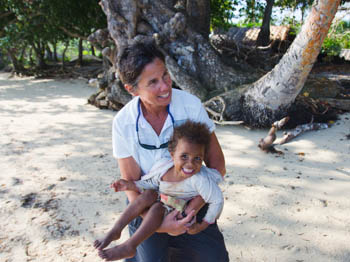 The kids love following us around and we love them. When one of us pulls out a camera they pose and can't wait to see themselves on the screen.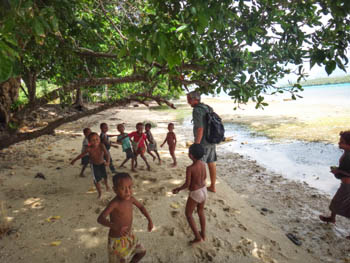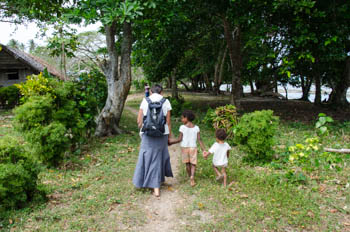 Sometimes we carry a portable Polaroid printer that makes 2x3" photos on the spot. This is a great way to meet new people and give them something for the photos we take.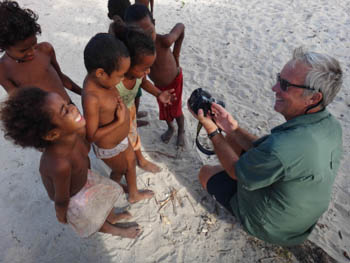 We sit on the raised open-air deck under Poate's house while Jim works on Elsie's sewing machine. He tells me about the job he once had as the Malaria Eradication Officer for the Health Services. "Is there still malaria here?" I ask. "Oh yes. Plenty. But we've got Chloroquine," he answers. He reaches up into a space between two 2x4s and pulls out a bottle to show me. "This works for a while but then you must use two other medications that are stronger," he says.
He explains how the female mosquito is the one to transmit the disease from person to person. They come out between 7-10 pm. Malaria is only eradicated when none of the people have it. The mosquitos will always be able to transmit it. He could not eradicate it because the government ran out of money. "They provide the Chloroquine and treated nets for people to sleep under," he says, pointing to two nets hanging against the only wooden wall.
A little while later Poate, who is 72, asks if I have some pain medication on the boat. "I've been sleeping here three nights," he points to the mat where Jim lies peering up inside a machine. "I think I've got malaria now. It makes your joints sore and you don't feel well."
"What about your net?"
"I didn't use it," he answers with a chuckle, "I didn't think there were any mosquitos but I got bit while I was sleeping." It's a wonder he's outlived the 58 year life expectancy by so long. I make a mental note to buy malarial treatment when we reach Kavieng and to bring in some Tylenol for him the next day.
Poate's brother is Milia and his sister is Lidia. The other brothers live on the mainland. They live close to the land, in bush houses made of sago palms and pandanus, and eat produce grown in their gardens or fish caught in the sea. One day we watch Poate make a rope by winding long sinewy fibers together.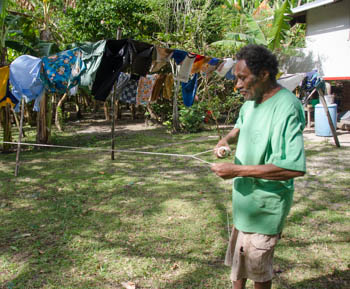 Yachties can thank Milia for the warm and gracious welcome we receive. He instilled the culture that locals respect the yachties and their boats. His rules: Do not steal things from boats, offer to trade if you want something. Do not ask for too much. Do not let your canoe touch the yachts. Be polite. Most people are religious to some degree, either Uniting Church, Church of Christ or Seventh Day Adventist.
Milia was ward councillor for two terms several years ago and he is still highly respected in the community. During his tenure, people were given, among other things, solar lights by the government.
He has four children: Noino, Tobby (pronounced Toby) Ishmael and Julie. Noino and Julie are both pastors. Tobby is an administrator at the school. Ishmael is the councillor. All visited us on Tenaya and told stories of their struggles and accomplishments. They are bright, positive, kind, loving, hard-working people. We like them all very much.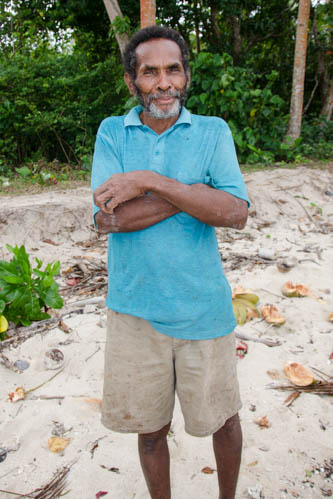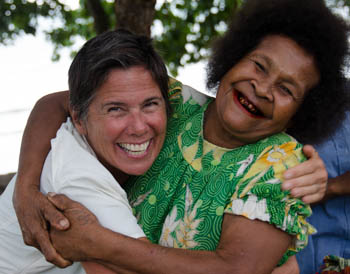 When we ask if school costs money or is free, Poate says the answer changes depending on who is leading the government. Sometimes the government pays, other times the people must pay. "How can people plan?" Jim asks. "They can't," he answers.
Julie is Tobby's daughter. She solicited funds from yachties to continue her education to become a teacher. Now she is head teacher and administrator for the elementary school which includes grades EP (elementary prep) E1 and E2. She teaches EP and her assistant teaches E1 and E2. Children in grades 3-8 must go to primary school on Panaeati and stay with relatives during the week. If the families have enough money, kids go to grades 9 and 10 at Misima and only come home on holidays. Families rarely have enough money for education beyond that level.
Once the children are six years old they walk across the island to the elementary school. It's about 3 miles and takes one hour each direction, crossing a river that has crocodiles. Small crocs, we're told, because the boys kill the larger ones. The kids must be there by 0800 to help with school beautification before classes begin.
One day Roseanne, Milia's daughter's first born, guides us to the school. We follow a path beyond the sports oval past a sago palm field. Later we pass an abandoned copra plantation. When we reach the other side of the island we walk along the beach which is sometimes sandy, sometimes exposed coral reef. I am relieved her dog, Chobby, wades into the river first. If there are any crocs, I guess he'll be good bait.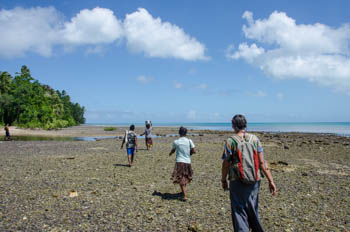 As we round the first school building we hear small, excited voices calling, "Dim Dim!" That's what white people are called. Actually it is the name of the color of our skin which is not really white, but a color in between black and white.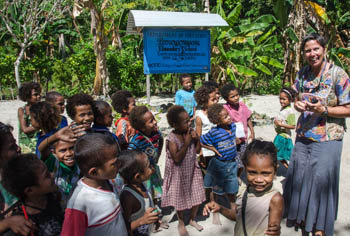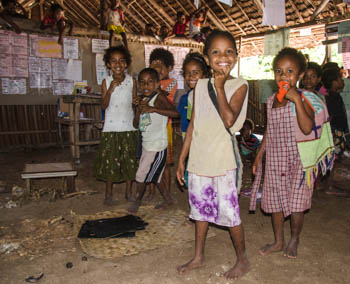 Elementary Prep is in one school room and E1 and E2 are combined into the second. They are made of bush material and have dirt floors. Julie would like enough money to make all the children small desks to keep their work off the ground, but that is way out of their budget.
We are extremely impressed at the level of English and math skills the children are learning, and by Julie's determination and hard work. She does not have syllabi so she and the other teacher teach from what they've learned at workshops and what they know themselves. I would guess they are teaching at a higher level, but the kids are getting it. Good on her! We will try to buy a syllabus for each grade and some age appropriate books in Kavieng to send her.
If any yachting Aussies would like a rewarding project, helping this and other schools would be one. Google Hands Across the Sea to see the difference two people are making in the lives of Caribbean school children. You could do the same!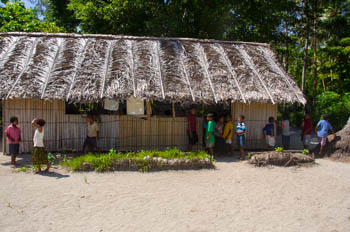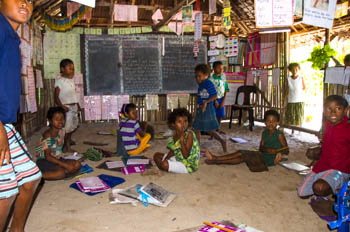 Often we go ashore in the morning and stay most of the day. Sometimes Jim fixes things and we are almost always talking with someone, young or old. The locals are curious about us, asking if we have children and where we will go next. They are amazed to learn Tenaya has been our only home for eight years. They tell us we are welcome to stay as long as we'd like.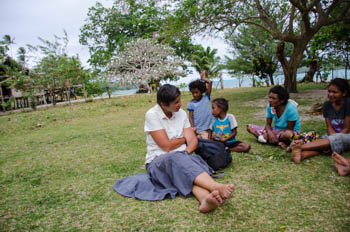 When our friend, Steve, visited us in Australia, he brought our back issues of National Geographic. They are ideal presents for islanders but we always read them first. We've just finished the February 2013 issue which has a terrific article about people making their own soccer balls in Africa. Sure enough, kids do the same thing here! They stuff coconut fibers into a small plastic bag and then tie it tight. Check out the ball Jean is holding in my lap and the one the boys are kicking around.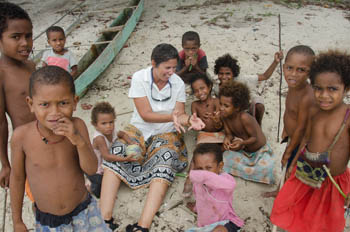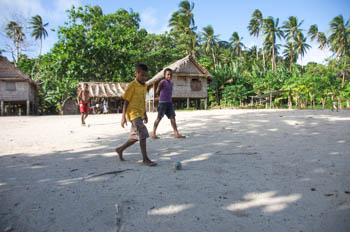 There was a cyclone here in 1997 that took all the canoes away. Fortunately, there hasn't been one since and most families have a paddling or sailing canoe.
These kids paddled out to Tenaya. When Jim asks if they would like to come aboard, they exclaim, "Yes, please!" I am busy making banana bread but Jim gives them a tour and sends them off with a National Geographic which makes them very happy indeed.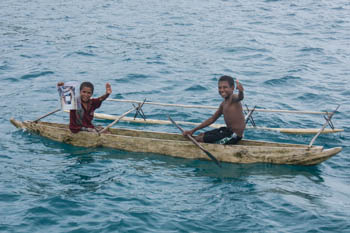 Saturday is Games Day. Nobody fishes, nobody works in their garden. Everyone plays or watches. Men and older boys play soccer. Women and older girls play netball. Most are barefoot but some have proper shoes. Roseanne traded a big basket for a pair of my Merrell barefoot runners, and Jenny traded two small baskets for a pair of water shoes. They want the footwear for netball which is kind of like basketball. People don't cheer or boo and there is no clapping for scores. But we saw the trophy Ismael's team won last year. It's big. So winning is important.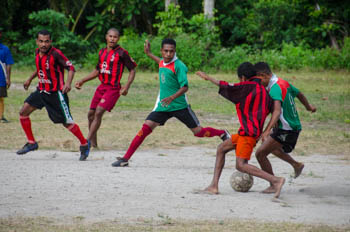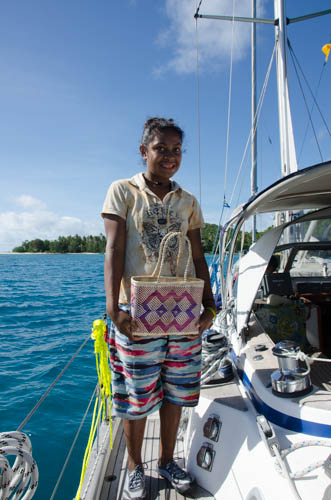 Before we go ashore for Games Day, I stash a bottle of bubbles in my purse. When I am joined by a few kids I pull it out and blow a few bubbles. Their eyes widen. Then I hold the bubble forming stick while the kids blow. Big smiles! More kids come but some who don't know me are afraid. After a while I give the jar to Tracy and ask her to help all the kids blow bubbles. I leave to find Jim. Every once in a while we hear shrieks and laughter and turn to see the kids chasing bubbles.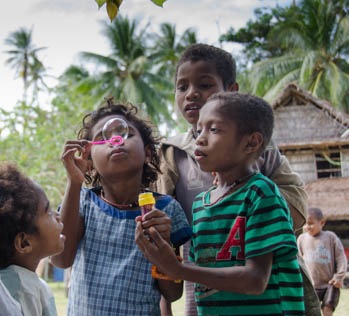 There is no mobile phone coverage and there is no land line or sat phone. The only way people can contact others is to take a transport boat to Misima or wait until a yacht is anchored and offers the use of their onboard email. We sent several messages for Ishmael as he coordinated the rally and some for others asking their Australian friends to send items they need with rally participants. That seems like a lot of trouble for the friends, but once you know these wonderful people, you will probably want to go out of your way to help them.
It was heartbreaking when it came time to say good-bye to our friends on Panapompom. Milia and Ishmael's son, Junior, paddled out to say good-bye one last time. Then Ishmael came out and left us with a farewell letter that made tears well up in our eyes. We will do whatever we can in the future to help him and his family.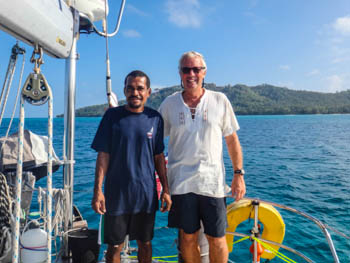 If you are a yachty coming this way, people in the Louisiades need the following: clothing sizes small and medium, modest for women, kids clothes for all ages, sugar, rice and flour, exercise books and pens, fabric, sewing needles and elastic, fish hooks and line, ropes of various sizes, band-aids (plasters), antiseptic ointment, pain relief, elastic bandages, rechargeable solar or manual flashlights, reading glasses, hand drills, saws, waterproof nails and screws, metal plumbers tape, hammers, waterproof matches, tarps, waterproof laundry bags, soccer balls and shoes, ladies athletic shoes (size 8/40 and smaller) big needles and twine to sew sails, silicone or waterproof wood putty, epoxy, paint and brushes, dive masks, snorkels and fins, kitchen utensils, AA, AAA and D batteries.
This is a huge list, but anything you can bring will be very much appreciated.
Go to August 2013 Part Three - Sailing Canoes in the Lpouisiades, PNG