July 31, 2013
"This is not going to be one of your favorite passages," said the message from Brynn at Commanders Weather for our route forecast from Cairns, Australia to Panasia Island in the Louisiade Archipelago of Papua New Guinea, 585 miles to the northeast.
A break in the 25-30 knot tradewinds and 3-4 meter swells allowed us to leave on July 20. Winds were down to 10-15 knots and the swell was less than 2 meters. That's as good as it gets this time of year. Both were forecast to pick up two days later with the wind coming more from the east, but at least we could get through the Great Barrier Reef and the first couple of days out would be nice. A green flash winked good-bye as Cairns faded into the distance.
Tenaya was in Australia 7 1/2 months but we flew to California twice so missed 9 weeks of exploring this country which, if I haven't mentioned before, is really big. We are happy to have spent time at Fraser Island, Mooloolaba and Coffs Harbour on our way to Careel Bay in Pittwater and in Sydney. We feel fortunate for having had lovely weather while sailing through the islands inside the Great Barrier Reef. The Aussie friends we made in person and online certainly helped us enjoy our time there. Thanks everyone!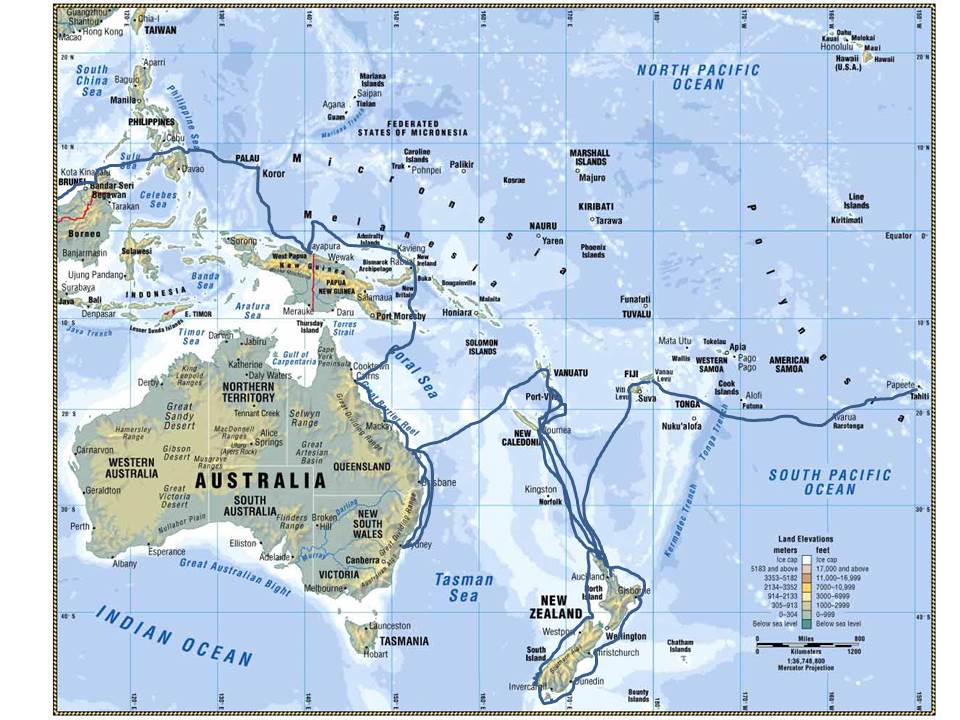 We tried for as much easting as possible which meant we were hard on the wind for two days. That, combined with a sinus infection and a migraine were more than my stomach could take. What little I ate or drank came back up and went over the side.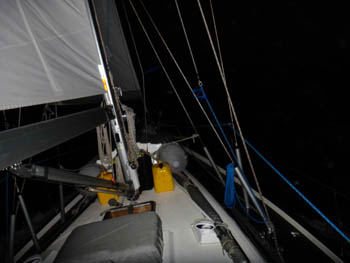 If I was not on watch, I slept. Sometimes I even slept on watch for 15 minutes at a time. I daydreamed of Tenaya being loaded on a big ship and Jim and I meeting her in Turkey instead of sailing around Africa. How nice it would be to be back in the Mediterranean. No more ocean passages. That sounded like a really good idea. I threw it out to Jim one morning. He smiled.
On Day 3 we backed off to a broad reach which took us more northerly. The comfort level increased dramatically. The seas were no longer breaking over the bow and splashing into the cockpit. Aahh, this was nice. I began to feel better.
Each night boobies flew around trying to land on the radar dome. One night one landed in the cockpit and made a huge mess on the dodger when I chased him away.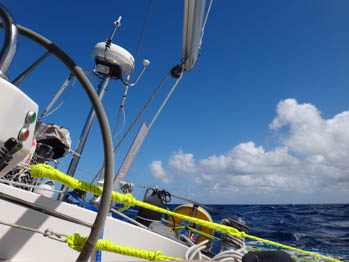 The moon was full and night watches were warm and serene. Except for a few gusts, the wind remained less than 20 knots. It didn't matter if the seas built now because we were going downwind. But I don't think they did. The sailing was ideal as we finished our crossing of the Coral Sea. I began to think of sailing to Africa again.
At dawn on July 24 we reached the Jomard Entrance. This is the Big Ship Route between SE Asia and Australia. We crossed paths with many cargo ships as we approached and had to alter course twice when their CPA (Closest Point of Approach) was less than half a mile. We crossed into the barrier reef of the Calvados Chain of the Louisiades and sailed ten miles to Panasia Island.
Approaching from the south, the island appeared tall, rugged and green. As we found our way between the reef, our hearts, which lodged temporarily in our throats, soared. What a beautiful place!
Limestone cliffs rise straight out of sparkling green water. Palms line the sandy beaches and other trees cling to all but the steepest walls. There were no other yachts. Soon after the anchor was set we went ashore to meet John and Gwen, the couple that live at the beach by the anchorage. John gave us four crayfish as a welcoming gift. The next day we received a steady stream of visitors on Tenaya. We are happy to be back in the islands!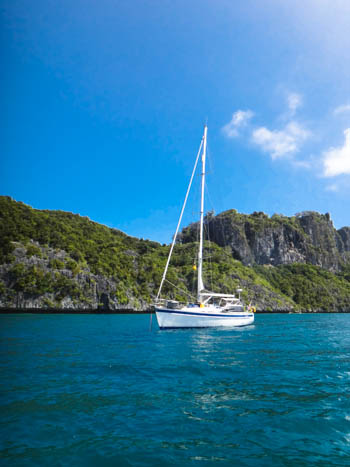 Go to August 2013 Part 1 - Panasia, The Louisiades, Papua New Guinea