July 6, 2013
Steve's back! He sailed with us from Santo, Vanuatu to Bundaberg last year. We had terrific experiences in Santo and in Chesterfield Reefs, but he didn't get much time in Australia. When we asked if he'd like to come back and sail through the Whitsundays, he quickly replied, "Oh Yeah!"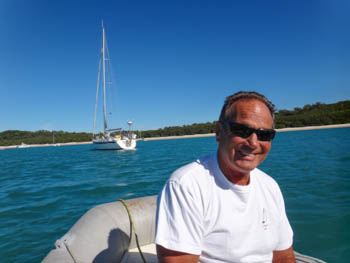 Our guidebooks say the Whitsunday Islands offer some of the best sailing in the country. Dozens of tree topped islands, sandy beaches, rocky outcroppings, walking tracks and snorkeling spots just add to the adventure.
Some islands are mostly pristine National Park lands with well maintained walking tracks. Others have resorts with low-key to larger operations.
Prevailing SE winds are usually 15-25 knots, the winter weather is often fine, the water is 25C / 70F and most islands have at least one safe anchorage. Pretty much a perfect place for daysailing!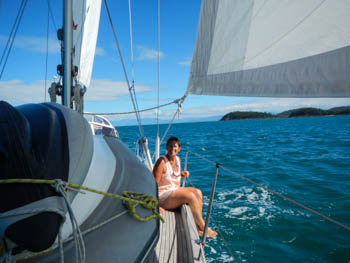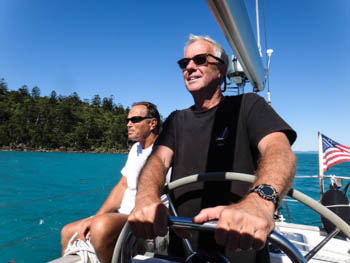 June 22 - Brampton Island
20 47'.98 149 15'.72E
We released Tenaya from the berth at Mackay Marina and sailed under sunny skies with 13-15 knots downwind to Brampton Island. Anchored by 4:00pm, we did not go ashore. The resort does not welcome yachties. Instead, we kayaked around the bay watching the big, white Australian pelicans and rare beach stone-curlews feed along the shore.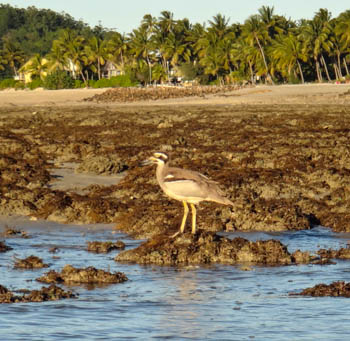 June 23 - Burning Point, Shaw Island
20 30'.22S 149 02'.82
Burning Point really was burning! A series of controlled burns lit up the landscape in several spots on Shaw Island. It made for a colorful Super Moon.
There is a five meter tidal range in the Whitsundays. This is important to consider when anchoring for the night and leaving the dinghy on the beach.
We arrived on shore as the tide was going out so tied the 'rubber ducky' as far out as possible. The wet rocks were slippery as we climbed to reach the unspoiled beach at the head of the anchorage.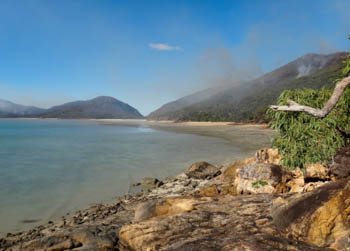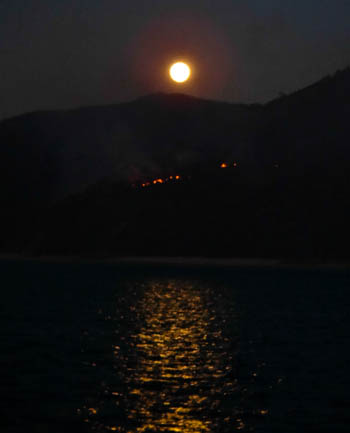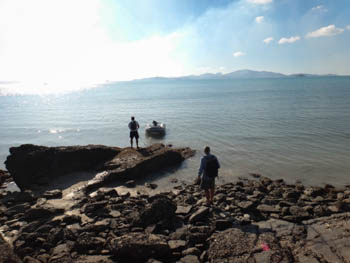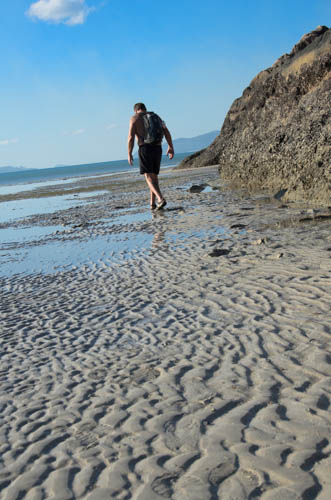 June 24 - Whitehaven Beach, Whitsunday Island
20 17'.33S 149 02'.96E June 23, 2013
"It's touristy, yes, but Whitehaven Beach is well worth the stop," said Darcy on the boat next to us in Gladstone. Others told us the same thing.
The sand on the long beach is incredibly fine and squeaks as you walk. It is a beautiful beach backed by not-too-dense bush with walking tracks.
Daytrippers are delivered near a nook at the head of the beach by walk-on boats. They are gone before sunset leaving yachties to enjoy the surfacing turtles and dolphins. This anchorage can get rolly but was quite peaceful while we were there.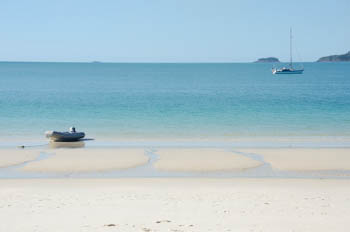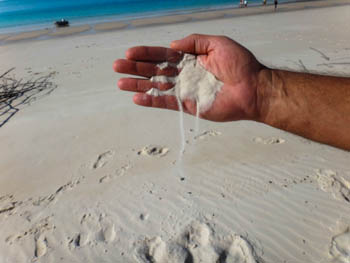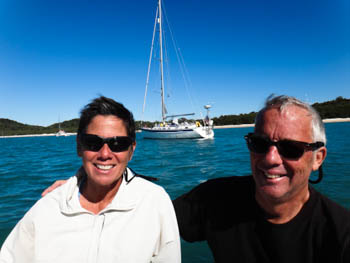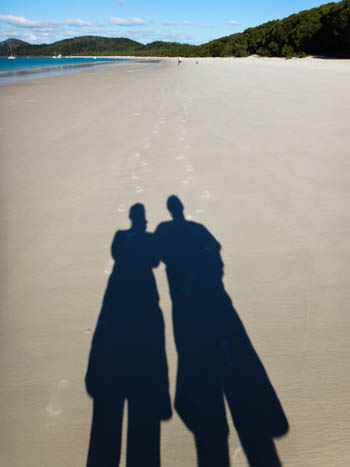 Jim and Steve paddled ashore to Whitehaven Beach to wait for the moon to rise. We were curious how the smoke from the controlled burns would affect the photos Jim planned to take.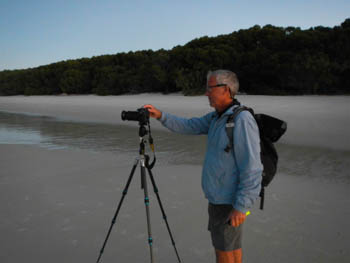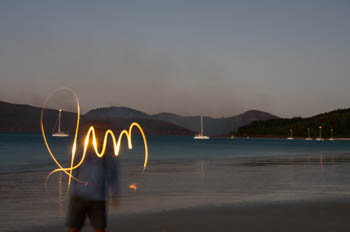 Turns out he needs more practice shooting the moon, but Jim has mastered spelling his name. That's Tenaya encircled by the J.
June 25 - Nara Inlet, Hook Island
20 07'.69S 148 54'.83E
The passage between northern Whitsunday Island and Hook Island is narrow. Chop bounced us around and the current tried to commandeer the rudder as we passed through.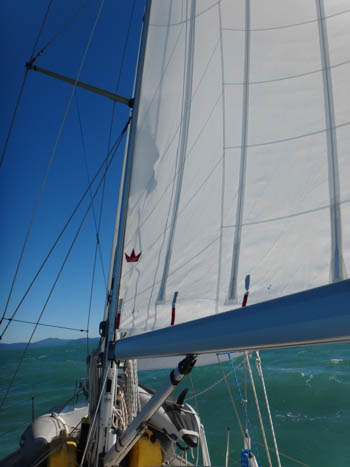 The entrance to Nara Inlet is narrow and shallow. Inside, a long, slim finger protrudes into bushy green mountains. It is absolutely gorgeous. The water was so calm that I could stand-up paddle the kayak.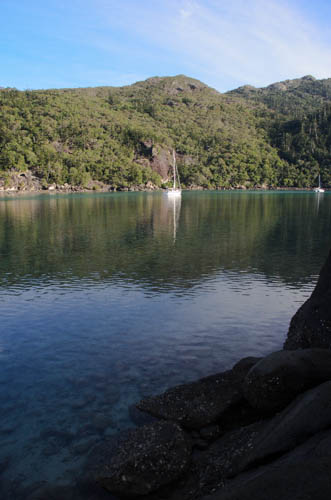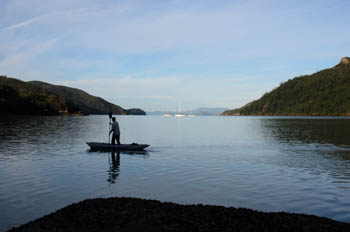 A sandy beach appears between the rocks at low water. It's wide enough for a few dinghies. A trail climbs up to a cave where aboriginal drawings and a midden of shells remind us of the original owners of this land. Steve pointed out a small snake on our way up.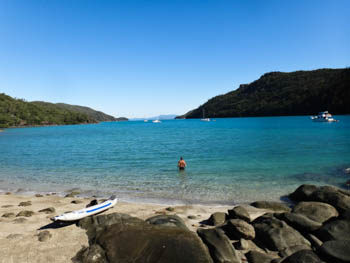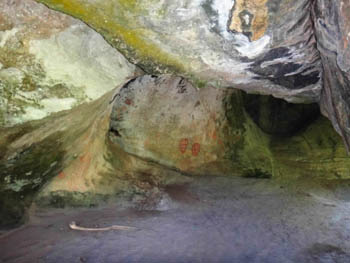 Manta Ray Cove, Hook Island
The next morning we motored out of Nara Inlet to Manta Ray Cove and picked up a two hour public mooring.
Smoke clouded the sky and colored the sun a deep orange-red. It was high water on a springs tide so the visibility was not great and the water was more than five meters deep. Still, we saw pretty coral and sponges and lots of fish. They surrounded us as we crumbled a crumpet in the water. No manta rays though.
June 26 - Langford Island Mooring
20 04'.79S 148 52'.66E
Needing to get an early start for Gloucester Passage the next morning, we picked up a public mooring at Langford Island. It's the most westerly overnight anchorage. So much ash was falling from burns on Nara Island that we stayed inside with all the ports and hatches closed.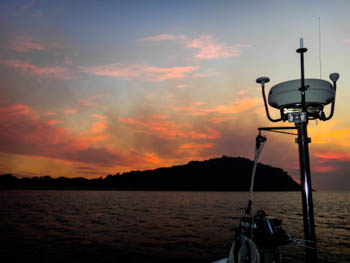 June 27 - Gloucester Eco Resort Mooring
20 04'.31S 148 26'.31
It was a warm, sunny day for our 32 mile trip to Gloucester Passage. The brilliant blue water was calm, ideal for spotting whales. We kept our eyes peeled to see just one of the 12,000 humpbacks that winter inside the Great Barrier Reef. Didn't see any, but we still had a lovely, relaxing day.
I'm not sure why we paid $25 to use one of the eco-resort moorings when we could have anchored for free. We received no discount on drinks or lunch and only ended up being scared to go in the water. Steve had an interesting conversation with Julie, our server, about jellyfish. Click here to read Dying to Swim, an assignment for my class.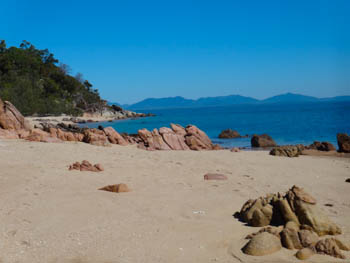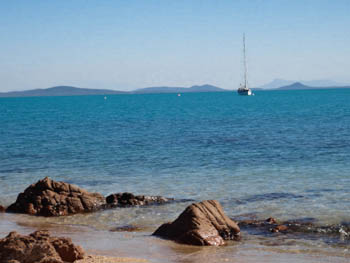 The next day we did an overnighter and arrived at Townsville the following morning.
Go to July 2013 Part Two - Townsville, QLD