June 22,2013
Hundreds of islands are scattered like stepping stones inside the Great Barrier Reef between Gladstone and Cairns. Reefs lurk just below the surface and there are vast areas of really shallow water. Overnighters would be scary. We plan to hop our way up to Cairns one day at a time.
When planing a route, I usually google 'anchorages, sailing and the place we're going' for information. But that was tough this time; there are lots of tour groups and charter boats here and way too many links to sort through. So, I hope this helps other yachties following in our wake. I didn't put wind info as our log was broken.
Cape Capricorn
23 09'.09S 151 13'.62E
We're officially in the tropics now! The guidebook says to tuck up under the lee of the cape. We are big, fat chickens when it comes to shallow water so stayed out in 4 meters. Bad decision. It was so rolly that I slept in the sea bunk. We left at dawn for the 49 mile trip to Great Keppel Island.
Great Keppel Island
23 09'.70S 1501 57'.14E
My new Aussie friend, Shelley, told me not to miss Great Keppel Island. Great advice, it's a wonderful place!
Just after Jim and I lowered the kayak over the side a woman zipped up in a skiff, introduced herself as Lindie and told us where the hiking track began. She invited us to stop by Svendsen's, the tranquil and tidy eco-resort she and Carl own.
On shore there's a yachties' camp complete with awning, fire ring, pots, pans, coffee, spices and a spare pair of sandals. Oh, and a little catamaran too.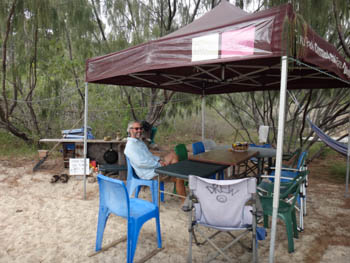 The path leads up into the bush and then back down to pretty Leeke's Beach. The only signs of man are the once-floating decorations hanging from a tree just beyond the sand.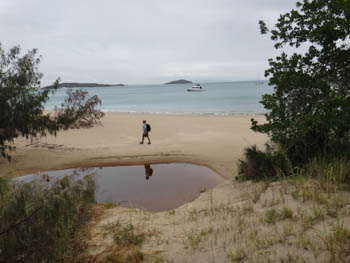 The track leads up and up through the bush. One section had millions of butterflies!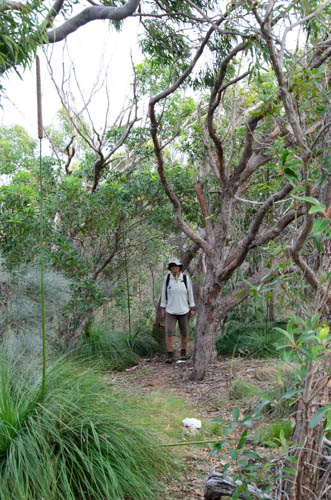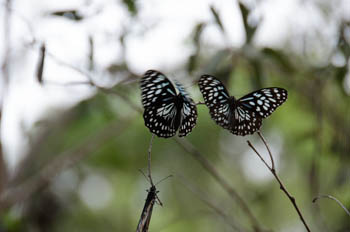 We rescued this butterfly from an orb web. I hope it doesn't give us bad spider karma. The Golden Orb and other spiders here are huge.
Lindie has painted stones with directions and inspirational messages. She and Carl have put pairs of chairs in the most scenic spots along the track.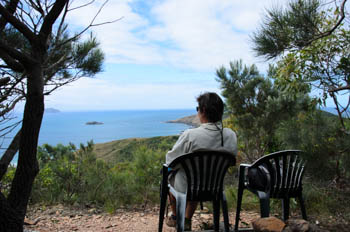 The Joshua C, an 80' schooner that Robin Cooke built, was anchored just off Svendsen's Beach.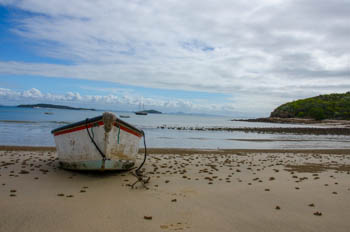 It's only eight miles from Great Keppel Island to Keppel Bay Marina in Rosslyn Bay. The winds were forecast to increase to 25-30 and the swell to 3 meters so we pulled in here for two nights on June 8.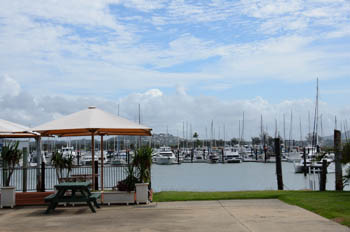 It's a pretty spot with a restaurant and welcoming folks in the yacht club. We went in for a beer and were invited to a BBQ.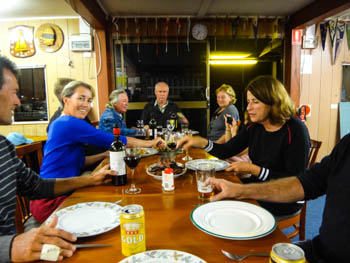 Two pretty walking tracks snake up and beyond the hill behind and a bus runs frequently into Yeppoon.
Pearl Bay
22 26'.62S 150 44'.01E
June 10 we sailed 58 miles to Pearl Bay. This is a really pretty site, completely natural. It's a pleasant place to paddle with rocky outcroppings on shore and on the islands. A pair of white-bellied sea eagles soared above and honked like horns.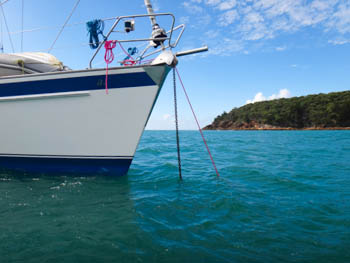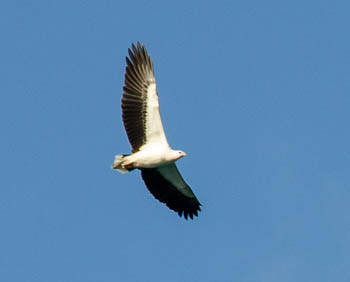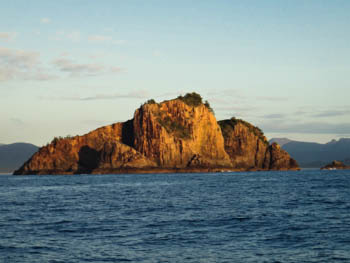 Middle Percy Island
21 39'.10S 150 14'.60E
On June 13 we motorsailed 59 miles in light winds to Middle Percy Island. It has a reputation as a rolly anchorage but it was calm when we arrived and through the first night.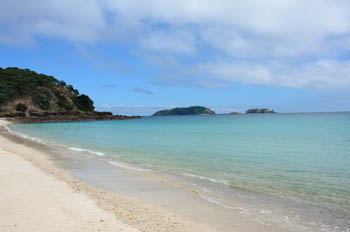 Just beyond the beautiful beach is an A-Frame hut filled with bits from visitors' boats. Names are carved in wood and painted on flags, crockery, sandals and more. They've been accumulating for decades. John Guzzwell's painted metal Trekka sign dates from 1958 in the original shed just down the beach.
His book, Trekka Around the World, is a fun read and Once is Enough, by Miles Smeeton recounts the adventurous rounding of Cape Horn by Miles, his wife, Beryl, and John in the Smeeton's boat. Written in typically modest, subtle British style, the stories encouraged us to push our comfort zone and made Jim and I realize the things you could do in a small boat and survive.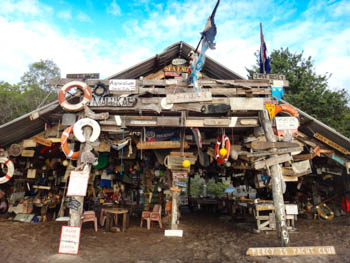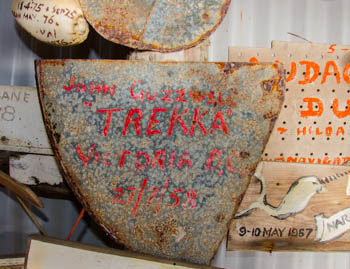 2.5 kilometers up the hill is the homestead. We planned to walk but Steve insisted we hop in the ute for a ride up and around the island, and then just walk back from his house.
I climbed in the back with Diamond, his 18 month old dingo/border collie while Jim sat inside with Steve.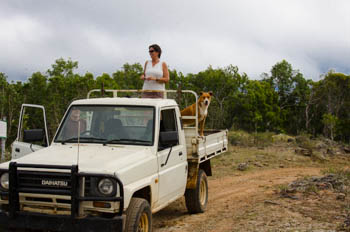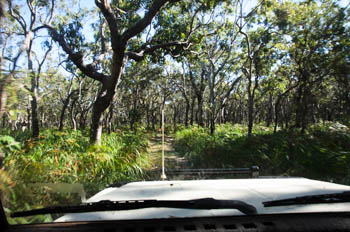 What a road! Dirt, rutted, sometimes barely existent, always rough. Steve negotiated it admirably; he drove trucks in the military after growing up as the lighthouse keeper's son on the next island.
There are many shapes and sizes of orb spiders. They are named for the shape of their strong, sticky webs that hang at head or truck level across tracks and roads. Middle Percy Island has a great number of orb spiders. Golden Orbs are bigger than the palm of my hand. Seriously.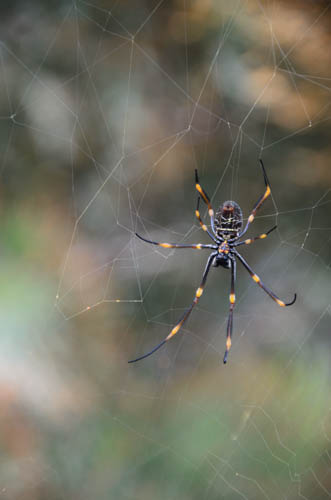 More and more spiders accumulated in the back of the ute as we bounced around the island. I found this extremely unsettling. When one was abruptly caught on the bar above the cab and threatened to let go right into my face, I asked "Can you stop, please?" Then, louder, "Steve, will you PLEASE STOP!"
Eventually he did. Not for my sake, but to pick up five other people. Just as the wheels were slowing there was a painful sting on my butt. I raised up and a really big, black, leggy female spider with a giant dark and light mottled abdomen was prancing away. More spiders of different shapes and sizes moved around me. I lost it, totally freaked out.
The others were Aussies and looked at me like I was nuts. Ernst, one of the caretakers, gently whisked each one out as I pointed, "There's one .. there's another... get that one too..."
"You'd better not come to my house," Ernst said. "I've got huntsmans. Now those are big. And so fast they don't need webs, they just attack."
Right. Only in Australia.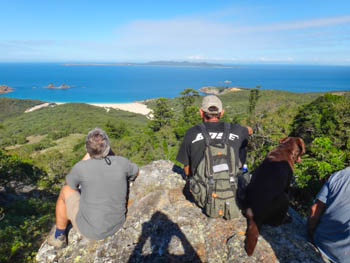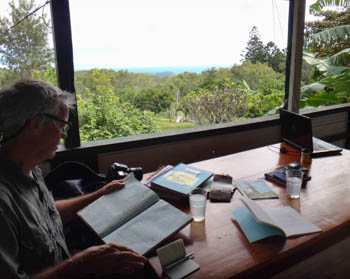 There are a few properties on the island but the Homestead is the main one where Cate and John live. Cate explained the history of the island and her concerns over the future.
See their website: http://percyisland.com.au/
Diamond the dog carefully dropped a baby goat at Steve's feet one day. Steve nurtured Jack and he's grown up to sire a couple of kids and is crazy about his owner.
Steve's house is round and an ingenious blend of bits and pieces, rocks and wood.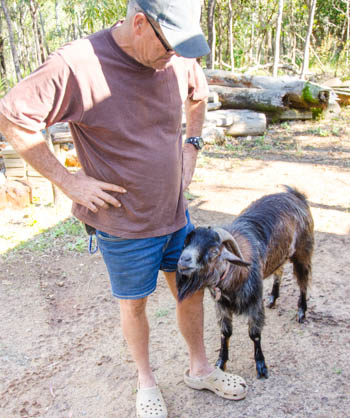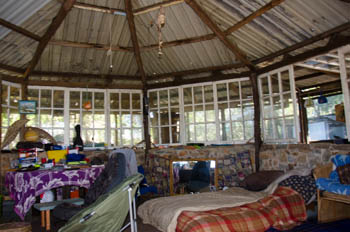 We took the easy track back to the anchorage by following the hanging markers. There were many spiders lurking in the centers of their giant webs so we walked gingerly under and around them. Seemed to take forever.
There were wild goats, skinks and lots and lots of butterflies too.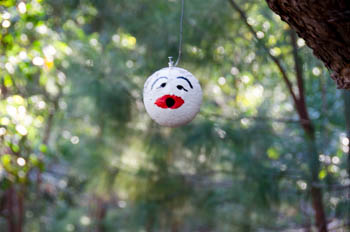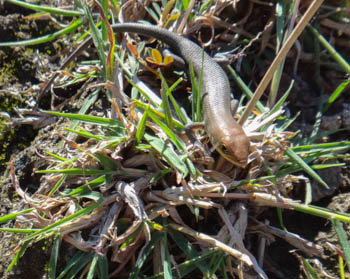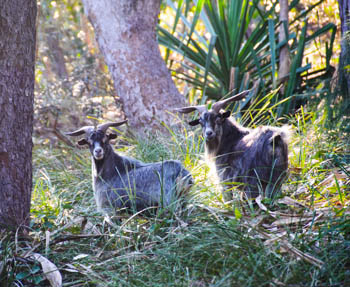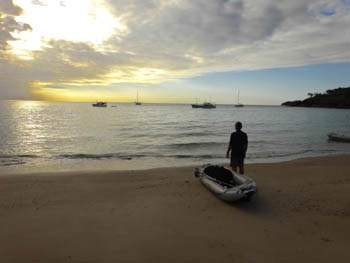 That night Robin and Brad, who live in the treehouse near the beach, made a delicious dinner in the fire pit behind the 'Percy Island Hilton'. Roasted pumpkin and goat curry. Crews of only two of the four boats came ashore. It was getting rolly.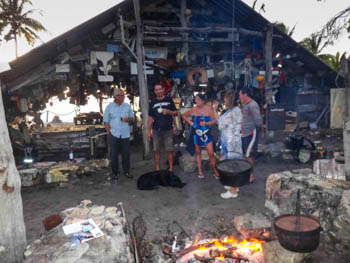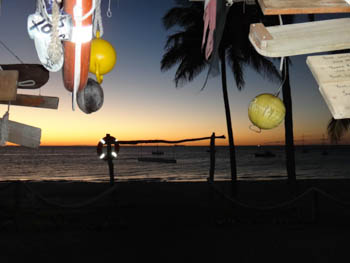 Mackay Marina
21 06'.86S 149 13'.51E
We left at dawn for the 50 mile trip to Mackay Marina on June 16. The last few miles were interesting as we motor-sailed through the anchorage for big ships. There were 25 of them. Not the best time to hear a loud, unusual noise from the prop.
We turned off the engine and sailed through, hoping all would be okay later. It was. Must have just been the current and speed we were traveling. We hope.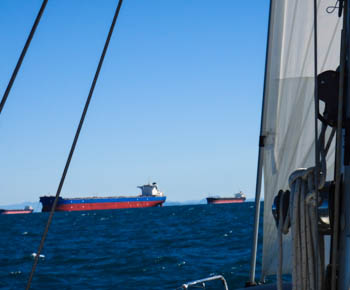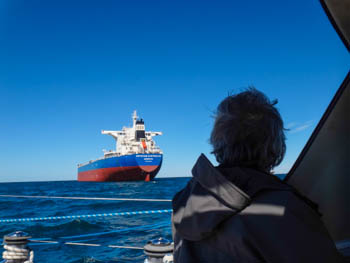 Mackay Marina
21 06'.86S 149 13'.51E
This is a nice place but expensive.The best part is Hello Beautiful. Josephine has a French inspired nook where you can get coffee, cakes and a haircut. Jim and I are now both looking much more fashionable. From the necks up, anyway.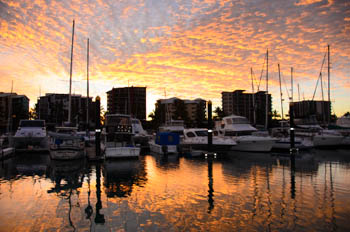 Our friend, Steve, arrived from California two days ago. He'll sail with us through the Whitsundays to Cairns. We're heading out to the islands to do some snorkeling and hiking and will dive when we get a little further north. Welcome back, Steve!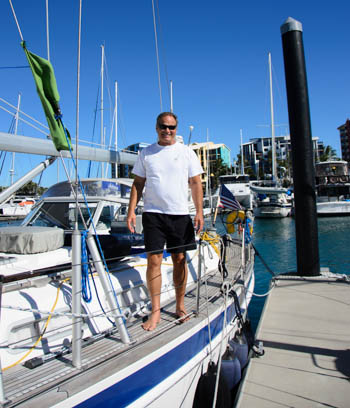 Go to July 2013 Part One - The Whitsunday Islands