May 29, 2013
Driving inland from Gladstone, Queensland means heading into the vast, often desolate Outback. The sky is huge, trees sprout sporadically, and mountains rise just above the horizon. You can go for miles without passing another vehicle. We rented a tiny, frog colored Hundai and drove 500 kilometers due west on Highway 60 to Carnarvon Gorge.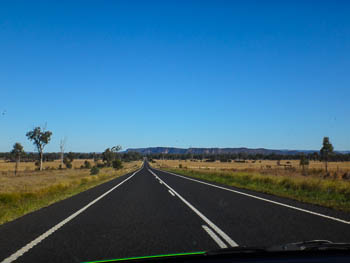 There are more utes than cars on the road. Most have roo bars across the grill and an air intake vent snaking up the outside of the windshield. Every so often we came across a road train. This one was full of cattle.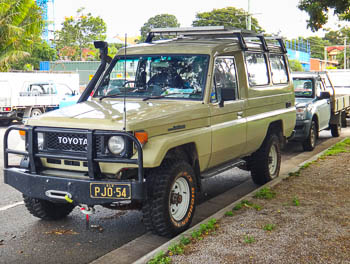 Beasties of the mooing, hopping and flightless running varieties all share the road. It's best to keep a good watch, kind of like being on a passage.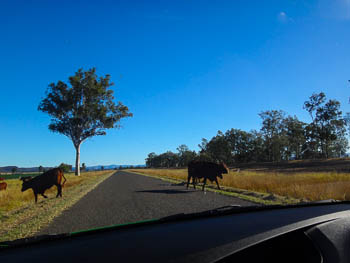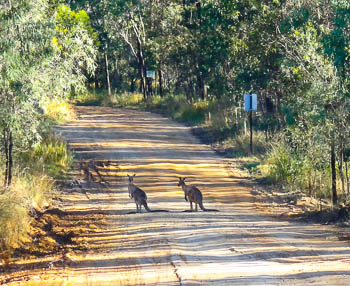 We had to slow for cows of mixed Brahmin heritage and Australian grey kangaroos. Pretty-faced wallabies and emus lurked in the tall grass at the side of the road.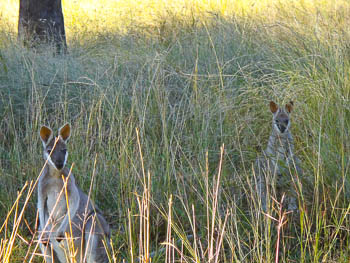 The road wasn't always paved and once we left towns we saw no more bridges. Low points in the road have FLOOD signs and markers indicating how deep the water gets. Often they stand over two meters.
Luckily for us it hasn't rained in a while and little Kermit blasted right through the wet sections. In five hours we reached our cabin at the bush resort.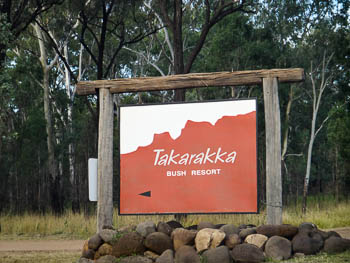 Located at the head of the gorge, Takarakka Bush Gorge is a natural bushland area complete with kangaroos and wallabies (no biological difference), echidnas (hedgehoggy looking things), platypuses (elusive), and bandicoots (pointy-nosed, rabbit-sized, rat-resembling marsupials) as well as the usual venomous snakes (too many to list), spiders (generally enormous) and scorpions. There is even a tree with lethal fruit. These things are taken in stride by Aussies. They are more troubled by falling tree limbs.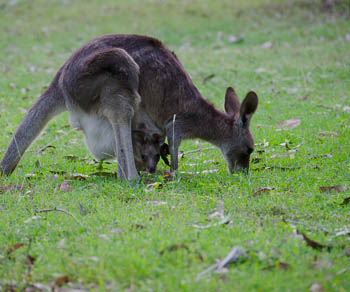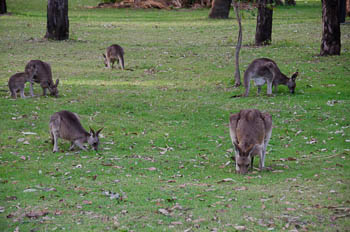 The first evening we gathered round the campfire and listened to scientist, Simon Ling, speak about the gorge. He briefly explained the geological and anthropological history and the flora and fauna. Afterwards, eight of us followed him into the park in search of nocturnal creatures.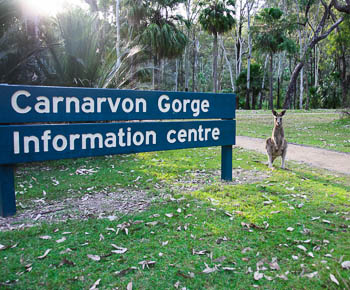 What did we see? An echidna, kangaroos and wallabies, three different groups of yellow-bellied gliders and four individual greater gliders. The greater gliders are about the size of a fat house cat and have big, round, Mickey Mouse ears. They are fairly sedentary as they eat only eucalypt leaves which don't provide much energy.
The smaller yellow-bellied gliders get plenty of protein and calories from their diet so are quite active. We saw them soar slowly and effortlessly from tree to tree, looking like white handkerchiefs with tails. They screeched communications and warnings between the groups.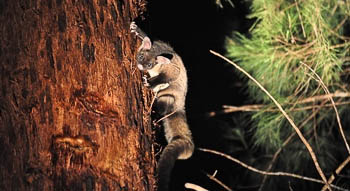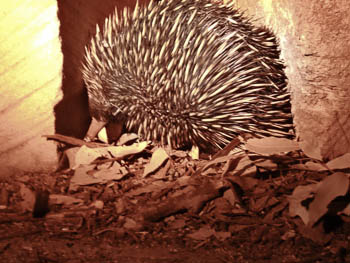 We were walking up the main trail of the gorge by 0830 the next morning. It's flat and very well maintained. The track meanders through waist high grasses and beneath stands of tall blue gums, fan palms and casuarinas and crosses the river several times.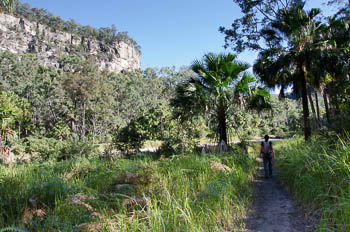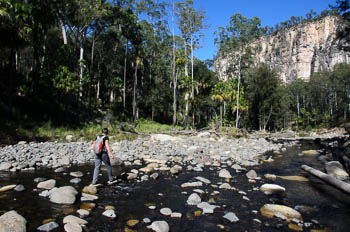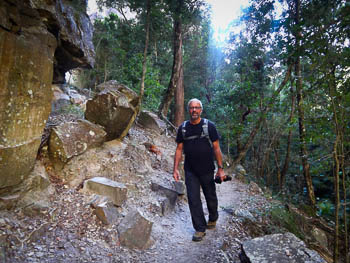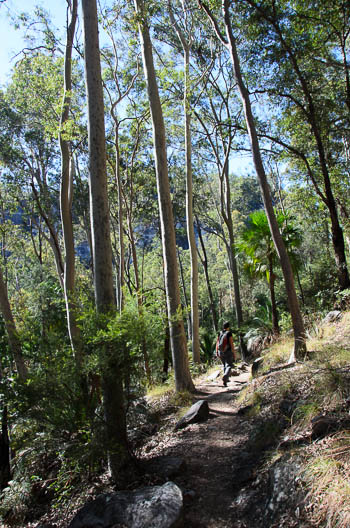 Olive-backed orioles, honey-eaters, little lorikeets, laughing kookaburras, pied currawongs and a plethora of other birds sing and squawk in an unceasing chorus high in the trees.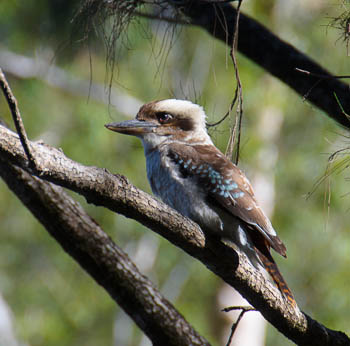 A tapestry of plants, grasses and ferns covers the ground. There are four types of orchids in the park but we only saw these tiny flowers about the size of a thumbnail.
Although it is a national park, we saw less than two dozen people on the trail. Often there was no one else in sight. We've spoken to several locals in Gladstone and none have been to Carnarvon Gorge. That's understandable. It's a fair distance and they work.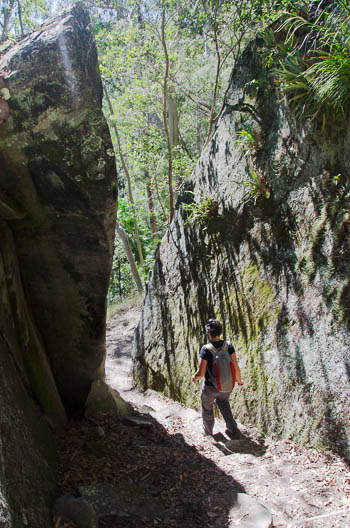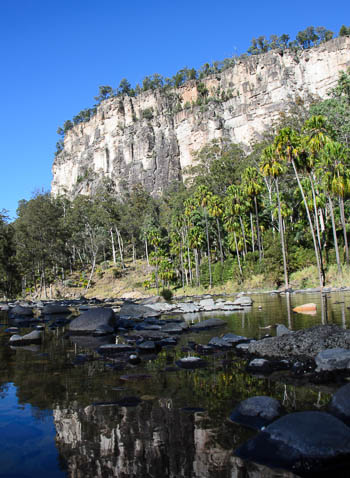 Sandstone cliffs with a layer of basalt form the walls of the gorge on either side of the Carnarvon Creek. Australia is really old geologically and has no volcanoes. It was part of the supercontinent Gondwana. As this separated and Australia broke away from Antarctica about 70 million years ago, it passed over a vent in the sea floor which is located where Bass Strait is now, between the mainland and Tasmania. That is how basalt found its way into Australian terrain.
The gorge has a unique ecosystem that sustains rainforests. Water percolates down through the sandstone, hits a layer of basalt and is forced horizontally until it drips out, forming springs. This continuous access to water is a rarity in the dry Outback and attracted Aboriginal people and later European trackers.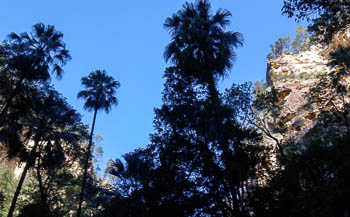 The MOSS GARDEN is a few hundred meters off the main track up a narrow, lush gorge. The moss walls drip constantly with water that is 5,000-10,000 years old. A small waterfall flows into a clear rock pool bound by a blanket of ferns and more moss.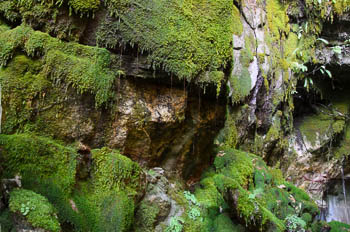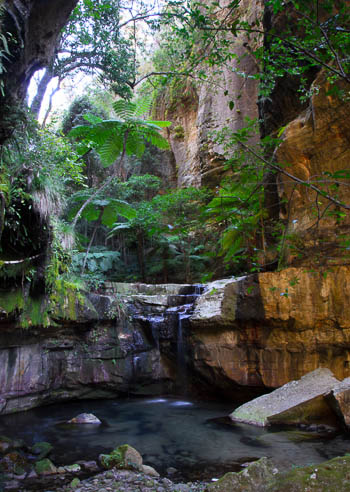 the ART GALLERY is a long sandstone wall that has over 2,000 stencils, engravings and paintings done by the Karingbal and Bidjara Aboriginies long ago. Hands, emu and kangaroo feet, boomerangs, nets and other tools are displayed. The artists used sharp tools to carve animal prints, emu eggs, a ten meter long snake and other body parts.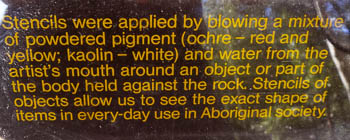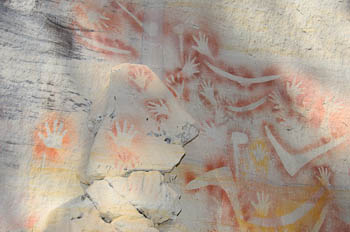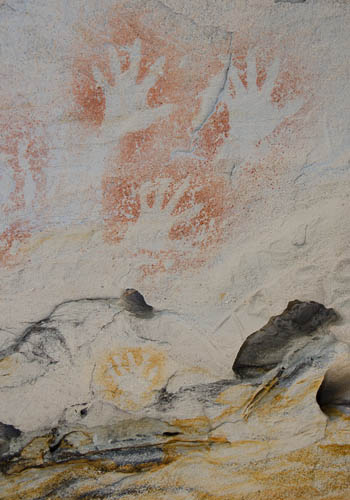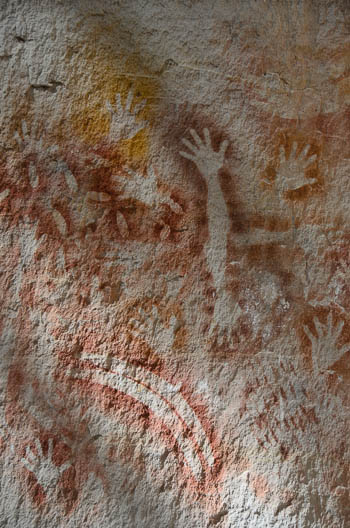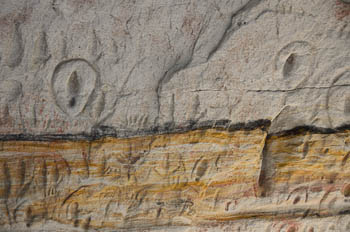 It's a short, steep climb to the striking gorge of WARD'S CANYON. A flat path leads beneath the overhanging walls and along a tiny creek where lofty tree ferns grow. Further up is a cluster of 14 king ferns, the world's largest fern. These ancient plants are only found in this small part of the national park, nowhere else in the 250,000 square kilometers of surrounding sandstone.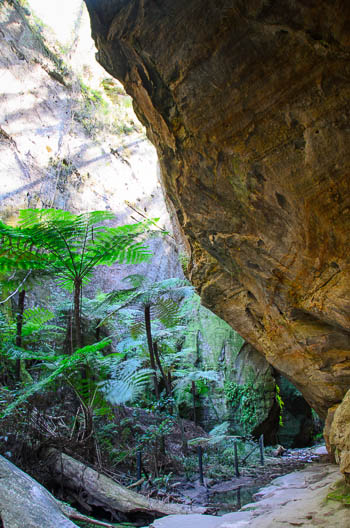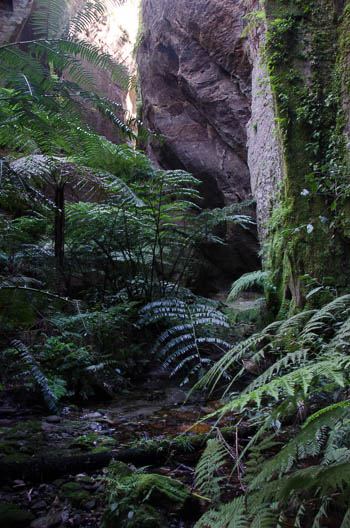 CATHEDRAL CAVE is hidden behind a slot canyon and was carved out of the sandstone by rainwater. It's a short walk off the main track and then a climb up a sturdy set of ladders to enter. Multi-colored walls tower on all sides and the small opening at the top lets enough light in for the moss and ferns to grow. The acoustics are phenomenal.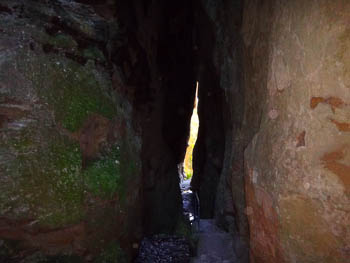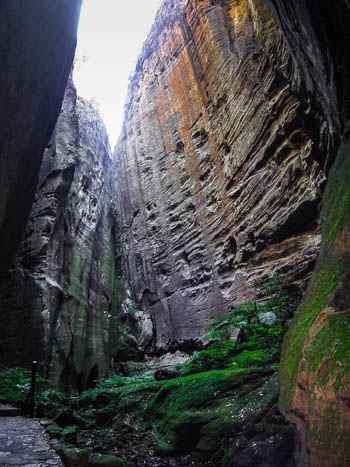 The entire walk was just over 15 kilometers. We did not rush, rather we savored our time in each location.
It is possible to walk further up the main track to more sites or continue on the 87k Carnarvon Great Walk. We should have allowed more time here!
The Takarakka Bush Lodge offers powered and non-powered sites and cabins. The outdoor kitchen area is covered with plenty of tables, burners, sinks and two BBQs. Kangaroos, wallabies and bandicoots are frequent visitors as are curious laughing kookaburras and noisy sulfur crested cockatoos.
A creek runs along the property where two pools are home to platypuses. You must go early in the morning or late at night and be very quiet to hope to see them. We didn't try, opting for sleep instead.
Rains flood low-lying areas and make travel to Carnarvon Gorge, especially by rental car, impossible until the water recedes.
Carnarvon Gorge is a magical place. We thank the ancestral owners and guardians of this land for allowing visitors to see your artwork and the natural beauty here.
Go to June 2013 - Sailing from Gladstone to Mackay