May 7, 2013
For as long as we've been out sailing, seven years, we've returned to the US once a year. Usually we go in April for three weeks. It's a good time to do taxes, have check-ups, buy necessary boat-related stuff and see family and friends. Also, I love spring skiing! Two years ago we started going at Christmas as well. Guess why?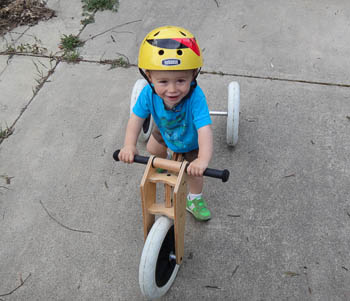 Yep, Drake. Our grandson. We love this kid! His parents are pretty cool too and let us use their home in the Bay Area as our home base.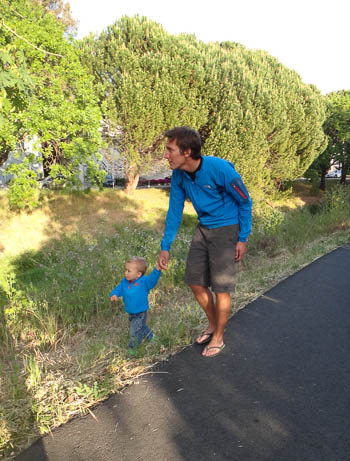 This year we had a lot to do so booked our flights to stay six weeks. First on the list was to fix up one of our condos in Mammoth to sell. Guess we did a good job because we had two full-price offers the first week!
Jim managed to get outdoors with his camera while I found time to make some turns with Steve, our favorite crew. Just so you know, living on a sailboat is not the best training for top-to-bottom runs or fast--paced hikes at elevation.
Each night there was something fun to do in our old stomping grounds: two nights at the Banff Film Festival, dinners with Marianne and the McGraths, the Paolinos and Lori M, and Kevin and Janet who were roadtrippin' from Seattle in their new Sprinter. It's gorgeous, Kevin is a talented craftsman. Sportsmobile needs him.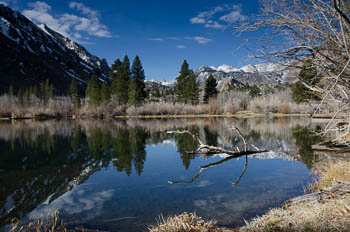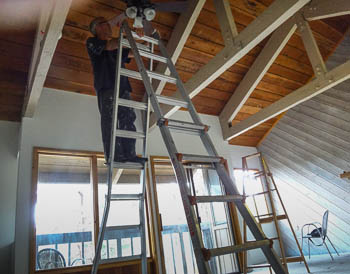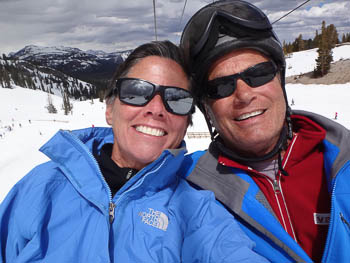 A cold wind blew us out of Mammoth before we were ready to leave. We marveled at the snow capped mountains, the brilliant blue sky, and the tufa towers stretching out from Mono Lake's glistening jade and cobalt surface.
I love these tufa towers! They are created by underwater springs rich in calcium bubbling up into the lake water which is rich in carbonates. When the two meet, a chemical reaction creates limestone particles that settle and build around the spring. Eventually the towers form, always completely underwater.
Beginning in 1941, streams feeding Mono Lake were diverted to Los Angeles. The lake shrunk to half its original size and the odd-shaped tufa towers emerged.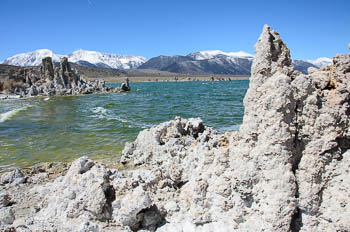 A bit further north on highway 395 is the exit to Bodie National Historic Site. Jim visited many years ago but I'd never been there. I was always too busy to stop. The road opened a few days earlier and we made the snap decision to drive out the narrow, paved ten mile-long road that turned into rutted dirt for three more miles to explore Bodie Ghost Town.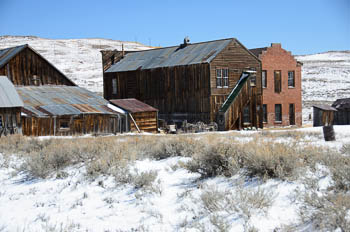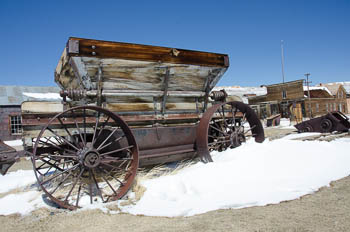 At 8375 feet, there was still snow on the ground. The wind that was chilly down at Mono Lake was positively frigid up here. Only a few visitors wandered among the dilapidated buildings and decaying remnants of this gold mining town, which, at it's height in the 1880s, was home to nearly 10,000 people. The last residents left about 50 years ago. What remains has been preserved just how they left it.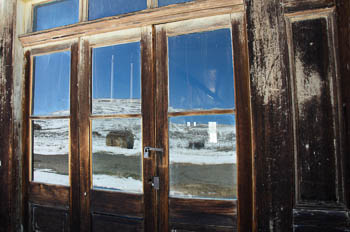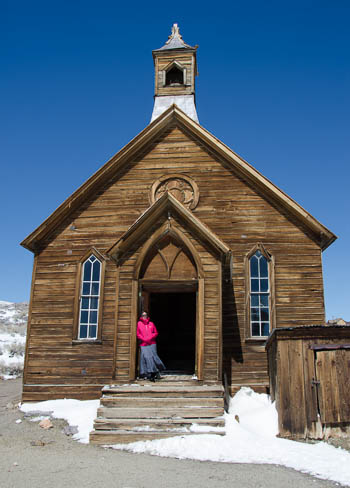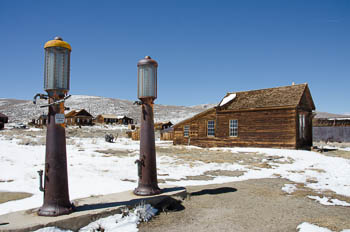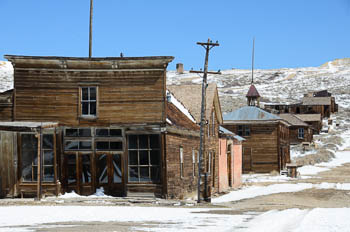 We were on our way to watch our son, Scott, compete in the American River 50, a fifty mile endurance run from Sacramento to Auburn.
Sailing friends, Russ and Roz, live near Auburn and invited us to stay the night. They sold their boat, Worrall Wind, in Australia before traveling on land throughout Asia for three months. We jumped at the chance to hear about their adventures and see Roz's photos.
The next morning we met Amy, Drake and Shasta the dog at the second rest stop. She's a runner too but is carrying Drake's little brother or sister, we don't know which, so put her efforts into supplying Scott with any type of food he might possibly crave. He looked pretty good to say he'd just run the equivalent of a marathon and was only half-way through. Once he was on his way again we drove to another rest stop and then to the finish.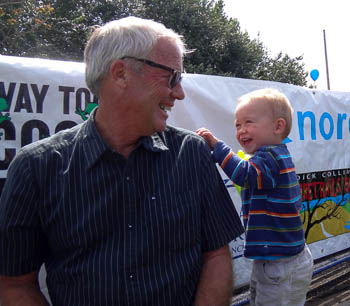 As Scott and his pacer, Ryan, approached the finish Amy handed Drake over the fence. Scott and Drake crossed the finish line together.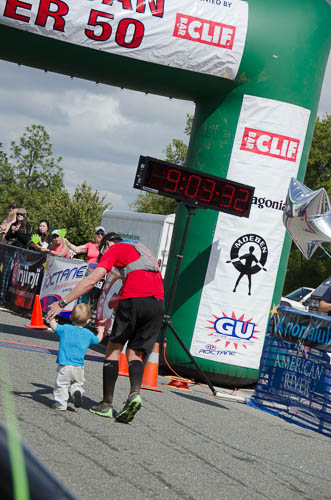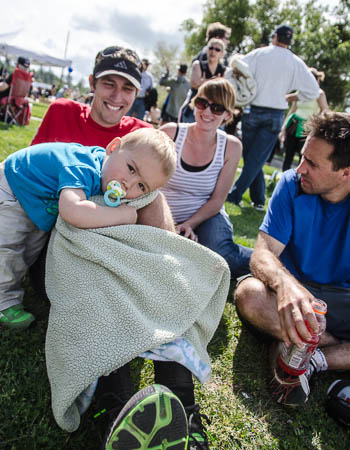 We are Commodores in the Seven Seas Cruising Association and offered to help work the booth at the Strictly Sail show in Oakland. It's always fun to talk to others about blue water sailing and hear their stories.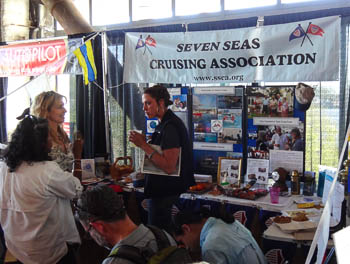 We also volunteered to give our perspective at our friends' seminar. John and Amanda Swan Neal run Mahina Expeditions. We took their seminar in Seattle in 2007, sailed from Ellos, Sweden to Tromso Norway on Mahina, and shared anchorages or marinas in the Canary Islands, Vanuatu and New Zealand. We are always learning something new from these two pros!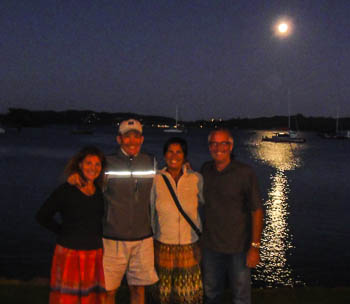 Unfortunately my voice did not cooperate. It was nowhere to be found and I had a doozy of a sore throat. I stayed in bed at Scott and Amy's while Jim answered the questions posed to a couple sailing on their own.
I was able to attend the show one day so got to see John and Amanda, attend a seminar by Jimmy Cornell and finally meet him. Along with crews from several other boats, we contributed to his recent book, World Voyage Planner.
We visited my brother, Dwight, while we were in Southern California. When I mentioned that I'd like to see him at work, he invited Jim and me to stop by his courtroom the following morning. Court was in session and his bailiff greeted us at the door and showed us where to sit. I thought we'd just observe quietly but, at the first opportunity, Dwight introduced us and the bailiff said I could take pictures of him. Walk anywhere I'd like. This was weird.
Nervous and self-conscious, I said 'good morning' to the men in orange, took a couple of pictures, then sat back down and tried to fade into invisibility. Some of the guys seemed curious and looked our way. I made eye contact and smiled, against the posted rules. I really wanted to talk to them, learn their stories... not what they'd done that landed them there, just talk about families, plans, anything. Our blood is all red.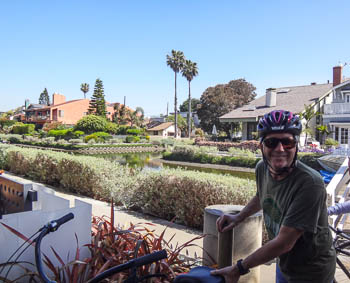 It's always a pleasure to spend time with Allison, Claire, Lauren and Jim's brother, Greg. When we're in town they host the most wonderful dinner parties in their Malibu home. Each visit we meet more of their fascinating friends and get to see several dear, old friends.
I was still down and out with my sore throat and hacking cough so didn't go on the bike ride around the canals of Venice with Jim, Greg, Allison and Claire. I rested by the pool in their zen-like garden, overlooking the Pacific far below, soaking up the warm sunshine.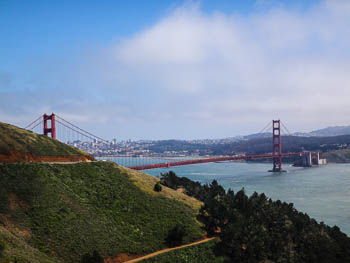 Jim has spent a fair amount of time dealing with our Spectra Watermaker the last couple of years. After 5 years parts start to wear out but we still love that thing. It's a toss-up whether it, or our Monitor windvane, is our favorite bit of equipment on Tenaya.
Spectra is located in San Rafael which isn't too far from the kids' house. When Jim read they were training 'roving technicians', and he'd be in town for the course, he signed up. For three days he learned everything there is to know about Spectra models as well as lots about other watermakers.
He's not really looking for a new career, he just wants to be able to fix ours if necessary. And should someone have a problem in a remote anchorage, perhaps he'll be able to help.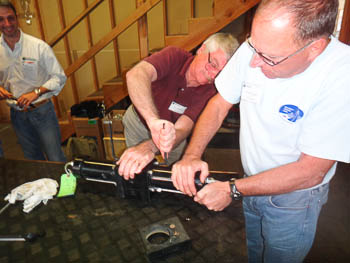 My father's family is from Connecticut. When I was little we'd drive across the country to visit them. Our last trip was in 1966. I was 6 and Dwight was 15. Go ahead, imagine what that was like.
We would stay at Aunt Edith's house in Haddam. It was built by a prominent businessman in 1865 and exudes old New England style and charm. I'm pretty sure it still has the original telephone. Surrounded by 38 acres, the land rolls down to the Connecticut River.
I loved being around my older cousins, Jane, Jonathan and Jim and hearing their stories. During the 1960s their family spent five summers sailing their beautiful wooden Concordia yawl in the waters of Scandinavia.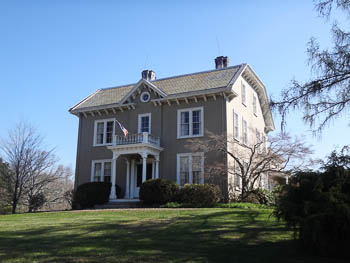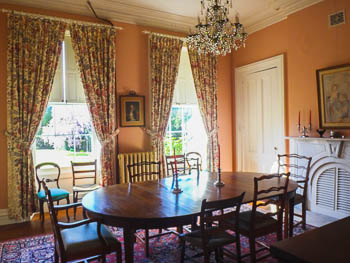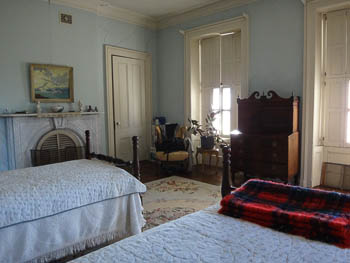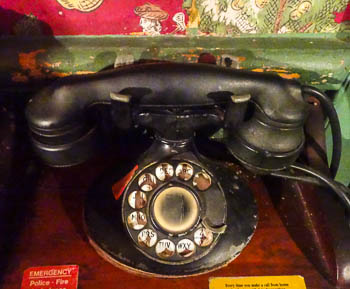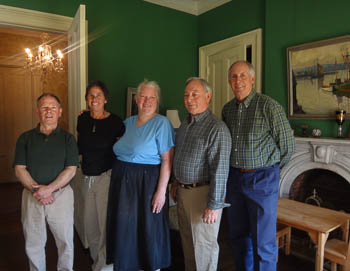 Aunt Edith passed several weeks ago and Dwight and I flew back for the memorial. We stayed at Walkley Manor and helped with the preparations. What fun we had re-connecting with cousins we hadn't seen in decades and spending time Aunt Margie, the last surviving sibling.
Her story about Aunt Edith's wedding at the memorial had us in stitches as she recounted the playful cat that followed the bride down the aisle, which was in the garden, pouncing on her trailing veil. It was all Aunt Edith could do to keep it on her head.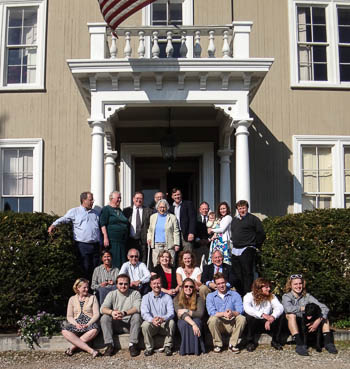 Dad's father was an ivory trader. He spent four years in Zanzibar procuring ivory to be used for piano keys, working with Arab traders and middlemen. Later he exposed the brutal and inhumane treatment the African slaves suffered while transporting the sizable tusks from central Africa to Mozambique and Zanzibar. He penned 'The Ivory Scourge of Africa' detailing his experiences. Read more about the African ivory trade
I remember visiting the family home when I was a small child. The rooms of the Italianate villa had thick, cold, concrete walls, arched doorways and stone fireplaces. A grand piano was nestled in one corner. Paintings with picture lights hung in the dark hallways.
Led by my father and followed by my mother, I slowly climbed the creaky wooden staircase to see my grandmother. She was ill in bed. As the door opened, the first and only thing I saw was a huge cat of some sort with bulging eyes and a gaping mouth full of huge, sharp teeth lying on the floor glaring right at me. Fortunately for me, but sadly for the cat, it was dead. It was only a rug, or perhaps a trophy.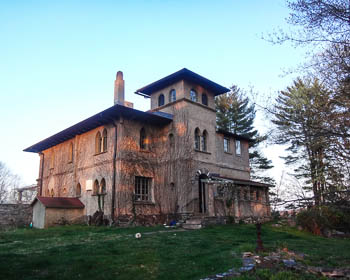 The house is still in the family and owned by my Uncle Richard's children. He was with the OSS during WWII and returned to France after law school. He married a French woman and had three sons. I met Nicholas and Christopher at the memorial for the first time. What nice people they are!
Nicholas shared some funny thoughts at the memorial as well. He talked about Walkley Manor and the 'French' windows which, by the way, are not found in France. But, he wondered, perhaps they are called 'French' because of the way they slam down like a guillotine.
Nicholas brought fois gras and confit du canard from his home in Bordeaux and served up a wonderful evening as Christopher gave us a tour of the home that loomed so large in our memories. What a treat!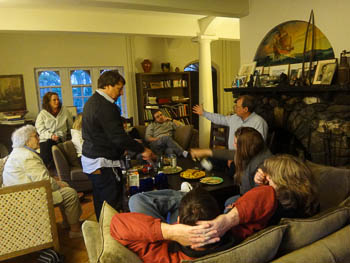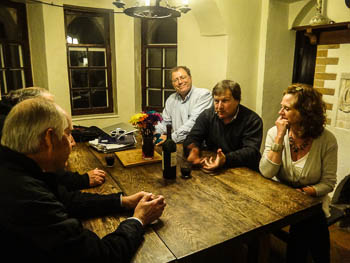 Dwight rented a car and we toured the area. Uncle Wally lived in Old Lyme and our cousin Sarah still lives in their house. Isn't The First Congressional Church of Old Lyme pretty? It was built in 1665.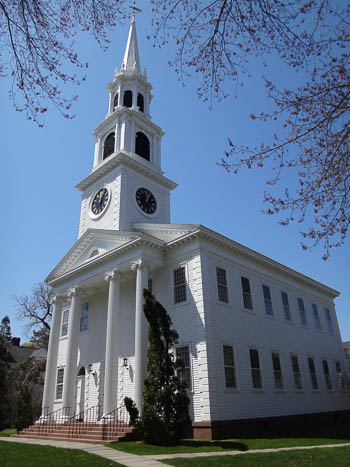 Our parents spoke fondly of the Griswold Inn in Essex, built in 1776. It was a favorite place for them to dine so Dwight and I ate lunch there. What did we have? New England clam chowder, of course. It was served with a mild but tasty sherry pepper sauce, not the Tabasco I'm used to. The walls were covered with paintings and bits from old ships, both sailing and steam.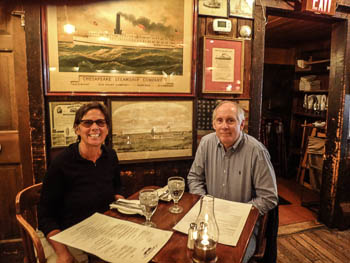 After lunch we wandered through the Connecticut River Museum. My favorite exhibit was the Turtle, the world's first operational combat submarine. It was a tiny, one-man device built in 1775 to attack the Royal Navy in New York Harbor. The operator propelled the craft by winding a crank until it reached a ship where it would attach a bomb. Then the operator cranked as fast as he could to get away.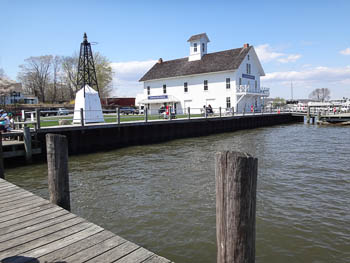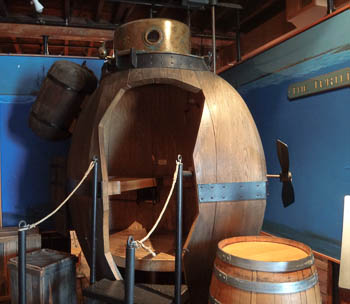 The historic Pratt Read building in Deep River, where our grandfather worked when he returned from Zanzibar, has been turned into condos. A cutout of an elephant hangs on the railing leading to the entry reminding folks of the ivory era in this town's past.
The Saybrook Inn and Marina, the Dock and Dine Restaurant next door, and many waterfront homes suffered extensive damage from Hurricane Sandy. A lot of demolition and rebuilding was going on along the shore of Long Island Sound and the Connecticut River mouth.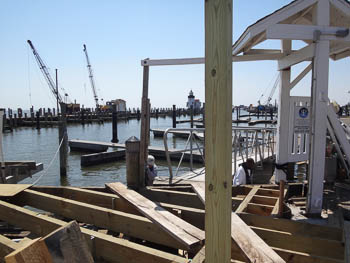 Jane is an expert on Norse mythology and has written several books on the subject. She also sells spices. Hundreds and hundreds of different spices. Spices made of things I've never heard of. Blends of ingredients used by Norse women ages ago. Blends from medieval times. Crazy stuff. Amazing scents. Exciting and wonderful concoctions.
Her company is Auntie Arwen's Spices. What is on her website is a sampling of what is in her gigantic storage room. I flew to California and on to Australia with 12 jars of spices. Can't wait to start cooking!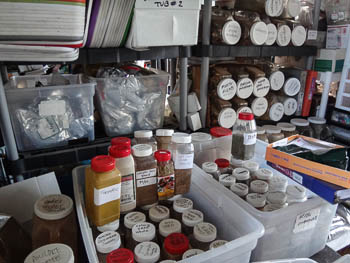 Yesterday Tenaya came out of the water to have her bottom cleaned and painted, her bowthruster and intakes cleaned, the Gori prop serviced, all anodes replaced and her hull waxed and polished. Today she went back in. All that in 24 hours!
The crew at Careel Bay Marina did a fantastic job. They know we live aboard and worked hard so we wouldn't have to stay ashore longer than necessary. How considerate is that? It has been a pleasure to stay here and we highly recommend Careel Bay Marina.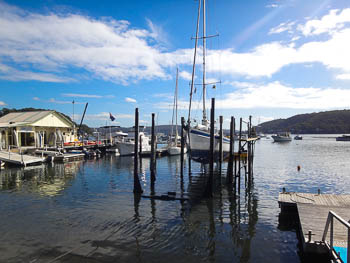 I wrote a piece about our time in Stewart Island and submitted it to Blue Water Sailing in the US and Cruising Helmsman in Australia. They both published it in their May issues. It is interesting to see how each editor made it work for their readers.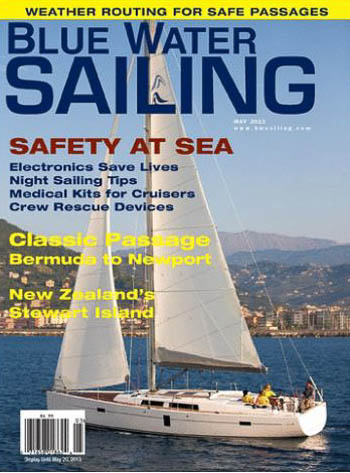 Go to May 2013 Part One - Pittwater to Gladstone Passage