March 17, 2013
Few cities in the world call out 'sail to me' as loudly as Sydney. If you live and travel on a sailboat and are heading west in the Pacific, well, you just have to come here. That's our feeling anyway.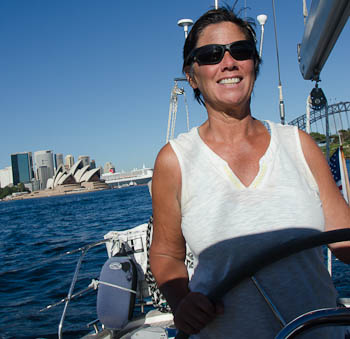 On March 5 we left Pittwater and sailed 30 miles south to Sydney. It took exactly five hours motoring in the non-existent wind.
Rounding North Head we were circled by a fast moving red customs RIB. It disappeared, then returned steering straight towards us at a slower speed. We slowed and bobbed close to the rocks below the vertical wall as one of the four officials aboard asked questions: Where are you going? Where did you come from? When did you arrive in Australia? Where was your first port? How long will you stay in the country? We answered each question politely. They conferred, wished us a pleasant time in Sydney, waved good-bye and eased away without making a wake.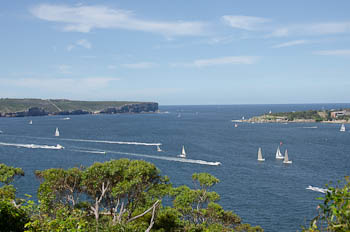 Fast ferries zipped by and larger ferries lumbered along in both directions as we hugged the green marks. We were in awe of the skippers tacking and gybing between them! The guidebook says most ferries have absolute priority, even over those under sail. I'm pretty sure I wouldn't have tested my right-of-way here.
And as we neared Circular Quay, the main ferry terminal between the Opera House and Harbour Bridge, I turned on the engine just in case...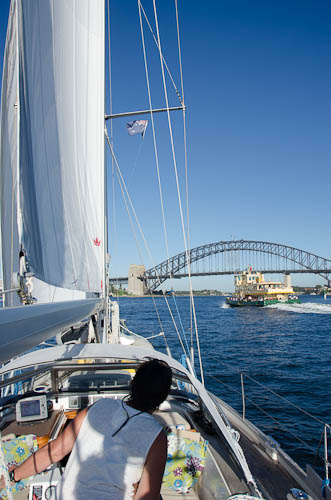 We couldn't believe we were in Sydney sailing past the Opera House and under the Harbour Bridge! As a bonus, we got to see the Queen Mary 2 that was also visiting.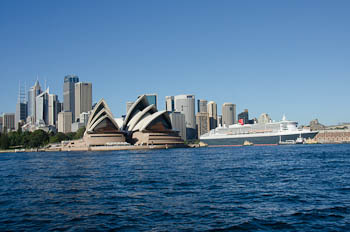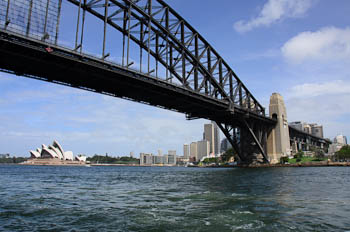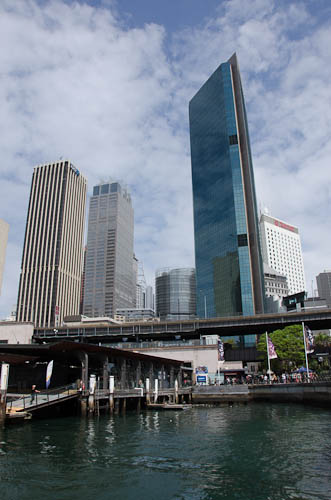 There are five public moorings in Athol Bay just below Taronga Zoo. It's a quiet location backed by gum trees (eucalyptus) with a spectacular view of Sydney across the water.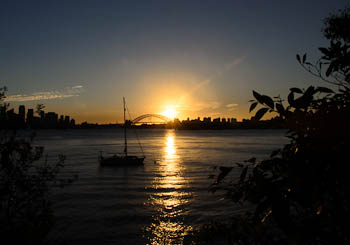 The giraffes didn't seem impressed with their enviable location. They only watched us, the gawking tourists.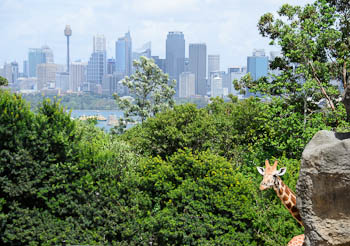 I just love Meerkats! The Tasmanian Devil, with its red ears, was cuter than its cartoon character would suggest.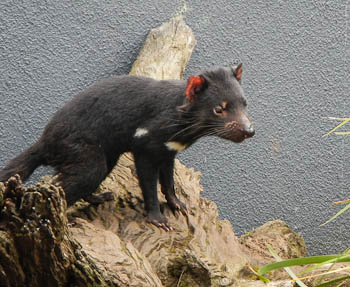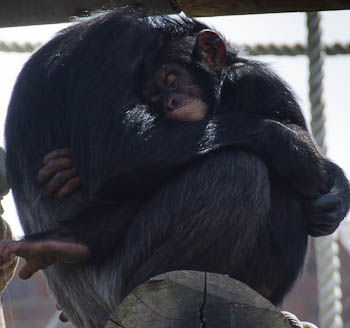 A trail runs along the hillside behind the anchorage from the zoo out around Bradleys Head. It meanders through thousands of gum trees, their smooth trunks and limbs curving at sensual angles.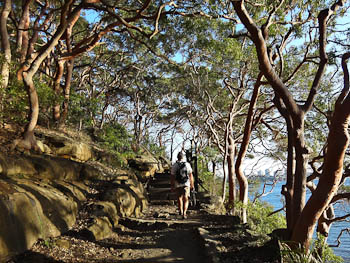 We might have been tempted to spend all our time in Athol Bay but on Day Two a white house pulled up and dropped anchors off each corner. Turns out it just looked like a house. The Island is a five star restaurant and event venue. We didn't know what the signs with the big black V meant until Peter and Matt, two Sydneysiders we met through John on Mahina Tiare, explained it was the Aussie equivalent of MTV.
Sure enough, the sound check blasted us right out of the anchorage. Peter suggested we sail to his empty berth in Birkenhead Marina and spend a quiet night there. He didn't have to offer twice!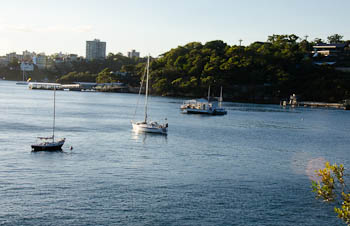 Jacqui and David on Jackster sailed up to us in Pittwater and came aboard for a quick visit. They said Blackwattle Bay was an ideal location from which to explore the Central Business District so we checked it out. They weren't kidding! Glebe, a hip neighborhood with a slight bohemian feel is behind the park where a charming cafe sits at the water's edge. Across the bay is the Fish Market comprised of seafood eateries, fresh fish vendors, produce market, deli and a plethora of other shops offering various things to ingest. Beyond that is the CBD.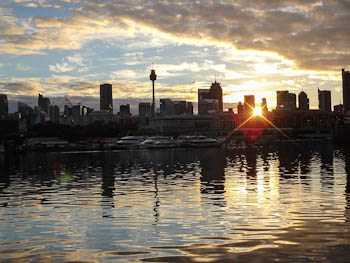 Jim worked with Natalie in Belgium. He ran the EastPak, JanSport and Kipling divisions and she was in charge of HR for several countries for all of VF Europe. Now she lives in Sydney. On Sunday she came by to see our movable home, catch up, and show us her neighborhood.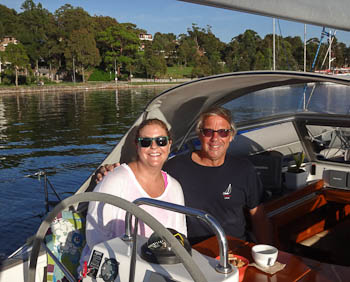 Natalie lives at the beach and guided us on a scenic walk from Coogee to the famous Bondi Beach. We certainly felt out of shape sauntering along as hundreds of joggers and runners passed by in both directions. Natalie was dressed for a speedier pace but graciously matched ours.
Each community has youth programs that promote athletic activities. Water sports are big in Sydney. Little kids start out paddling foam boards in the rock pools and older kids surf the beach breaks.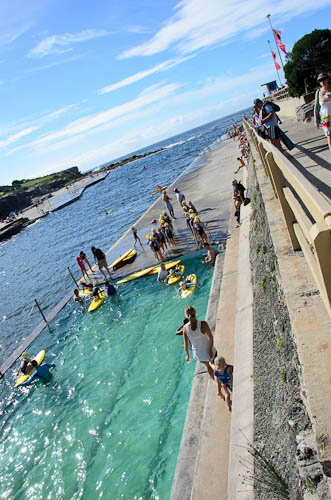 It seems many Sydneysiders spend their entire lives near the beach. Some stay for eternity.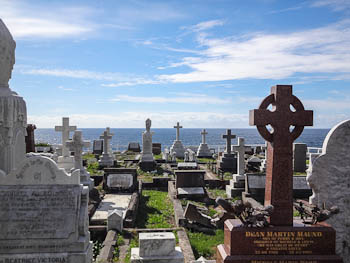 Natalie brought us back to meet Christine and Michael from New Horizons at the Blackwattle Cafe for lunch. We were berthed next to each other in New Caledonia last year and our paths crossed several times in Vanuatu. After our meal we drove to Georges Head and took a pleasant walk in the shade of tall trees to Balmoral Beach. Here and there we caught glimpses of the towering North and South Heads across the brilliantly blue harbour.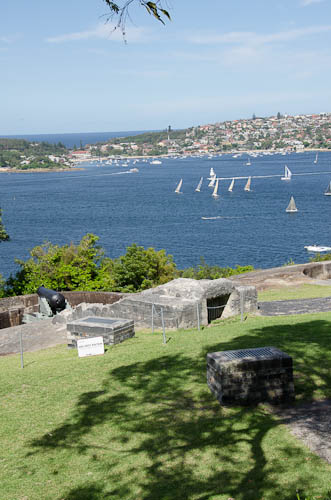 The Sydney Maritime Museum in Darling Harbour is a 15 minute walk from Blackwattle Bay. There are water-related exhibits such as aboriginal art, stories of immigrants arriving by steamship, the history of swimming and surfing in Australia, and a hands-on learning area. There is a replica of of the Endeavor, the first boat Captain Cook used during his voyages of discovery. Actually he wasn't a captain then but I won't go into that.
This Endeavour was built with materials as authentic as possible. It has sailed around the world twice and last year completed a trip around Australia. Volunteers offer information during a tour of the ship.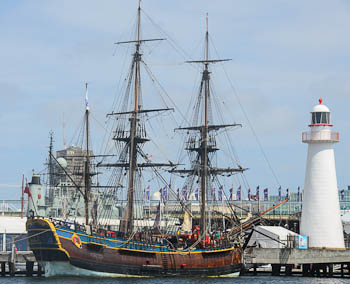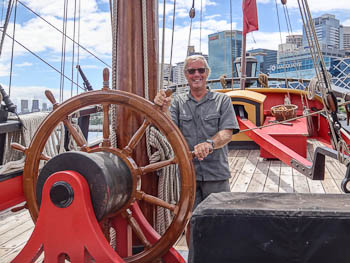 Another highlight of the Maritime Museum was the story of Kay Cottee and her 37' sloop. During the night of April 12, 1988, eight days after rounding the Cape of Good Hope, she encountered a storm. She was knocked down twice in 30 minutes, nearly run down by a container ship, thrown overboard, and cracked her boom. She cut her spinnaker pole to make a splint and went on to complete her circumnavigation becoming the first woman in history to solo non-stop, without assistance, around the world.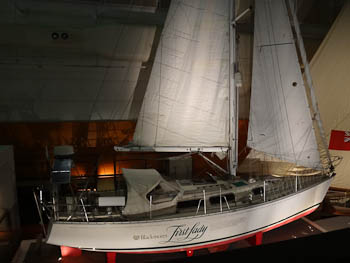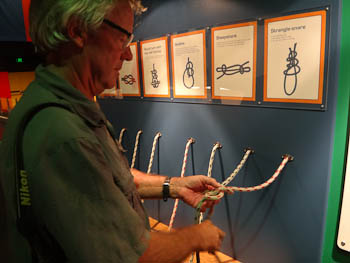 We'd seen Neal and Ruthie of Rutea in Birkenhead and were thrilled when Neal called and said their daughter, Corie, was going to photograph Rutea from the Harbour Bridge. Would we like her to take pictures of Tenaya as well? Heck yes! Corie got some great shots!
To see the inside of the Opera House we booked tickets to see the Soweto Gospel Choir in concert. Dressed in vivid costumes, the performers radiated infectious energy with soulful harmonies, haunting solos and lively dancing. The photo I shot, but wasn't supposed to, reveals nothing of the individuals. It looks like a choir of angels.
Jim was as the helm when we headed out of Sydney Harbour - his turn to dodge the ferries! Three hours later we were back on our mooring in Pittwater.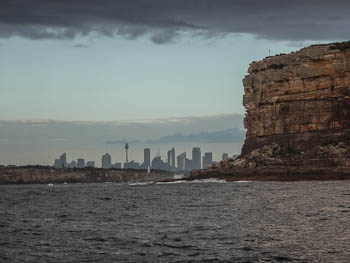 Had we not already abandoned all hope of reaching Tasmania this year, we think we would have opted to stay in Sydney. There is so much to do, so much to see, and so many nice people to spend time with. We are comfortable in Sydney and like the city very much.
Go to April 2013 Part One - Six Weeks in the USA