January 29, 2013
30 18'.20S 153 08'.79E
We hadn't thought much about the weather except for which way the wind was blowing so we could sail south. So far, this country has been all about bizarre creatures, many of which could kill us. To the best of my knowledge, no birds are lethal. Jim finds that fact comforting so is encouraged to photograph them.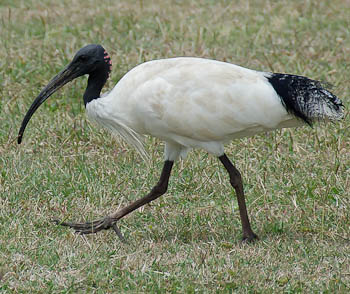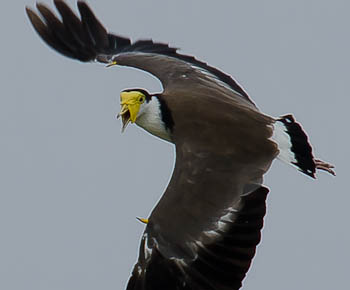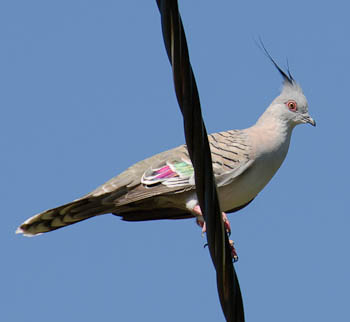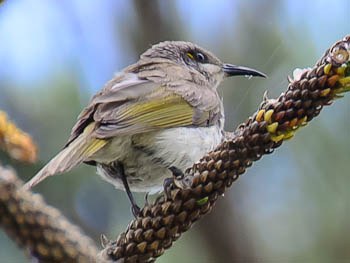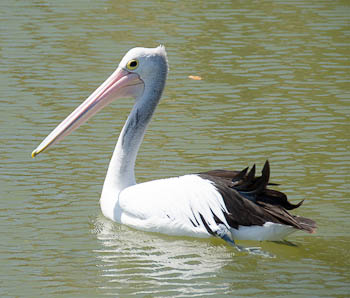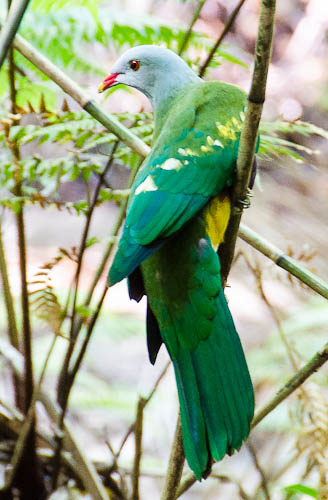 The weather jumped to center stage a few days ago when we realized the remnants of Tropical Storm Oswald were headed our way. Already concerned about the high over New Zealand sending winds this direction and the trough to the SW intensifying it, we had ducked into Coffs Harbour, halfway between Brisbane and Sydney, to wait out strong southerlies.
We rode the Eastern Australian current down from Scarborough which increased our Speed Over Ground up to four knots. We were to have light winds from the north, every forecast said so. Instead, we had southerly winds of 5-20 knots during the 250 mile trip.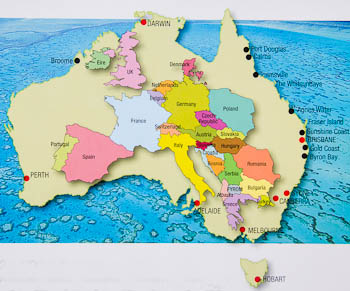 I hadn't fully realized this before but Australia is a really, really big country. Continental Europe and the UK could comfortably rest inside the hinterland. The eastern coast begins in the tropics and ends with Tasmania scratching for the subantarctic. That's got to have some crazy weather ramifications. Noticing this sign on the jetty, we wondered if it was true or simply an over-reaction recommended by legal counsel. Now we know.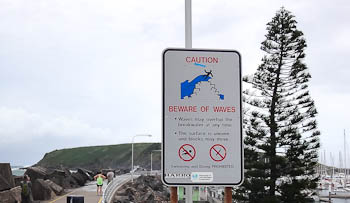 Coffs Harbour is the only refuge along this part of the coast that does not involve crossing a bar and navigating up into a river. It is a holiday area so complete with plenty of restaurants, cafes and tourists. It even has a ferris wheel for Australia Day celebrations!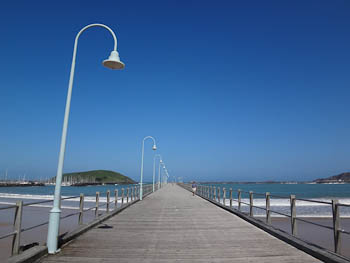 The water is clean in the marina which supports some surprising wildlife. One day a dolphin surfaced in the empty berth next to us, another day I watched a ray sail through the air. Today Jim pointed out a turtle in the same empty berth. I'm thinking I should don my snorkeling gear and see what's down there!
Coffs Harbour is formed by a man-made breakwater joining the mainland with an island and another partial breakwater on the other side. Muttonbird Island is a reserve where many wedge-tailed shearwaters, aka muttonbirds, nest and affords a lovely view of the harbour, coastline and out to sea.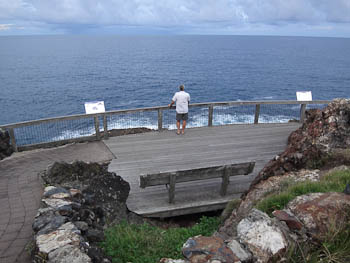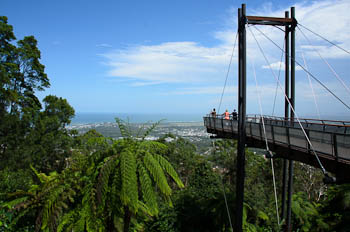 Three days ago the waves began to build.
Yesterday Mother Nature flew into a tizzy and we had front row seats to watch!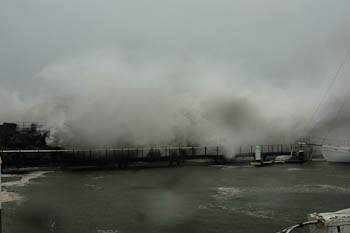 This is what the weather map looked like yesterday for New South Wales. The closer the lines, the higher the wind. Red is bad.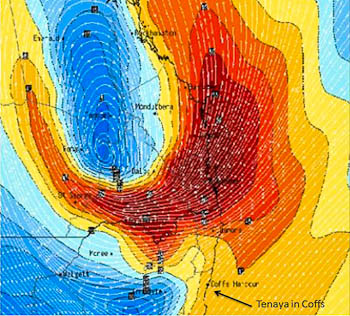 The guys from the marina did their best to secure boats.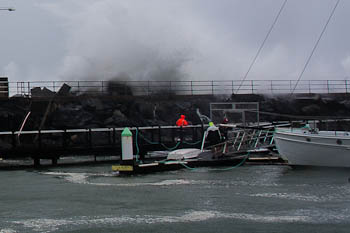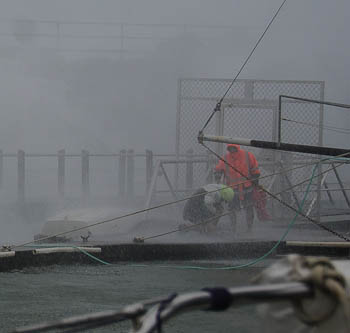 Tenaya is tied with five lines to windward and three on the leeward finger. We're snug as a bug in a rug.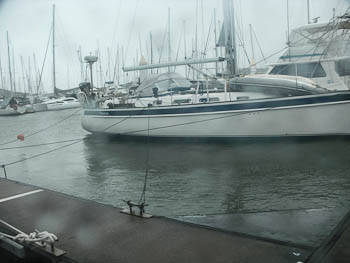 Boats cannot enter the harbour when a large easterly swell is running because waves break across the entrance. The anchorage outside the marina is not a comfortable or safe place to be.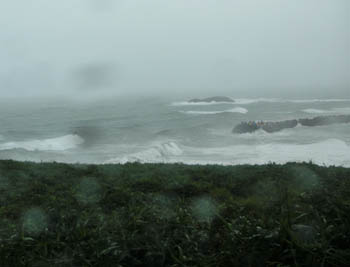 I watched a mooring ball emerge from the spray and fly past our boat as a huge wave broke over the jetty and later found a rock deposited on the lower walkway. The marina did not escape unscathed. Two small fingers at the head of D dock have been damaged. A trimaran was berthed in D-2 and had to make a quick getaway during high water in 40 knots when that finger broke loose.
Tenaya suffered no damage but her protecting bits did. The neoprene fender covers are all shredded and one sternline frayed and snapped. I'm sure glad we had secured it with double lines! Although the forecast called for 50 knot winds, the highest we recorded was 43.5.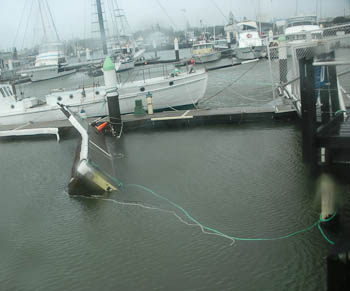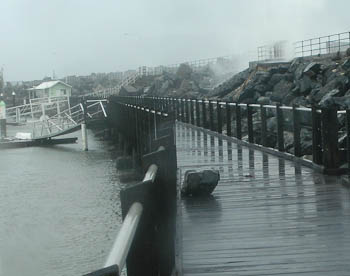 The shots we took from Coffs Harbour Marina and Muttonbird Island yesterday don't really convey the magnitude of the energy flying over the jetty. For that, check out Jim's two minute video:
Watch video of the storm in Coffs Harbour
The waves are still big today but the sun is shining and it seems the worst has past. Boy was that exciting! When the swell drops to a reasonable size and the wind blows from the north, we'll continue our trip down to Pittwater.
Today is my brother's birthday. Happy Birthday, Dwight!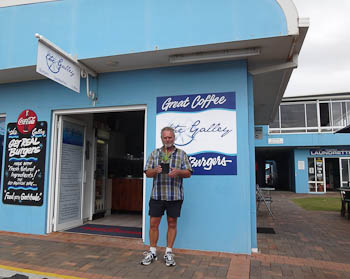 We're meeting people here in Coffs Harbour while we wait for the swell to die down. Wayne lives on his yacht and owns this cafe. His wonderful garden of veggies and herbs was ravaged by the saltwater but the aloe is going strong and he gave us one.
Yesterday John, another Ocean Cruising Club member, was in town so came by Tenaya for a chat and a beer. We look forward to seeing him again in Sydney ... if we ever get there!
Grant and his fiance are moving aboard their new-for-them sailboat in Thailand for sailing and surfing adventures. He came by to pick our brains and brought a bottle of local olive oil and a package of local cakes. Very thoughtful gifts indeed.
When we met Amanda and Leon in Vanuatu they invited us to contact them once we reached Coffs. Today they took us on a tour through a beautiful valley and forests of gum trees. We stopped at a river with incredibly clear, fresh water so guess where I ended up?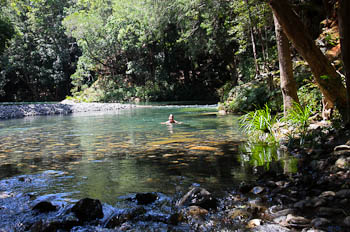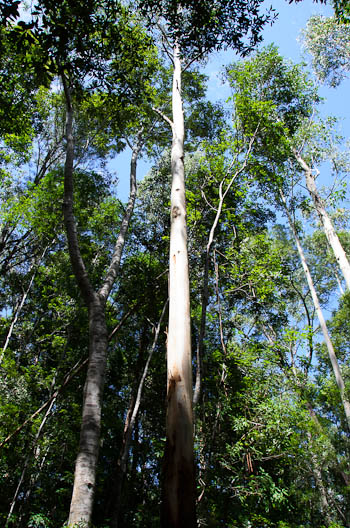 Go to March 2013 Part One - Pittwater, NSW, Australia