September 25, 2012
Loltong Bay: 15 32'.70S 168 08'.85E

Loltong Bay is stunning. Standing high on the hill we could see Tenaya floating between the protective reef and the white sandy shore in turquoise water while beyond the reef was a brilliant cobalt. Steep, green hills rise on all sides of this small natural harbour creating a picture perfect landscape.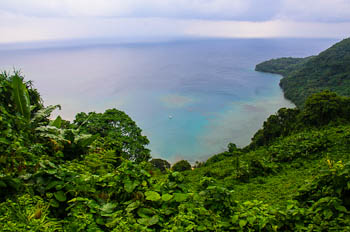 The Rocket Guide says to line up the leading marks before entering the reef. I scanned the shore but could not see them. Perhaps Chief Molsais did because he faced that direction until I found them. There are two triangles on shore partially obscured by trees. One is bent.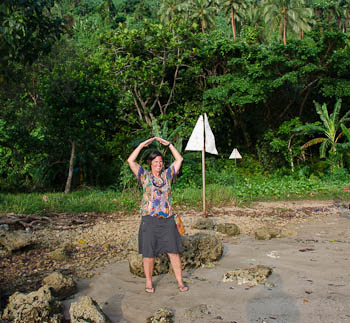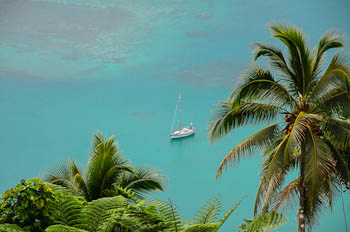 The anchorage is shallow, small and has a few bommies. You must not anchor where your boat could float into the narrow pass and obscure the leading marks for other boats coming in. These other boats arrive and leave frequently and are obviously used to being in close proximity to others. We must remember not to wave to these guys - it only encourages them to come closer!
Once we had the dingy secured back on deck after delivering Chief Molsais, his family, and all their stuff, we hopped in the kayak and paddled in. Mathew Bule, proprietor of Vatulo Yacht Club, greeted us and invited us in.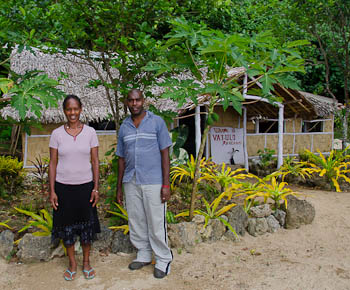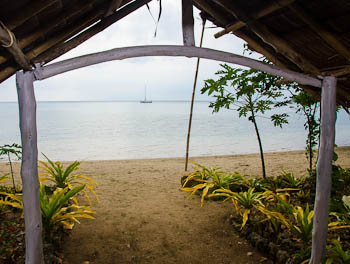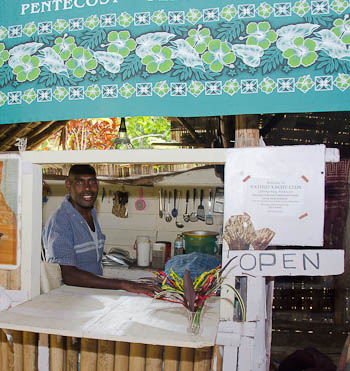 Mathew, his wife, Marie, and some other family members welcomed us warmly and told us a little about the village of Loltong before Marie took us on a walk to show us around.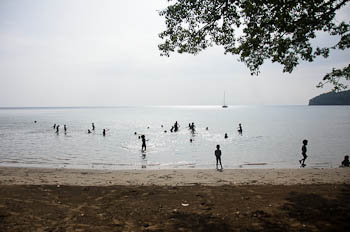 Jim and I stopped to chat with many of the friendly people so often that we felt bad for Marie who waited patiently ahead. Although the people of this area are mostly French-speaking, most manage English very well.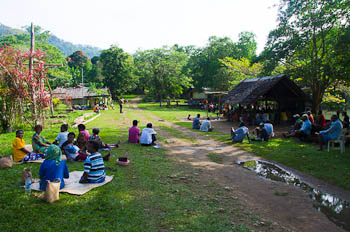 Loltong seems much less primitive than Tanna, more like Lamen Bay on Epi. Their island does not have a primordial feel in which you half expect some cataclysmic eruption or storm to strike at any moment.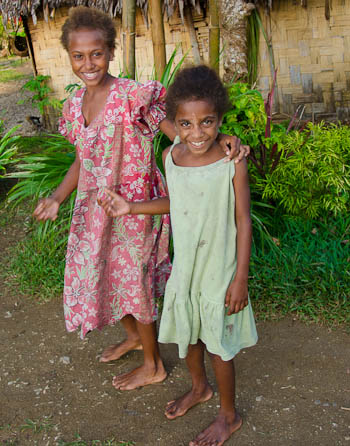 Apparently other yachts have arrived in desperate need of bread because Marie made sure we knew about a store that sold freshly baked bread. My eyes must have lit up because we were soon inside buying a loaf.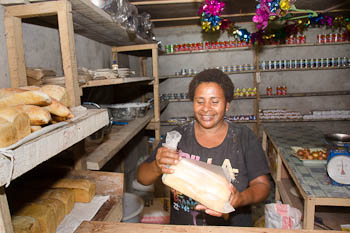 Further down the track we met Victoria, owner of Dumi Restaurant and Guesthouse. A plate of donut-like pastries, still warm, sat on the table. I asked if they were for sale. Might as well try one of those too! Her guesthouse is appealing with a nice shower and flush toilet.
Victoria is soft-spoken and very kind. Wanting to spend more time with her, we made reservations for dinner and a show (kids kastom dance) for the following night.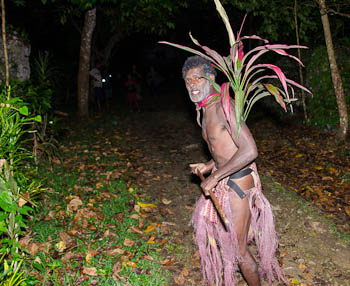 We kayaked to shore in the dark with headlamps to find our way. Just before we arrived at the restaurant, Victoria met us on the road and told us to wait.
In a burst of noisy energy, a man dressed like a traditional warrior ran down the path to greet us, or scare us, I'm not sure which. Chief Yamen hollered and jumped about while we took pictures. Finally, he turned and motioned for us to follow him.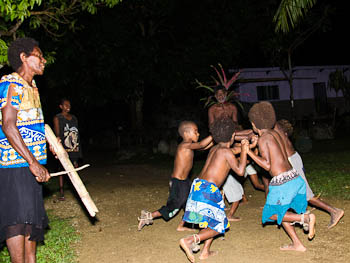 The children performed several dances with the adults helping them along. I don't think they do this too often; blank faces and a bit of fumbling gave them away but they were adorable and it was entertaining. Afterwards we had a yummy meal that Victoria had prepared.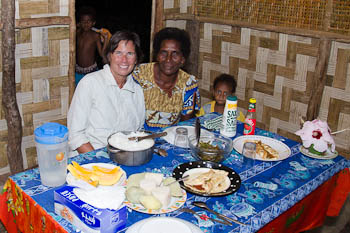 Besides land diving, Pentecost is known for sand drawing. Mathew arranged for Jeffrey to give us a demonstration. Each drawing begins with a grid to keep the scale correct. Jeffrey's finger did not leave the sand during most of the drawings. When they were finished, we admired them for a few moments until a sweep of his hand erased them forever.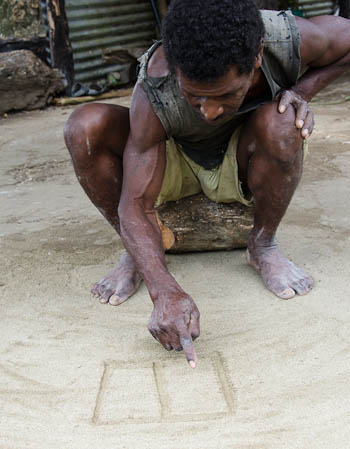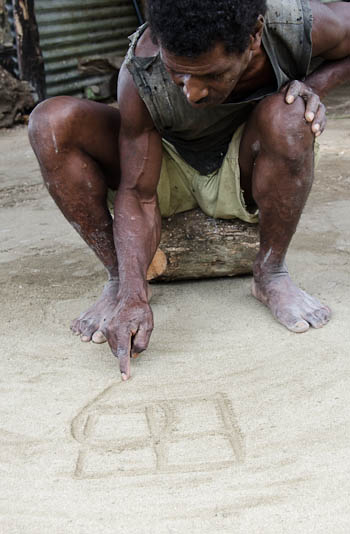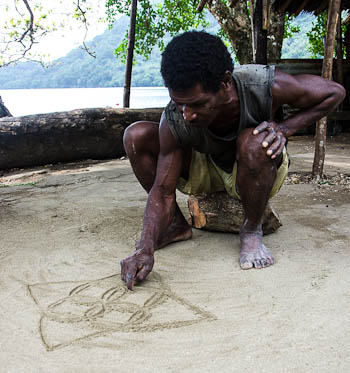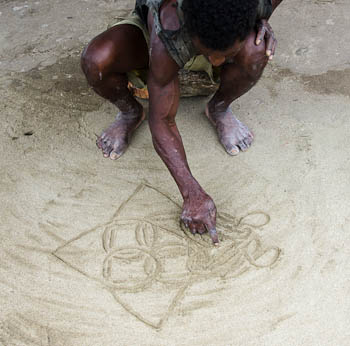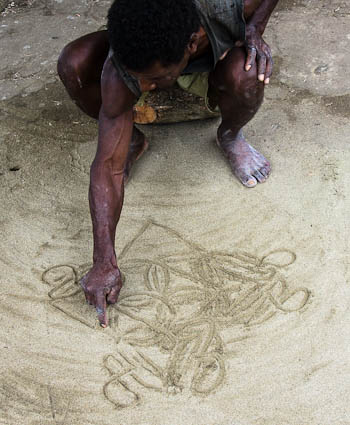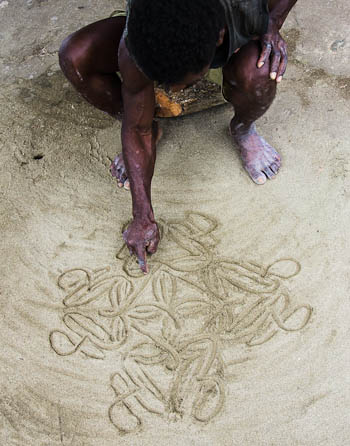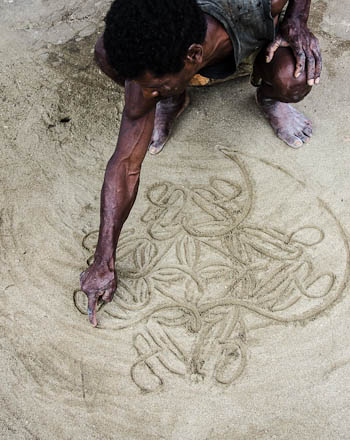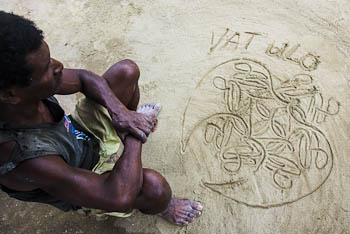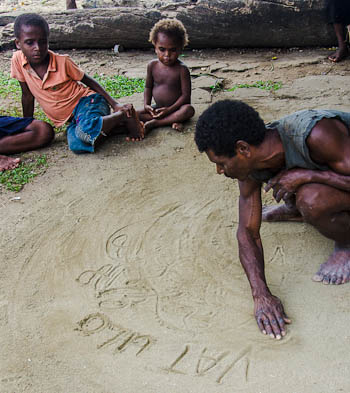 Vat Ulo means Rock Shout. There is a long story about the rock sitting in the bay in front of the yacht club, most of which I've forgotten. It is the location where a mother sang out to her boys when one went to Malo, near Santo, on a canoe. So the two words combined mean to call out.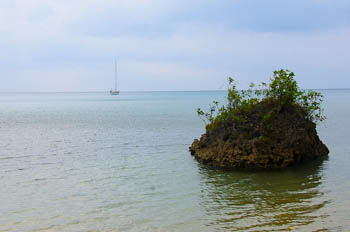 As we sat at the table enjoying the pleasant breeze and lovely view out the windows, Marie and Mathew brought out an incredible lunch with more courses than we could count. Everything was absolutely delicious! I am not kidding, this is the best local food we have had yet in Vanuatu!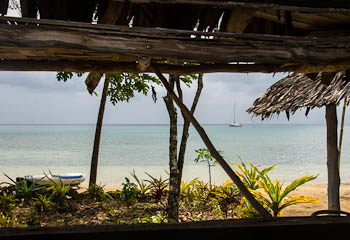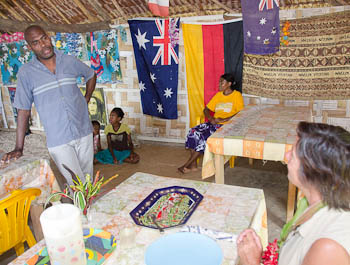 After lunch Marie showed us beautiful and intricate weavings used as skirts and mats. Then she wrapped one around my hips, strung some rattles around my left ankle and taught me a dance. What fun!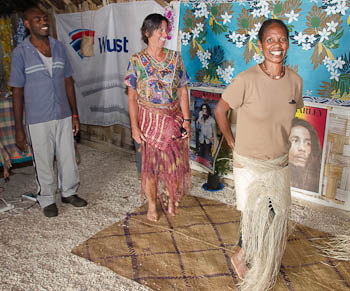 We gave Mathew and Marie an American flag to hang in Vatulo Yacht Club, an SSCA burgee to hang out front, and some printed photos we'd taken of them earlier.
Marie and Mathew gave us a beautiful weaving that is used as a skirt. Mathew suggested that when we look at it, we remember that we are always welcome in his family.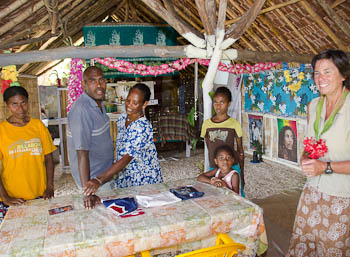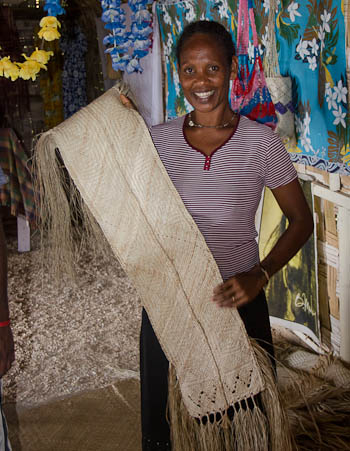 We enjoyed our time in Loltong Bay very much. It is one of the prettiest anchorages we've been. Our oversized Delta did not dig deeply into the hard sand, but, as it is quite protected, we hoped for the best. Again.
Twice we saw a dugong swimming lazily in the bay. Locals say there are turtles but we didn't see any. We were only here two days, not nearly long enough.
Video: Sand Drawing in Vanuatu
Go to October 2012 Part One - Welcome to Santo, Aore Resort, Vanuatu