September 23, 2012
Looking for the leading marks to clear the reef into Loltong Bay, we had extra eyes on board to search. Chief Molsais, his daughter, her husband, and their baby boy were hitching a ride up from Wali Bay.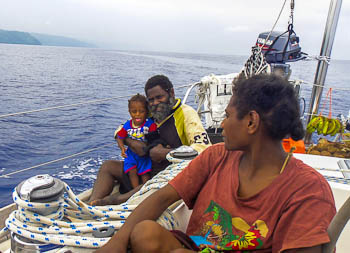 The wind was nearly non-existent, clouds protected us from the sun, and the water was flat calm. Perfect conditions to move a young man with some sort of painful ailment, a baby, a woman, a paramount chief, baskets of taro and yams, a bedroll, several mats, and bags of who-knows-what, 30 miles up the coast.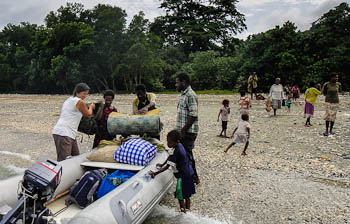 After drinking kava together the day before, Luke asked if we would be willing to give Chief Molsais and part of his family a ride up to Loltong. His daughter's husband needed medical attention. Certainly, we said, we would be honored. We are not sure if he was seeking kastom bush medicine or western medicine from a hospital, both are popular in Vanuatu.
The next morning at 0600 we went ashore to pick up the chief and his family. A crowd of people were on hand to help carry all their belongings to the dinghy. There was barely room for Chief Molsais to fit his feet for the ride out to Tenaya.
We unloaded his bundles and stacked the baskets of food at the stern and everything else in the head. There was a fair amount of dirt, dust and sand involved, and probably some hitch-hiking creepy crawlers as well. Ni-Vans live, literally, very close to the land.
As I stowed things with the chief's help, Jim returned for the rest of the family. It was tough for the young man to climb up out of the dinghy and over the lifelines but he managed without complaint. Soon the anchor was up and we were on our way north.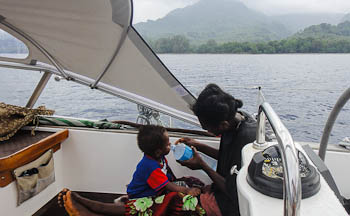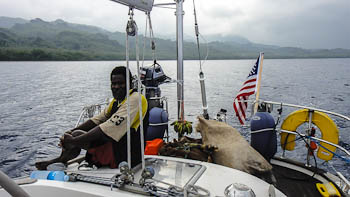 What an interesting trip! Chief Molsais (his kastom name) oversees 374 chiefs in 267 villages on the southern half of Pentecost. The government runs on a couple of different levels and he is part of the kastom government where he is known as Oratio Bila.
Chief Molsais did not speak much English but his daughter translated for him. He told us about his village, about his work, and about land diving. He said he's jumped 24 times. The last time was from such a height that his wife ran away and would not watch. He said this with a chuckle.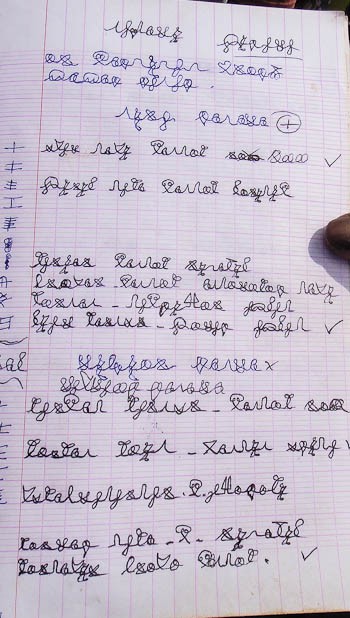 Chief Molsais showed us his notebook with accounting information for different villages and also one full of beautiful writing that looked like sand drawings. He also showed us his calendar - a circle split into the phases of the moon.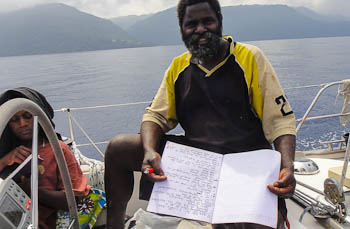 We were fascinated! Guidebooks say local languages are spoken but not written. Here were pages of the most beautiful writing we've ever seen.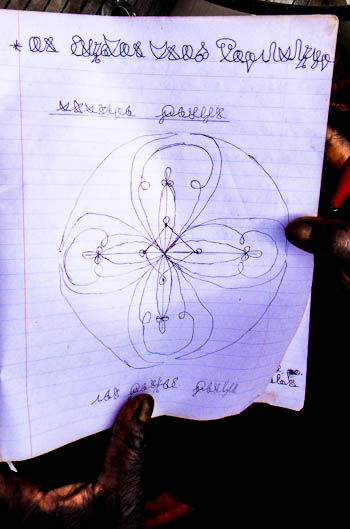 Chief Molsais wrote my name out, then Jim's, then the letters of the English alphabet in his language. As his daughter pronounced the letter, he wrote the equivalent.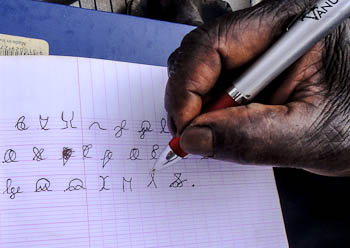 Throughout the journey the young man moved slowly about the boat resting here and there for a short time before moving on. It seemed sitting was painful so I offered him the starboard settee which had been fitted with a sheet. He smiled gratefully and laid down. Several times his wife rubbed a thick oil deep into his back and he rested easier for a while.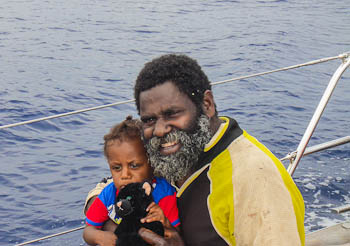 The little boy was very well behaved. At one point he and his mom looked a bit bored so I brought up Blanco, our black kitty. Instant love! About 30 minutes later, in a flash, Blanco escaped over the side. Luckily, he floated long enough to turn the boat around and fish him out. The little boy was very pleased. It was obvious he and Blanco would be happy together so when they went ashore, the stuffed kitty went too.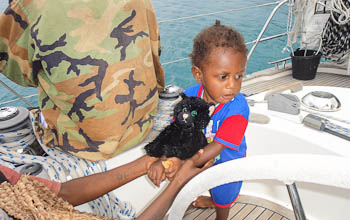 It took two dinghy trips to unload the chief, his family, and all their stuff on the beach at Loltong. They quickly transferred to a power panga which zipped them even further up the coast.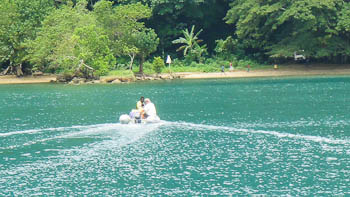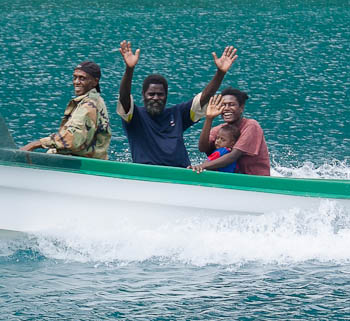 Chief Molsais had never been on a yacht before and was keen to watch everything we did. He was alert and curious, but also humble, kind and extremely likeable. As a thank-you for the ride, Chief Molsais gave us some large taro and yams. Each one has a different flavor, he explained. His village is on the east coast in the southern part of the island and invited us to visit should we return to Pentecost. Hmm... now that's something to consider.
Go to September 2012 Part Five - Loltong, Pentecost, Vanuatu