September 20, 2012
Ranon Bay: 16 08'.49S 168 07'.00E
The sloping black sand beach wraps around Ranon Bay until it ends abruptly in a precipitous jumble of green at either end. The north coast of Ambrym is steep and tropical.
It is said that the islands of Vanuatu that have active volcanos have the strongest black magic. Ambrym has two so perhaps it is the most magical of all. At night from the cockpit we can see the red luminescence that pulsates like twin hearts with erratic beats. During the day mushrooming clouds of ash and gas remind us that Mt. Marum and Mt. Benbow are not far away. We will not hike to them though, we do not have the time.
Of all the islands in Vanuatu, more than 80 of them, Ambrym has the finest wood carvings. Tall tiki-like statues are carved out of black palms (tree ferns) and sold throughout the country. Logs from the breadfruit tree are carved with a long, hollow slit that produces the sound of a drum. These are called tamtams and have elaborately carved shapes of human faces above the slit.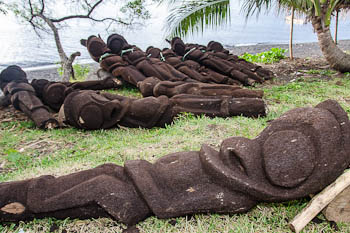 Perry paddled out as we anchored in Ranon Bay and welcomed us to the village. He offered to be our tour guide and arrange for us to see wood carvings for sale. For this he charged 600 vatu. We thought that was a bit odd, but when we arrived in the village, we found each carver displaying his work in an organized fashion.
There were so many beautiful carvings to choose from! Replicas of masks used in the famous rom dances, small tam tams, clubs, musical instruments, carvings of pigs and bats ... the list goes on.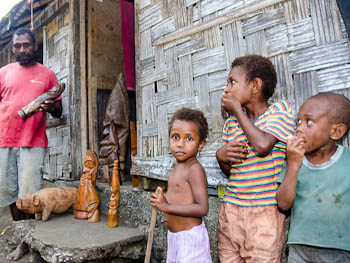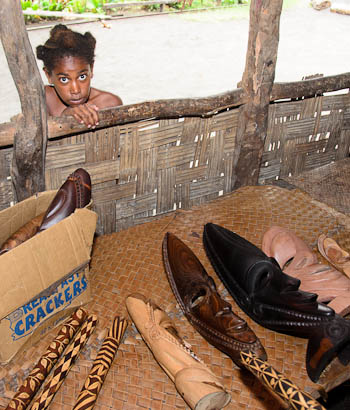 Even Chief Paul was selling carvings. Well, his daughters were. He had a building devoted to masks, flutes and other items and offered to play a flute for us. How could we not buy one?
Jim's eyes lit up like a Christmas tree when he saw the pig-killing club Alex had carved. He wanted one in the worst way but this thing was huge and weighed a ton.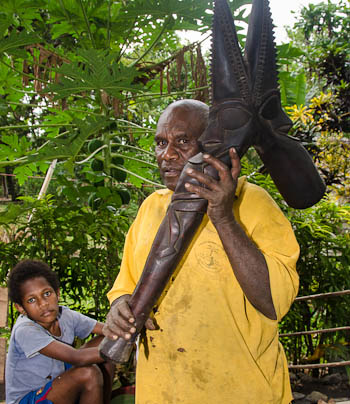 Perry conferred with Alex and learned that he was carving a similar but smaller one which would be finished the next day. Perfect!
Even Perry had a few things displayed at his house. He is not a carver but was selling them for a friend. We bought a beautiful mask and a bat which I found irresistible. His name is Boner and he's got a big grin looking down (or up) at his not-so-private parts. Boner now hangs in our main saloon.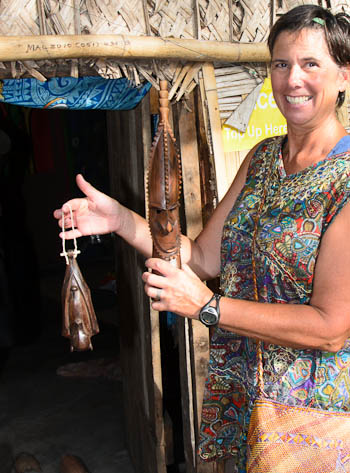 Each evening about 5:00 pm a rhythmic drum sounds on the hill. It is a man pounding bits of kava root (chopped by women) in a cylindrical metal container with a heavy pole, mortar and pestal style. The scene is replayed at another kava bar on the beach. This kava is good. Very good. The most potent we've had from a kava bar yet. After two cups each, Jim's large, mine small, we went back to Tenaya for dinner. Jim had a glass of wine and shortly thereafter was hanging over the side feeding the fish. Apparently kava and wine don't mix.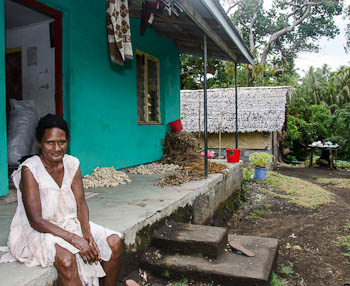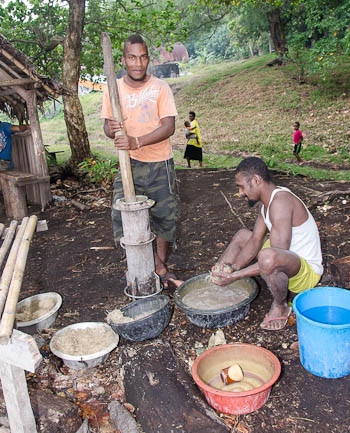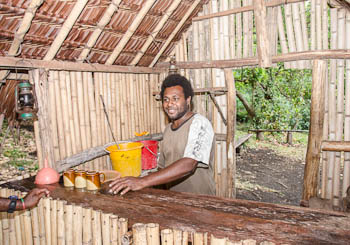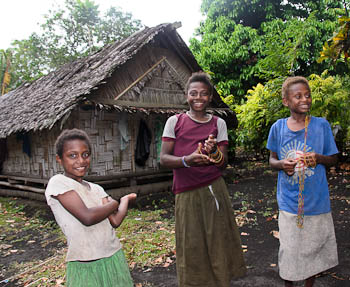 The people are friendly and the children are incredibly sweet. Yesterday we asked Perry if we could wander down the road. Sure, he said, no problem. We came to a cluster of houses where several girls were outside. After introducing ourselves with a smile we asked to take some photos. More kids came and we all had fun posing and then looking at Jim's photos.
A few minutes after we'd left them, four of the kids came running up. They wanted to join us. When we came to a fork in the road I asked which way to go. They all pointed up because there was another village up there.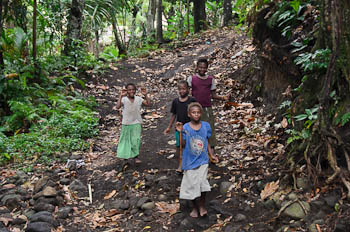 And in that village we met more kids that joined our troupe. After a short visit with a few adults we continued on. It went on like that through several villages and past the school grounds.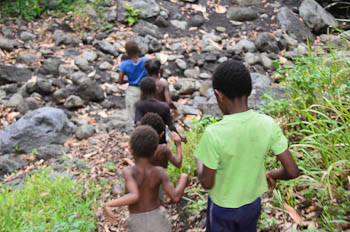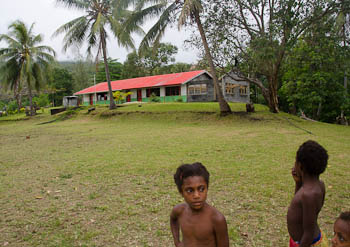 Under the fragrant frangipani tree the oldest girl, who I called the teacher, asked if I liked the scent. Very much, I said. So two boys climbed up the tree and picked a bouquet for me.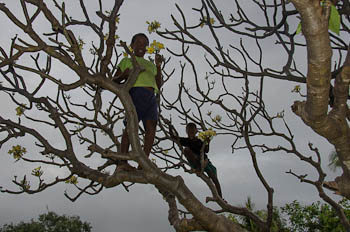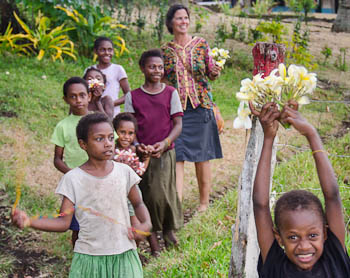 As the sun dropped lower in the sky the children led us back to the beach. Somewhere along the way I mentioned quietly to Jim that perhaps the kids might like to paddle it. With shrieks of joy they took off running.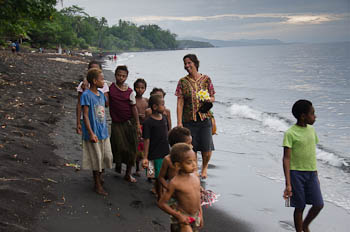 I think the record was seven kids in the Sea Eagle kayak at one time. It was amazing to watch them figure out how to paddle in unison and turn after just a few moments.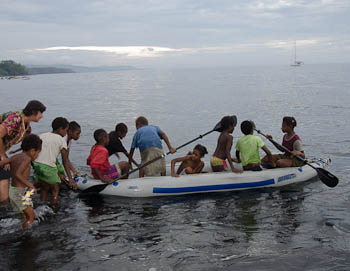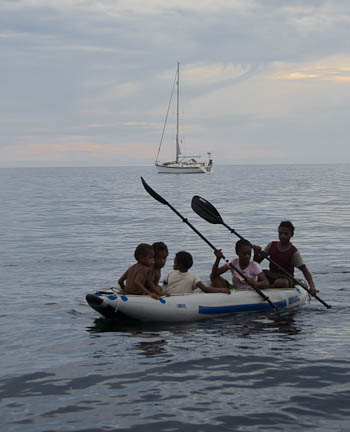 The water in the bay is warm and clear and feels absolutely glorious. I've spent some time in it checking our anchor which will not set. The bottom has a thin layer of sand over a really hard base. Fortunately the anchor is quite heavy for the size of our boat, 32 kg, and we've got 10mm chain. As long as the wind doesn't kick up we'll be fine with all that weight.

We like Ranon. Perhaps we will return and spend more time here, but tomorrow we are off to Pentecost. Gotta keep moving and get to Santo before our friend, Steve, arrives in 10 days.
Note: The pages from this season are done well after our visits and we apologize for being so late in getting them up. We've just been having too much fun to sit still and write! It is now two months later and Steve flew home yesterday.
Photo Gallery: Ranon, Ambrym, Vanuatu
Go to September Part Four - Londot Village, Wali Bay, Pentecost, Vanutau