July 9, 2012
SW winds of 18-22 knots and a moderate SW swell ushered us away from Opua on June 24. Leaving was bittersweet. On one hand we are thrilled to be returning to Vanuatu, on the other sad to be leaving New Zealand. We are very much enamored with this enchanting country. As Tenaya sailed north, the familiar Bay of Islands faded from view for the last time.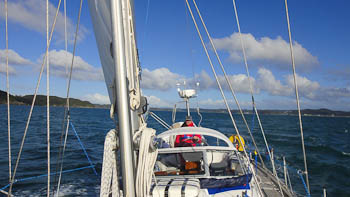 We left NZ with two lows forming to the west. The strength and direction of the winds generated from the second would determine whether we went straight to Vanuatu or stopped at Noumea in New Caledonia first. Brynn at Commander's Weather suggested we head due north until clear of the second low and our destination would become clear. It did. We arrived in Noumea on July 3, 2012.
Following are excerpts from our logbook:
Day 1: SW-WSW winds 18-26 knots. Gusts to 34. Moderate to rough seas. Heading due north. Chilly, wearing icebreaker long undies under our foulies, gloves and hats at night. Feeling a little queasy but nice to be at sea again. 163 miles sailed.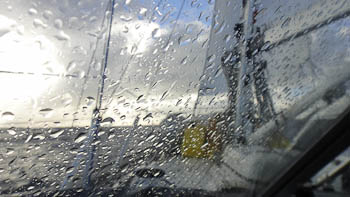 Day 2: WSW-SW winds 14-18 knots. Rough, confused seas. Heading due north. Great sailing on a beam reach. Royal albatross soaring by. Squalls here and there. Night sky is full of stars. Sliver of a moon set early. Cold. Looking for those sea legs. 177 miles sailed.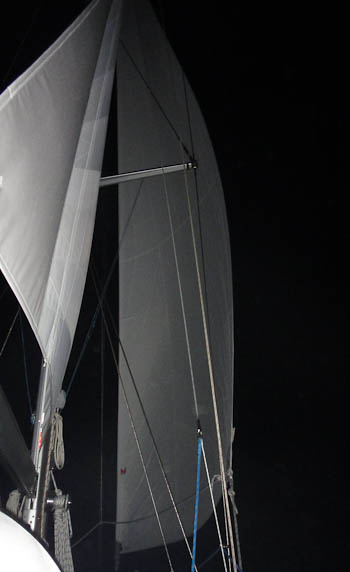 Day 3: Daytime temperature warming up. Winds backed from W-S at 10-14 knots, gusts to 20. Moderate seas. Low passing below us. Tightened loose bolts on boom vang. Squalls. 166 miles sailed.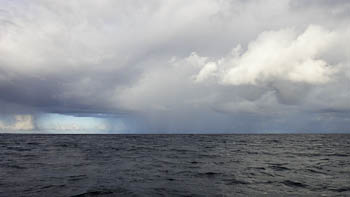 Day 4: SE winds 9-19 knots. Gusty. Moderate seas. Still heading due north. Light rain at times. 1545 - 146 foot yacht Thalia passed one mile east. 164 miles sailed.
Day 5: SE winds 18-22 knots. Rough seas. Squalls. Heading due north on a broad reach sailing fast. Boat speed hit 11 knots, SOG 8.6 in a squall. No stars visible. 175 miles sailed.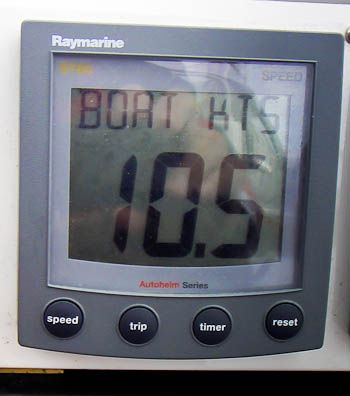 Day 6: E-ENE winds 13-22, gusts to 26. Rough seas. Much warmer! Shorts and wool shirt, no foulies at noon. Heading 333M for 8 hours, then 250M. 179 miles sailed.
Day 7: NE winds 12-18, gusts to 22 until 2200. Heading west at 250M. Raining. NNW winds diminishing, moderate seas. Light cloud, nice moon. 1100 - SW winds 8 knots. Slight seas. Motoring. 168 miles sailed.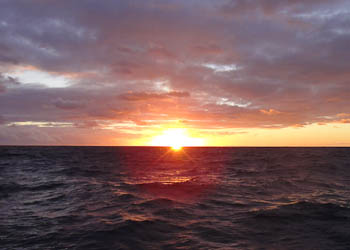 Day 8: 1306 - S winds 13 knots. Slight seas. Heading 250M. Sailing again! Sunny beautiful day. Nice warm night. Almost a full moon. 2200 - Wind dropped to 6 knots, started engine. 0504 - Moon setting, orange. 1100 - Can see Ile des Pins. Nice to hear French on the radio. Thought we caught a fish but it was a stick. 138 miles sailed.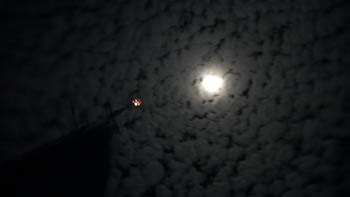 Day 9: SW winds 7-14 knots. Slight seas. Sailing slowly. 2005 - Changed heading to 300M. Reefed again to arrive after dawn. Beautiful night! Full moon and warm. Clouds look like cotton balls. 0301 - Autopilot switched off by itself. Stayed set once reset. 0602 - Huge harvest moon setting. Green flash!!! 0700 - Outside reef waiting for sunrise. Venus and Jupiter bright in the sky. 1018 - Inside reef. Time change, lose one hour. 1200 - In berth at Port Moselle Marina. 112 miles sailed.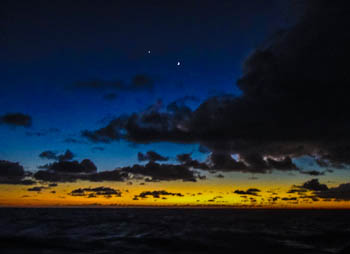 Port Moselle Marina, Noumea, New Caledonia 22 16'.64S 166 26'.41E
Total distance sailed: 1455 miles. Direct route from Opua to Noumea: 900 miles.
What an easy and pleasant passage this was! Last year we waited six weeks for a weather window out of Opua, but this year we waited less than a week. As usual, it took a couple of days for our bodies to adjust to being at sea, so making several meals before we set off was a good idea.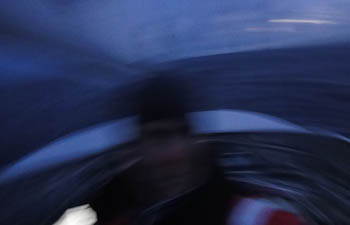 The night sky never ceases to amaze me. Moonless nights with billions of stars fill the black sky until it reaches the sea. Shooting stars blaze randomly for a nano second while satellites traverse slowly and steadily. I could lie in the cockpit mesmerized for hours. Brilliant bioluminescent blobs roll in the water like green marbles just beyond the hull.
Gliding along the shimmering path illuminated by a gleaming moon is spellbinding. Even being tossed about as the windvane dutifully holds its course as bouncy waves toss bucket loads of water over the rails is somewhat enchanting. Well, exciting anyway.
The new sails work great! No wonder race boats get new ones often. Along with the clean hull, we zipped right along.
It's a pleasure to look at the new gauges and not be momentarily stunned by the pegged oil pressure warning peeking out from behind heaps of vinyl tape. We had forgotten that they were all once lit.
The repaired watermaker works like a charm, pumping out much more water than it has in years. And the generator works fine too now except when we heel too far to port.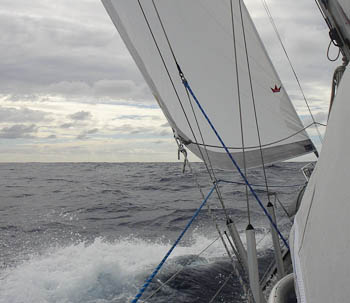 Because nothing broke on this passage, we arrived with a very small to-do list.
Jim replaced the switch for the port winch which, once again, sprang to life on its own. We were told the Harken switches have full covers unlike the existing Lewmars. That should keep them dry and stop them from shorting out.
Having repaired or replaced just about everything in the last 12 months and 8,000 miles, we should be good shape for a while. But we cannot be so optimistic, it is a boat after all. Things are always failing.
From the harbour wall we had at look at Tenaya, as we always do. She was listing seriously to port! Granted, her starboard fuel tank was empty, but still...
Yesterday I took all the cans, jars, bags and tubs of food I'd stored under the port settee and redistributed them to the starboard side. This involved rearranging several storage spaces. Things that have lived in one spot for six years now have new homes and this is sure to cause some confusion down the road.
After all this time being happy with one of two different sea bunks, I decided I wanted to try a third spot. Now my favorite place to sleep on bumpy passages is between the lee cloth and back cushion of the starboard settee. As we didn't have proper fitting linens for it, I used a fleece blanket as a mattress pad and a flat sheet which became hopelessly entwined and useless by end of the trip.
Using parts of an old fleece blanket, Jim made a nice pad and then stitched elastic loops and ties to a fitted sheet so the whole thing will stay in place. He's so talented!
Enhanced trade winds this week would make heading east to Vanuatu a dumb thing to do so we will stay in New Caledonia until they subside.
Go to July 2012 Part Two - Lifou, Loyalty Islands, New Caledonia