July 19, 2012
Baie Ire: 22 24'.32S 166 48'.22E
Baie de Doking: 20 42'.30S 167 09'.67E
The enhanced tradewinds were forecast to diminish so it seemed a good idea to leave Noumea and head to Vanuatu. After a leisurely morning stocking up on fresh fruit, veggies, baguettes and fueling up, we sailed 30 miles to Baie Ire to spend the night of July 15.
A brilliant blue sky and very little wind greeted us the following morning. The current was with us as we motored down Woodin Canal and out Havannah Pass on our way to Lifou in the Loyalty Islands, an overnight passage away.
Sea state quickly increased from slight to moderate, the winds stayed light, and the sun continued to shine. With freshly made guacamole in the fridge, fish tacos sounded good for dinner so Jim tossed out a line. No luck. The menu du jour was chicken tacos.
About 1800 the winds shifted from NE to SE and began to increase to 8-14 knots. Finally we could sail. We sailed through the night and about 1000 were 4 miles out. Spotted among the choppy seas were dolphins heading towards us. Ten escorted us right into the anchorage. What a nice welcoming!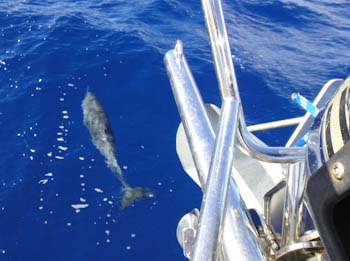 The guidebook, Cruising Guide to New Caledonia, by Marc, Rambeau and Blackman, calls the anchorage at the north end of Lifou Baie de Doking but Lonely Planet calls it Jokin. Whatever the proper name, it is a lovely anchorage and the head of a large bay.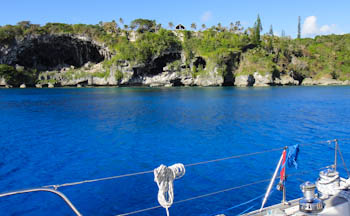 If going there in your own yacht: The approach is straightforward. We came NE to 20 42'.31S 167 09'.56E. Head for the largest of several dark, open caves. As you get closer a shelter with a green roof is visible and a single tall, narrow tree. Head for the shelter. The water is plenty deep, 40 meters shallowing slowly to about 15 before the reef and bommies come close to the surface. The water is amazingly clear so the bottom is clearly visible with decent light.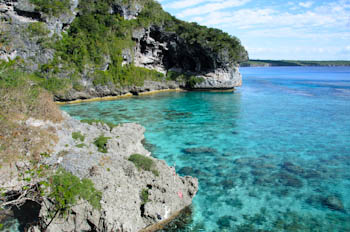 We dropped the hook in 15 meters in a sandy patch between outcroppings. Because we were so sheltered, we didn't back down on the anchor to set it for fear of bothering the coral. Our anchor is 32k and chain is 10mm and we put out 5:1 scope. That much weight would keep us put unless the wind changed directions or picked up dramatically. We would keep a keen watch for either.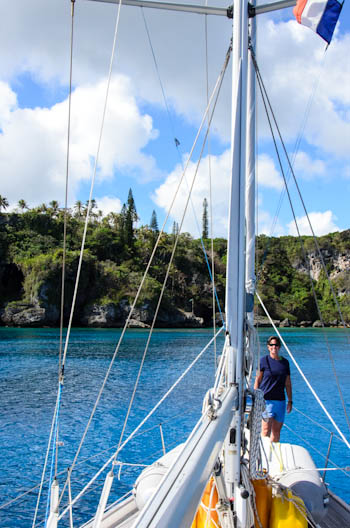 How wonderful it was to be floating peacefully at anchor in warm water under the radiant heat of the sun. After so many chilly anchorages in the southern part of New Zealand, this felt like a well-earned respite.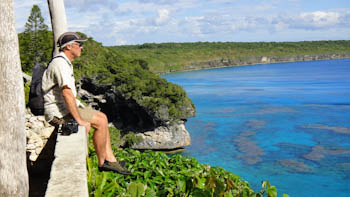 Lifou is a low, flat limestone island. The water is exceptionally clear as there is little runoff. Snorkeling and kayaking are spectacular! We found the best spots for large, old and varied coral to the west of the boat. The many types of colorful fish seemed entirely unconcerned with our presence.
At the low point to the west of the shelter and beneath the tall, narrow trees is a steep concrete path that becomes stairs that lead to the small village of Jokin/Doking. Unfortunately it's not a great dinghy or kayak landing as it ends above head high so a long painter and thick soled shoes are necessary to tie to the sharp rocks and scrambling up to the path.
Once on top, this grassy path leads to the small village. Visitors are advised to meet the chief and ask for permission to anchor but he was out of town and nobody seemed to care. It is a beautiful spot with a gorgeous view. From time to time small busses disgorge cruiseship passengers for an hour or so and then all is quiet again.
We spent three nights here enjoying the warm water and sunshine while kayaking and snorkeling Each evening a magnificent sunset ended a lovely, relaxing day.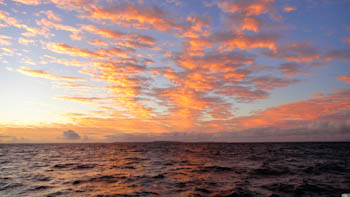 Go to August Part One, 2012 - Aneityum, Vanuatu Revisited