April 18, 2012
Gulf Harbour Marina
36 37'.33S 174 47'.29E
Three months and three thousand miles later, our circumnavigation of New Zealand is complete. We left Opua, on North Island, and sailed up around North Cape, down the west coasts of North and South Islands to round South Cape on Stewart Island. Then we sailed back up the east coasts of all three islands. Our route took us north to 34 17'.66S and south to 47 20'.30S.
So, although we haven't returned to Opua, our circle is complete. We are in Gulf Harbour, the place Tenaya was berthed last season when we drove our campervan around New Zealand.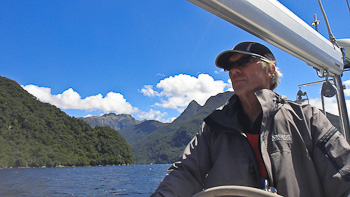 It was an amazing trip and we are so pleased we did it. Many people, including many New Zealanders, said it was not a good idea. Even Noonsite, which gives advice about sailing around Cape Horn, suggests driving rather than sailing around South Island.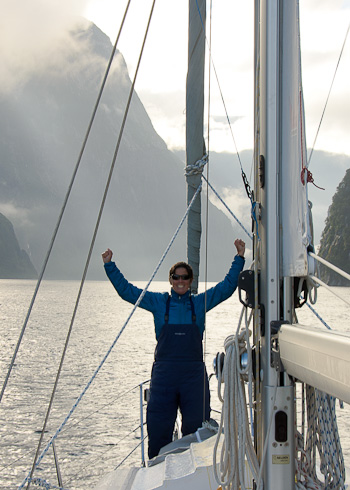 Being a couple of stubborn but eternally optimistic people, Jim and I really wanted to sail to those wild, remote and beautiful places in New Zealand only accessible by boat. Jim sent messages to both Jimmy Cornell of Noonsite and Ken Campbell of Commander's Weather for advice.
Jim,

You are absolutely right; if you have plenty of time (which most people don't) sailing around South Island by watching and waiting for good weather is the way to do it. I wish I had done it myself!

Good luck.

Jimmy (Cornell)
Hi Jim,
Jan and Feb is the best time of year to do that trip.
Yes, we have worked with many clients and your plans are exactly correct other than Feb is just as good as Jan.
Just have options for stopping if the weather is bad, but I have seen
highs set up over S Island for 7-10 days during those months, so the weather can be very nice.
Hey, they always say summer in NZ does not start until Christmas!
Kind regards, Ken Campbell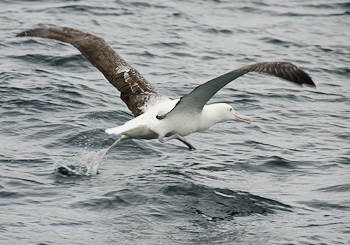 It's funny because those who said not to consider sailing to South Island or Stewart Island had never actually done it themselves. Others, like Marcie and David on Nine of Cups, Beth and Evans on Hawk, Toby and Kath on Solstice, David on Runaway Bay, and a few others who had actually sailed there, were full of cautious encouragement.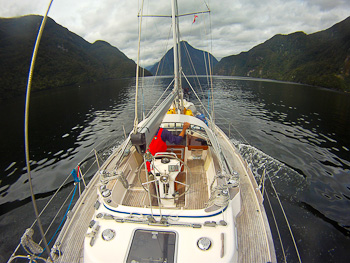 We always use Commander's Weather for long passages and enlisted them for guidance for this entire trip. Even in Fiordland, when distances between sounds were covered in one day, we added their advice to the detailed weather reports available on the radios and the GRIB files we received via sat phone. In these high latitudes, we certainly trust professionals with degrees in meteorology over our own best guesses!
We are exceedingly pleased with the service we receive from Commander's Weather Service and are giving them a whole-hearted song of praise here. The friendly, professional, and timely manner in which Ken, Brynn and Oliver communicate with us is superb. Initially we had read on their website that they are consulted by various major campaigns and wondered how much attention they would give little guys like us. We can honestly say that it is excellent. We highly recommend them to anyone venturing offshore.

Each passage is different and some are more pleasant than others. Often high winds or big seas add a degree of apprehension to an already exciting trip. Sunny days are serene while nights with clouds rolling by obscuring, then revealing, the moon and stars are absolutely magical. Dolphins are always a treat to see as are soaring seabirds.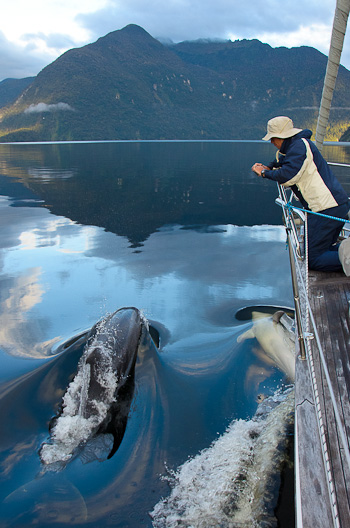 Our most recent passage, from Napier to Auckland, was the last of our trip around New Zealand. It was only three days but held just about every condition expected in this part of the world. Jim found it interesting and was fine with it. I, on the other hand, was disappointed each time the short-lived mellow times evaporated into rolly seas or wet and windy squalls. I figure this was a reality check and a bit of a karma payback.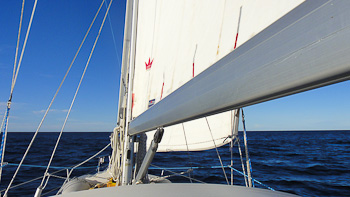 Before we left Napier, I'd cavalierly said to another yachtie who was skittish about sailing out into potentially uncomfortable conditions that it wasn't such a big deal. "Maybe you have a day or two from hell, but then it's over." Basically, just deal with it and eventually it will get better. Okay, empathy has crawled humbly back into my heart.
As our journey progressed, parts failed. While going through the Cook Strait into Golden Bay, several holes appeared in the jib requiring immediate repair. Upon inspection, the main had about had it too. New sails were ordered at a substantial cost and sent to the marina on North Island.
As we left the Bay of Islands the speaker for the VHF radio in the cockpit broke. It was impossible to control the volume. We ordered a new one from Cater Marine in Opua and arranged for them to send it to Meri at Bluff Fisherman's Radio.
In Golden Bay the watermaker quit working. It began again before we left, but all confidence was lost and a new pump was ordered and sent to Meri.
In Doubtful Sound the starter motor would not work without a swift knock so a replacement was ordered and delivered there. Billy, the manager of Deep Cove Trust, arranged it all.
In Luncheon Cove the bowthruster sprang to life with no warning. Jim was unable to fix the problem. Fortunately we seldom use it.
In Port Pegasus the generator began to leak oil. Unwilling to take it all apart in an anchorage, we quit using it. The batteries were then charged by the engine and the bread batter was beat by hand. No more toaster, no more electric rice cooker. We were really roughing it!
In Paterson Inlet the water heater began leaking. It was impossible to deal with until we were at a proper marina so we had no hot water from then on. Hmm, now we were seriously roughing it.
In Dunedin we realized that the VHF handheld in the cockpit did not work. It failed last year so this was a replacement.
During the entire trip the oil pressure gauge would max out each time the engine was turned on, but would eventually return to normal. Jim checked the amount of oil, which was always fine, so he figured it must be the gauge or sensor because the engine never blew up. Both parts were ordered and sent to the marina.
So now we are back in the marina attending to all these projects. Most likely they failed because Tenaya is 6 years old and has sailed 30,000 miles. It just happened to be bad timing that we were in remote places. But, there is no place we would rather have been. We would return to Fiordland or Stewart Island in a heartbeat.
Circumnavigation of New Zealand route and details
Go to June 1, 2012 - What we do between sailing trips