April 11, 2011
Napier Sailing Club:
39 29'.03S 176 53'.52E
I awoke suddenly as the alarm sounded on my wrist and tried to remember why it was set to go off so early. It was still dark. Eventually it came to me, our weather router was sending a message at 0600 with a forecast and departure time for our three day trip to Napier on the North Island.
Jim feigned sleep, or perhaps really was, so I rolled out of bed, staggered to the chart table and turned on the computer. There it was. It said to leave at daybreak the next morning but some dates and times were confusing and I'm not too bright first thing in the morning. I wasn't sure if the forecast was written using UTC (Greenwich) time or NZ time which is 12 hours ahead. That makes NZ a day ahead for 12 hours each day. So did the message mean we should leave right away or the next day? I hesitated to assume what seemed to make sense so I called.
The person on the other end said he would figure it out and look at the most recent models to see if there were any changes. I crawled back into bed and got up an hour later to check. Yep, the new models said the northerly winds near our destination were going to be stronger sooner than earlier forecast. He suggested we leave that day. On went the kettle and up rose Jim.
After telling Arnie and Vivienne on Harmony the change of plans and completing several errands in town, we were on our way at 1355 in the northerly we were initially waiting to pass. Winds were 13-18 knots with glorious sunshine and moderate seas. By 2200 the winds were below 10 knots and variable until 1800 the next night when they went to 10 knots from the SE. We motorsailed into confused 2-3 meter seas largely from the NE. At 1400 on April 7, Jim's birthday, the wind shifted to the E from 7-17 knots. We passed Cape Kidnappers at 0400 and reached Hawkes Bay and the entrance to Napier at dawn on Easter Sunday, April 8.
The entrance to the harbour channel is shallow, 2.4 meters at low water. We draw 2 meters. It was not quite low water so we were fine. Nervous, but fine. As we lined up the sector light I called Lyle, the manager of the Napier Sailing Club. He said he could see us from his house and to go on in. He explained how to find the yacht club and said to tie to the floating berth in front. Then he commented on the swell across the entrance.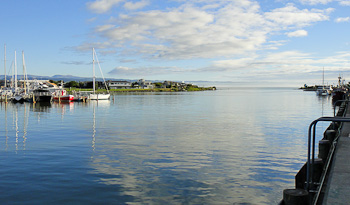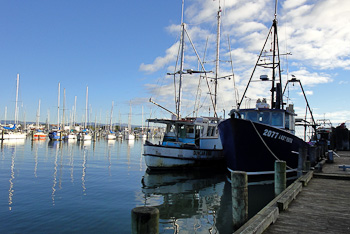 As we rounded the bend and made our way to the berth we saw Scream, a Canadian yacht, tied up there. Although we didn't know them, we knew of them. They came across the Pacific the same year we did. Fortunately there was some space in front and, as Jim jilled about fighting the current, Steven and Darusha quickly moved Scream back to make more room.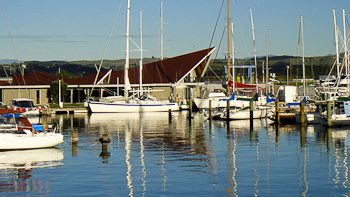 Later in the afternoon the winds turned northerly and got stronger. When we checked in for the last time with Meri on Bluff Fisherman's Radio at 2030 we heard Harmony say they were still 80 miles out with rough seas. We empathized with them in their 26' boat.
The next day was sunny and hot. It felt great to wear shorts and sandals again. We walked towards town with the intention of seeing it but were side-tracked by the Centennial Garden and the Bluff Hill lookout above it.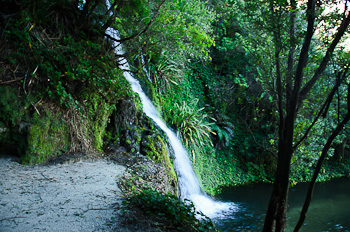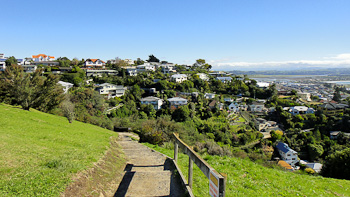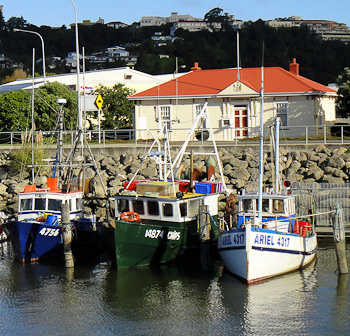 Napier is a charming city and the largest in Hawkes Bay, home to dozens of world-class wineries. With a mediterranean climate and miles and miles of shoreline, it is a pleasant place to visit and popular holiday destination.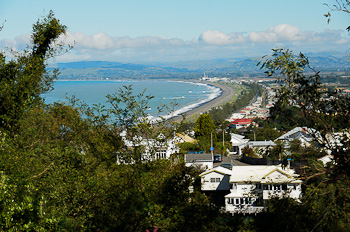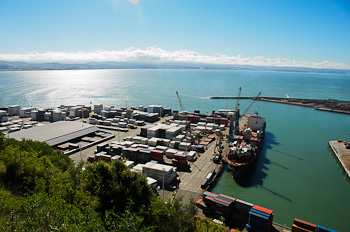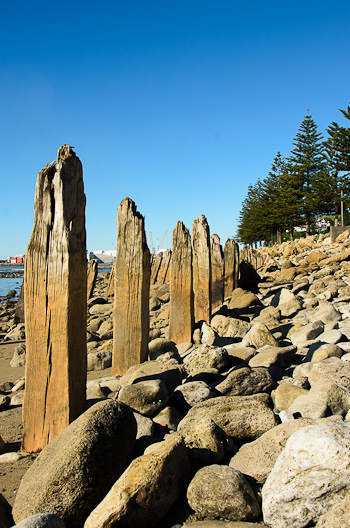 A devastating 7.8 magnitude earthquake struck Napier in February 1931 setting off fires that destroyed what the earthquake had not. Over the next few years the inner city was rebuilt in the Art Deco style. Many buildings feature Maori motifs and design elements, and there is a uniformity of style seldom seen in cities.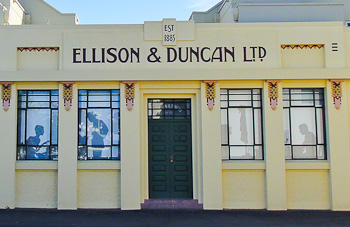 During the day on Monday Inspiration Lady, another Canadian yacht, came in. Considering there aren't so many people in the entire country, there certainly are a lot of Canadians on boats all over the Pacific! Gary said they had crossed tacks with Harmony the night before and Arnie had called to chat. He's friendly like that. They took a beating in their 50' boat and were concerned for the comfort of the crew of the smaller boat.
After dark we heard someone calling "Tenaya, anyone there?" Jim looked out but saw no one on the dock. The voice called again and he turned to the water. There was Harmony! We quickly tied fenders to the side, got some extra lines and secured her to Tenaya. Although a bit bedraggled, they were soon off the boat in search of a warm meal and a glass of wine. We are completely in awe of these two and their wonderful attitudes. Arnie turned 71 the same day Jim turned 63. We should have had a bottle of champagne chilled.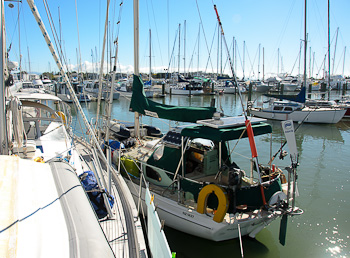 There is a good chance we'll have favorable weather to leave for Auckland by the end of the week. Now that we're back on the North Island, we're running back to the barn.
Go to April 2012 Part Four - Our trip around New Zealand ends.