April 4, 2012
French Bay, Akaroa:
43 48'.32S 172 57'.68E
Leaving Dunedin behind, we cleared the breakwater at the entrance to the channel just before noon on March 30th. Sea life was abundant with fur seals either on the move purposefully porpoising in one direction or another, or floating calmly with a flipper or two raised skyward. Mollymawks, royal albatross, petrels and gulls soared through the sky and speckled the sea. It was as though we were motorsailing through nature's aquatic cafeteria.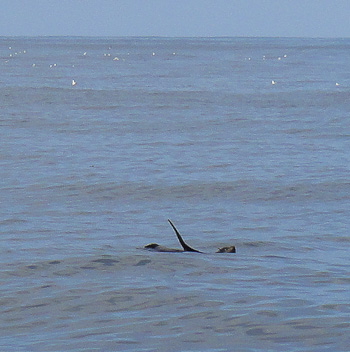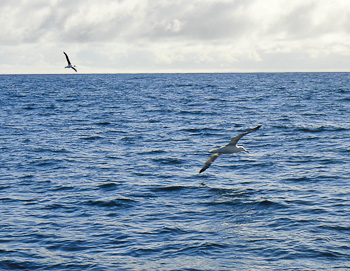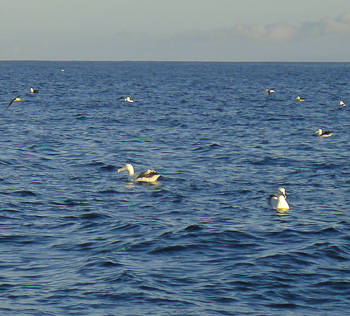 Clumps of kelp littered the surface of the water and a careful watch was needed. Several times we altered course to avoid the sinewy stuff and twice the RPMs decreased while the engine worked harder to free the prop from a section we missed. Still, we arrived at Akaroa with a few meters trailing from the rudder.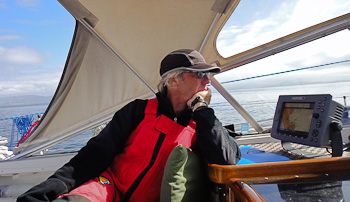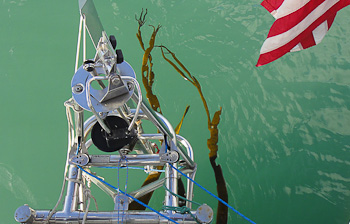 Throughout the overnight passage albatross, both royal and smaller, seals and dolphins passed closely by Tenaya. At one point Jim wrote in the log: "Dolphins everywhere - both sides and far away. More than 50, maybe 100, many doing 360 degree flips end over end! Camera battery dead :-( "
With winds never topping 10 knots and a slight sea, we had another easy trip. It seems there are two ways to sail around New Zealand. One, wait for winds from the right direction which will invariably be 25-40 knots, or wait for a settled pattern to sit over the area creating little wind and motorsail the distance. Both involve patience, the latter takes a lot of fuel, and either are subject to change.
As we profess little understanding of the changeable weather here, we enlist the services of a professional weather routing service. Hearing stories of some who've tried to figure it out for themselves with limited resources and ventured out on their own, we are happy with our decision.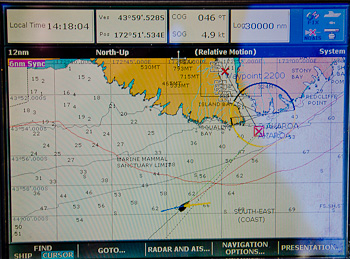 In October 2006 our ship's log reached 1000 nautical miles in Zeeland, the Netherlands. We were thrilled as we had been on the boat for almost six months. Just before entering Akaroa Harbour it hit 30,000. Tenaya, Jim and I have aged somewhat during those years and miles and fears and smiles but still have plenty of life and a few more adventures left in us.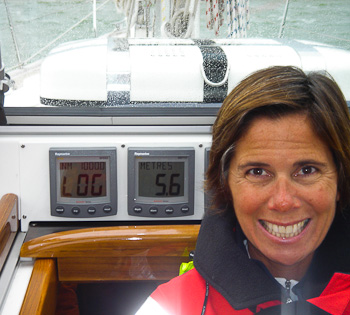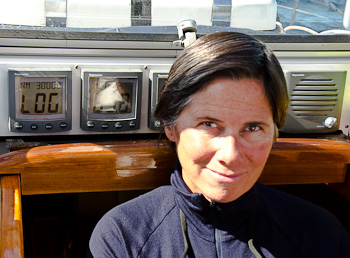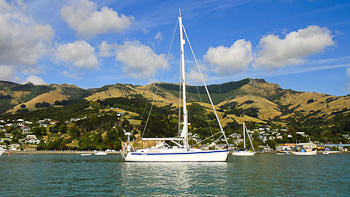 Akaroa means "Long Bay" in Maori and Akaroa Harbour is indeed that. A long, wide finger protrudes nine miles into the volcanically rumpled topography at the southeast end of the Banks Peninsula 85 km from Christchurch.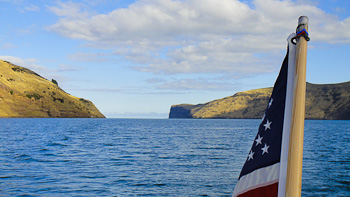 The entrance narrows between two high points before the large bay widens and leads deep into the pretty countryside. The water is flanked by green and gold hills scattered with small holiday settlements. About six miles up is the main anchorage of French Bay in front of the charming little town of Akaroa. A few French settled before the English claimed the land and a Gallic atmosphere remains.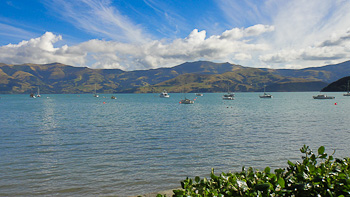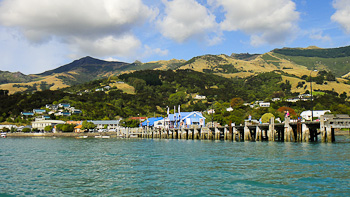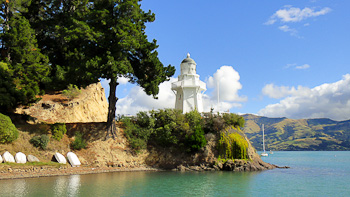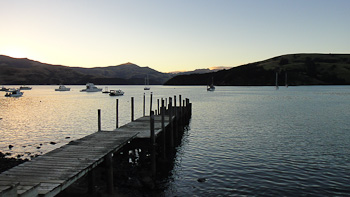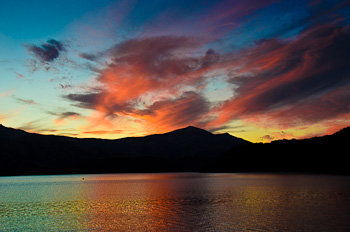 At the edge of town is the welcoming Akaroa Yacht Club. They offer cruising boats access to their fine facilities including nice showers and laundry facilities in a room with a lending library. Water is available on their long dock and we were given a key and the code to enter if nobody was around.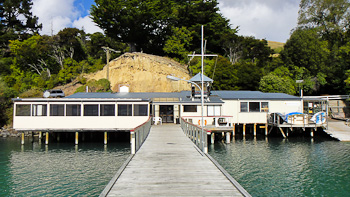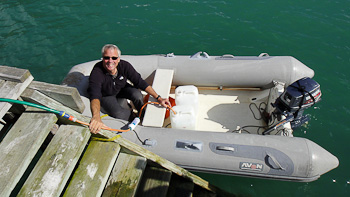 Hector's dolphins reside in the bay. They are the smallest dolphins in the world at 1.5 meters and are endemic to New Zealand. Found mostly in coastal waters of the South Island, they do not porpoise high out of the water but move along quietly with their large, rounded dorsal fin easily identifying them. The fin is black and looks like a big Mickey Mouse ear! We spotted them a few times in the anchorage. One came right up to the dinghy and circled around, giving us a perfect view of his tiny, two-toned gray and black body.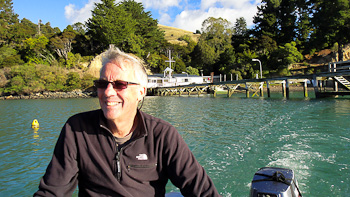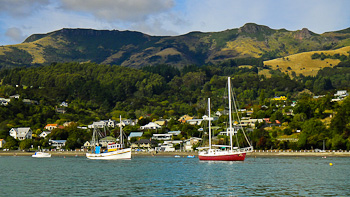 The few days we spent in Akaroa were spent enjoying the lovely weather, beautiful scenery and tasty restaurants. Harmony was there when we arrived and left shortly before we did. We're traveling in the same weather windows and enjoy seeing Arnie and Vivienne at each stop.
Go to April 2012 Part Two - Napier
Go to Gerty Goes Round NZ - South Island Central East Coast