March 21, 2012
Golden Bay, Paterson Inlet: 46 54'.28S 168 07'.23E
We could have spent a month in Port Pegasus savoring the solitude while exploring and enjoying the rugged beauty of the land and the clear water brimming with scallops, oysters, paua (abalone) and blue cod. But, if we want to visit California before heading back to Vanuatu, we'd better keep moving. There are still 1200 miles to go before we reach Auckland.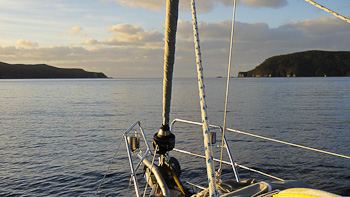 We awoke at dawn for the 50 mile trip from Port Pegasus north to Paterson Inlet. The current was against us while leaving through Big Ship Pass but in less than an hour we were outside. Our timing was right for the current that runs along the coast so we had a nice boost all the way to Paterson Inlet. Wind speeds were 4-7 knots and the seas were moderate with the swell from two directions bouncing us around a bit.
Clouds rolled in and out while the temperature remained chilly. Long undies and fleece were layered under our Musto offshore foulies and our caps and gloves kept some heat from escaping.
So many mollymawks were flying, circling and landing near us that we dared not drag a line to fish. The birds are much more accustomed to fishing boats than yachts around here and were probably expecting discarded fish parts to fly over the lifelines at any moment.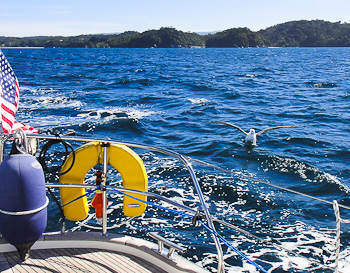 Paterson Inlet is the largest, safest harbour on Stewart Island. It reaches halfway across the island about one-third of the way down the more protected eastern side. Many historic sites are located in and around Paterson Inlet and relics are scattered about. To the north are Halfmoon Bay, Horseshoe Bay and Port William.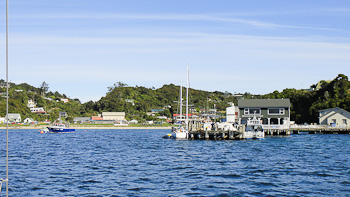 According to the Dept. of Conservation, 92% of Stewart Island is managed by them (DOC) and most of it as Rakiura National Park. 6% is Maori land and the remaining 2% is privately owned and located between Halfmoon Bay and the North Arm of Paterson Inlet. Oban is the only town on the island and is located at the head of Halfmoon Bay.
Hardy and determined sealers, whalers, shipbuilders, timber and flax harvesters, prospectors and fishermen found various degrees of success during the past few centuries in and around Paterson Inlet. It is a harsh and unforgiving place, but its beauty and prospects of abundant resources drew men in. Maori were here long before the Pakeha (white man) arrived and called the island Rakiura, island of the glowing skies.
We arrived at Golden Bay, Paterson Inlet, about 3:00 pm. on March 19. We chose this location because of its proximity to Oban. There is a small wharf to leave the kayak and it is a very pretty and quiet setting. How simple it was to drop the anchor, attach the snubber, back down to be sure we were well stuck, and be done with it. No sternlines to paddle to trees.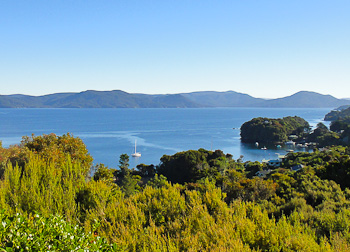 We knew that Peter Tait was a SSCA (Seven Seas Cruising Assn.) cruising station host and contacted him while still in Fiordland. The morning after we arrived he rowed out to Tenaya and came aboard for a latte. He was full of local information, invited us to his house to visit and use his wifi, and offered us the use of his mooring at Ulva Island. He and his wife, Iris, have splendid guest accommodations and take visitors to see Ulva Island aboard their own yacht moored in Golden Bay.
We took him up on using his mooring that very day. After a trip to Oban to refuel at the main wharf and pick up parts that Meri of Bluff Fisherman's Radio had kindly received and sent over for us, we motored over to Ulva Island and tied to the ball.
Ulva Island is a bird sanctuary and one of the few that are open to the public. In fact, it was one of the earliest reserves of this type in New Zealand with protection beginning in 1899. Here native plants and birds live in a safe environment free from pests.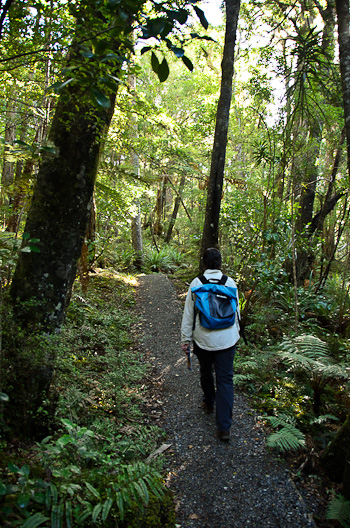 We arrived late in the afternoon and had the island all to ourselves. We wandered down the well-groomed trails and around all the bays looking for and listening to the magical birds.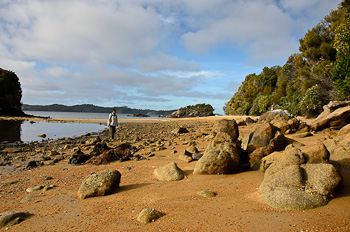 We saw bellbirds, robins, a saddleback singing, brown creepers, oystercatchers, shags, fantails, tuis, a red-crowned parakeet, and a yellowhead. No wekas this year but last year we saw loads.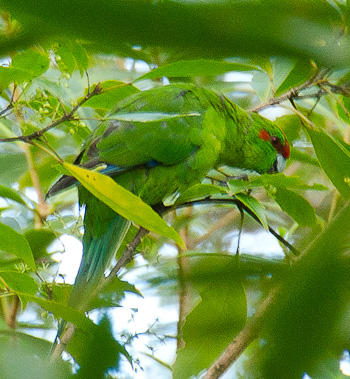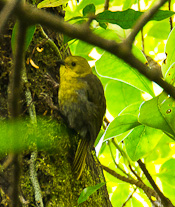 Although we had the use of the mooring for the night, we went back to Golden Bay at 8:00 pm because the wind was blowing right into the bay and it was pretty bouncy. Of course, after dark it died down.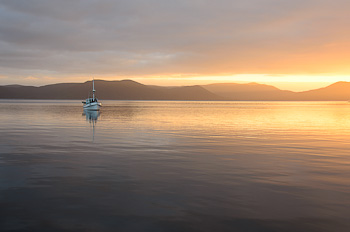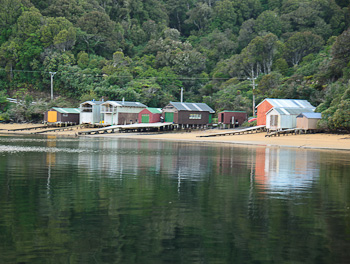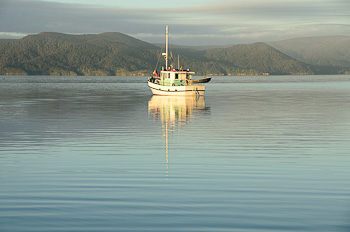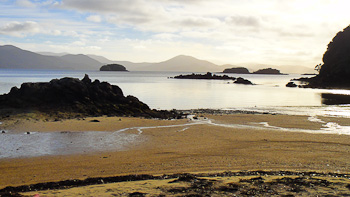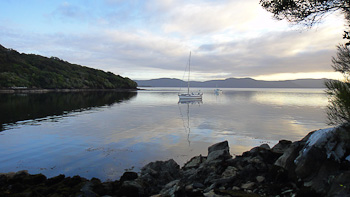 Shortly after Peter left we heard voices calling to us. Looking out from the cockpit we saw nothing until we looked down alongside the hull. There were Annett and Phil in a nice, fiberglass kayak near the stern. They chatted for a while and then invited us to dinner saying that we could use their wifi and do laundry too. Wow, the hospitality of the people here is amazing!
The next evening we met them at their house high on the hill above Golden Bay. They actually have two houses on the lovely grounds, one of which they rent out to visitors. At the moment they are living in the larger one until some renovations are completed, then will move back to the smaller one. I'd be thrilled to stay in either!
The houses have fabulous views and are quite comfortable with an eclectic array of books including many about Stewart Island. The smaller house was built in the 1930s and still has the original stove although a newer, more efficient one has been added for convenience along with a microwave.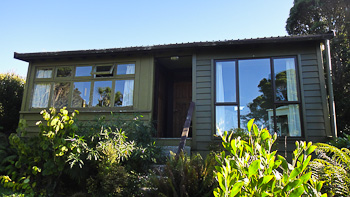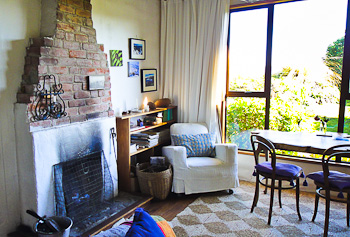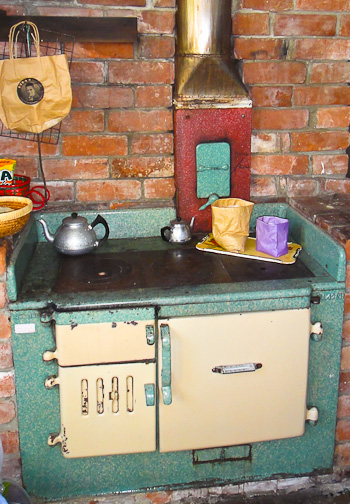 As we were enjoying a beer and the view in the warm sunshine, Phil heard the wild kakas and asked if I would like to feed them. Sure! Apparently they are quite fond of hazelnuts and even waltz right into the house to pluck them from the basket in the kitchen.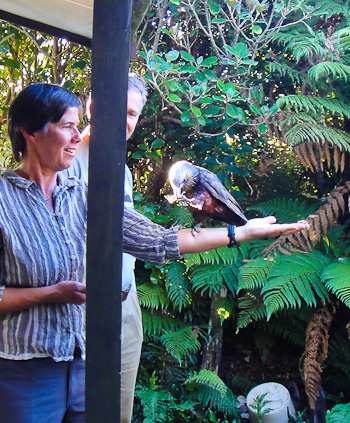 We didn't hear any dogs barking in Oban and did not see a single cat. It seems people are so fond of the native birdlife that they forego the usual pets which could harm their feathered friends.
Annett prepared a delicious dinner of crumbed blue cod, a beautiful and much-appreciated salad including edible flowers, red potatoes and two different sauces along with heaps of fresh herbs from her garden. It was fantastic and we certainly made gluttons of ourselves.
After dinner we walked down to the Community Center to hear a talk on white sharks. Scientists have been monitoring these enormous, frightening creatures for a few years here in Paterson Inlet. They tag the sharks and are able to follow their movements which can range great distances.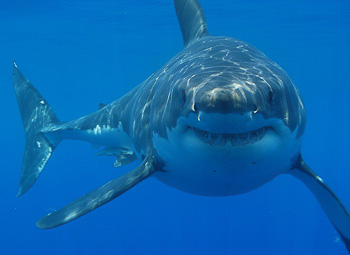 No, we did not take this picture
Their research revealed that certain sharks leave Stewart Island for the Great Barrier Reef area of Australia and then return. Others go to Fiji and Tonga. Some return, some go to the Chatham Islands to the east of the South Island. At one time great whites were thought to inhabit certain cold water locations around the globe but is has now been determined that they are found in every part of every sea and ocean on earth. Right, about that new dive stuff...
Although Oban is a very small town, it seemed packed with people after the quiet, natural places we've been during the last two months. Don't get me wrong, it was wonderful to stop in the hotel's bar for a cold beer and seafood chowder or blue cod fish and chips while connecting to the internet. And loading up my grocery basket with fresh fruit and veggies was a delight.
The highlights of Oban for us, though, besides the friendly people, were the small but treasure-filled Rakiura Museum and and the informative and interesting Rakiura National Park Visitor's Centre.
We only spent three days in Paterson Inlet. Brynn from Commander's Weather wrote that there was a good window to cross Foveaux Strait and sail to Dunedin but I didn't want to leave yet so wrote back that we'd like to go a few days later. Well, Mother Nature doesn't work that way in this part of the world. Brynn answered that we wouldn't have another window for at least 10 days. So off we went. At least we spent time on Stewart Island last year.
Go to March 2012 Part Eight - Dunedin
Go to Gerty Goes Round New Zealand - Stewart Island