March 11, 2012
Southernmost: 47 20'.32S 167 21'.65E
It's only an overnight passage from Fiordland to Stewart Island, but one that is not embarked upon lightly. Having a good weather window is essential. Most often there are high winds and rough seas here in the heart of the Roaring Forties.
On February 22 we notified Commander's Weather, our routing service, that we were ready to head to Stewart Island. If the next window wasn't long enough, we'd go to Preservation Inlet near Puysegur Point at the western end of Foveaux Strait. On the 29th Oliver told us there was nothing over the next week. On March 5 he wrote that a high pressure was finally building over the weekend and we should be good to go to Stewart Island on Friday.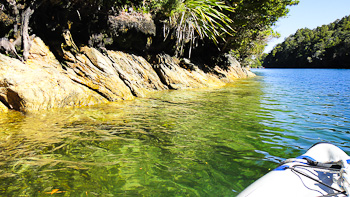 We left Cascade Cove and returned to the mooring outside Luncheon Cove. The sun was shining and it was a little breezy so we paddled in protected areas watching the birds, fish, and seals while poking the kayak into every nook and cranny. We savored our last day in this beautiful location. It just may be our favorite place in all Fiordland.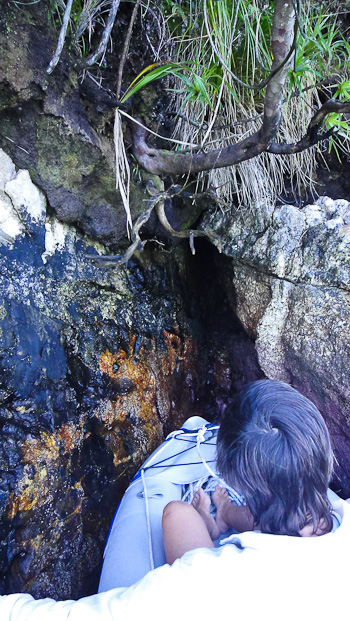 As we paddled back to Tenaya we heard what sounded like an engine. It seemed to be coming from her but we figured it was a fishing boat on the other side of the island. We climbed on board and, as we relaxed in the cockpit, the bowthruster sprang to life. Yikes! I ran down to kill the service switch and Jim pushed the button at the helm. The noise stopped.
Our bulb burned out a couple of years ago so now we don't notice if the bowthruster is left on. We rarely actually use it, but always turn it on when coming into a tight spot. It must have been on since mooring under the bowsprit of the giant Fiordland Navigator in Deep Cove while fueling up a month ago.
Later I went below to check messages and make sure we were still set to leave. The computer would not stay on. Another problem. Jim used the system clean-up tools and got it working again but it is still a mystery. Guess we'll be buying a back-up laptop the next time we're in California as we can't use the iPad with the sat phone. Will someone do an app for that, please?
So we were finally back in the cockpit relaxing with a glass of wine and watching two NZ falcons flying among the tree tops in the waning light of the day. Someone hollered. We thought it was one of the guys on a dinghy that had been buzzing about from Inner Luncheon Cove. Then we heard "Help!" "Help, yacht!" Oh no, someone was in trouble! Luckily we both had binos and looked in that direction to see a guy in the water waving his fins.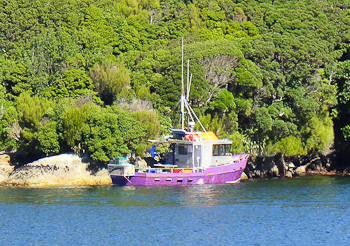 Jim hurried to get the dinghy untied, which had been secured on deck for weeks tied to fuel cans, line bags and our storm jib. I rushed to get the engine ready to lower off the stern.
Knowing it would take a while, I called on the radio for anyone inside Luncheon Cove with a dinghy to come out as they would be faster. The dinghy never came but the skipper of the purple fishing boat brought the whole boat out just as we were pulling away from Tenaya.
By now it was getting dark and we rushed over but couldn't find the guy in the water. Eventually we saw bright green fins waving from the rocks on shore. Good thing they were so colorful as we would have never seen black ones. We raced over and he climbed in. He'd snorkeled over looking for paua. It was further than he'd estimated, he'd lost his snorkel and it was getting dark. He was from the purple boat so we transferred him over then went back, hauled up the outboard and dinghy, and tied everything back on in the dark. We're glad that the event had a happy ending, but it was kind of dumb on his part. We'd really had enough drama for one day.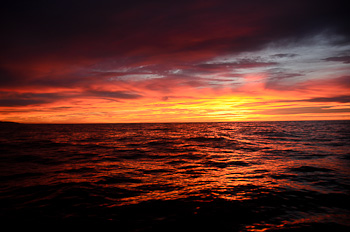 We were up at dawn on Friday, March 9. As soon as it was light we freed the mooring lines and headed out to sea. The sunrise was spectacular. As we left Dusky Sound a NZ fur seal waved goodbye and so did the guys on a passing fishing boat.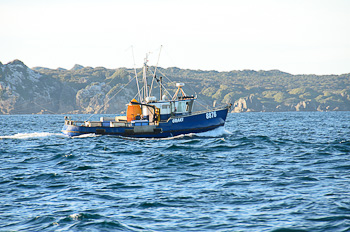 Our route would take us southeast past the Solander Islands and the western side of Stewart Island, below South Cape, and up to Port Pegasus just up around to the east. South Cape is one of the five great southern capes; only Cape Horn is further south. That knowledge was somewhat angst provoking.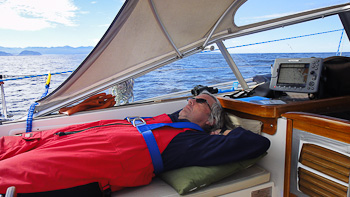 It was sunny and warm during the day with winds in the single digits and slight seas. Swells came from two different directions but neither was very large, just nice long rollers.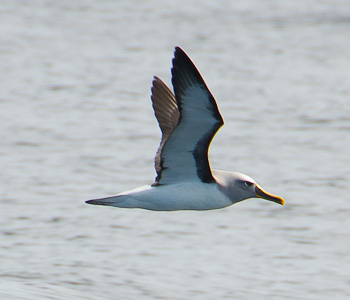 Southern Buller's Mollymawk above, Royal Albatross below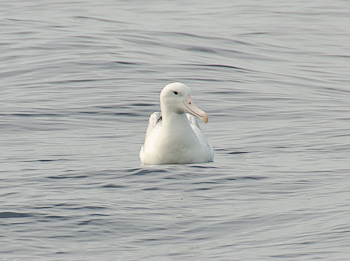 Birds were everywhere. Sooty Shearwaters (muttonbirds) gathered in numbers while prions and terns darted about erratically. Mollymawks and Royal Albatross soared effortlessly by the boat barely moving their wings except for one Mollymawk that was hell-bent on snatching our squid lure. We desperately wanted to catch a tuna but were worried we'd catch the persistent bird instead, so finally pulled the line in. He ran on the water, flapping his wings and grabbing the lure in his beak until it came too close to the stern and he took off. Damned bird, I wanted an albacore or yellowfin.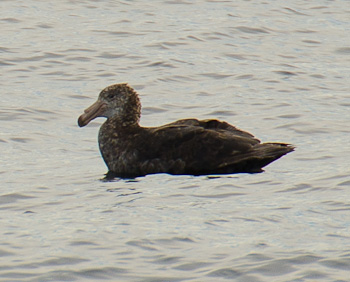 Northern Giant Petrel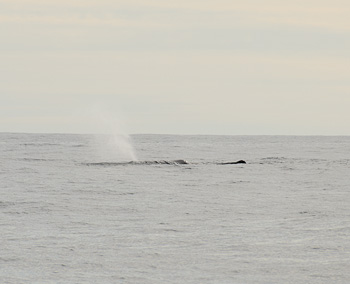 Sperm Whale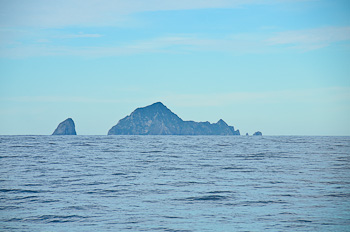 Solander Islands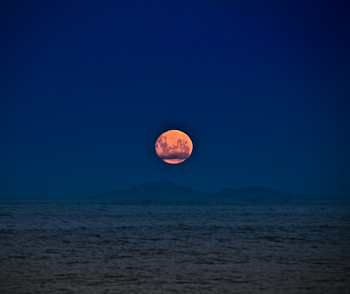 Magnificent harvest moon over the Solander Islands
The night was magical with a full moon and glassy sea. Clouds rolled by while the Southern Cross sparkled directly overhead. At one point Jim saw odd columns of light shooting skyward. He pondered for a moment before remembering a friend had told us about the Southern Lights. There they were! The brilliant moon surely took away some grandeur and color but they were still pretty cool.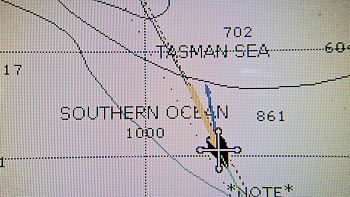 We were certainly surprised when the weather report that evening said there was a Storm Warning for Puysegur. Area Puysegur covers part way down Fiordland to the bottom of Stewart Island. Not a Gale Warning, a Storm Warning, that's 40+ knots. Where did that come from??? All we could do was ensure the boat was ready for the predicted 55 knots of wind and that Jim got plenty of sleep. Fat chance of that!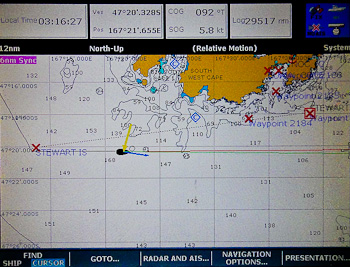 47 degrees 20 minutes South
I heard some fishermen talking on Channel 10 during my watch and they didn't think it would amount to much during the night. Jim relaxed when I told him that as the local fisherman always have the best grasp of the weather. It seemed the worst of it would be northwest of our position. Indeed, the winds never exceeded 10 knots and we motorsailed the whole way, arriving with our batteries fully charged. Had we not heard that forecast, we would have had a nice, tranquil passage. We rounded South Cape on March 10, the same day that Captain Cook did 242 years before us on his first voyage of discovery in the Endeavour.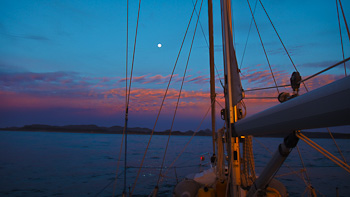 Arriving at Port Pegasus, Stewart Island, at dawn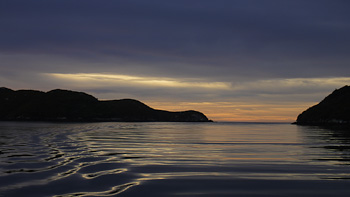 Tenaya is anchored at Evening Cove in the South Arm of Port Pegasus. It's a wildlife reserve with topography and vegetation completely different than Fiordland. As we entered the protected waters we passed a rare yellow-eyed penguin lazily fishing and a sea lion bull chased us, or greeted us, I'm not sure which. There is only one town on the island, Oban, and it is further north. No roads or tracks come anywhere near Port Pegasus. It is completely isolated. We are looking forward to exploring this remote and picturesque area of granite domes, low hills and shallow valleys, scrubby brush and boggy earth.
Go to March 2012 Part Four - South Arm, Port Pegasus, Evening Cove