March 5, 2012
Cascade Cove: 45 48'.66S 166 35'.03E
The night before last there were four yachts in and around Pickersgill Harbour, every single yacht in the Breaksea/Dusky complex. Two yachts arrived at Deep Cove in Doubtful Sound yesterday and two more are behind them so we may be running into more yachties along the way.
We had been tied in the snug spot that Capt. Cook moored the Resolution in 1773 for three days and thought maybe someone else might like to stay there so we moved around the corner to Cascade Cove.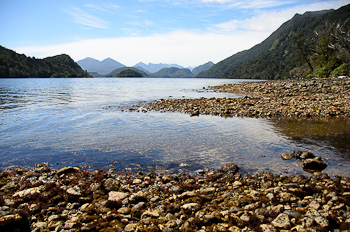 The anchorage at Cascade Cove isn't a place where you drop the hook or tie lines to shore. Rather, there is a barge moored in a small, protected bay that boats come alongside. It appears to be a fishermans' home away from home, a hut made of galvanized steel sitting on long, round drums that keep it afloat. A myriad of thick lines secure the structure to shore. A narrow deck provides a walkway on the side where boats tie, and a larger deck extends in front of the wide door.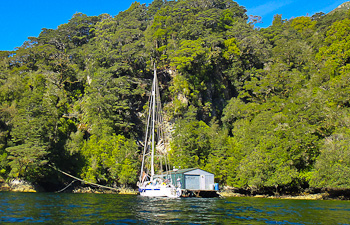 Inside the hut is carpeted and has bunks, a card table and chairs, a stereo, plenty of books, a fridge, two freezers, an oven and stove, and a washer. Many of the appliances look as though they've not been used for quite some time.
Planted on the shore nearby is a satellite dish and some parsley grows in a pot on the deck. Pictures of different boats are tacked to one of the unpainted plywood walls. There is an outside shower but instructions not to discharge gray water. A long hose provides a continuous stream of fresh water for any boat needing to top up their tank.
Our position on the chartplotter looks a little off until you realize the size of the icon is huge in relationship to the cove. We really are very close to shore but the barge lies between.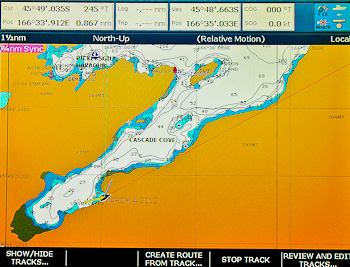 In the warmth of some much appreciated sunshine we dropped the kayak into the water and paddled off to explore the area. An old sealers' campsite and boat run are located on the opposite side of the small delta. Rocks were cleared from the beach to allow boats to be moved along rollers to the water. Nothing remains but the rockless path.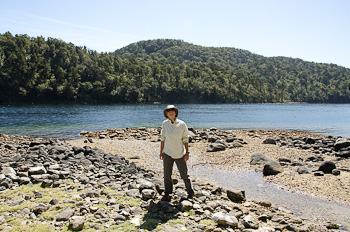 Behind the campsite is supposed to be an old Maori shelter. We followed a rough track but it soon disappeared and we were left making our way cross-country through the dense rainforest. Often trees had several layers of additional green growth attached to their trunks and vines hung and traversed at every level, impeding our progress. Finally we found an area where rocks had obviously been placed, but it was more of a low enclosure than anything that could be called a shelter, so I don't think we found it.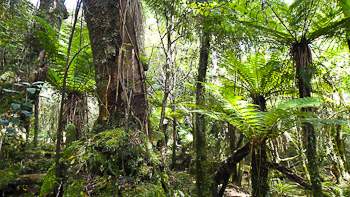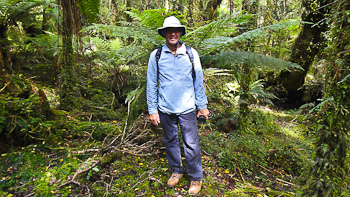 We did find a lovely little stream that cascades over the rocks into many small pools. None are large enough to dive into but would have been nice for a quick dip had the water not been so frigidly cold.

After our hike through the bush we wandered around the rocky shore for a while admiring the differences between this area and others in Fiordland.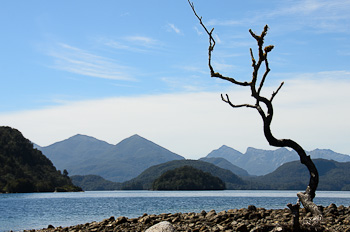 Back in the kayak, we paddled across the long cove and along the shore to the head. How nice it is to kayak so close to shore that we can touch the rock walls that descend into the water. Mussels abound in Cascade Cove! We've seen more here than everywhere else put together.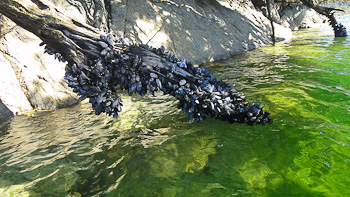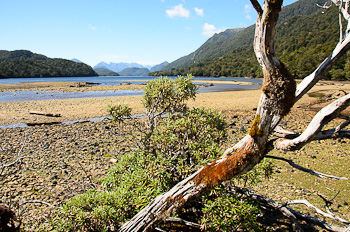 The bottom of the end of the cove is mud and small rocks form the shore. Seems like a good place to find scallops but we didn't see any as we paddled over. The wind ripples made it difficult to see very far below. Hundreds of cockles and clams of different sorts are scattered among the rocks so we know they are living there. Perhaps we can gather something.
A stream pours into the head of Cascade Cove. At low water several meandering rivlets make their way to or from the sea along the flat, rocky shore littered with driftwood. It's quite pretty and a landscape unlike any we've yet seen.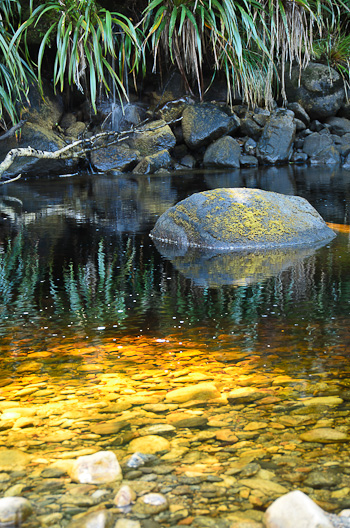 Small fish and tiny crabs that pinch pretty hard (yes, dummy here picked one up) dart about the rivlets. One species has big dark spots at the widest point of each pincher that makes the small thing look like it has a huge head and these are the eyes.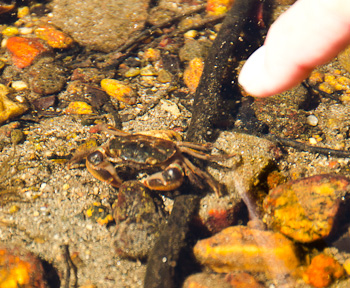 The wind is forecast to be up to 55 knots from the north tonight so we will stay here tied to the barge until that passes. The wind is from the right direction for us to continue south, there's just too much of it. We've had several gale warnings while in Fiordland but this is the first storm warning. Glad we are not out at sea.
March 7, 2012
Yesterday NZ yacht Harmony, with Vivienne and Arnie on board, tied up next to us on the barge. As we were enjoying a glass of wine and a yarn on their boat, we heard another boat outside. There was the big, blue Tutoko, a charter boat, coming for water. Maria was on deck laughing "You again, you haven't gotten very far!" Indeed, we saw them onTutoko 2 almost two weeks ago outside Luncheon Cove about five miles from here. No, we usually don't travel very far, very quickly at all.
She gave us a baggie of fresh scallops explaining how to cook them, or not. I added the raw, fleshy orbs, complete with the tasty orange parts that Americans usually discard, to the pasta con pesto with mussels already planned for dinner. What a yummy meal!
My food rantings must be tiring but we are so thrilled with the seafood we manage to collect ourselves and that which is given to us by the kind people here. Scallop season ends on March 15 and we were afraid we'd miss them. Thanks Maria, Sean and Tutoko guests for sharing!
Go to March Part Three- Passage to Stewart Island