March 3, 2012
Pickersgill Harbour 45 47'.75S 166 34'.45E
James Cook made three voyages of discovery between 1768 and 1779. During his first voyage, while commanding the Endeavour as a lieutenant, his mission was two-fold. Officially, he was to sail to Tahiti and record the transit of Venus across the sun. His accurate observations would be compiled with those gathered from other locations around the world to calculate the distance of the earth from the sun. Once this astronomical unit was established, the distance from every star could be calculated.
After the transit was completed he was to secretly look for the imagined southern continent, Terra Australis Incognita. Ptolemy had first proposed this land existed in A.D. 140 for purposes of symmetry, to keep the world from wobbling off its axis. Seventeenth and eighteenth century Europeans liked the idea of a new land to conquer, own or trade with, so the English, French, Spanish, Dutch and Portuguese were all keen to find it.
If Cook failed to find the illusive continent on his first voyage, he was to make a thorough survey of New Zealand, which Dutchman Abel Tasman had recorded nearly a century earlier, and to chart and take possession of any undiscovered islands. While Cook was surveying the coasts of NZ, and mariners would use for generations, he passed by an expansive bay full of small islands near the southwestern end of the country just as the sun was setting. He named it Dusky Bay.
When he returned on his second voyage, in the Resolution in 1773, he made his way in from the sea and noted in his journal on March 26 "for in this Bay we are all strangers, in my last Voyage I did no more than discover it." Apparently punctuation and capitalization had not yet become uniform in the written language.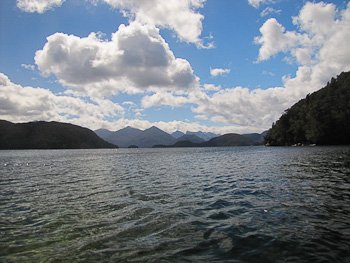 Some excerpts from Cook's journal: "...after having been 117 Days at Sea we have Sailed (3660) Leagues without having once sight of land....My first care after the Ship was moored was to send a Boat and People afishing...As I did not like the place we had anchored I sent Lieut Pickersgill over to the SE side of the Bay to look for a more convenient Harbour while I went myself to the other side for the same purpose...soon after my return to the Ship Mr Pickersgill returned also and reported that he had also succeeded in find(ing) a good harbour...we anchored in Mr Pickersgill Harbour which I found full as safe and convenient as he had reported."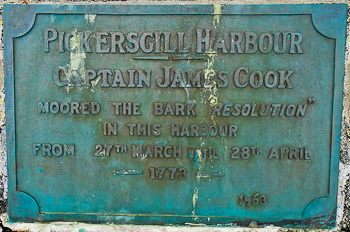 On March 28, 1773 Cook wrote: "In the PM hauled the Sloop into a small creek and moored her head and stern to the Trees and so near the Shore as to reach it with a Brow or stage which nature had in a manner prepared for us by a large tree which growed in a horizontal direction over the water so long that the Top of it reached our gunwale. Wood for fuel was here so convenient that our yards were locked in the branches of the trees, about one hundred yards from our stern was a fine stream of fresh Water and every place abounded with excellent fish and the shores and Woods we found not distitute of wild fowl.."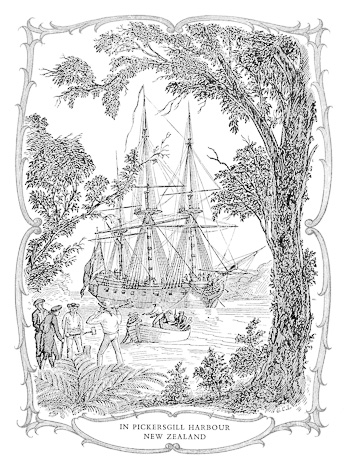 Tenaya is anchored in the same little cove that Captain Cook anchored the Resolution in 239 years ago. We might even have our sternline tied to the same horizontal tree.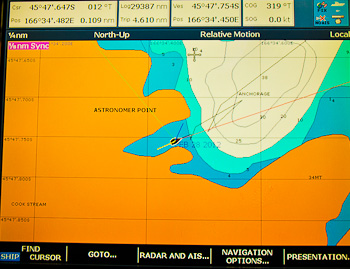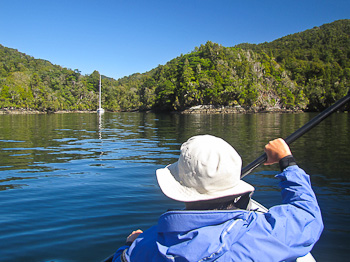 Cook had the point just north of the cove cleared to be used as an observation point and to build a forge to repair the ship's ironworks. DOC has constructed a boardwalk up to Astronomer Point and there is a rough track that follows Cook Stream up to Lake Forster, named after the German scientist on board.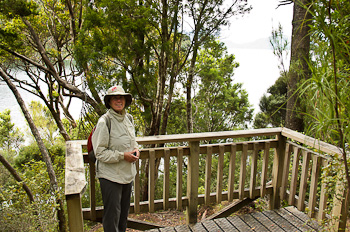 The day we arrived we walked over to Astronomer Point and then up the muddy track to Lake Forster. Friendly tomtits fluttered about the branches watching for any bugs we might unearth with our barefoot runners.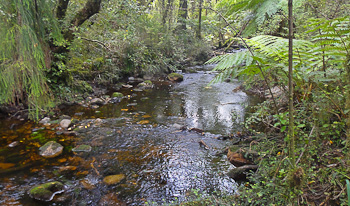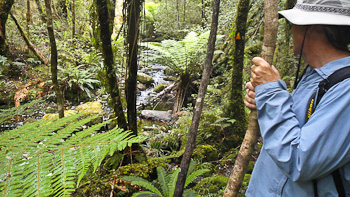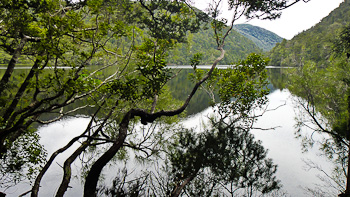 Fishing has always been important in Fiordland. Considering the remote location and harsh weather, it was assumed that fish stocks would remain high for all time.
As access to Milford and Doubtful Sounds became easier, vessels grew larger and more powerful, and people began arriving by helicopter and sea plane, the commercial fishermen and those most intimately associated with the fiords feared depletion of several species including endemic blue cod. All fishing interests got together and formed a united group with protection as the common goal.
Soon marine scientists, conservationists and environmental interests joined the group which is now known as the Guardians of Fiordland's Fisheries and Marine Environment. The organization puts out a beautiful, informative book called Beneath the Reflections. It is a must have for any yachtie visiting the area as the sections on anchorages, radio communications and fishing are invaluable. It's chock full of information pertaining to history and geology that any visitor would find extremely worthwhile. At $15 it is a bargain.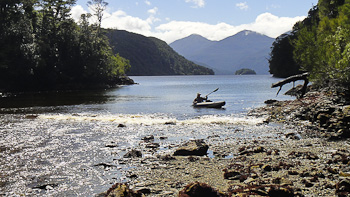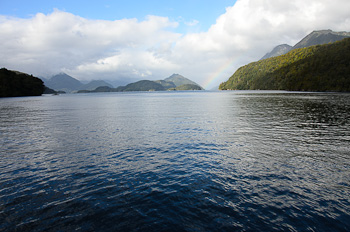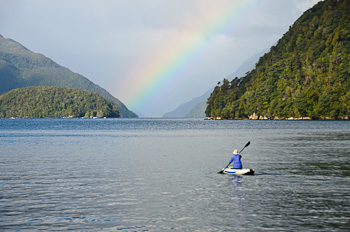 A few days ago three DOC guys, including an original guardian, came over in a small boat from Southern Winds. They questioned our fishing escapades and quickly determined we were no threat. They were happy to hear we already owned a copy of Beneath The Reflections and had read it cover to cover.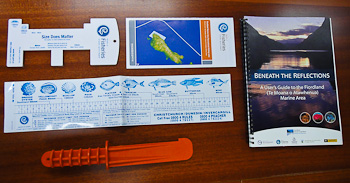 When the guardian heard I'd used a putty knife to get a paua, he explained that it was too sharp and could endanger the animals which are hemophiliacs. So much for listening to other yachties! He went back to the mother ship and returned with a proper paua prier, a lobster measurer and a fish ruler. We were very appreciative and it spurred Jim into fishing off Tenaya where he caught a blue cod and tarakihi. There was no need to gather mussels that night.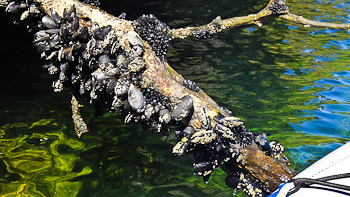 The day before yesterday we looked up to see two kayakers coming our way. Ginney and Tyrell are on an ambitious self-propelled journey the length of the South Island. They came aboard for a latte and told us about their plans and some of their adventures.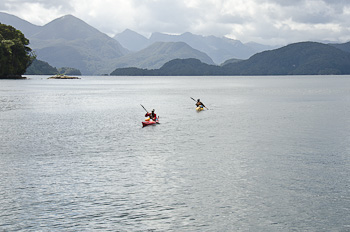 The couple began at the southern end of the South Island and plan to paddle through Fiordland to Jackson Bay where they will trade their kayaks for bicycles and ride to the top of Arthur's Pass. From there they will walk to Farewell Spit. Their scariest moments yet were when a rather large shark followed them for what seemed like an eternity and there was no good place to land. Ginney's mom is logging their trip at www.thelongway.webs.com. We wish them a safe journey with many exciting and interesting experiences. Theirs makes our trip seem like a walk in the park.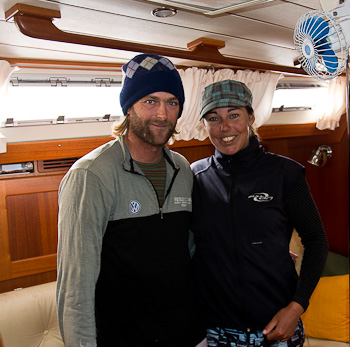 Yesterday an engine roared outside and we looked out to see Jewel coming up to say g'day. She is a gorgeous charter boat and had several friendly fishers on board.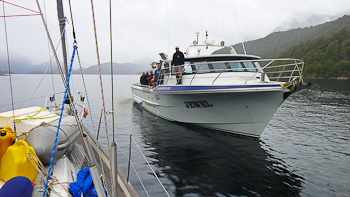 A couple of hours later Jewel returned and pulled up right next to us. The captain asked if we liked crayfish. "Oh yes!" I exclaimed. After a little commotion in the back of the boat, a nice guy in shorts and gumboots handed over a large green plastic crate with 5 good-sized spiny lobsters wiggling about. Nice! I guess my big silly grin was contagious as they were all smiling too. Jim scrambled to get out our

buckets which seemed wholly inadequate to contain the large prickly crustaceans.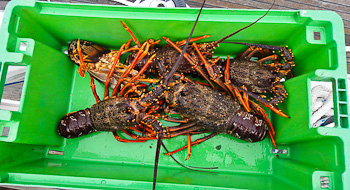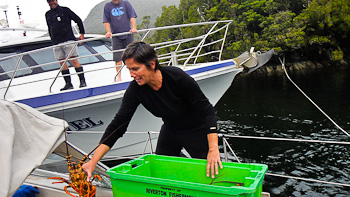 We don't really know what we're doing when it comes to dealing with crayfish, having only cooked them once. As instructed, I boiled the water and then plopped one in. He was too big and was not happy in the least to be slowing cooking to death, but finally stopped moving and produced a fine meal.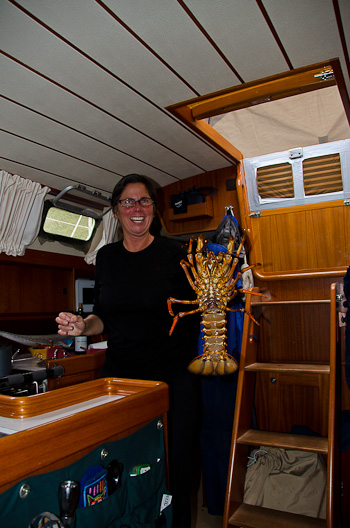 Since we had a big pot of water devoted to crayfish we decided to cook another one and put it in the fridge. I grabbed the biggest one. He definitely wouldn't fit in the pot and had other thoughts about being cooked. He escaped from the sink, where I'd left him to ponder the situation, and with a quick burst of speed was on the floor where he scooted around backwards until recaptured.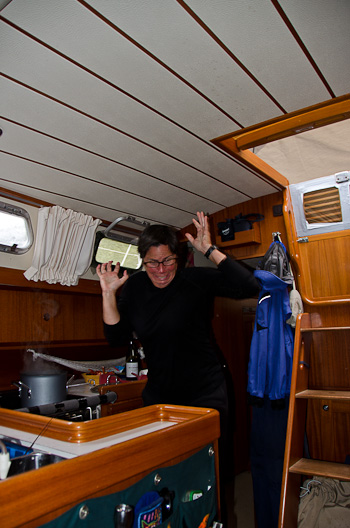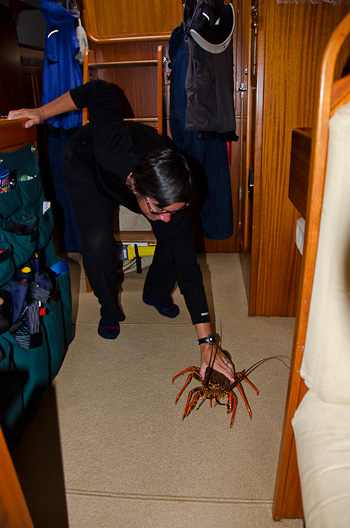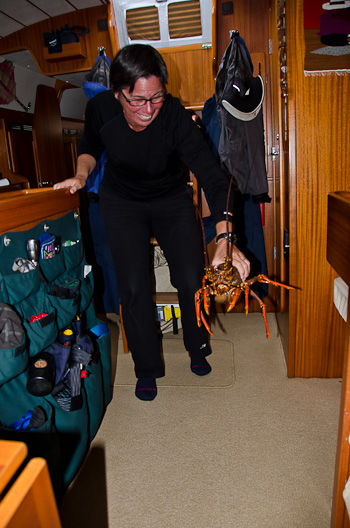 See video of Katie with crayfish in the cockpit
Jim remembered that someone had told us to drown them first in freshwater. An hour of soaking succeeded in subduing him. He still wasn't dead but was lethargic and much more manageable.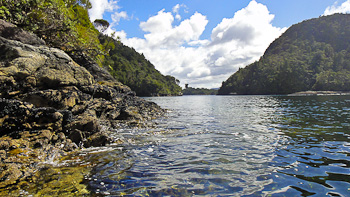 Yesterday Vara came into the bay near us and Claude William has just arrived. We heard Vara calling Harmony on the radio so yet another yacht may be converging on this area. Good thing the guy that doesn't like yachts is back in Doubtful Sound tonight!
Go to March 2012 Part 2 - Cascade Cove Dusky Sound