February 24, 2012
Luncheon Cove: 45 46'.18S 166 32'.32E
Yesterday afternoon the green boat that we saw as we entered Breaksea Sound came into Luncheon Cove. Southern Winds is a Dept. of Conservation (DOC) boat on which students at Dunedin University are conducting non-invasive observations of dolphins. Shaun, a marine biologist working on his PhD, came over in the small boat, Nemo, to say g'day. We met him last week in the common area room at Deep Cove. Turns out Nemo was the small boat we saw while up Breaksea surrounded by dolphins. No wonder they cheered us on.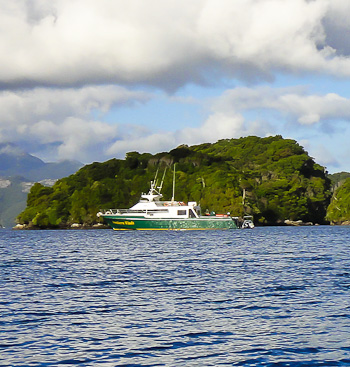 Hearing of the dolphins we'd seen at the head of George Sound, Shaun was curious if they were part of the pod from Doubtful Sound. He and the other researchers are able to identify each of the 58 dolphins in Doubtful Sound and the 160 individuals here in Dusky Sound. We gave him our pictures and he concluded they were from a different pod, most likely out of Milford Sound. So, we didn't help him much with his thesis but he helped us out very nicely with enough blue cod for two large and delicious meals. I pointed to where I got our paua and he said that the fishermen seeded that area. Woops, I suppose that's cheating.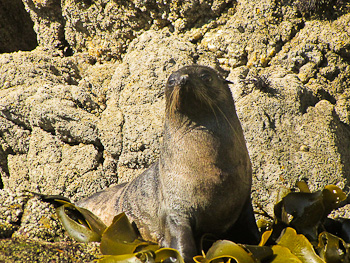 February 26, 2012
While having coffee this morning we heard an engine and looked out the windows to see a big wall of white off the starboard side. Tutoko 2 with Sean and Maria and their guests were hovering outside. We missed seeing them go into Inner Luncheon Cove yesterday afternoon but heard them on the radio so knew they were inside. I got to thank them for their tips on preparing paua and tell them how much we like this location.
Meri Leask from Bluff Fisherman's Radio has a sked each night at 2030. She reads the weather forecasts for all South Island regions for the following three days and then asks boats to check in. Most are fishing or charter boats, but all the yachts in Fiordland and Stewart Island check in as well. All six of us.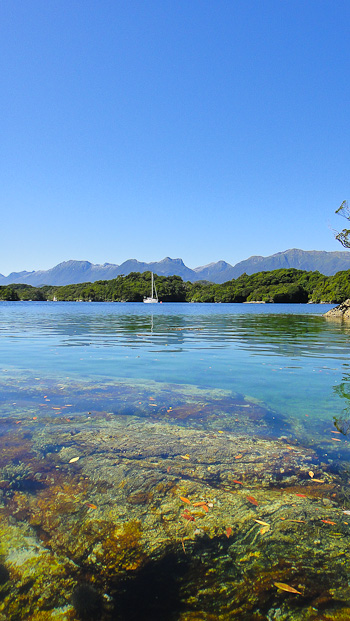 This afternoon we paddled a loaf of banana bread over to Southern Winds. Dallas anchored the boat here in the outer harbour and, figuring they would have tied to the mooring if we hadn't have moved in (their name is written on the ball along with several others) we wanted to take a peace offering. They invited us on board and gave us coffee and brownies fresh from the oven. Good timing! We had a short yarn and learned a bit about the area and wildlife.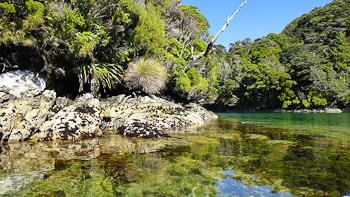 For several days Tenaya was the only boat in Outer Luncheon Cove. Most evenings one other boat would pull into the inner cove and leave the following morning.
One afternoon while Jim had the floor boards up, the stairs out, and the boat torn apart, I heard a conversation on the radio between a fisherman and a charter boat. "...there's been a wee yacht in Luncheon Cove for a few days..." Then later in the conversation "I'm going into Luncheon Cove and swing on so-and-so's mooring." As there is only one mooring here, I called the fishing boat, said I was the wee yacht, and asked if he'd like us to move. No, he said he'd go in and tie to the barge. That was nice, Jim could keep working on the problematic watermaker.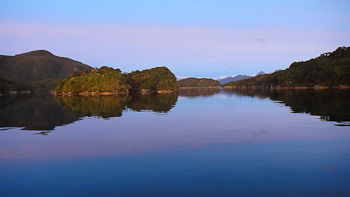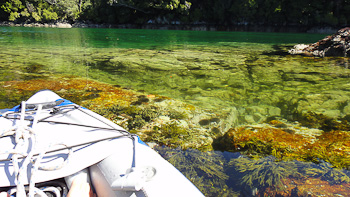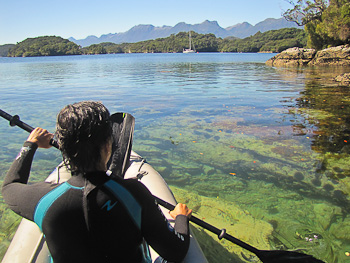 So we knew there would be another boat that night. A little while later charter fishing boats began to arrive. A funky old boat with a yacht-unfriendly captain came in and went around the bend towards the barge. Then Pembroke came in, poked it's bow into Inner Cove and came back out and anchored in Outer Cove. A short while later Miss Akaroa steamed in and disappeared into Inner Cove. While we were down below we saw the side of a large fishing boat out the starboard side. Loyal had just circled us and was stopping to say g'day. I suppose it was he who I spoke with on the radio. He was very nice and said he'd tie onto the second barge. A lot of boats that night, the most we've seen all together since Deep Cove.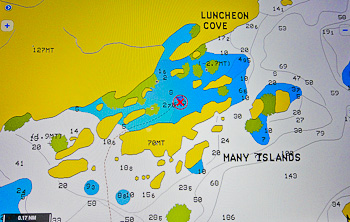 The guidebooks say that Inner Luncheon Cove is an all-weather anchorage but we were put off by the shallow water shown on our charts. A few days ago we kayaked in and checked depths at low water. Nothing was below 4.5 meters so we could go in safely if we chose. We still weren't sure how to secure ourselves, so when Miss Akaroa went in I kayaked over to see how they did it.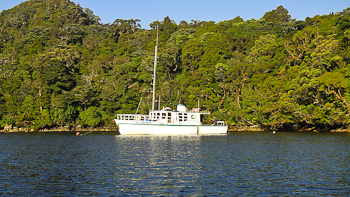 It was very simple. They just grabbed the breastline and tied the bow tight and then the stern. I paddled over to ask if I could take a picture and got to talking with the skipper. He convinced me that we should visit both Chalky and Preservation Inlets. The areas are steeped in history. That was good because Jim and I had decided to go straight to Stewart Island if possible.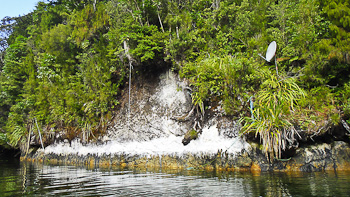 A wall in Inner Luncheon Cove has several fixed lines and a satellite dish. Apparently it's the best spot in there. It seems most sounds have a dish somewhere for the fishermen to watch rugby matches.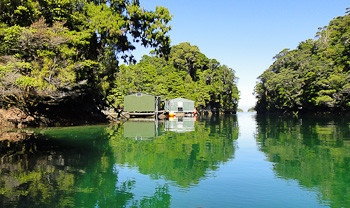 From Outer Luncheon Cove, if you go towards Anchor Island and turn right you go into Inner Luncheon Cove. If you turn left you go between islands towards the Gut and the two barges with a helicopter landing pad.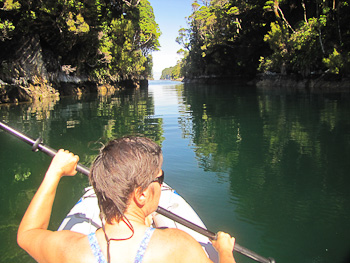 Richard, a DOC marine biologist and the driver of Nemo, told us we might see coral in the gut on a clear day. We kayaked over one sunny morning and I couldn't go deep enough to see coral but saw plenty of mussels, flowery looking zoanthids, and a lot of fish. The water is cold here and gave me an ice cream headache when I dove down. The air temperature was nice and warm though.
Later, as I did my best to emulate a seal basking in the sun in the cockpit, I heard several single breaths. Popping my head up, I found half a dozen dolphins close to the boat. Perhaps because Tenaya was floating quietly she was not interesting to them. They just passed on by.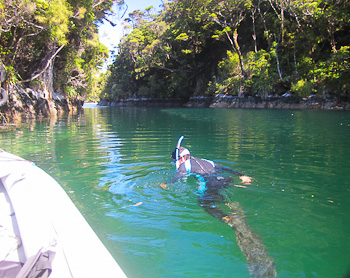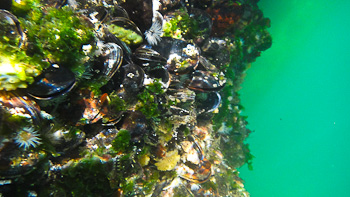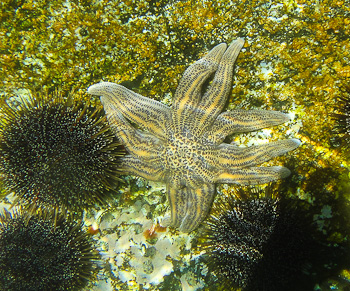 We had a marvelous week kayaking around the islands and enjoying the antics of the seals while being sandfly free. One night we heard breathing and splashing around the boat but did not investigate. When we heard the sounds again a few nights later I went on deck to see what it was. Seals, several of them. Perhaps our anchor light hanging from the boom attracts a tasty feed.
As we were preparing to leave, Vara, a NZ yacht, came in. Now there is another wee yacht on the mooring.
Go to March 2012 Part 1 Pickersgill Harbour, Dusky Sound