February 22, 2012
Third Cove: 45 31'.49S 166 52'.23E
Stick Cove: 45 39'.60S 166 44'.17E
The alarm sounded but we barely stirred as rain pattered gently on the the coachroof in the early morning darkness. Neither one of us made a move to put on the kettle. We didn't want to leave our warm, comfortable bed or the enticing Doubtful Sound, but the winds were favorable at last and it was time to move on. It was already the 20th of February.
Being from Southern California where it rarely rains, Jim and I are excited by a good downpour but are inclined to stay inside until it is over. Rain in Fiordland brings the mountains and forests to life and we were drawn outside and compelled to admire it. Water cascades down precipitous slopes and pours out of hanging valleys. Hundreds of waterfalls flow like white ribbons draped over gigantic rumpled green gifts. It is a feast for the senses.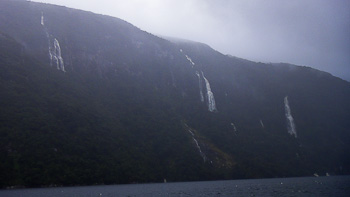 The anchor was up at 0715 and we motored out of Doubtful Sound in rain and 20-25 knot winds on the nose. Visibility was about half a mile. It was a little eerie and absolutely gorgeous.
At 1100 we reached the Tasman Sea and turned south. A green boat that had been in Deep Cove came out behind us and hugged the shore as we went out about 10 to 15 miles. The wind was forecast to be 15 knots and it was 15-22 most of the the four hour trip to Breaksea Sound 20 miles to the south. We were delighted to be sailing again.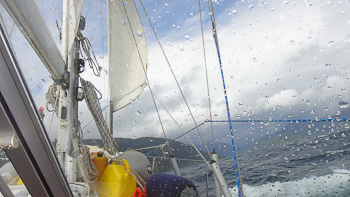 The clouds resting upon the sea spent the day reeling in and out the visibility and showering us with rain. As we approached the entrance to Breaksea Sound the visibility cleared to about one mile and the winds kicked up over 30 knots with a maximum gust of 40.4. We rolled the sails into tiny pennants and were still making 5.6 knots through the rocky entrance. Inside we could see the same green boat slowly moving back and forth. It was nice to know someone was nearby in case we had a problem.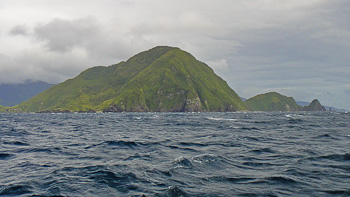 As soon as we were inside the water flattened and the wind subsided. Wow, what a fun and exhilarating day! We were all smiles.
Breaksea is the northern entrance to the magnificent Breaksea Sound/Dusky Sound complex. It forks into the narrow and steep-sided Vancouver and Broughton Arms at its head 33 km inland. The Acheron Passage, which is 15 km long, connects Breaksea to Dusky Sound with Wet Jacket Arm angling inland about halfway down. Wet Jacket Arm is approximately 20 km long and Dusky Sound is Fiordland's longest, most extensive fiord at 43.9 km. A huge area to explore!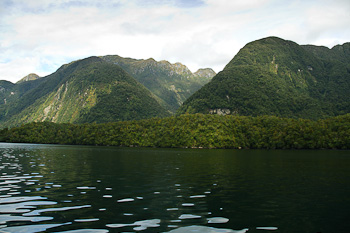 Our destination was Third Cove, near the junction of Breaksea and Broughton Arm. We motored up the scenic waterway still enraptured with our fast and rejuvenating sail.
As we approached the head of Breaksea dolphins came over to greet us. Again they were bottlenose and frolicked at the bow. They stayed nearly half an hour, until we turned into the anchorage. A small boat loaded with people cheered us on.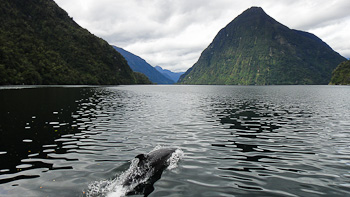 Third Cove is wide and free of any dangers. We dropped the anchor in 30 meters right smack in the middle and swung without tying any lines to shore. The crew of a white fishing boat named Unleashed waved as they crossed our path. That makes three boats we saw the entire length of Breaksea Sound.
From the anchorage we could see a tall mountain which rises over 1200 meters straight out of the water.
In no hurry at all, the anchor wasn't raised until 1145 the next morning. The sky, water and mountains were all shades of gray as misty clouds hovered about the valleys and canyons. No colors punctuated the monochromatic landscape except those on our boat.

Motoring up Broughton Arm on glassy water in light drizzle was purely magical. We were alone in this pristine, imposing stretch except for two pair of Fiordland crested penguins. It amazes us that the walls of many of these mountains rise over 1000 meters above sea level, higher than most everything in Yosemite Valley. Each fiord is like Hetch Hetchy multiplied several times with no dam, no road and no people.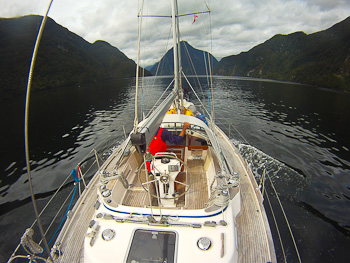 It took three hours before we were back down in the Acheron Passage. Still we saw no other boats. This remote area is anything but forlorn, the beauty being almost unimaginable. For those of us who sail for solitude, this place is heaven on earth.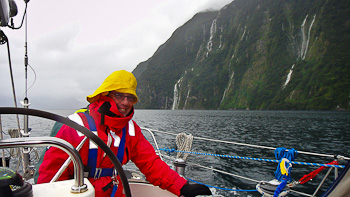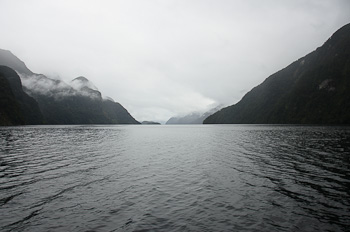 There was a break in the clouds as we arrived at Wet Jacket Arm with Stick Island at the entrance. This is where we would anchor for the night.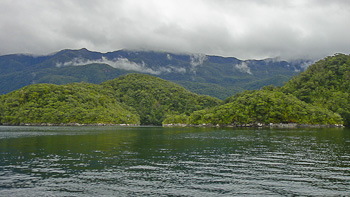 We approached the narrow bit of water between Stick Island and the mainland from the northeast and eased our way in watching for rocks. A big one appeared protruding from the island so I motioned for Jim to stop and dropped the anchor in 10 meters.
Once it was set I hopped into the kayak, which had already been lowered, and paddled a sternline to shore. The water was low and I had a hard time finding a tree I could reach as the rock walls were slippery with growth. Once I succeeded, I took another line from midships over to the island. These rocks were much easier to negotiate. Soon we were as secure as could be.
We noticed two floats at the side of the anchorage and later discovered that they are attached to a line making it possible to tie a sternline to this and save struggling up the rocks at low water. At the edge of the island there is a very strong tree to attach a bow or midships line. Apparently most people anchor up there. (See the icon on the chart where Nine of Cups anchored last year).
While I was still in the kayak I took a paddle around the pretty cove and found some large blue mussels for dinner. They had loads of growth on them and it took ages to clean them. All the while, the fiercest sandflies yet attacked what small bits of flesh were exposed. Fortunately I was wearing my trusty canvas hat drenched in DEET so the miserable creatures stayed away from my face.
Go to February Part Six: Dusky Sound