February 19, 2012
Deep Cove: 45 27'.70S 167 09'.77E
The sun was shining and with a little wind from the south we motored from the head of Bradshaw Sound back to Thompson Sound and then up to Deep Cove at the head of Doubtful Sound.
The scenery is spectacular along the 40.4 km long, 424 meter deep fiord with jagged peaks soaring high and fascinating landscapes round every bend. Wildlife abounds. A resident pod of bottlenose dolphins, fur seals, Fiordland crested penguins and many types of birds can be found.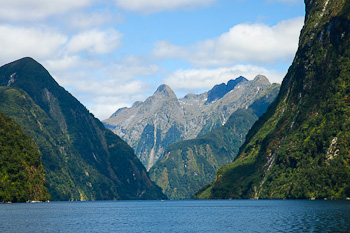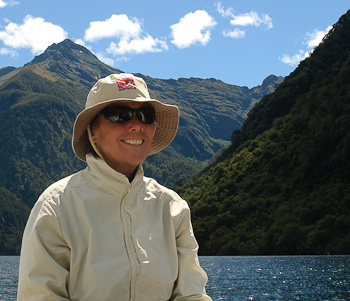 Doubtful Sound is only one of two sounds easily accessible by land. A few tour companies run boats across Lake Manapouri to the hydroelectric plant in West Arm. Busses transport those lucky few folks across Wilmot Pass to Deep Cove. Kayak trips, charter and tour boats leave from there.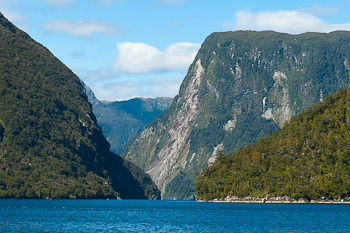 The Deep Cove Hostel Trust is located where the small community of workers lived while building the tunnel for the power scheme. The trust runs a program that teaches over 1,000 twelve year-old students each year about conservation and the flora and fauna of the area.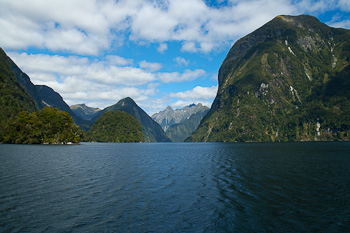 We arrived at Deep Cove a week ago and headed straight for the fuel dock. Billy, the manager of the hostel, met us there and sorted us out. What a nice person! He offered us the use of the showers and laundry facilities and said we could buy internet time. Wow, a taste of civilization! He pointed across the cove to a good anchoring spot. We dropped the anchor in 30 meters and backed to shore where I tied a line from the stern to the limb of a tree. Because we came here last year to kayak Hall Arm, we only planned to stay one night.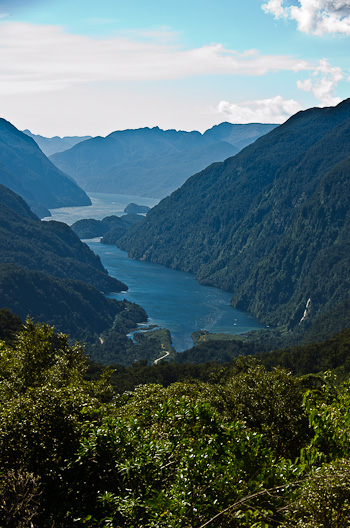 Although the depth gauge registered 13 meters below the keel, it seemed we were only one boat length from shore at times which was a little unsettling. Jim set the anchor alarm just in case. Soon the chartplotter began to beep and the GPS position was lost. A bit concerned, he tried to figure out the problem. As a back-up he pulled out the iPad which has the same Navionics chart but cost a fraction of the price. It turns out that Tenaya was simply too close to the soaring wall to pick up the GPS signals.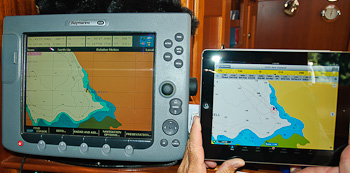 Billy's offer to do laundry encouraged us to stay another day. That night he invited us for coffee and we stayed for tea (dinner) with some of his friends. Each time we returned to Tenaya we were concerned about how close she was to shore so we decided to move a little further out.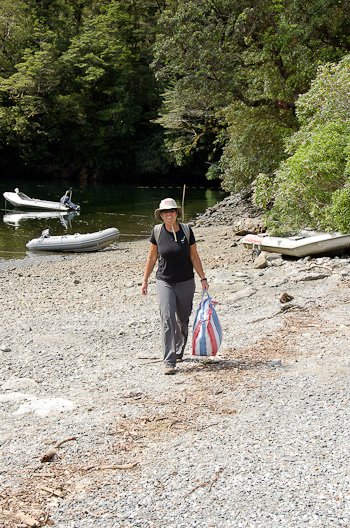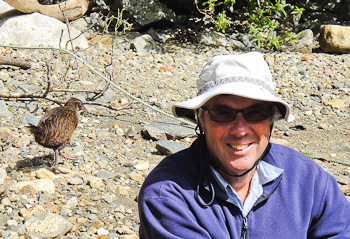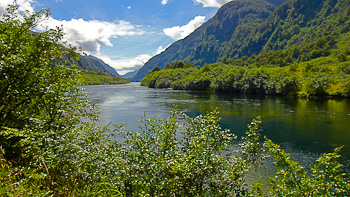 We are not usually big fans of hats but spraying our wide-brimmed bonnets with 98% DEET is quite effective for keeping the annoying and ravenous sandflies away from our faces.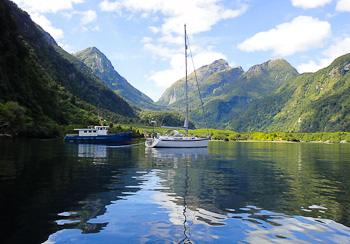 I untied the shoreline and we easily hauled up the anchor then motored out further from shore and dropped it again. It did not seem to hold as we backed down and soon ran out of room. As I rolled back in the chain it stopped and spun at 90 meters out several times. We were stuck on something. The pilot books had warned of that. Lots of logs, limbs and snags litter part of the cove. Our anchor was buoyed by a fender but the line was too short so it was underwater.
I called Billy who rounded up two divers, Sean and Maria, from the spacious charter boat, Tutoko 2. Billy thought we might be stuck on a wreck that is not mentioned in either of the guidebooks. They went down in hopes of seeing the wreck but found the anchor lying in the mud. No problem after all, but not an interesting dive for them.
Wanting to haul up the anchor while they were still on board, Jim started up the engine. Nothing. Hmm... okay, there is a problem after all. There was no need for our rescuers to stick around cold and wet while Jim messed with the starter switch.
It wasn't the switch. I called Billy again. Sean recommended whacking the starter motor with a wrench. It started right up. He and Maria came back out, in dry clothes this time, to verify the problem and tell Jim how to clean it. Not wanting to head to Stewart Island with an unreliable starter motor we enlisted Billy's help again. He contacted Steve Gooding in Invercargill who sent a replacement out the next day. It arrived the day after that. Amazing. Faster and friendlier service could not have been found anywhere in the US.
With the starter fixed Jim turned to the windlass. It was just loose. A few cranks with the winch handle tightened it right up. My mistake, I should have figured that one out. But, with the warnings of a foul bottom, we only thought along those lines. In reality, the bottom here is only mud. Well, except for that wreck somewhere.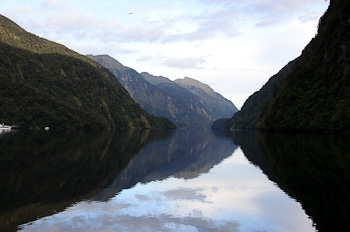 The road from West Arm to Deep Cove was constructed to build the impressive hydroelectric project in 1965. A tunnel was bored 10 km between Lake Manapouri and Deep Cove for the water to pass through turbines and be discharged via the tailrace. It took 4 years to build. Between 1997 and 2002 another tailrace tunnel was excavated. Water flows at varying speeds out the tailrace which is located between the anchorage and the dinghy landing. Quite a chop develops when the wind is opposed.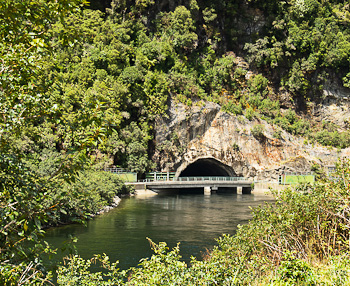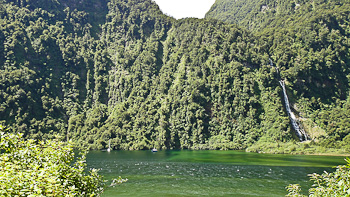 Since we were anchored at Helena Falls, we took the short hike up and had a closer look at it.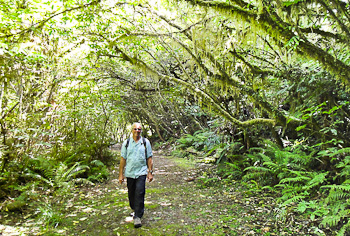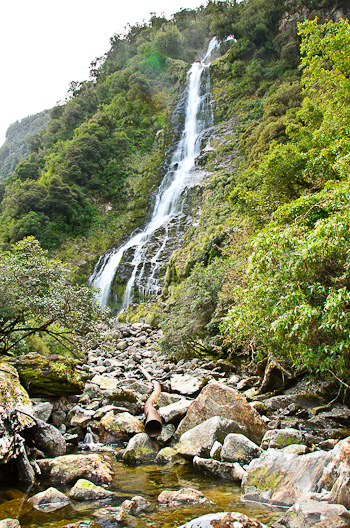 Billy took good care of us. We went looking for kiwis one night, had tea together a few times, and one day he took us over to the other side so I could learn to shoot and we could look for blue ducks. We didn't see any of the rare birds but we went for a refreshing dip in his favorite swimming hole.
Later that night we went hunting possum. They are all over the road. Imported for sport from Australia, they are a major pest here devouring birds and their eggs and devastating the natural vegetation. I think it may be mandatory for drivers spotting a possum in the road to swerve if necessary, not to miss it but to make sure they've killed it. Anyway, after the possum is shot, its soft, fluffy fur is plucked and sold. Not sure if they do that with roadkill.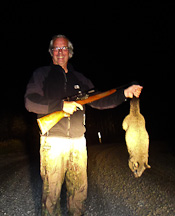 We've got to keep moving and the Breaksea & Dusky Sounds region beckons. The winds will be from the north tomorrow so we'll head out first thing in the morning.
Go to February 2012 Part Five: Sailing to Breaksea Sound and Broughton Arm
Go to Gerty Goes Round NZ: Doubtful Sound
See Photo Gallery: Fiordland Reflection