February 8, 2012
Precipice Cove: 45 15'.94 167 08'.38E
After an amazing morning with dolphins we motored out of George Sound and down the coast to the Doubtful Sound fiord complex. Thompson Sound is the furthest north and runs northwest to southeast. It connects with Bradshaw Sound which runs east. Gaer Arm splits off to the south near the end of Bradshaw near Precipice Cove.
Beyond Thompson Sound is Doubtful Sound which goes either west out to sea or southeast with First Arm, Crooked Arm and Hall Arm branching off before it ends at Deep Cove.
As we motorsailed along the coast towards the entrance to Thompson Sound two NZ fur seals porpoised around the boat for a while. Soon after they left we caught a nice albacore.
Again, it was foggy at the entrance but blue sky emerged as we turned out of Thompson Sound and traveled further up Bradshaw Sound. We anchored at McDonnell Island in Precipice Cove and tied the stern to a loop on a line strung across two points of land.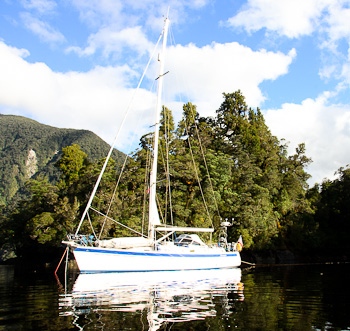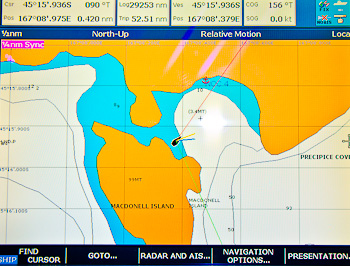 We were enjoying the solitude and sounds of a bird calling after dining on seared albacore when we heard an approaching boat in the dark. All of a sudden bright lights lit us up like daylight and an engine roared. We looked out to see what appeared to be an aircraft carrier bearing down over us.
Chris on Seafinn was tying his beautiful, four year old custom charter boat along side the line we'd tied our stern to, using it as a breastline. Concerned that we'd done it wrong, we popped up into the cockpit to ask. "No, no, you're fine," he said. The next morning he chucked two crayfish in a bag onto our deck as he pulled away. That's the first time we've cooked lobster anywhere and it was fabulous.
We stayed at Precipice Cove four nights because it is a safe all-weather anchorage and we were enjoying kayaking around the area. We found more mussels and devoured more albacore.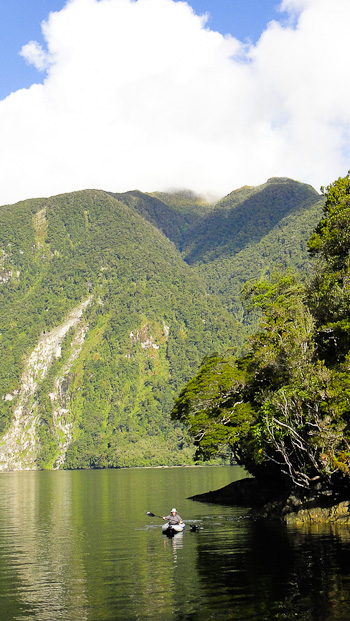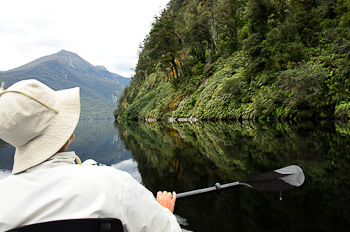 A couple of small streams flow into the head of Precipice Cove so we paddled as far as we could to investigate. The moss covered rocks and gnarled beech trees felt like we were a completely different environment than the open fiord just behind.
On our last day we finally unloaded the dinghy, the first time it had been off the boat since the North Island. We went up to the end of Gaer Arm and at high water went up in search of the Camelot River. We went a kilometer or so up past the estuary but apparently didn't find the actual river but we still enjoyed our foray up a small stream.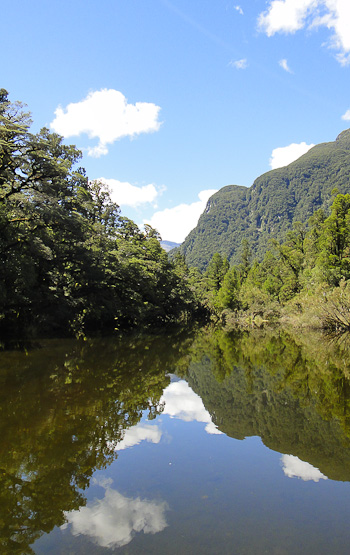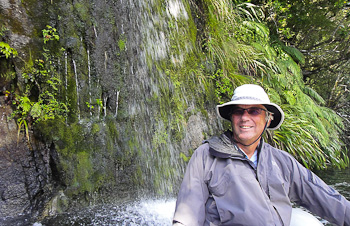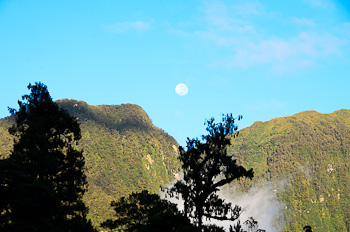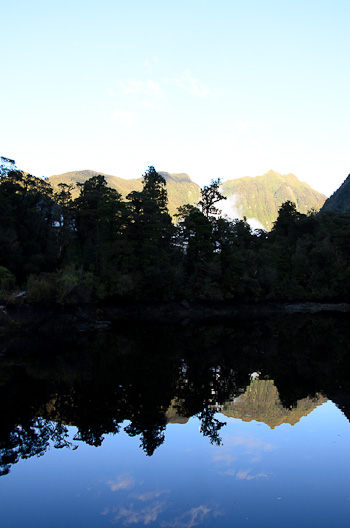 Go to February Part Four: Doubtful Sound
See Photo Gallery: Fiordland Reflection